To borrow a phrase from the Lovin' Spoonful, explaining Canada's view of Toronto is like trying to tell a stranger about rock n roll. Toronto—the city—is pretty damned beautiful. A major North American metro with all of the advantages we associate with that kind of wealth, it is also a clean place—and a city where many different cultures come together to make it far more global than most (if not all) of the country.
Toronto—the one in our minds—controls the daily news, sporting and otherwise. Most of us work for giant companies whose head offices are in Toronto, and some of us have to fly there for seminars and meetings and such. There is nothing bad about the city, or the people, but much of Canada frowns when the name is brought up. You go, Toronto, with your wonderful scenery and culture and art, and you go on with your rock and roll, too. I cannot hate a city that embraced the Guess Who as its own, produced a pretty damn good group of hippie singers, blessed us with the beauty of Blue Rodeo and the grace and power of the Tragically Hip (via Kingston). You have fun running through the six, Toronto.
But get your damned hockey team off my lawn. There is no rivalry here, no history, no glory to be regaled in song. Chances are, the Maple Leafs and Oilers never meet in a series of note in my lifetime, and I have no interest in Al Gore pissing contests. You have your problem team, I have mine. There is no interest in this quarter in doing some wacko 'Bob Costas slide rule find a way to make Michael Johnson better than Donavan Bailey' moment. Your player is outstanding, wish him well. Our player is Connor McDavid. We say no more, because no more need be said. Post no bills, Toronto. Stay in your lane.
ECHO BEACH, YEAR OVER YEAR
Oilers in October 2015: 4-8-0, goal differential -7
Oilers in October 2016: 7-2-0, goal differential +10
Oilers after nine, 2015: 3-6-0, goal differential -6
Oilers after nine 2016: 7-2-0, goal differential +10
In Game 10 a year ago, Edmonton lost 4-3 to the Minnesota Wild—courtesy two third-period goals by the Minnesotans. Darnell Nurse would score his first NHL goal that night, but the season was wasting away early again. Entering tonight, Edmonton has 14 points and leads their division, where a year ago the team had six points in nine games and it was all but over. You can't win a playoff spot in October, but you can sure as hell lose one.
DEFENSE, AFTER NINE

All numbers this time via NaturalStatTrick.
Klefbom—Larsson had a very good October, outstanding if you include HD SCs as your main metric. I am a Corsi man, and am well pleased with the numbers for the top pairing. At 5×5, Klefbom has played 54 minutes with McDavid (44-44 Corsi), 44 minutes with Nuge (40-43 Corsi), 35 minutes with Leon (35-31) and 29 minutes with Letestu (21-31). That seems like a reasonable usage of time and solid performance. Oscar has seen the Gaudreau-Monahan-Versteeg line more than any other—that is 1line.
Sekera—Russell have a strange player card at this point. Struggling Corsi, doing good enough or a little better in the scoring chances. Sekera played 54 minutes (52-53 Corsi) with McDavid, 44 minutes (30-49, ouch) with the Nuge, 34 minutes with Leon (22-30) and 26 minutes (14-25) with Letestu. We know enough about Qual Comp to suggest both of the top pairings are facing tough opposition—Stastny, Fabbri, Gaudreau—so this pairing seems to be struggling with Nuge and Leon's lines, and on track with the top pairing's performance when with McDavid and Letestu. Fair?
Nurse—Gryba are posting good numbers and I think that has to do with handling and Nurse's development—distant early signal warning on all of these numbers. Over 50 percent Corsi is a good number, hope the young man can hold on to it and that the Oilers don't need to move him up the depth chart. Nurse played 46 minutes with Leon (39-50), 34 with Connor McDavid (43-22!), 32 with Nuge (35-26!) and 21 with Letestu (17-29). Darnell performed better with McDavid and Nuge, and that probably speaks to Qual Comp—most often faced forwards include Patrik Berglund, Marcus Foligno and Matt Tkachuk—that is not top opposition.
I like actual NHL players. Edmonton has Adam Larsson, Andrej Sekera, Kris Russell and Eric Gryba in the regular rotation, along with outstanding youngster Oscar Klefbom (116) and blue-chip prospect Darnell Nurse (80 games) who are finding their way in the NHL.
Lots of talk about needing a RH shot from the point on the power play, but I like a strong 5×5 group. Use a forward back there if necessary, make sure you have stout defenders.
When Brandon Davidson comes back, where do you put him? I set him alongside Darnell Nurse, meaning four of six will be lefties. I can see no other way. You?
FORWARDS, AFTER NINE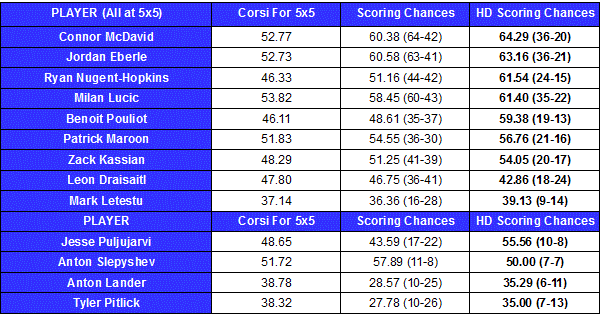 Lucic—McDavid—Eberle numbers are fun to look at, as seen above. The opposition are all very good players, it really is a strong list. The Hockey News has 97 on the way to 110 points for the season. That is against the tough opp, ladies and gents. Staggering talent. As mentioned above, I have no interest in a McDavid vs. Matthews conversation, because no matter what happens tonight, McDavid remains manna from heaven and a dream come true. Music!
Pouliot—Nuge—Kassian have a strange line overall. Cruising around 46 percent Corsi, winning the scoring chance battle and borderline dominant in HD SC. What does it all mean? I think Nuge is driving this line, but Pouliot has been uneven so far and Kassian is not a substantial offensive player (I don't think he is, anyway. Could he score 20 goals?) in today's NHL. There is a lot to like about this line, and there is also some to worry about with this trio. I don't know. Maybe Leon RW?
Maroon—Draisaitl—Puljujarvi are even more all over the place than the Nuge line. Take Leon. He is 48 percent in possession, 47 percent in scoring chances and only 43 percent in HDSCs. Strange. Weird. The Oilers need one of the two lines not named McDavid to dominate the goal differential.
Jesse Puljujarvi is an interesting player, he and Anton Slepyshev have been going back and forth fighting over the extra RW (Leon line) job. Pitlick has not been asked to step into the role for any extended period, so I imagine we will continue to see this battle into November—unless Draisaitl moves up from the 3line.
TONIGHT
It should be a fun game, Toronto has some insane young talent up front and enough defensive holes to be fun the other way, too. Edmonton needs to play a consistent, structured game and Cam Talbot is going to need to be .920 or better (I bet). The Oilers should be able to win this game, but lordy it can get strange in Toronto. I expect many posts like 'I had to watch with the sound down' and  'there are two teams on the ice' tonight. One of the things about Maple Leafs games is that people tend to treat the roster as substantial even when there are real and legit problems. All that really means is that there will be two flawed teams on the ice tonight, nothing more or less. Your team will sound like the road team no matter the television broadcast, and that is a fact. Same as it ever was.
Chris Nichols: McKenzie cautions "we shouldn't assume that it's an absolute slam-dunk" that Burns will be back w/San Jose. Source
Well. Hmm. I really like Brent Burns, for all kinds of reasons. He has a real strangeness about him (snakes galore!) and he could slide behind a piano and pass as a member of the Band (another Toronto gift) without a throw. I would love to have him here, but not on a five year deal. He is also more chaotic defensively than one would like for a team with as much wobble as the Oilers. Suspect it happens, July 1 2017.
Walter Foddis: Analytics-based decisions tend to be long-run in accruing benefits, but the Panthers found bargains this off-season. "Panthers have their own algorithms, which…are secret, and evaluate players' entire bodies of work, from junior to the minors to the NHL." Source
Foddis has a series of interesting quotes on this, a worthwhile trip to get it all (plus the link). I do think there is a great way to cheat the system, and there is some evidence the Oilers is learning. The Tyler Benson pick (a more substantial offensive player in the second round) offers a clue, and a late selection like Aapeli Rasanen is also a good sign. Here are the NHLE's for 2016 draft picks so far:
Jesse Puljujarvi 82gp, 11-12-23 (actual NHL totals)
Tyler Benson: 82gp, 12-12-24
Markus Niemelainen: 82gp, 0-2-2
Matthew Cairns: 82gp, 0-2-2
Filip Berglund: 82gp, 0-4-4
Graham McPhee: 82gp, 0-13-13
Aapeli Rasanen: 82gp, 3-19-22
Vincent Desharnais: 82gp, 0-0-0
Three promising offensive forwards, all with varying ranges of skills. Early days, and you would like to stronger boxcars by year's end (especially from the blue) but there are some nice arrows all the same.
LOWDOWN WITH LOWETIDE
At 10 this morning, all the sports! TSN1260, scheduled to appear:
Jonathan Willis, Oilers Nation. A look at tonight's game, and the Oilers after the first month is in the books.
Andrew Stoeten, BlueJaysNation. Game 6 WS, Cleveland versus the Cubs and history happening.
Scott Cullen, TSN. Leafs-Oilers hasn't had this kind of build up since Gretzky walked the entire blue and Stan Weir deked out three rats on a penalty shot. We will chat.
10-1260 text, @Lowetide on twitter. See you on the radio!