The Oilers got their road trip underway with an overtime loss to the Toronto Maple Leafs, a game that had some interesting twists and turns. Edmonton entered the third period down one goal and found a way to gather a point—and that is progress. It was a tough, physical road game, and guess what? There is another on the way. Edmonton has a road record of 3-0-1 today, that is going to change on this road trip. Can Edmonton gather 15 points from its 15 games in November?
ECHO BEACH, YEAR OVER YEAR
Oilers in October 2015: 4-8-0, goal differential -7
Oilers in October 2016: 7-2-0, goal differential +10
Oilers in November 2015: 4-7-2
Oilers in November 2016: 0-0-1 goal differential -1
Oilers after 10, 2015: 3-7-0, goal differential -7
Oilers after 10, 2016: 7-2-1, goal differential +9
The Oilers began their long 15-game November schedule last night, losing 3-2 in overtime to the Toronto Maple Leafs. It was a weird game, with line matching and double shifting galore—and I do think that may have impacted the flow. Either way, Connor McDavid got checked tightly and lost position on Kadri in the OT. A reasonable road game, I am never going to complain about 46 shots on goal.
DEFENSE, LAST NIGHT

Nurse—Benning went 20-12 in 12:54 and Darnell scored the tying goal when both men were on the ice. Benning was 8-6 against Auston Matthews and I assume that includes Darnell. It was a very weird game and I didn't really notice Benning—but that is a good thing. He is undersized but a game rooster, and he can move the puck.
Darnell Nurse has really settled in and is making calm decisions. I am not saying he is out of the woods, but the goal is an example of something he didn't make a year ago. Moves to the middle gets a clearer lane. If Nurse is going to be a strong NHL defenseman for years to come, these are the kinds of things we should be looking for, and they appear to be there.
Klefbom—Larsson are strong. A sublime player card for both men, the duo was only 5-10 against the Kadri line, and that was a big part of the game.  The pairing was 18-13 in 16:19 together, including 8-1 with Leon in five minutes. It's possible to have good numbers and get noticed for negative things—single moments and events can have super importance while being exactly single moments and events. Such was the case last night for Oscar, but he is a fine young blue. Eight shots, four blocked shots, he is a beauty.
Sekera—Russell had a time. They were 13-13 together (Sekera looks so good because he was 7-0 with Larsson in 46 seconds!!!!), but splits are weird. Russell versus Matthews is a disaster (1-11 in 5:43) while Sekera is 4-6 against Matthews in 3:30. It looks like Todd McLellan did not like the matchup and moved Larsson in for a time, but that is a guess and those who can parse these things closely will no doubt have a better answer. Russell was 2-9 in HDSC. Lordy. Sekera—Davidson is probably going to be a thing.
Nurse scored his second of the year and had six shots on goal. He was the only defenseman with a boxcar number on the evening.
All numbers NaturalStatTrick.
FORWARDS, LAST NIGHT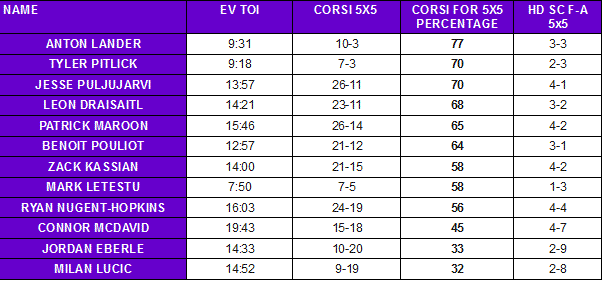 Lander—Letestu—Pitlick had a terrific 4line night, including a goal where all three men got a boxcar. McLellan rewarded this line with some extra minutes and some famous linemates. Nice to see.
Maroon—Draisaitl—Puljujarvi had an insane night, winning the shot battle, the HDSC battle, and the teenager on the line got seven shots on goal. This line was given the Bozak line and beat them like a rented mule (11-1). I love Martin Marincin, but he and the Bozak line were not able to handle the Oilers trio. How on God's earth they didn't score is beyond me.
Pouliot—Nuge—Kassian had a good to great night, with the center getting an assist. Nuge was 11-2 against the Bozak line (Bozak was 9-26) and 7-9 against the Matthews line. That was a good result in my opinion, this line did enough to win.
Lucic—McDavid—Eberle had their poorest performance as a line. They were 9-15 as a troupe, and were 7-11 against Kadri—but the Leafs center scored twice and this line did not score. Unfair? Sure, it was a penalty on the OT goal, but life happens and 97 is going to win way more of these battles than he loses. You cannot go to the McDavid well every night, because sometimes the water won't wash over you. Last night was such a case.
The big line hasn't scored in two games. What have we learned about regression? Stay tuned.
Ethan Bear got off to a slower start this year, partly because Mathew Barzal is still a New York Islander. Bear, a 2015 draft pick by Edmonton who has already signed his pro deal, has come on in the last two weeks and now sits at 11gp, 3-6-9 for the year (NHLE: 82gp, 6-12-18).
Bear is from Ochapowace Nation, about two hours east (as I recall) from Regina. He was in that city to play the Regina Pats recently, and had a good night—including a goal. His comments appear in a Leader-Post article, discussing the loud cheers he received from supporters after scoring:
Bear: "It's something I'll remember for the rest of my life. I'm not sure if I'll ever get anything like that again but that's the support I get (from home). The way our culture supports one another is amazing. I'm very proud of that. I'm happy I was able to get one tonight and let them cheer for me. It was a very special moment." Source
There are some truly heartbreaking things happening in Saskatchewan communities these days, to be honest I am sick about it. I was moved when reading this story, because it shows hope, the power of community and the fact we are all in this together. Every child deserves love and care, every child needs to know there is hope. We owe all children that much, at a minimum. I pray for those kids in Saskatchewan and that we find them a better day. There has to be something that can be done by all of us. I live in their community, they live in mine.
WAIVER PRIORITY
The Oilers lost a chance to grab someone off waivers, or at least to be a major priority, for the next month. Latest information has Edmonton far down the list (it is based on standings). Someone mentioned somewhere that Bob was talking 3C interest yesterday, and that makes sense. Names that come to mind (although not necessarily available) might be Patrik Berglund, Tyler Bozak, Nick Bonino. I doubt there are many actual helpers out there, but Peter Chiarelli is going to need to add something to this group if the idea of two substantial lines has value. Last night, we saw what happens when a team can focus on shutting down just one line.
JESSE PULJUJARVI
The young Finn has 21 shots on goal in eight games, and ranks inside the Top 10 rookies in the measure. Twitter is eating Jordan Eberle for breakfast but the fact is 14 is the only established offensive player on RW unless Todd McLellan moves Leon Draisaitl over. I imagine we see that in a practice soon, with Anton Lander (who is now 9gp, 1-2-3) moving to the middle on a makeshift 3line.
Lucic—McDavid—Eberle
Pouliot—Nuge—Draisaitl
Maroon—Lander—Puljujarvi
Pitlick—Letestu—Kassian
Or some such. Until such time as the 3C walks through the door, or Drake Caggiula can play, I think the Oilers—especially on the road—are going to need to ice two legit offensive lines. Too little talent for three scoring lines, unicorns in the distance.
LOWDOWN WITH LOWETIDE
At 10 this morning, TSN1260. All the sports! Scheduled to appear:
Bruce McCurdy, Cult of Hockey. In defense of Jordan Eberle, will Oilers fans every be truly happy?
Jeff Krushell, Krush Performance. G7 World Series! Look out!
Andy McNamara, TSN4Downs. The NFL product is alarming.
10-1260 text, @Lowetide on twitter. Talk soon!