I cheered rarely for the New York Rangers as a child. No one I knew cheered for them (we were a Leafs family, I became a Bruins fan, and there were lots of Detroit Red Wings fans because Gordie) and their stars looked like friends of my Dad. I did cheer for them in 1972, when the Ratelle Rangers ousted the Montreal Canadiens, clearing the way for the Orr Bruins to win their second Stanley in a three year period.
In modern times, I mostly watch the NYR to witness the greatness of Henrik Lundqvist, and to see what good young players they may trade away in a fit of pique. The Rangers haven't had a first-round pick since 2012, traded Anthony DuClair even when they knew he was going to be a good NHLer, and haven't drafted a truly great player since 2000. None of this matters, of course. The Oilers are in tough tonight, this is going to be a tremendous test for them.
WHITE LIGHT WHITE HEAT, YEAR OVER YEAR
Oilers in October 2015: 4-8-0, goal differential -7
Oilers in October 2016: 7-2-0, goal differential +10
Oilers in November 2015: 4-7-2
Oilers in November 2016: 0-0-1 goal differential -1
Oilers after 10, 2015: 3-7-0, goal differential -7
Oilers after 10, 2016: 7-2-1, goal differential +9
Game 11 one year ago was possibly my favorite game of the year. Oilers went down early and often as Montreal went ahead 3-0—and then the town team came back and won it 4-3. Leon was fire that night, here is the boxscore. That was a great damned game.
I felt the Oilers were on the verge of losing before the Ottawa game, their play ragged enough to know the winning was coming to an end. On the other hand, the club's play in Toronto, while far better than the Senators game, does not give me confidence about tonight. If McDavid is running hot, and Talbot is on, then two points are possible.
There is one other factor that could impact tonight for Edmonton: The Nuge. He has yet to score, but is ripping line drives all over the ballpark. When they start falling in, he should have a very nice run.
DEFENSE, AFTER 10

All numbers via NaturalStatTrick. A reminder, we are only halfway to 20 games, so making any sweeping statements is unwise and could make you look foolish should the gales of November come early.
I bold the HDSC for you kids, but the Corsi numbers have a nice story too. The top pairing is playing the toughs and sawing them off, and that third pairing is doing well. The second pair? Well, Sekera is hanging in there but Kris Russell is losing the Corsi War.
Klefbom—Larsson is nice arrows and good vibrations across the universe, and the HDSC column is reaching highs only dogs can hear. I read a few down items about Oscar after the Toronto game, but in a long season every defender is going to have some wobble—and Oscar has been sublime for almost all of these 10 games.
Adam Larsson is a tough, useful and effective defender. He is not delivering much offense but for those of us who enjoy our defenders defensive, he has been a very nice addition.
Sekera—Russell had a nice early run, but as I mentioned to Jonathan Willis the other day, we may see Brandon Davidson on that second pairing when he returns. Sekera is at 53.66 Corsi for 5×5 percentage without Russell, and 43.75 with. In fairness, the duo has a better Fenwick (47.57) but they are bleeding. We are halfway through the first 20 games, so it is too early to bury this pairing, but as mentioned Brandon Davidson might slide right into the second pairing when he comes back. (Info here).
Darnell Nurse and friends are in a good spot (playing against the Matthews and Tkachuk lines) getting secondary opposition and playing them well. He is also posting some crooked numbers (10, 2-2-4) on a defensive group that is delivering more offense than one year ago. Encouraged by progress, early days. Hurry back, Brandon Davidson.
FORWARDS, FIRST 10 GAMES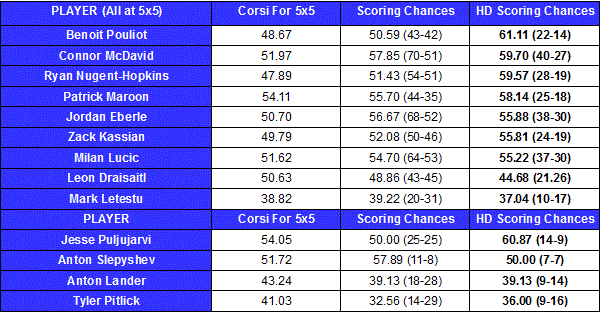 Pouliot—Nuge—Kassian are showing some really nice numbers in HDSC, the goals will come if they can bite off this much of the offense. This line should break out (regression to the meat! Wheel of meat! regression to the wheel! SOMETHING!!!) and no better time than now. If the team struggles in the first two periods, we may see Leon on RW with RNH.
Lucic—McDavid—Eberle is taking some heat, but the overall numbers through 10 games are rock solid to outstanding. I am uncertain what people are expecting from this trio, but in all areas (EV, PP, PK plus all lines thrown together) the three men have scored 12 goals in 10 games. If you believe the last few games are indicative of the rest of this season, I am going to need to see the evidence. If these three have 24 goals after 20 games, this team is going to be looking like a playoff crew.
At 5×5, Lucic (1.24), McDavid (2.58), Eberle (1.67) combined with Pouliot (2.16), Nuge (2.30) and Kassian (2.06) have to make hay—or Draisaitl (1.42) has to pass the Nuge line with Maroon (0.92) and Puljujarvi (0.71). Edmonton is caught now, everyone sees the McDavid line coming. Need an answer. Tonight. Source.
Leon's line has some major power but some of it is undeveloped and we need it before Christmas. I am completely divided on Puljujarvi, because the guy is raw in many ways but a substantial player already in others. I don't know man. Everyone seems so sure about what to do, I just kind of watch in awe of what he is idling in the driveway.
CONDORS FLYING
As we discussed yesterday, Bakersfield badly needed offense—and they got it all in one night, with the top line going off in a big way. Here is the Condors top line as of this morning, with shots on goal included:
Jujhar Khaira 4gp, 4-3-7 with 13 SOG
Taylor Beck 6gp, 2-5-7 with 22 SOG
Ryan Hamilton 6gp, 1-5-6 with 20 SOG
Edmonton has a plethora of forwards who will find their way back to the lineup over the coming weeks (Hendricks, Caggiula, Pakarinen) so young Khaira may have to wait until the trade deadline for the call. Seeing these numbers from a prospect in the final year of his entry-level deal is a good thing—the Oilers drafted him in the third round of the 2012 draft, and he appears to be coming into the station right on time.
CAM TALBOT
If the Oilers push all year toward the playoffs, we can assume Connor McDavid is near the top of the scoring charts and that Cam Talbot is delivering quality performances in goal. So far this season, he has played all but a few minutes in the Edmonton net, and the numbers are among the best in the NHL in all disciplines (5GP or more category):
Save Percentage: .932 (No. 7 in the NHL)
Even-Strength Save Percentage: .934 (No. 10 in the NHL)
Power-Play Save Percentage: .951 (No. 3 in the NHL)
Regression will occur, and the question is how much and when? If Talbot can post above average numbers in goal this season, I believe this team has a path to the second season. This road trip is so important to sustain, and Edmonton does not have anyone pushing him at this time. Stone Alone? Boy howdy.
LOWDOWN WITH LOWETIDE
At 10 this morning, TSN1260. Scheduled to appear:
Darcy McLeod, Because Oilers. Regression as it pertains to Cam Talbot, the Nuge and Kris Russell.
Jeff Krushell, Krush Performance. We chatted about extra innings in WS G7 yesterday, and got it! Complete breakdown of an incredible ball game.
Don Landry, CFL.ca. The Schenley Awards team nominees have been announced, we will review.
Frank Seravalli, TSN. McDavid hits Manhattan, California is Crazy and Claude Giroux is fire.
10-1260 text, @Lowetide on twitter. Talk soon!