That great start in October afforded the Edmonton Oilers a little breathing room entering November. Two games into a road trip, fans are beginning to turn on the team. Remember our summer talk about balance? Some of you asked how close to the balance photo the Oilers were after the Kris Russell signing. The Oilers are giving us their answer. A better team for sure, but a long road to go. HDSC last night: 5-18. It is to laugh. Source.
WELL THAT DIDN'T WORK, YEAR OVER YEAR
Oilers in October 2015: 4-8-0, goal differential -7
Oilers in October 2016: 7-2-0, goal differential +10
Oilers in November 2015: 4-7-2
Oilers in November 2016: 0-1-1 goal differential -3
Oilers after 11, 2015: 4-7-0, goal differential -6
Oilers after 11, 2016: 7-3-1, goal differential +7
The Oilers were not sharp last night, and it was a fantastic gift to be tied late. Despite playing fast and loose with the puck, the game was in the balance late, but veterans rookies alike goofed, and the Rangers put things to bed late. I would say some of the top players on the club should have had a restless sleep last night in NYC. It is one thing to lose a game on a poor coverage, but the mistakes were early and often and some of the culprits are making millions large. I should also say it was a great game to watch, really enjoyed it.
DEFENSE, LAST NIGHT

This is Natural Stat Trick.
If you are looking for a positive here, I think the third pairing did passably well in HD SCs. After that, not much going.
Klefbom—Larsson had a terrible time, and that was rare in the early games. I remain onside with the duo, but they need to make better decisions with the puck and Larsson's coverage was not good.
Sekera—Russell had some wobble, but you would really have to be biased to call this pairing the worst in the group—although the fact they escaped without a minus is pretty incredible. The night was reflected perfectly when Sekera sent a reasonable looking pass to Lucic, who didn't (apparently) notice the Rangers puck hawk who came in to intercept and induced another barrage of shots on the Edmonton goal.
Larsson got a goal, Sekera an assist on the evening.
Cam Talbot had another strong game. He and McDavid are the story of this season.
FORWARDS LAST NIGHT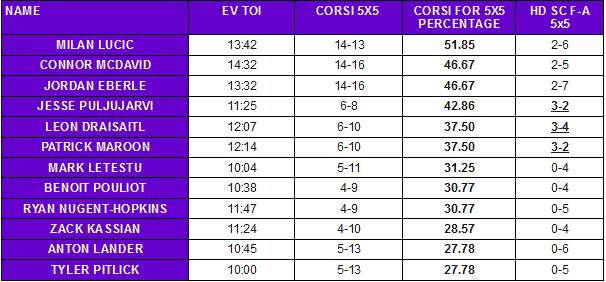 As you know, I am a Corsi man, but this game (imo) had two lines that got some things done. The McDavid line shone a little because 97 kept getting that puck across the border, but his wingers will need to be better in support—and we may see a shuffle. On the other hand, -3 is a bad hand, although I am going to blame the top pairing on a couple of those. Milan was (this is my opinion) the culprit on the game winner, he has to be strong—even take a penalty—on that play.
Despite the poor possession number, I liked the Leon line quite a bit, and was happy to see Maroon pot a goal (Puljujarvi is a gangly fellow out there, he is kind of hilarious at times). Their HD SC numbers reflect some push and I saw that in their peformance.
The Nuge line was not strong and the 4line had a night so bad you might see Slepyshev in the lineup on Saturday. Good PK work by Lander and Letestu probably get them the pass, so Mr. Pitlick—who took a late penalty—may be the move. The Lander crosscheck on Rick Nash improved my mood and increased my enjoyment of the game.
Nice to see the Nuge score a goal.
WAG THE DOG
I am not tempted to say 'this is nothing!' but for me there is a case to be made that this is better than what we have seen in the past. Bad? God Yes. As bad? Hmmm. Edmonton actually could have had a pretty nice lead by the end of the second if the club had been a little sharper around the NYR net—and yet there is no denying they got fed in possession and scoring chances. I am reminded of a terrible weekend out east during the 2015-16 season, February 6 and 7:
Saturday in Montreal, lost 5-1 and looked awful.
Sunday in Brooklyn, lost 8-1 and looked ill.
Todd McLellan: "We got our butts handed to us in Montreal and we came in here and responded in a very inappropriate way." Source
Todd McLellan: "For two games, nobody has done it right." Source.
Todd McLellan: "There are a number of young players who are trying to break into the league and create careers, are they passing the grade? I don't know. There is a number of players who are trying to hold on and survive, are they doing what they need to do? It is a critical time in the season. And then there are others who have reputations, whether they are really strong or somewhat weak, you have an opportunity to change it or grow it and they let that go today." Source
The Oilers were awful, they made mistakes that were forced and mistakes that were unforced. And you know what? Despite that, they had three leads (all blown) and came within an eyelash of grabbing a point against a clearly superior team. You can rage against the blown engine, too much month at the end of the money and the damnable absence of structure, and I am going to agree with you all day. Last night was one ugly baby. And yet, they were in the game until late. Luck? Partly, but this team is improved, even on a night like this one. We will see. I think they are better, even in these ghastly road games that have occurred with frightening consistency over these last years. Perhaps the Islanders/Red Wings weekend tilts will remind us of that February weekend above, but I think the Rangers are the best team Edmonton will see on this road trip.
EDMONTON OILERS AFTER 11
All numbers NaturalStatTrick, this year (last year)
Corsi for 5×5 Percentage: 48.59 (48.84)
Fenwick for 5×5 Percentage: 49.45 (48.28) Up this season
Shots-For 5×5 Percentage: 50.84 (48.53) Up this season
Goals-For 5×5 Percentage: 53.66 (44.52) Up substantially this season
Scoring Chance for 5×5 Percentage: 49.60 (49.94)
High-Danger Scoring Chances 5×5 Percentage: 50.00 (47.62) Up this season
High-Danger Goals-For 5×5 Percentage: 48.28 (48.24)
Shooting Percentage 5×5: 8.06 (7.32) Up this season
Save Percentage 5×5: 92.80 (91.39) Up this season
PDO: 100.9 (98.7) Up this season
Important to remember this is early and Edmonton had a fantastic schedule. Road work (3-1-1) will not look as good for the rest of this season, pretty sure. Still, there are some encouraging numbers here and the key for Edmonton (McDavid and Talbot) shine like a diamond in these numbers.
JESSE
Todd McLellan: He's getting better every night, he's fitting in more and more, feeling comfortable about playing in any situation. I think there's been real growth in his game, and we're happy for him. Source

Jesse Puljujarvi is now 9gp, 1-2-3 and it looks like he is going to stay. I think the Oilers may decide to use Zack Kassian as 4R eventually, acquiring a 2R-3C as a bookend to Leon. JP is a strange and wonderful player, I am still torn on the best route (not really, they should send him to the AHL but I love watching him play). Suspect he has passed the first test and may get more PP opportunities as time goes by.
THAT CRAZY TRADE, UPDATE!
William Carrier was just recalled by the Buffalo Sabres, and even though he isn't really part of the exchange (he is in a backwards way) it gives me an excuse to update that crazy MacT deal. Here we go!
June 30, 2013—Oilers trade No. 37 overall to Los Angeles Kings. LAK use selection to draft Valentin Zykov. Oilers acquire selections 57, 88 and 96.
June 30, 2013—Oilers trade No. 57 overall to St.Louis Blues. STL use selection to draft William Carrier. Oilers acquire selections 83, 94 and 113.
So, the actual asset given up by Edmonton was the pick devoted to Valentin Zykov, but for fun let's include Carrier. Here is what is shaking currently:
Anton Slepyshev is in the NHL, is 3gp, 1-0-1 and has played 14 NHL games in his career.
Bogdan Yakimov is in Russia (16gp, 1-4-5 in KHL) and has played 1 NHL game.
Valentin Zykov is in the AHL (8gp, 2-4-6) and has 0 NHL games.
William Carrier is in the AHL (7gp, 3-1-4) and has 0 NHL games (but has been recalled).
Kyle Platzer is in the AHL (5gp, 0-1-1) and has 0 NHL games.
Jackson Houck is in the AHL (3gp, 0-0-0) and has 0 NHL games.
Aidan Muir is in the NCAA (6gp, 0-5-5) and has 0 NHL games.
This is not a fast race, but in fairness none of these kids was a first-round selection. There is hope for all (everyone got a contract, although Houck's is an AHL deal and Muir is still in college) and odds are someone in this haywire transaction finds a way to play 100+ NHL games.
LOWDOWN WITH LOWETIDE
At 10 this morning, TSN 1260. Scheduled to appear:
Steve Lansky, BigMouthSports. A crazy World Series ends with the Cubs winning, and McDavid meets Toronto.
Guy Flaming, Pipeline Show. Oil Kings back in action, after an exciting win mid-week.
Matt Iwanyk, TSN1260. What franchise is the next lovable loser to win a championship?
Alex Thomas, The Oilers Rig. Edmonton in Manhattan, and the weekend to come.
10-1260 text, @Lowetide on twitter. Talk soon!