The Edmonton Oilers and New York Islanders are tied together by history. Two Stanley Cup Finals encounters, and a lot in common in terms of franchise ebbs and flows, this should be a productive decade (starting now) for both clubs. This century has been a series of false starts and perennial building for the New Yorkers, but there is more than enough talent to make this go. Edmonton? Tracking behind, perhaps the potential success arc is higher because of Connor McDavid. Unlike the Edmonton-Toronto trumped up rivalry, this confrontation is worth discussing. After the 1983 SCF (a painful yet educational loss by Edmonton), Stan Fischler wrote an article that appeared in The Hockey News.
Fischler: There are those who believe that someday the Oilers will win the Stanley Cup. Do not believe it. As long as Glen Sather runs the Oilers, they can be stopped. Wayne Gretzky is Ted Williams–a winner but not a champion. That's an important distinction. Williams has no World Series ring and Gretzky–with all of his style and grace–may never have a Stanley Cup ring. It (a SC) may never come if Gretzky persists in taking the dives and then bawling at the officials. Nor will it come if the Oilers play the same guttersnipe hockey–Gretzky, Kurri and a few other clean ones excluded–played by their glory-less leader when he was tramping around the NHL.
Five Stanley's later, the Oilers dynasty ran its course. I remember the exact spot I was when reading it—Best Western lobby, Medicine Hat—and have never forgotten the feeling. The 1984 Stanley was sweet as wine.
CONEY ISLAND BABY, YEAR OVER YEAR
Oilers in October 2015: 4-8-0, goal differential -7
Oilers in October 2016: 7-2-0, goal differential +10
Oilers in November 2015: 4-7-2
Oilers in November 2016: 0-1-1 goal differential -3
Oilers after 11, 2015: 4-7-0, goal differential -6
Oilers after 11, 2016: 7-3-1, goal differential +7
I have slotted reasonable as 15 points in 15 November games, so the club is a hair behind—but a win today gets the team back to do. I do not see Edmonton winning back to back this weekend. A year ago, Edmonton lost 5-4 to the Calgary Flames on a goal scored nine seconds before time expired. Man. These memories are mostly awful.
DEFENSE, AFTER 11

All numbers via NaturalStatTrick.
Despite a couple of poor recent performances, the numbers for Klefbom—Larsson have been solid to terrific (depending on the metric you value above). In the two poor games, both men are chasing the puck too much and losing position often—exposed in big moments of the game. Can't have that.
Nurse—Gryba has performed well, as has Nurse—Benning in recent days. As a third pairing, I think this is the kind of player card we should be pretty happy with at this time. The concern? Neither man is ideal to move into a top 4D role at this time—and that may be needed, sooner than later. Brandon Davidson, we miss you.
Russell—Sekera is struggling badly across the board now, none of the numbers above reflect an effective pairing. Russell's numbers are better than Sekera's, and I wonder if we see this pairing shuffled in the next little while.
5×5/60 for defensemen so far (via Corsica): Sekera (1.03); Russell (0.97); Nurse (0.76); Klefbom (0.65); Larsson (0.62). All of these numbers are good, with the Sekera-Russell pairing legitimately impressive.
The G-A-PTS totals for D so far this season is 3-13-16 (1.45), last season defenders posted 24-78-102 (1.24). If the defense can manage to keep up this pace, the season ending totals would be 22-97-119.
FORWARDS, AFTER 11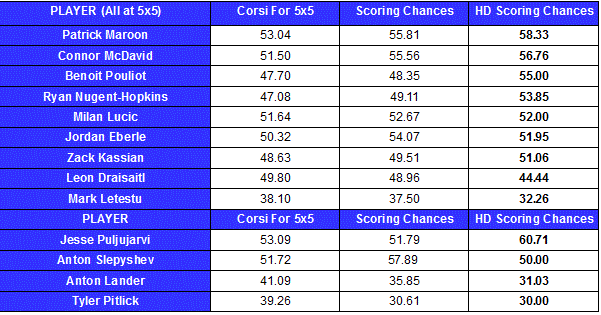 The line changes are going to impact these numbers in a big way, but it is interesting to see Patrick Maroon already up the charts before his McDavid minutes.
Connor McDavid has no poor numbers, it is across the board beautiful.
Ryan Nugent-Hopkins has seen his numbers recover and is now on pace for a typical season.
Benoit Pouliot had a wobble there in the middle of these 11 games but he remains quality.
Milan Lucic has rock solid numbers and may be sliding onto the LD line. They have chem, could be good.
Jordan Eberle has solid numbers as always, on pace for his fourth consecutive 20-goal season.
Zack Kassian has been a surprisingly effective offensive player as well as serving as a world-class nuisance for the opposition.
Leon Draisaitl's numbers are flagging a little, I think the addition of Lucic to that line will help both players.
Mark Letestu is on pace for a 45-point season, and some people still don't like his performance. Sheesh!
Jesse Puljujarvi keeps doing things that keep him in the lineup, don't think he is going to sit tonight. Todd McLellan mentioned his progress just the other day, suspect the Finn is here for the long term. I am uncertain about his moving to the RNH line, it will be interesting.
Anton Lander is emerging as an effective PK man and posting some offense. A very nice development.
Tyler Pitlick's rambunctious style is a real worry for opponents, but he took a late penalty in the Rangers game and needs to avoid that kind of negative.
5×5 scoring for centers is Letestu (2.58); McDavid (2.38); Nugent-Hopkins (2.11) and Draisaitl (1.29). Much discussion about Lucic getting moved off the 97 line, but Leon needs some 5×5 help, too.
5×5 scoring for LWs is Lander (2.41); Pouliot (1.97); Maroon (1.27) and Lucic (1.14). There is little doubt that Lucic and Maroon need to deliver more, the shuffle should help.
5×5 scoring for RWs is Pitlick (2.92); Kassian (1.87); Eberle (1.53) and Puljujarvi (1.25).
The forwards so far have delivered 31-36-67 (6.09) compared to 175-253-428 (5.22) one year ago. If the forwards continue on this track, they would post 231-268-499 over an 82-game season.
All told, Edmonton this season is on track to eclipse the 2015-16 Oilers (199 goals) by 54 goals (253).
CAM TALBOT
I think we can see the path to the playoffs for the 2016-17 Oilers. Unable to achieve a balanced roster in his second year as general manager, Peter Chiarelli (and Todd McLellan) will have to ride Connor McDavid and Cam Talbot all year long—and hope for internal developments (RHD, Pisani, backup goalie) like Matt Benning, Anton Lander and Laurent Brossoit.
Talbot has been terrific, and as much venom as he has received for the Reinhart and Hall trades, Peter Chiarelli should get some credit for acquiring Talbot.
Overall save percentage: .927 (No. 9 among regulars)
Even-strength save percentage: .926 (No. 13 among regulars)
Power-play save percentage: .952 (No. 3 among regulars)
Talbot has played a lot, and will probably get a day off this weekend (my guess is against Detroit on Sunday). Edmonton's chances of making the postseason rely on Talbot posting a strong number, and through 11 games he has been golden. Team MVP? You could make the case.
CHIARELLI'S RECORD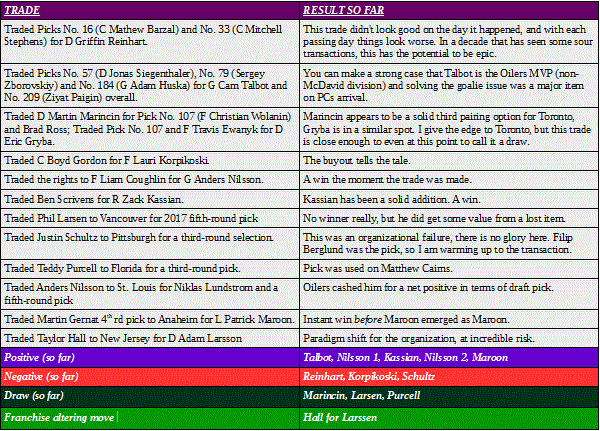 I think the Talbot trade gets obscured (rightly) by the Hall and Reinhart deals, but that was a helluva deal to address need that has worked out. His smaller moves have been mostly good as well, in my opinion. Maroon and Kassian have certainly covered their bets.
Mentioning the good deals and ignoring the elephant in the room is wildly unfair, and I wonder if anyone feels there is a chance the Hall and Reinhart deals ever turn net positive for Edmonton. I do not, interested in your opinion.
I did not include the Nail trade, still mulling over a grade. Seriously, I am not certain how much blame one can lay at the feet of Peter Chiarelli on this deal. Thoughts?
NEWS AND NOTES
You should always wait five years for prospects—especially those taken outside the lottery. That said, we can count the arrows and Dylan Wells is having a helluva run. Now boasting a .926 save percentage for a run-of-the-mill team, Wells is having a tremendous run.
Zach Nagelvoort hasn't played much this year, but stood on his head last night and now boasts a save percentage of .931.
Aapeli Rasanen is killing it in the USHL, now at 9gp, 2-8-10 and No. 2 on his team in scoring.
Nick Ellis and Laurent Brossoit are becoming a big story in Bakersfield (along with Jujhar Khaira). Both goalies are stopping pucks at an excellent rate, and there is at least a chance the Oilers may have a real prospect in Ellis. Stay tuned!
Anthony Beauvillier will be in the lineup tonight, Mathew Barzal is unlikely (although possible). The Islanders acquired two picks for Griffin Reinhart, trading up for Beauvillier and selecting Barzal with the first-round selection.