Edmonton Oilers fans are on pins and needles with each passing day, and I think that may be impacting their ability to enjoy these games. The journey is the thing, and robbing yourself of that joy is a damned shame. You only get one chance at witnessing the turn north, don't let someone on twitter make you feel this team is less than worthy. If you are an Oilers fan, it is okay to smile today, this morning. You can litigate the Hall trade, the Reinhart trade and make that the hill you die on, but you will be missing the show. Does that make sense to you? Smile, for Christ sake.
DETROIT WHEELS, YEAR OVER YEAR
Oilers in October 2015: 4-8-0, goal differential -7
Oilers in October 2016: 7-2-0, goal differential +10
Oilers in November 2015: 4-7-2
Oilers in November 2016: 1-1-1 goal differential -3
Oilers after 12, 2015: 4-8-0, goal differential -7
Oilers after 12, 2016: 8-3-1, goal differential +7
The October sky was beautiful, November's forecast is still a mystery. I have stated the reasonable expectation would be 15 points in 15 games, and so far the club has three points in three games. A year ago, G13 was a 4-2 win over the Flyers, with the Nuge, Taylor Hall and Leon Draisaitl driving results. Today's game should be considered a schedule loss for Edmonton (btb on the road) but we hope for the best, even as we acknowledge history and the fact this is not a powerhouse team.
DEFENSE, LAST NIGHT

Nurse—Gryba did good work at 5×5, playing 17:34 (19-14 Corsi 5×5) and four shots, 10 hits and some blocked shots. Nurse was 5-6 against Tavares and 9-5 against Chimera. Another strong performance from this pairing. You can actually see Nurse emerging now, he engages offensively at appropriate times, closes gaps in a heartbeat, and shuts down sorties with aplomb. Music!
Klefbom—Larsson went 9-9 in 13:16 together, and recovered from a ghastly first shift. Oilers have to get off to better starts, it is a thing. Went 3-2 against Tavares but 1-6 against Prince, who was on the 4line. That Prince line with Cizikas and Kulemin was pretty effective. I like this pairing, they were hit and miss last night and need to find the consistency of October.
Sekera—Benning did not do well by the Corsi, but the kid Benning had two assists. Interesting. The pairing was 8-15 in 10:19 together (that is lower than Russell-Sekera), 6-7 against the Strome line and 2-6 against the Prince line. Sekera's possession number is officially underwater, this second pairing is in peril.
Dillon Simpson got a recall to the show tonight, his first. He will be in Detroit tomorrow, no idea if he plays.
All numbers NaturalStatTrick.
FORWARDS, LAST NIGHT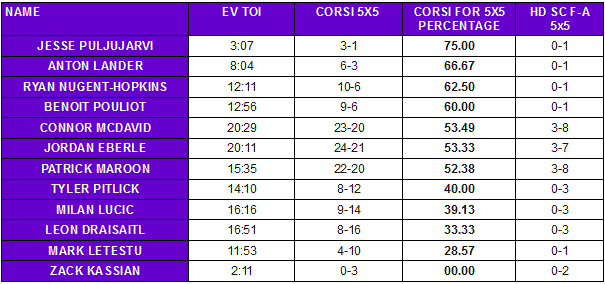 Jesse Puljujarvi looked good early before leaving on what I felt was a dirty hit.
Anton Lander had five hits and a takeaway, and was 4-1 in 2:13 with Nuge. Solid on the PK, too.
Ryan Nugent-Hopkins had seven shot attempts, but none found the mark. Went 8-6 with Pouliot in 10:15, I am disappointed these two mentors didn't get an entire game with JP.
Benoit Pouliot was solid with RNH, and had a takeaway. Had some chances, but nothing major.
Connor McDavid had six shots and 10 total shot attempts. Went 22-18 in 15:09 with Maroon and Eberle, the line looked effective to me.
Jordan Eberle had an assist, two shots on goal, drew a penalty and had a generally effective game on the McDavid line. Went 11-6 against Chimera, 6-4 against Tavares. Fans don't like him, I think he is as he has always been: A talented, incomplete player.
Patrick Maroon had a strong night, including a goal and an assist. He does seem to have some extra chemistry with McDavid, may be less is more—like I would know.
Tyler Pitlick stepped up after the JP injury, went 4-10 with Leon and 2-0 with Nuge, 1-1 with McDavid. I like his game, but he doesn't have a consistent offensive presence.
Milan Lucic scored a huge goal on the power play, but struggled with Leon (7-14) against mostly John Tavares (4-7). Cal Clutterbuck's line (1-6) also did well. Lucic's star has faded badly among Oilers fans in recent days, I remain onside with the big man and his skills—while being aware of a flagging 5×5/60. Wonderful passer and a brute to boot. Possession number over 50 percent and on pace for 55 points, he is having an impact despite the poor even-strength scoring total. Analytics folks are often accused of being Vulcans, but for me that group is reading Lucic right and fans are overreacting to this player. I am onside with being critical of Lucic (he was poor for several games) and am aware of his skating deficiencies and his 5×5. I would argue he is contributing and that his value has been on display in most games.
Leon Draisaitl scored a nice goal, had two takeaways and a blocked shot. I thought it was one of his better games of the year, despite the Corsi and HDSCs.
Mark Letestu was 78 percent on the dot (!!) scored the winner in the shootout. He is a nice player. This line got fed by the Islanders fourth line, a trio that inexplicably housed Shane Prince.
Taylor Beck was called up this morning, meaning we are likely to see him and Anton Slepyshev step in for Jesse Puljujarvi and Zack Kassian.
Photo by Mark Williams
TOTAL RECALLS
The Oilers recalled Dillon Simpson and Taylor Beck last night, as several road warriors have picked up some injuries. Kris Russell did not play against the Islanders, plus Jesse Puljujarvi and Zack Kassian went down before playing five minutes in Brooklyn. Beck seems a slam dunk to play tonight, but Simpson—who has not played an NHL game—is less likely to play based on numbers. Beck is inside the top 10 in AHL scoring (8gp, 3-9-12) and Simpson was referred to as the most consistent defender by coach Gerry Fleming last year. I projected Simpson to play four games in my RE, and Beck to play 10 games.
EVEN-STRENGTH SCORING-DEFENSE
Numbers via Corsica.Hockey and are 5×5/60:
Kris Russell 0.97
Andrej Sekera 0.96
Darnell Nurse 0.68
Oscar Klefbom 0.60
Adam Larsson 0.58
Eric Gryba 0.00
This is a pretty good set of numbers, Russell and Sekera have been excellent in this area and 3-5 are solid if unspectacular. Gryba is Gryba.
EVEN-STRENGTH SCORING-FORWARDS
Tyler Pitlick 2.51
Mark Letestu 2.31
Anton Lander 2.18
Connor McDavid 2.17
Ryan Nugent-Hopkins 1.96
Zack Kassian 1.84
Benoit Pouliot 1.80
Patrick Maroon 1.52
Jordan Eberle 1.38
Jesse Puljujarvi 1.21
Leon Draisaitl 1.17
Milan Lucic 1.05
The 4line has been very good this season, giving Edmonton legit secondary scoring in several games. McDavid has performed well so far, but is miles from last season's (2.77) total. That is probably one reason for the line shuffle, as you can see Lucic and Eberle are well below expectations.
RNH is solid, as are linemates Benoit Pouliot and Zack Kassian. Patrick Maroon leads the Leon-JP line, and that is a group who should be pushing—they face the soft parade. Another way of looking at this is via me RE and by line:
McDavid 1line: Projected 82 goals in 82 games, currently 13 goals in 12 games (ahead of the projection).
Nuge 2line: Projected 48 goals in 82 games, currently six goals in 12 games (that is on par).
Draisaitl 3line: Projected 41 goals in 82 games, currently eight goals in 12 games (ahead of the projection).
Letestu 4line: Projected 18 goals in 82 games, currently six goals in 12 games (ahead of the projection).
PULJUJARVI?
Coach McLellan says Puljujarvi 'is sore' & the injury is "more charley horse". Source
The tweet also says the team is unsure of the rookie's status for today's game, but the recall of Beck is perhaps a tell. JP looked like he was going to wheel all night in the early moments of the game, but the hit put things away. Too bad, the young Finn is a fun player to watch.
Remember: Schedule loss, but if this team could pull out a win, November could hold out some real promise. Our line in the sand is a point per game, a win today puts the team ahead of the pace. We wait.