When I was young, maybe 10, my Dad used to get up really early and go to work. If it was a non-school day, and my Mom didn't hear me get dressed, I would sneak outside and play hockey on the driveway. I had to be careful, because if I turned the outside light on too early after Dad left, he would turn around and send me marching right back to bed. I had an old sawhorse with two 10-gallon buckets in front that represented the goal, and a rubber puck plus an old Victoriaville stick that I used to shoot early mornings out in the country. The rubber puck, in winter, did a helluva impersonation of an actual puck (SK is damned cold) so sooner or later my Mom would emerge from the porch and protest my actions. Mom, unlike my Dad, could be convinced that the Orr Bruins needed me.
You couldn't go 5-hole on those buckets, had to go high—and even then you needed some luck to do it. If I had been 10 in the 80s, one bucket would have sufficed, but this was the 1970s and the era of that damned Dryden. Two buckets, little room, and that blasted Jacques Laperriere playing kitty-bar-the-door to make matters worse. Damned Habs.
I loved the game at 10, love it now. Today, this morning, I feel as though it loves me back. Winning is like the warmth of the sun on a cool morning. Welcome back, friend. It seems like such a long time.
WHAT IN THE ACTUAL HELL, YEAR OVER YEAR
Oilers in October 2015: 4-8-0, goal differential -7
Oilers in October 2016: 7-2-0, goal differential +10
Oilers in November 2015: 4-7-2
Oilers in November 2016: 2-1-1 goal differential -2
Oilers after 12, 2015: 5-8-0, goal differential -5
Oilers after 12, 2016: 9-3-1, goal differential +8
I have my line in the sand for November (15 points in 15 games) and these Oilers are ahead of the race. They are also exactly ridiculous on the road (5-1-1) so far this year so who knows what tomorrow brings. I have to say, this feels like a real turn north, cannot say this is a playoff team but it also feels like something more than fool's gold. Agreed? Or are we once again a heart like a wheel?
DEFENSE, LAST NIGHT

Klefbom—Larsson played an absolute ton last night, and owned in possession and HDSC. Well! The pairing was out with the Nuge line for over seven minutes (7-5 Corsi) and against Nyquist-Larkin-Nielsen (insane line) while going 6-4. Now, they get a bigger test on Tuesday, but this is a strong line and they were dominant. Larsson engaged offensively a few times, getting caught at least twice. I am generally encouraged by Larsson, but when he is behind the opposition goal line at the instant the puck is turned over—probably an issue that needs to be corrected.

Nurse—Gryba had a solid evening. The possession was strong and considering the opponent much of the night (Z-Tatar-Greek Guy) I think they did well (6-2 against them)—and they had low HDSC totals. That is what a good shutdown pairing should be doing.
Sekera—Benning were not good in possession but did win the HDSC battle. The duo played with the McDavid trio and went 2-8, while most often facing Abdelkader-Helm-Sheahan.
All numbers via NaturalStatTrick.
This was a good road game by these six men, and I am especially pleased with the top pairing and the third pairing. Still some wobble in the second group, but we have a rookie there and the young man can move the puck—he is a prospect worth discussing.
Klefbom was the only defender to pick up a point—an assist on the winning goal.
FORWARDS, LAST NIGHT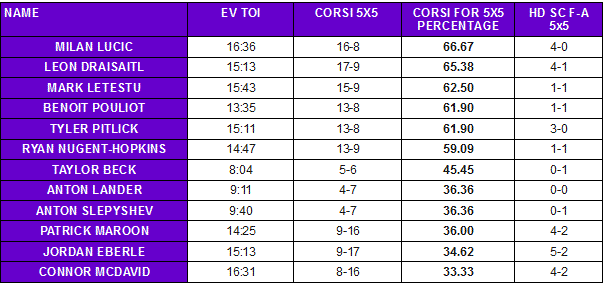 The Draisaitl line (Lucic-Pitlick) was the best line on the ice and it wasn't close in my opinion. They owned the Corgi's and the HDSC, and outplayed the Zetterberg line 10-2. The Zetterberg line is a good line!
The Nuge line (Pouliot-Letestu) did not have an eventful HDSC evening but were solid in possession and of course Nuge scored the winner. Played against the Nielsen-Nyquist line and that is some high heat—this line was so good I wonder if Letestu hangs around for the rest of this road trip and beyond. Maybe Letestu is the Pisani? Heh.
The Lander line (Beck-Slepyshev) did not win the possession battle but were suitably low event. Went 2-3 in possession in about four minutes against the Z line, I think we should take that all day. Slepy had two shots, quiet line otherwise. Lander played 1:49 on the PK.
The McDavid line (Maroon-Eberle) lost the possession battle but had several quality chances and won the HDSC battle. They went 6-11 against the Sheahan line, but as shown won the chance battle—how Maroon missed that point blank chance is beyond me. I think the Oilers should keep this line together in Pittsburgh.
STANDINGS, NOVEMBER 7

Whatever else comes our way this season, the Pacific Division standings this morning represent a major high for Oilers fans. Five points up on second place Anaheim, and Edmonton isn't five games ahead in the GP department. A spanking goal differential, including a division lead in goals and a competitive GA total. Very nice, and credit to the team and organization.
Although Vancouver is in peril early, it is actually Calgary who appear to be in a spot of bother. They have played more games than any other team in the division and carry the poorest GD.
INJURIES
Kris Russell is on IR now, listed as lower body.
Jesse Puljujarvi is uncertain for tomorrow night's game in Pittsburgh.
Zack Kassian lower body, also uncertain for Pittsburgh.
Brandon Davidson has a lower body issue and is out for some time.
Mark Fayne has an undisclosed injury and is out long term.
Iiro Pakarinen's knee injury has him out, no official timetable.
Matt Hendricks has a lower body injury and it sounds like weeks.
Andrew Ference has a hip issue and will not play this (his final) season.
Edmonton doesn't give many real pieces of information on their IR list, but I think it is safe to say that Jesse Puljujarvi and Zack Kassian will be back sooner than the rest. I think. As an aside, how many forwards on this list would you activate if it meant Tyler Pitlick had to hit the waiver wire?
PITLICK!!
I have been tracking the progress of Tyler Pitlick since the summer of 2010, and it has been a long and winding road. The best way for me to show you? Here are his rankings on my summer and winter Top 20s over the years:
Summer 2010: No. 4
Winter 2010: No. 7
Summer 2011: No. 10
Winter 2011: No. 9
Summer 2012: No. 11
Winter 2012: No. 9
Summer 2013: No. 24
Winter 2013: No. 15
Summer 2014: No. 14
Winter 2014: No. 10
Summer 2015: No. 19
Winter 2015: No. 25
Summer 2016: No. 22
Winter 2016: ???
That is a lot of trips up and down the charts! I always like to go back to draft day scouting reports from highly regarded sources.
Redline Report: "Began season playing the wing on a scoring line, but spent the last quarter of the year shouldering more responsibility centering Mankato's third line. Accelerates briskly out of cross-over and blows by defenders. Has an NHL calibre shot right now. Flashed the ability to power through defenders. Can gain separation in corners with sharp twists and can turn on a dime. Patient playmaker. Long-limbed with farmboy like strength. Aggressive and finished checks. Can shield the puck and work it down low, but often gives it up due to his eagerness to come off the wall and attempt to dance around defenders. Work in progress defensively – will come back deep and battle for the puck but lacks awareness in coverage assignments. Green in many facets and was stuck on a Mankato team that was every man for himself, but was a big-time talent."
Tyler Pitlick is in Pittsburgh today, preparing for career NHL game No. 41. I doubt he makes the Top 20 again—graduation comes at Game 50—but he is absolute proof that patience is required when it comes to prospects. I always say you should wait five years, but in the case of Brandon Davidson and now Tyler Pitlick, it appears that number can be amended as necessary. I am glad the Oilers showed patience, and that Pitlick never gave up the dream—it is certain there were times when 13gp, 4-1-5 at the beginning of an NHL season must have seemed like the impossible dream.
LOWDOWN WITH LOWETIDE
At 10 this morning, TSN1260. Scheduled to appear:
Scott Burnside, ESPN. Sidney Crosby on fire, McDavid fading as both men ready to meet in Pittsburgh tomorrow night.
Andy McNamara, TSN4Downs. Cleveland Browns set a dubious record, the Oakland Raiders are back to being the Raidahs and the Eagles need a wideout.
Jason Gregor, TSN1260. Eskimos hit the road and that is probably the best path to the Grey Cup—an Alberta Grey Cup in Toronto!
Sunil Agnihotri, Copper & Blue and The SuperFan. Oilers are in first place in the Pacific, have a great road record and surprising depth despite injuries. Is this true north?
10-1260 text, @Lowetide on twitter.
OILERS VERSUS AVERAGE
Record: 9-3-1 (6-5-1) Oilers are six points above league average, with an extra GP
GF: 39 (33)
GA: 31 (33)
PPG: 8 (7)
PPGA: 4 (7)
Shots For: 387 (357)
Shots Against: 398 (355)
Shot Differential: -11 (+2)
SP: .927 (.912)
PDO: 101.8
Fenwick For: 49.88