Tonight will be billed as McDavid versus Crosby, but I am looking forward to seeing the gap between the two teams. Pittsburgh has a slight edge in even-strength stats (50.5 percent in 5×5 shots for, Edmonton 50.2) but it is not a runaway train. We are not yet (20 games) at a point where we can trust the overalls, but the trends are encouraging in some areas (5×5 possession) and discouraging in others (5×5 scoring on skill lines, power play prowess). A long road trip ends tonight, and a win would make this a wildly successful November trip.
CALL OUT THE INSTIGATORS, YEAR OVER YEAR
Oilers in October 2015: 4-8-0, goal differential -7
Oilers in October 2016: 7-2-0, goal differential +10
Oilers in November 2015: 4-7-2
Oilers in November 2016: 2-1-1 goal differential -2
Oilers after 13, 2015: 5-8-0, goal differential -5
Oilers after 13, 2016: 9-3-1, goal differential +8
One year ago, Edmonton lost (at Rexall) 2-1 to these Penguins. Pittsburgh has depth, quality and they are coming off a 5-0 lashing of the San Jose Sharks—in San Jose. If this was last year, I would mention something about a test this team wasn't up to, hey maybe the Oilers get fed just like the Sharks did the other night. Edmonton's weekend gives them a little breathing room either way, but two points banked tonight would be further evidence of a strong turn north this season.
DEFENSE, AFTER 13

All numbers via NaturalStatTrick.
Klefbom-Larsson is emerging as a strong pairing, but will be tested in a big way tonight. Klefbom (0.54) and Larsson (0.51) are not ripping it up offensively at 5×5—that isn't their gift—but the pairing is emerging as a trustworthy duo for Todd McLellan.
Nurse—Gryba are a solid third pairing and are playing opposition at par this year—and give the club some real depth this season. Nurse (0.61) and Gryba (0.00) are not 5×5 scoring monsters nor should we expect it. This is a pairing devoted to leather over lumber. I like their performances in recent games.
Sekera—Russell (and Benning) are the most offensive defensemen at 5×5. Sekera (0.87) and Russell (0.93) are delivering well and Matt Benning (1.15) is off to hot start. This pairing is struggling in possession, and for me (I like my CorsiRel) this is going to be an issue as time goes on.
5X5 starts via the always brilliant Stats.HockeyAnalysis.com.
CORSI REL, AFTER 13 (BLUE)
Oscar Klefbom 2.8
Darnell Nurse 1.8
Eric Gryba 1.8
Adam Larsson 0.5
Kris Russell -4.2
Andrej Sekera -4.8
We are not yet at 20 games, but the evidence continues to pour in. CorsiRel is my defensive measure of choice, and it is (so far) smiling about Klefbom, Nuge and Gryba, and frowning on that Russell-Sekera pairing. We can argue it, and maybe Matt Benning saves the day, but counting on rookies is a bad idea.
FORWARDS, AFTER 13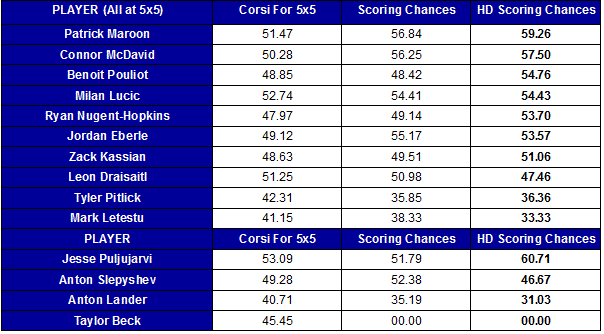 The McDavid and Nuge lines are winning the HDSC game, and Leon's trio should be. One thing these numbers do not show? The 4line's impact offensively.
Connor McDavid is running at a 54 percent Corsi with Milan Lucic, 44 percent without—early days mind, and I think Patrick Maroon is capable of cashing those 97 passes.
Leon Draisaitl is a little shy in the HDSC's and for me his WOWY performances away from Patrick Maroon should be stronger. It is silly to call Leon a disappointment, but Edmonton needs him to gobble up those soft minutes and deliver 5×5 offense.
Ryan Nugent-Hopkins and Benoit Pouliot go together like peanut butter and jam, really good numbers and Zack Kassian has been a solid addition to the line as well.
5×5/60, AFTER 13 (FORWARDS)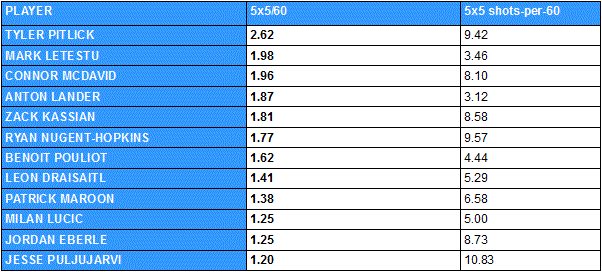 This is a somewhat remarkable list. Source
Tyler Pitlick is scoring at a 2.62/60 rate and has a shooting percentage of 21 percent. This is unsustainable for sure—I do like the fact he is shooting a lot, though. His shot tends to produce rebounds. Hang in there young man!
Mark Letestu has a shooting percentage of 22.2 percent, and he isn't going to be at this end of the chart by season's end.
Connor McDavid is down drastically from a year ago and the Oilers are 9-3-1. He was 2.69 and 7.10 last season, betcha by golly wow that 5×5/60 number spikes and right soon.
Milan Lucic and Jordan Eberle are underperforming, but it is important to recognize how early we are in the process. As a for instance, if he had one more 5×5 point, his number would be 1.56—these are early days and we will have to give this team a little more time to establish itself.
The encouraging thing, as mentioned above, is the team's record depite the low numbers here for the McDavid line and Draisaitl line.
These are five-by-five numbers and do not include empty netters.
TOTAL RECALL
The Penguins have called up Steve Oleksy and Chad Ruhwedel for tonight, one is an enforcer and the other is a puck mover. Teams have been trying to cut off lanes and momentum against McDavid on this road trip, and he has been relatively quiet in the last five games (0-2-2). All that really means is that his breakout is imminent and perhaps we get a taste of it tonight. His wingers really need to cash some of the myriad 5×5 chances.
SCHEDULE
After tonight's game against the Penguins, Edmonton comes home to play Dallas on Friday and the Rangers on Sunday. Next week is going to be a tough one—road games in Anaheim, Los Angeles and Dallas. As good as the current record looks, I think six points in those six games should be regarded as a solid return.
RETURNING?
Rumblings about Jesse Puljujarvi or even Drake Caggiula playing soon, it will be fascinating to see who comes out when everyone is healthy. Taylor Beck can be returned and I do think Anton Slepyshev gets sent out when Caggiula is activated. The big decision will come when it is time for Matt Hendricks to be activated—Tyler Pitlick and Anton Lander have set up shop on the 4-line (with Mark Letestu) and I think it would take a prolonged slump by team and player for Todd McLellan to hit shuffle.
It could always be worse, Canadiens fans. On this day in 1985, the Canucks were shellacked 13-0 by the Oilers ? pic.twitter.com/IQ7l8XpRxB

— Mike Commito (@mikecommito) November 8, 2016
There was a time when Raimo Summanen was regarded as a big time option for 99 on LW, and this would have been during that time. One thing we should watch for when this Caggiula fellow finally makes his debut: Chemistry with the big talent. If he could slide in and contribute with any of the three tenors, Edmonton has an inexpensive and productive offensive option. It is a big damned deal, that next Summanen. Not all of them become impact solutions for five years, but even a strong run in-season can make a big difference.
LOWDOWN WITH LOWETIDE
A fun show, beginning at 10 on TSN 1260. Scheduled to appear:
Jonathan Willis, Oilers Nation. Sid vs. Connor is the major story, what will Jon be looking for?
Corey Graham, Oil Kings PBP. He is calling the Canada-Russia game tonight at Rogers Place, we will test him on Russian names.
Scott Cullen, TSN. Where do the Oilers place in his power rankings? Is this team turning true north? Plus CFL playoffs.
Frank Seravalli, TSN. Bonus Frank! The big game tonight in Pittsburgh, linear crossovers.
10-1260 text, @Lowetide on twitter. See you on the radio!