Connor McDavid regresses to the mean like a bullet to the heart, and he was on last night in Pittsburgh. Three assists, and now near the top of the scoring charts, his team is competitive every night. Can they make the playoffs? They are in the race, and appear to be capable of making the second season. Injuries, slumps and trades will impact, but this team proved last night they can play with the best—at least for 40 minutes.
THIS LOOKS REAL, YEAR OVER YEAR
Oilers in October 2015: 4-8-0, goal differential -7
Oilers in October 2016: 7-2-0, goal differential +10
Oilers in November 2015: 4-7-2
Oilers in November 2016: 2-2-1 goal differential -3
Oilers after 14, 2015: 5-9-0, goal differential -6
Oilers after 14, 2016: 9-4-1, goal differential +7
The Oilers picked up five points from their five game road trip and that was our agreed line in the sand. There are 15 November games, and Edmonton is on track for 15 points. I am impressed by the team's ability to stay in most games, and despite the blown lead, I thought they played well last night. HDSCs: 9-9.
DEFENSE, LAST NIGHT

Nurse—Gryba are posting nice numbers these days, have to say McLellan is starting to use young Nurse as his top guy after the No. 1 pairing. Nurse was 9:34 with the McDavid line, 4-7 against Crosby in 6:18. That is not third pairing.
Sekera—Benning had a better night than normal by the Corsi and by the HDSCs. Sekera was 2-5 in six minutes with the Nuge, they were 2-3 in four minutes against Malkin. I had no quarrel with the pairing.
Klefbom—Larsson played a lot and were more high event than you would like (six HDSCA in the game), and the minus three for each man is a big item. Klefbom was 8-10 in 7:24 with Leon, 8-10 in 6:52 against Malkin and then faded against Crosby 3-9 in 4:46. That was a tough part of the game for Edmonton.
Oscar got caught in some bad spots last night, important to remember he is still developing and single moments and events can have super importance while being exactly single moments and events. That was the case for Oscar (and others) last night.
FORWARDS, LAST NIGHT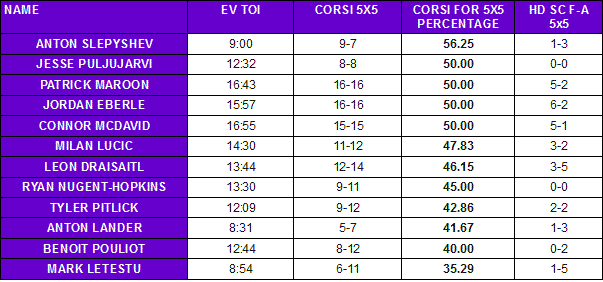 Lander—Letestu—Slepyshev was 5-7 together, I thought they were fine. They did lose 1-5 with Matt Cullen on the 4line matchup is not good. The line had two shots on goal, both centers were active and successful on the dot. Source
Maroon—McDavid—Eberle owned the night, an outstanding evening for Edmonton's top line. Eight points for the trio, that is a killer. McDavid made a Keon play on one Pittsburgh sortie, back checking brilliantly, dislodging the puck from the Penguins possession, and turning the other way in a heartbeat. Defending McDavid in the seconds after turnovers is going to be next to impossible in the coming years. If all three forwards are heading in the wrong direction when he gets possession, there is no chance. They did struggle against the Malkin line (1-4) but were solid (9-11) in the heart of the game against the Crosby unit.
Getting McDavid space and time can be an issue, the Penguins adjusted mid-game and things slowed down in a quick hurry. The key for Todd McLellan is to find a solution—a consistent second scoring line—and that is not yet known to us. I keep coming back to the Leon line.
Lucic—Draisaitl—Pitlick had a major impact on the game, with turnovers in bad places by Leon and Lucic costing the team goals. Both men know better, and each cost the team a goal that could have been prevented by poor puck decisions in the area just outside the Edmonton blue line. Need to clean that up. The line did well in possession (8-4) against Malkin, but single moments and events blah blah blah.
The thing I wrote about Oscar is also true of BP and LD and ML—single events can have major importance. Why would a team punish Pouliot for being at the goal mouth to help his goalie solve a sortie? Luck is a two-sided coin. It is unusual and exasperating to see three things like that happen in the same game, but the fact Edmonton was still in it late represents progress.
Pouliot—Nuge—Puljujarvi didn't get a lot done offensively. The line was 5-5 against Malkin, and that is a good night. I am not going to bury Pouliot, weird and flukey play that couldn't happen twice out of 10.
3 points from Tyler Benson leads Team WHL to a 4-1 win over Team Russia.

— Corey Graham (@CoreyGraham) November 9, 2016
Benson is playing with a pedestrian bunch of Vancouver Giants, so his 1-2-3 line last night against the Russians is heartening. Edmonton needs a second round homer (Tyler Pitlick, Martin Marincin, Curtis Hamilton, David Musil, Mitch Moroz, Marco Roy were the six chosen second round 2010-13) and this fellow has some nice arrows.
MILAN LUCIC
The Oilers lost a game at the end of a road trip, this isn't breaking news. That said, I think there is probably a point where Todd McLellan is going to need to have a chat with some of his veterans. Leon turned the puck over in a bad spot, but there weren't a lot of options and he just turned 21. Benoit Pouliot did a thing, but I can make a case that he correctly read the play and that execution, while an issue, is forgivable.
The Lucic across the middle pass that resulted in the first goal is the kind of play that gets a rookie a seat in the pressbox. Todd McLellan's crew is playing pretty tight defense now (considering where they were a year ago) and for a veteran like Lucic to make that play is a problem. It isn't the first errant decision, either. The Oilers didn't bring him here to be the third best LW on the team.
*Note: This does not mean I suddenly turned on Lucic. I have been a strong backer of this player going back to his rookie season in Boston. His season looks good by the numbers.
MILAN LUCIC 2016-17

5×5 points per 60: 1.25
5×4 points per 60: 5.25
Corsi For 5×5 %: 52.1
Qual Comp:  Tough (Source)
Qual Team: No. 1 or No. 2 line
Corsi Rel: 4.9
Shots on goal/percentage: 124/16.1
Boxcars: 14gp, 5-4-9  (Projection: 82gp, 29-23-52) (Source)
(All numbers via Stats.HockeyAnalysis.com and Natural Stat Trick (Source above)
This is a good line, note the power-play total and the boxcars plus projection. My issue with Lucic isn't on the offensive side (although the 5×5/60 needs to spike, but it is still early) but he needs to protect the puck better and make fewer wayward passes. You can forgive Leon, but Lucic is a bona fide veteran who plays these tough minutes every season. He needs to be better.
LOWDOWN WITH LOWETIDE
At 10, TSN1260. Scheduled to appear:
Bruce McCurdy, Cult of Hockey. We will chat about that second scoring line and the Oilers road trip.
Eric Fawcett, Basketball Press. Canadian athletes continue the American invasion into NCAA hoops, and there is at least one local student athlete having an impact.
Don Landry, CFL.ca. The idea of a BOA for the Grey Cup in Toronto is fairly perfect.
Jeff Krushell, Krush Performance. Jays talk (they are moving on from someone, but who?)
10-1260 text, @Lowetide on twitter. Talk soon!