Ever had a song rolling around in your mind for about 10 days? I loved top 40 radio, so the malady can creep up at any time. Seriously. I could be driving down the road and that damned Pipkins song (Gimme Dat Ting) might climb in, or Jeans On by David Dundas. My brother loved Tom Jones when I was a kid, so Delilah or She's A Lady tries to get into my brain two, maybe three times a year. Like those catchy tunes, I have a few Oilers questions creeping in, and since we have an off day (call it a rain delay), this is a good time to get to them.
Who is going to play with Andrej Sekera?
This is a big one, depending on the return date for Kris Russell, Brandon Davidson and Mark Fayne. It seems as though the Klefbom—Larsson and Nurse—Gryba pairings are solid to good most nights, but the Sekera numbers are off. Here is a look at the blue and their numbers across a few categories over 14 games.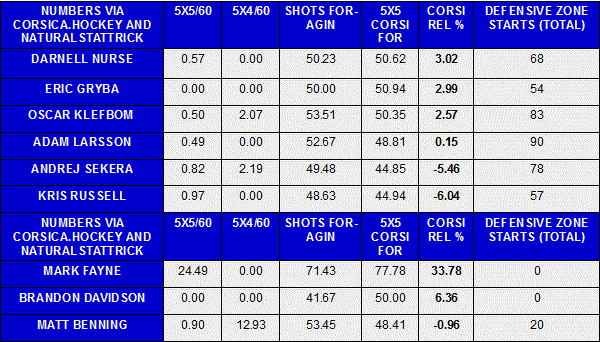 I am a Corsi Rel man, and the early numbers suggest we should be reasonably happy with the Klefbom—Larsson and Nurse—Gryba pairings. That third pairing (and it feels like the third pairing now) is an issue—partly because of injury. Are the Oilers going to be able to solve this issue internally? Not sure. I do think it interesting that the Florida Panthers continue adding RHD unabated at this time.
Why do Klefbom—Larsson make so many mistakes?
One of the things we have to keep in mind with most of these defensemen is their inexperience. For instance, I love Oscar Klefbom's game, but he has been in the NHL for a total of 121 games—less than two full seasons. He is going to have some poor games and because Oscar is on the top pairing those games could have a lot of wobble. Edmonton has a fine young defender, and that is a good thing, but not an ideal thing.
Ideal thing? When Guy Lapointe entered the NHL as a rookie in 1970 fall, he was 22 years old. If he looked around, Lapointe would see veterans J.C. Tremblay, Jacques Laperriere, Terry Harper, young veteran Serge Savard and fellow rookie Pierre Bouchard. That was a fine group, but the Lapointe-Savard-Robinson group that would bloom a few short years was even better.
Edmonton has no such depth and quality, so Oscar Klefbom is on the top pairing. How much should we punish him for poor performances at this point in his career? My view is this:
It's possible to have good numbers and get noticed for negative things—single moments and events can have super importance while being exactly single moments and events.
Now. If Oscar Klefbom were playing with an organization that spent the last decade carefully plotting out a defense that had a mixture of youth and experience, our man would be about the spot in the batting order Darnell Nurse is today. No such luck for this young blue. So, fire away on Oscar all you wish, but chances are he is going to make you look like a donkey—and that right soon! Talent added to experience is a tremendous advantage—we just haven't seen it much here lately.
Can you find room for Matt Hendricks? Drake Caggiula?
This is an issue, only in that once everyone gets healthy the team may have to send some good players to the AHL. That is a rare problem for Edmonton, but I imagine the answers to the above questions are Taylor Beck and Anton Slepyshev.
The bigger question is probably who do you take out of the lineup? For me, I keep Tyler Pitlick and Anton Lander with Mark Letestu, and that means Matt Hendricks is going to have a difficult time making it back into the lineup (sans injury).
Drake Caggiula? Hmmm.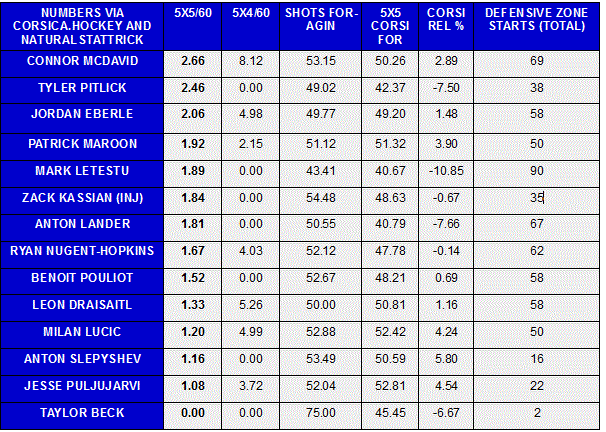 There are some great numbers here, that McDavid line is top drawer. Turns 20 in January, thanks to baby Jesus.
Numbers via Corsica.Hockey and NaturalStatTrick.
If we create a line in the sand that requires 2.00/60 at 5×5, a Corsi for 5×5 of 50 percent or more and a shots percentage of more than 50 percent, how many players are in that range? McDavid, Maroon, Eberle. Edmonton needs to double that number, I would think Nuge, Pouliot, Leon and Lucic should all be there my season's end.
Milan Lucic is struggling, but he is also doing things not in his character (errant passes being the major issue). I think he could learn something from Patrick Maroon—keep it simple, sir. (You can call ML stupid, but I won't because it isn't true—he is a smart player, but not everything rhymes right now. Important he finds his way).
Mark Letestu has had an interesting start to the season. Do not expect the 5×5/60 to hover in that area, but the Oilers 4line has produced offense this season. He also has more defensive zone starts (I have included the raw number, this does not mean I hate you so please keep your phasers on stun when realizing it is part of the graph). I think he has more importance to this team than many let on.
Leon Draisaitl and Nuge lines need to be more productive at 5×5. That aside, I think these two centers are doing well this season.
Tyler Pitlick is at 41 career games now, he will not make my Top 20 (by the time we get to his number, Pitlick will have reached 50 games). I am happy for the young man, his player card above and boxcars (14gp, 4-1-5) this season probably keeps him here even after everyone is healthy.
Where does Drake Caggiula go? 3C I imagine, with the top line (Maroon—97—Eberle) and the 2line (Pouliot—Nuge—Puljujarvi) will eventually be set. The 3line (Lucic—Leon—Caggiula—Slepyshev—Kassian) comes together from the rest of the available. Fair? Or do you have a better plan?
Miroslav Svoboda is having an insane season. 10gp, 1.29 .959 is a great number even if you are playing in the basement using wool socks for a puck, and this guy is playing in the Czech 2 league (they use an actual puck). Here is his page on the team website, it appears to be a minor league in the Czech Republic. If he continues to play at a high level, one would think Svoboda will get some starts in the higher league later this year.
As per Gerry Fleming in @OilersNow. Griffin Reinhart is in Edmonton getting his back looked at by Dr. Naidu.

— Bob Stauffer (@Bob_Stauffer) November 9, 2016
Reinhart has played in just four AHL games this season and now comes news of a back issue. With expansion coming, this would have been a good season for the young man to show well, and that could still happen. However, anyone who has ever had a back problem knows this could take some time, so Reinhart's usage this season is likely to be reduced a great deal. He has played 67 and 59 games in his first two pro seasons, so this is not an injury prone defenseman. Hope for the best.
TALBOT UPDATE
Cam Talbot is a big part of this Oilers success, I would wager he and McDavid are the two MVPs of 2016-17 so far. Here are his numbers this morning compared to league (seven or more appearances):
Overall Save Percentage: .921 (No. 10 in NHL)
Even-Strength: .917 (No. 16 in NHL)
Power Play: .957 (No. 2 in NHL)
We are giving (rightly) credit to PK men like Anton Lander, Mark Letestu, Darnell Nurse and Eric Gryba, but Cam Talbot is fire in the discipline. MVP? You could make a strong case, and if this team makes the playoffs my guess is Talbot wins 40+ games.
LOWDOWN WITH LOWETIDE
A busy, fun show today on the Lowdown. Scheduled to appear:
Rob Vollman, Hockey Abstract. Can the Oilers make the playoffs with this roster? How important is a red hot Talbot? How good are Edmonton's fancies?
Josh Lewenberg, TSN. The Raptors I see can shoot threes, play defense but badly need a tower for rebounds. We will talk to an expert.
Tom Lynn, Veritas Hockey. How often do NHL teams sign players with a verbal surrounding trade? Also, expansion chat.
Frank Seravalli, TSN. We are approaching the time of year where teams who are doing well should be expected to make or push for the playoffs. Edmonton is one of those teams.
10-1260 text, @Lowetide on twitter. Talk soon!