Lots of opinions about last night's loss to the Dallas Stars, suspect we can argue all day and boil it down to opportunities lost. The team got secondary scoring, lots of shots, maybe didn't get that big save and shot the daylights out of Mr. Corsi. It was one game. Remember our line in the sand? We agreed 15 points in 15 games was the goal. This morning, the Oilers trail the line, and a win Sunday against the Rangers gets them back to even. If you want to worry, perhaps the lack of scoring from the Nuge line is a good place to start.
CLENCH, UNCLENCH, YEAR OVER YEAR
Oilers in October 2015: 4-8-0, goal differential -7
Oilers in October 2016: 7-2-0, goal differential +10
Oilers in November 2015: 4-7-2
Oilers in November 2016: 2-3-1 goal differential -4
Oilers after 15, 2015: 5-10-0, goal differential -8
Oilers after 15, 2016: 9-5-1, goal differential +6
The Oilers could spiral downward for some time and not get close to last season, but one hopes we don't witness it. I do think the lack of balance is an issue, on right wing, on defense (injuries have impacted both) and perhaps we will see Peter Chiarelli step in and shore up these positions.
DEFENSE, LAST NIGHT

Sekera—Benning are occupying the Klefbom—Schultz position from the past, getting a nice push and hopefully doing some good at the other end. Both men were +2 on the evening, they were 7-1 in 4:52 with Connor McDavid and 4-2 in 3:43 with the Nuge. This pairing played just 3:04 (2-2) against Tyler Seguin but spent most of the evening against Gemel Smith and Justin Dowling. Sekera can play higher on the depth chart, but this pairing needs a more experienced hand to play with him.
Nurse—Gryba had a strong night across the board, and I thought it was possibly the best game of the year by Nurse. He has wheels and I think we might see him blossom a little offensively later in this year. They were 10-5 in 7:21 with McDavid and 11-6 against Jamie Benn. This is a good line for the pairing, and they continue to be a big part of the PK.
Klefbom—Larsson got caved in HDSC and did just okay (6-4) in 4:58 with 97, 6-2 in 3:45 with the Nuge and 4-6 in 6:51 with Leon. They were 4-9 in 7:28 against Seguin and 8-3 against Devin Shore—didn't see Benn much. Larsson gave out a monstrous hit the crowd didn't notice.
The defense did not post any points, and that makes sense. The headman pass did not have much to do in this game. That has to change.
FORWARDS, LAST NIGHT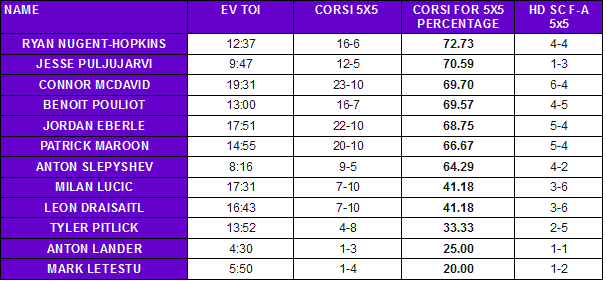 Pouliot—Nuge—Puljujarvi are hitting line drives now, JP is getting closer to scoring a bunch and the Nuge and Poo had good looks. The line won the Corgis, even on the HDSC and 13 shots (seven from the center). Played 5:10 against Justin Dowling/Gemel Smith and didn't score, despite going 6-1 against them. I think there was a goal in that matchup tonight but it didn't come.
Maroon—McDavid—Eberle did score, points all around for the line. They had 13 shots on goal and McDavid was 60 percent on the dot. They went 14-5 against the Benn line, but they also had some wobble and of course Jordan Eberle was in chase mode on the GWG, with Maroon also looked off what would have been his man.
Lucic—Draisaitl—Pitlick got a goal, terrific individual play by Tyler Pitlick. Other than that, quieter than the other scoring lines (six shots) but they seemed to keep the pucks deep and didn't get run over. They went 2-6 against Seguin, the Nuge line would have been the choice save for the young Puljujarvi on that line. Coach a little boxed in there methinks.
Lander—Letestu—Slepyshev didn't play much, although Slepyshev got two guitar solos and a chance to sing harmony on two of the hits. Slepyshev was 2-0 in 1:07 with Connor McDavid, 4-1 with Nuge. Interesting ad lib by the coach. The Russian got a good look courtesy a nifty pass from Letestu, but the Dallas goaler made a fine save.
HDSC: 13-15
TIME TO PANIC?
One of the reasons we create lines in the sand is for moments like this one. I can see in the comments already that the usual arguments are returning, the sky is falling and this team will never be right after the Hall trade. If you believed this team was a lock for the playoffs, last night must have been tough. If you believed this team had learned not to get caught looking in the first minute of the game, last night must have been frustrating.
I didn't think this was a playoff team, don't believe it to be true now. That said, they are closer to being one than I projected them to be at the end of training camp and that deserves a mention. Back when we talked about the lack of balance on the roster, I suggested there were three areas of need for this team to reach that goal:
A quality backup goalie (Jonas Gustavsson has certainly filled that role in the early days).
A RHD who can play well at evens and help the PP (Matt Benning is in the role currently).
A Pisani (Tyler Pitlick is having real success in this area, we will see)
I have to admit that so far the solutions have been good to excellent, and PC did in fact attempt to shore up that RHD slot before the season began (Kris Russell). Benning is actually having a little success on the power play, although I wonder if this is viewed as the ideal solution. We will see, I suspect the club is at least considering a move at the Benning spot (depending on how close Brandon Davidson and others are to returning).
TODD MCLELLAN
"Give Dallas credit. Now flip it over, [we were] a sleepy team. We weren't ready to go right off the bat. I thought we did a lot of watching and then reacting instead of anticipating. Finally got it later in the game, but they checked well, and their goaltender gave them a chance to win." Source
I don't think the Oilers were especially smart with the puck and the defensive coverage issues were obvious (how many Stars were all alone in front of the net to receive a pass last night? Six? I bet it was six) to anyone watching. Some of this is luck, and some of this is injury, but generally speaking I think it is fair this morning to suggest we are looking at a market correction. The Oilers sit this morning at 9-5-1, and that is probably a little generous based on the actual quality of this team. I do think Todd McLellan has to figure out if Jesse Puljujarvi is the right man for the Nuge line and that may be next step.
BECK
Oilers sent Taylor Beck down after the game last night, that probably means Zack Kassian draws in against the Rangers. The obvious odd man out is Slepyshev, who looked good to my eye last night. The Oilers do have better depth this season and that is a good thing.
Lots of Oilers observers preaching Nakladal, but one suspects Dennis Wideman is more likely https://t.co/4bacWwhiRS #Oilers

— Lowetide (@Lowetide) September 18, 2016
Brad Treliving on Nakladal when the Flames signed him: "He's a good-sized, right shot defender. He can move a puck, he's got a big shot, but his game is a defending type of game with the ability to make simple plays, simple outlet plays. I don't want to confuse him with a guy who's going to take the puck from one end to the other, but he's a solid, stable defender." Source
Nakladal is on waivers this morning and for me this is a player the Oilers should have interest in, while it is also obvious that Edmonton still needs a power-play option. Beck being sent out means there is room. I would pick him up on waivers. Would you?
TYLER PITLICK
I always cheer for the underdog, goes back to Larry Mavety and before. Who is Larry Mavety? He is the ultimate outsider, a man who never played an NHL game despite being a capable player. I have always believed there were men in the minors who could flourish as NHL role players given a chance, and since that means a lot of luck those players hold special interest for me.
Mavety would always be in the fall guides and magazines; he'd get maybe one sentence that went "Doug Barrie, Ray McKay and Larry Mavety are also in the mix." The mix. Man, the mix didn't treat Larry Mavety very well. The mix laughed at Larry Mavety. Passed on him every time, and then caused coaching staffs to forget his name all year long.
The mix had a chuckle or two about Tyler Pitlick too, but it looks like the young man may have the last laugh.
Todd McLellan: "I like the way he plays. I like his tenacity, I like his speed, his ability to finish checks, he drives the puck to the post, has a heavy, hard release. There's a lot of real positives for him." Source
Tyler Pitlick has five goals in the season's first 15 games. That is a terrific early story, and I sincerely hope it continues. Well done, Tyler Pitlick.