I have maintained through summer and fall that Peter Chiarelli made a curious bet. After trading Taylor Hall, the team had to turn north—and that should have resulted in a more balanced roster. As this blog has suggested throughout the piece, the journey to balance still has some stops to make. The Rangers did more—and are having more success—to achieve balance last summer.
Last night was a case of a much better team establishing a lead and then coasting home. If you came to this blog this morning for a rage in the cage on the Nuge or other, you are about to be disappointed. If you came here wondering why management stopped adding useful parts last summer, you are probably going to like today's post.
THE GALES OF NOVEMBER
Oilers in October 2015: 4-8-0, goal differential -7
Oilers in October 2016: 7-2-0, goal differential +10
Oilers in November 2015: 4-7-2
Oilers in November 2016: 2-4-1 goal differential -6
Oilers after 16, 2015: 6-10-0, goal differential -7
Oilers after 16, 2016: 9-6-1, goal differential +4
Ah damn. It is quite painful to watch this thing fade, and with more tough games ahead this losing streak could destroy the good start and force the team down to the second division with Calgary and Vancouver. The problems are identifiable, but the solutions will cost assets—and I wonder if Peter Chiarelli is willing to make those sacrifices at this point in the season. HDSC 19-19.
The November records season over season are beginning to resemble each other, and our line in the sand (15 points in 15 games) has water coming in (five points in seven games).
DEFENSE, LAST NIGHT

This is Natural Stat Trick, HockeyStats.ca and NHL.com.
These are insane numbers, but score effects took over early in this game (we haven't seen it much) and the Rangers coasted home. Edmonton had a lot of Corgi's but the HDSC totals were even on the night. NYR are a much better team than Edmonton, and the early season solution (97 posting more than one point, Talbot shutting the door) doesn't rhyme these days.
One of the positives we can take away is that the Sekera—Benning pairing can do some things offensively. I am really warming up to the rookie's play and Sekera had one of  his best nights. I imagine we see Benning in Bakersfield in the next four weeks and he should tear the cover off the ball at that level. The rookie makes plenty of good decisions (while also being a rookie who should probably be in the AHL).
Larsson played a little with Sekera and a little with Nurse, after the coach split up the Swedish duo. Klefbom did the same and even spent a minute with Benning. Klef and Larsson had a devil of a time with the Zibanejad—Miller—Zuccarello line (2-12) and the HDSCs favored Manhattan when Oscar was on the ice.
Don't be fooled by the numbers above, deployment is a big part of the game and impacts results. Oscar Klefbom is a smart, effective and talented blue with tremendous wheels. He lacks experience, and on a deeper team maybe he could play second pair. However, as we will discuss later, that may not be the gap some believe it to be with this Oilers team.
Nurse—Gryba were -2 on the night and the speedy Rangers had a fairly easy time against the pairing. PCs formula for size mixed with speed might have to rest a guy like 62 for the next track meet.
Sekera had the only goal on the night and the only point by a defender.
Cam Talbot didn't let in a softie and he did not stone his former team either. You would have to have a real hate on for goalies to blame him for this game.
Brandon Davidson needs to get back on this roster. Soon.
FORWARDS LAST NIGHT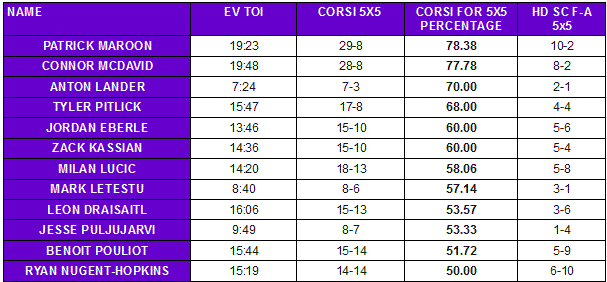 Maroon—McDavid—Pitlick went 21-3 in 12:29, that is going to get you another game or two on the top line, Mr. Pitlick. The reason he probably doesn't stay there is that point blank shot he fumbled, but there is historical evidence for this kind of thing working out for extended periods. An effective, inexpensive winger on the 97 line can be bettered only by two effective, inexpensive wingers on the 97 line. Brett Callighen got his start at Centennial College.
Pouliot—Nuge—Eberle were just 6-6 together, but I am hopeful we see this line more on the road trip. There was magic in this group in the before time, and it is vital they get going again. I love the Nuge's game, but he made a dreadful mistake last night and needs to clean that up.
Lucic—Draisaitl—Kassian were 8-2 in about six minutes, we could see them again. Kassian was very good to my eye last night, added something to this line. Lucic had five shots and at least two dandy chances to my eye, if he can do that every night the 5×5 offense will come.
Jesse Puljujarvi may need a week or so in Bakersfield to get back to previous levels, I thought he faded last night. If JP is getting looks you keep him, but that was not the case last night.
FORWARDS 5X5/60
Connor McDavid 2.71
Tyler Pitlick 2.33
Patrick Maroon 2.17
Jordan Eberle 2.03
Mark Letestu 1.68
Zack Kassian 1.63
Anton Lander 1.55

Ryan Nugent-Hopkins 1.44

Benoit Pouliot 1.27

Leon Draisaitl 1.14

Milan Lucic 1.03

Anton Slepyshev 1.00
Jesse Puljujarvi 0.91
This is a startling set of numbers. The first thing I look at when assessing forwards is this number—if you have six guys at 2.00/60 you can make it go, but this list is more Pakleds than Captain Pickard. Seriously, this is ghastly, pairings like Milan Lucic—Leon Draisaitl and Benoit Pouliot—Ryan Nugent-Hopkins should be able to break 1.50/60 without getting their hair wet. If you are looking for one reason this thing is off the rails, ask yourself if the RWs on these two lines are proven and substantial. And then we can talk about leaving the station unbalanced. Astounding bet. Truly. Oh, and well done Tyler Pitlick! That 18.52 shooting percentage may not stay, but if you play enough with McDavid keeping it at 12 could be in the cards! Also, McDavid has only 34 5×5 shots in 16 games, that number needs to be higher.
CORSI REL, BLUE
Matt Benning 6.3
Eric Gryba 1.5
Darnell Nurse 1.1
Oscar Klefbom 0.4
Adam Larsson -0.6
Andrej Sekera -1.6
Kris Russell -7.2
Okay. We need to talk. I absolutely believe Matt Benning would do well to spend some time in the minors, in fact for me the moment Brandon Davidson gets healthy that needs to be the play. That said, Sekera—Benning now has a Corsi for 5×5 percentage of 53.3 and are performing well.
How much of lefty-righty do we assign to this situation? Sekera—Russell is 45.6 Corsi for 5×5 percentage, will Sekera—Davidson be substantially better? A year ago that tandem was 46.2 in 76 minutes, are we sure they will be better than Sekera—Benning? Absolutely certain? I don't have an answer, but that is a good question.
DEFENSIVE ZONE FACEOFFS, BLUE
Kriss Russell 57/6
Adam Larsson 90/6
Oscar Klefbom 82/5
Andrej Sekera 79/5
Darnell Nurse 65/4
Eric Gryba 52/4
Matt Benning 19/3
Someone asked the other day why I don't post percentages anymore. Well, there are two reasons. First, there is some evidence suggesting defensive-zone faceoffs have lest impact on possession numbers than we thought they did in the before time. I am not certain on that premise, and would gladly publish percentages, but there is a massive gap in opinion about how to express zone starts. So instead of giving you false or misleading information (I am uncertain about the best way to express it), you get the hard numbers and that Kris Russell averaged about six defensive ZSs in his 11 games and that Darnell Nurse is averaging 4 DZSs in his 16 games. I rounded the numbers up or down, and you can see there isn't a tremendous gap or anything. Seems Russell was deployed quite a bit in this area compared to his roster spot, but that is a guess.
QUAL COMP
In a way, we are getting better information now on qual comp, but it does require us to use the brain God gave us. NaturalStattrick gives it all away with specific 5×5 TOI for each player against all opponents, so we can dig in there and get an idea about who is facing whom. For our purposes today, I am going to list defensemen in my assumed order (tough to easy) and include both Flames and Rangers forwards (both clubs have played Edmonton twice).
Oscar Klefbom—Mats Zuccarello, Kris Versteeg, Jesper Fast, Johnny Gaudreau, Sean Monahan, Derek Stepan.
Adam Larsson—Mats Zuccarello, Sean Monahan, Johnny Gaudreau, Jesper Fast, Kris Versteeg, Rick Nash.
Andrej Sekera—JT Miller, Mats Zuccarello, Mika Zibanejad, Johnny Gaudreau, Kris Versteeg, Sean Monahan.
Darnell Nurse—Mats Zuccarello, Michael Grabner, Derek Stepan, Matt Tkachuk, Troy Brouwer, Sam Bennett.
Eric Gryba, Kris Russell and Matt Benning didn't play both teams twice, so I have excluded them from our look here. I think the exercise is worthwhile, because (for me) it shows two things: Qual Comp is a big part of the game, and parsing it correctly is an art or a science—with most of us badly misinformed.
I look at these numbers (and remember this is just two teams, Edmonton has played each of them twice) and see that Sekera and the top pairing have been facing very similar competition. Conclusions? Well, if this was the case across many teams, the logical conclusion we would draw is that Todd McLellan is using each of his top two pairings somewhat equally against the other team's best forwards. Darnell Nurse, representing the third pairing, gets a lesser group—although you can see he faced tough Rangers (identifying the soft parade on that Rangers team is difficult) throughout.
The advanced stats group is going through this area now and mowing down a lot of the past, but for me Qual Comp (and Corsi Rel) remain vital glimpses into the overall for defensemen. We continue the journey, but the information discussed years ago on MC79hockey and Irreverent Oil still speaks to me. Rock on with your bad selves, and I await the power of the G Money work (and I say that with respect, he seems to be on to something), but based on all I value it is safe to say Edmonton has three top pairing defenders and then the rest—and the rest (Russell, Nurse, Gryba, Benning) have been performing in varied roles with the usual amount of success and failure. I keep coming back to Benning, though. Interesting player.
LOWDOWN WITH LOWETIDE
A busy show, gets underway at 10 and the hits don't stop coming! TSN1260, scheduled to appear:
Scott Burnside, ESPN. Rangers fly, Oilers fall, plus Crosby on fire.
Derek Taylor TSN Details on the CFL. What a fantastic football weekend.
Jason Gregor, TSN1260. NFL weekend had a lot of good matchups, plus Oilers on their first extended losing streak of the year.
Sunil Agnihotri, Copper & Blue plus The SuperFan. What to make of this defense, and Matt Benning and his current role.
10-1260 text, @Lowetide on twitter. Talk soon!