The Edmonton Oilers continue their three-game road trip tonight in Los Angeles. The Kings are having a strange season and this is probably the most winnable contest on the trip. No really. The early season recipe for success (McDavid gets three points, Talbot plays brilliantly) no longer rhymes, and we continue to hope for a market correction for most of the bats in the heart of the order.
REDONDO BEACH, YEAR OVER YEAR
Oilers in October 2015: 4-8-0, goal differential -7
Oilers in October 2016: 7-2-0, goal differential +10
Oilers in November 2015: 4-7-2
Oilers in November 2016: 2-5-1 goal differential -9
Oilers after 17, 2015: 6-11-0, goal differential -10
Oilers after 17, 2016: 9-7-1, goal differential +1
In 2014-15, Edmonton won 24 games, and 31 last year. This season? After that 7-2-0 October start you would have to think 40 is possible, maybe even probable. Entering tonight, Todd McLellan's Oilers are on track to finish 43-34-5, 91 points. That would be a fantastic improvement year over year. In G18 2015-16, Edmonton lost 4-3 to the LAK as Milan Lucic scored No. 5 of the season. The entire idea ignores the elephant in the room—this team hasn't been able to bank points for a week, California is catching them and the forlorn melodies and country lyrics and banging on the door.
DEFENSE, 2016-17

Oscar Klefbom—Adam Larsson have solid numbers this year, they are 51.6 together 5×5 Corsi for through 17 games.
Darnell Nurse—Eric Gryba are 53.8 Corsi for together, we have seen some erosion in performance since the pairing moved up the depth chart.
Andrej Sekera—Matt Benning are 53.2 Corsi for together, and that is very good. However, this pairing plays softer minutes and Sekera is more capable than that—Edmonton needs Brandon Davidson and Kris Russell to return.
Dillon Simpson still hasn't played and at this point it is probably wise to swap him out with someone from Bakersfield.
5×5/60 totals: Kris Russell 0.93; Andrej Sekera 0.88; Matt Benning 0.53; Darnell Nurse 0.45; Oscar Klefbom 0.41; Adam Larsson 0.40. That is a pretty nice group of numbers.
5×4/60 totals: Matt Benning 7.09; Andrej Sekera 2.14; Oscar Klefbom 1.53.
FORWARDS, 2016-17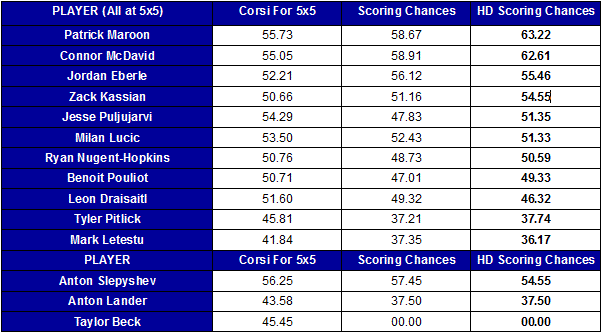 Maroon—McDavid—Eberle looks good across the board, this trio is sending the puck in a good direction. McDavid is 1.93/60 with Eberle and 3.28/60 with Patrick Maroon. I know lots of Oilers fans who would like to break this group up (mostly Eberle), but this trio looks good by eye and number.
Pouliot—Nuge—Kassian should be good but have had a helluva time getting that damn rubber thing in the blasted net! Nuge is 1.77/60 at 5×5 with Pouliot and 2.17 with Zack Kassian. Those numbers are reasonable, and the HD and Corsi looks good, but this line needs to give more.
Lucic—Draisaitl—Puljujarvi is uneven offensively, although Leon's goal the other night hopefully gets the big man some confidence. Leon with Lucic is 1.69/60 and the center is 0.74/60 with Jesse Puljujarvi. Work to do here, and if the losing continues suspect we see someone new on the RW on Leon or Nuge's line.
Tyler Pitlick is 2.26 with Leon (as an example) and despite the fact he has not scored with Connor McDavid, the pairing have posted a prolific 69.7 Corsi for 5×5 percentage.
MCLELLAN ON THE COOL BATS
McLellan: "Sometimes we're a team that gets watching 97 and we may let ourselves off the hook if players on the second or third line are getting chances but not scoring because we'll say, 'That's OK, Connor will get it done.' Others have to pick up the slack. I'm not worried about 97, I'm worried about others."Source
One thing McLellan could try? Running a second line with his three best options. If the team leaves the McDavid line alone, playing Lucic with Leon and Nuge might get something going, or Pouliot with Nuge and LD. The team is probably waiting on Drake Caggiula as the next offensive option, but a small trade today for a veteran RW (these guys were on waivers not long ago) could jump start things. This is all about 5×5 scoring and RWs, here is the current 5×5/60:
Tyler Pitlick 2.23
Jordan Eberle 1.92
Zack Kassian 1.52
Jesse Puljujarvi 0.91
Anton Slepyshev 0.82
I like Pitlick where he is, the odds on that number diving if he plays on a big line are pretty good but there may not be an alternative. First thing I would look for (when trying to find 2R and 3R behind the guy you all want to trade) in this group is who is shooting the most:
RW shots per 60 at 5×5
Anton Slepyshev 12.31
Tyler Pitlick 10.76
Jesse Puljujarvi 10.47
Jordan Eberle 9.34
Those are all terrific numbers, the top three here lead the team currently. That Pitlick number ranks among the league's top 20 (100 or more minutes):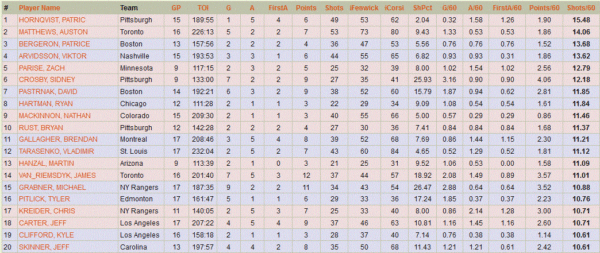 This team needs a RW who is going to shoot the puck and maybe that is young Mr. Pitlick. At this point, there isn't a lot to lose placing him on a skill line and his speed should be a lot for other clubs to handle. I have to say the young man is probably the best current option behind the guy everyone wants traded.
PLAYING IN LA
Milan Lucic: "It'll be cool. It'll be a lot of fun. I had a lot of fun last year being in L.A. and being a King. Even before I was a King, I always had a lot of fun going into the Staples Center … those are the games that you circle on the calendar." Source

The Oilers could use a big night from the big man, whose 5×5 shooting percentage is down from 16 (to 9.5) from a year ago. I also think finding him a line may turn into a season long adventure. His most successful linemate (career) is David Krejci, and RNH is a fairly suitable comp—maybe start there.
LOWDOWN WITH LOWETIDE
At 10 this morning, TSN1260. Scheduled to appear:
Matt Henderson, Oilers Nation and Hockeybuzz. Oilers slump, the defense and can this team stay ahead of the Flames all season? Is this the night to play Gustavsson?
Ryan Pike, Flames Nation. A winning streak, Matt Tkachuk's splendid goal, strange defensive pairings and the Gaudreau mishap.
Ryan Biech, Canucks Army. The state of the union in Lotusland.
Frank Seravalli, TSN. American thanksgiving is a week away, will the Oilers still be in a playoff spot when it arrives?
10-1260 text, @Lowetide on twitter. See you on the radio!