I have spent a lifetime watching young players on NHL entry, and folks I can tell you it is an ugly business. Moms and Dads send their kids to NHL cities in hopes of glory, and the folks back home cheer like hell and prepare their 'I knew him when' stories. Most of the time, the dreams end up slammed against the cold cold ground of a Canadian winter—but when it hits, music! Will this be the case with Jesse Puljujarvi?
DALLAS ALICE, YEAR OVER YEAR
Oilers in October 2015: 4-8-0, goal differential -7
Oilers in October 2016: 7-2-0, goal differential +10
Oilers in November 2015: 4-7-2
Oilers in November 2016: 2-6-1 goal differential -11

Oilers after 18, 2015: 6-12-0, goal differential -11
Oilers after 18, 2016: 9-8-1, goal differential -1
Edmonton lost G19 in overtime to the Chicago Blackhawks 4-3 a year ago, Leon and Hall and Purcell were humming along at this point in the year. If Edmonton wins today, the week completes at 1-2-0 and the schedule next week is a little easier (CHI, COL and then ARI times two). I think it reasonable to expect all three of the centers (and their lines) to spike before the end of the month. In their last three losses, Edmonton has fallen behind 2-0, 3-0 and 2-0. We hear Matt Hendricks and Kriss Russell could return, and we find out about Anton Lander at 10 Edmonton time this morning.
DEFENSE, 2016-17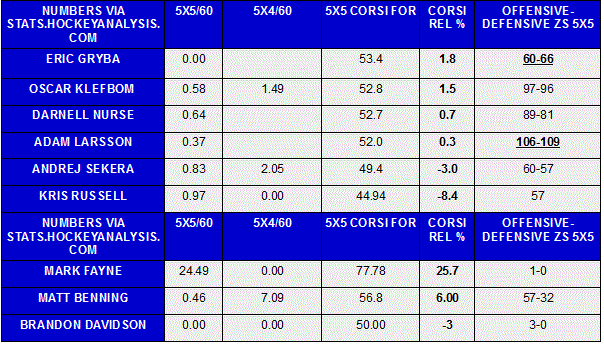 I prefer the CorsiRel, so things are sorted in that way. Edmonton has some nice things on defense, but badly need Andrej Sekera—SOMEBODY to be a strong second pairing. It sets up the rotation and offers cover for both the top pairing and the third duo. You will hear plenty of arguments about Kris Russell not being able, and the CorsiRel suggests that is true. All I can tell you is that the Edmonton Oilers need Rej to play in the bigger parts of the game, and the choices are Russell and Brandon Davidson.
Klefbom—Larsson look good in possession, but you will find (and I am sure you read a lot) evidence of high-danger scoring chances against this tandem—on the highest. NaturalStatTrick tells us this pairing ranks No. 2 (Larsson) and No. 8 (Klefbom) in total HDSCs allowed in the entire NHL. The only thing saving them? They rank No. 2 (Larsson) and No. 4 among defenders in HDSCs for so far this year. When we are talking about these things, it is always important to put them into perspective. Is this pairing too high event? Yes! But I would keep them together despite the wobble defensively, and I sure as hell would have them out there when McDavid is on the ice. Give the A train every chance to make a difference.
I list the offensive-defensive ZSs this way because we had a rumble last season about this measure, so if we can't agree on the way to express a measure I just list the actual number and you are free to roam about the earth. Interesting that Eric Gryba and Adam Larsson are the only two men who have had more defensive ZSs than offensive this year.
Matt Benning is an interesting player. We don't have enough track and I doubt we get 50 games from the rookie this year (in the NHL), but Jason Gregor asked an interesting question yesterday when I was on his show. Do you pull Benning or Gryba from the lineup when Russell is ready? I said Gryba. What is your answer? Based on the numbers, the right answer could be Benning.
FORWARDS, THIS YEAR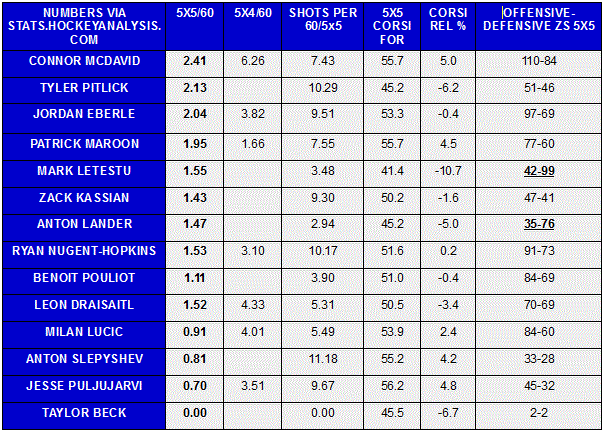 Connor McDavid is so damned good it is incredible. After a pretty substantial 'slump' over the last 10 (just seven points!) he maintains a ridiculous player card.
Tyler Pitlick has some nice things, including 5×5/60 and shots per 60 at evens. He didn't get much playing time the other night, not sure why. I mean, if they bring in a veteran RW sure, but Pitlick is a righty with a decent shot. The absence of alternatives clears the mind, or at least that is the phrase.
Jordan Eberle may get run out of town for a player card that looks pretty much like all of his other player cards. In fact, his numbers here are a little better than last season. Losing brings anger and rage, and Eberle is the whipping boy of choice for many this season. I have to say it makes little sense to me. I acknowledge freely the player has his faults, many of you have verbally chastised me for being critical of him in the past. I am suggesting that Eberle is what he is, and that Edmonton can ill afford to move him any time soon. Jari Kurri is not here.
Patrick Maroon has a nice line, he has been a Godsend on LW during the struggling period of Lucic and Pouliot. Seems to me every line he plays on improves, making him the modern Reggie Smith.
Mark Letestu is a fascinating player, he (as shown above) faces tough zone starts and faces the music with men like Anton Lander and Tyler Pitlick. NaturalStatTrick tells us some of the names he has been facing this season: Mats Zuccarello, Dylan Larkin, Derek Stepan, Michael Ferland, Mikael Backlund, Frans Nielsen, Rick Nash. Now, I am not suggesting Letestu has been facing tough opposition every night, but there is some evidence that Todd McLellan is at least somewhat comfortable with Letestu facing middle of the order opponents. So, when we look at that possession number—and the offense—seems to me there is a story here beyond 4C with bad Corsi.
Zack Kassian has a good player card for his established level of ability, a little offensive uptick and the possession number is good. If the Oilers are a playoff team, he is 4R—and he has not been 4R for much of this season. Not his fault, I like his year so far.
Anton Lander has been pretty good to my eye, even posting some offense (no one gives him credit for it btw, all you read about is his poor offense). Good on the PK, he could be a Red Wing by the time I finish this coffee.
Ryan Nugent-Hopkins has been flagging offensively this year. The totals aren't awful (18, 2-6-8) but you want him to grab a couple of points in the next two games to clean up the boxcars. He is facing the toughs and I think he might need a change in wingers, but there aren't a lot of options until everyone gets healthy.
Benoit Pouliot is having a tough run, which is unfortunate because he is such a fun player when things are going right. No idea what happens here, but he and Nuge look good everywhere but the scoreboard, so patience might be the plan. I suspect that is not the plan. He played well with McDavid last season, wonder if the Oilers might try that route?
Leon Draisaitl has shown a pulse (no idea why he is listed way down here) in recent days and really showed that speed/size combo on the Nurse goal in California. If he could do that four times a game we would see him in the All-Star game. Fun player, seems distracted to my eye, but that might be the mist from the smoke of a distant fire hall.
Milan Lucic is going to score some goals (he is 18gp, 5-4-9 so far) but the bigger issue at this point is to find him some chem. I don't buy the idea that Lucic can't play with 97 because of speed (Mike Grier and Todd Marchant were dandy) but I think McDavid may need a guy who can transition better—like Pouliot a year ago.
Anton Slepyshev shoots a helluva lot, and looks like he is getting good things done, but nothing is happening a lot.
Jesse Puljujarvi makes stuff happen all the time, honestly he is impossible to ignore. Even when he falls it is a grand gesture, and I am pretty sure he changes from first to fourth gear and back quite a lot. Just all size and neurons, he reminds me most of Ellis Valentine. That is a compliment.
WAIVERS
Anton Lander is on waivers again. If we took Edmonton's first and second rounders from 2007-11, how many haven't passed through waivers? Not too damned many. Will Lander be picked up? You never know, some team might feel he can help—hell Calgary has three wingers total so maybe they grab him. Anyhoo, all the best Anton here or there. I always cheered for you, hope you find a good place out there among the English.
KRIS RUSSELL
He is apparently back tonight, and it will be interesting to see where he plays and what kind of impact Russell has on the team. Edmonton won with him in the lineup and the numbers were lovely, but at some point those same numbers became cloudy and then stormy. Did injury cause it? History suggests playing him 22+ minutes a night is not a good idea, what about 18? We are about to find out. If he is overly successful, do the Oilers sign him? That is not that same as asking if they should.
JESSE PULJUJARVI
We are hearing JP will line up with 97 and Milan Lucic tonight, I like this line in theory but Todd McLellan can't be burning daylight with the crown jewels. McDavid's line has to score goals, and it is vital for the coach to find a second scoring line for the opposition to worry over. The Stars have Cody Eakin back and that helps them, we could see Leon on the move at some point over the next seven days (center to wing).