When the fourth Oilers goal went in last night, I was reminded of that Casey Stengel thought about game results that are preordained yay or nay. Stengel said (in the 154-game MLB) there are 50 games you are going to win no matter what, and 50 you are going to lose the same way. Winning the pennant depends on what you do in those 54 games remaining. The math of hockey is halved, but the song remains the same. Last night, the hockey Gods brought gifts galore. And it was good.
ROLLING TRUCK STONES THING, YEAR OVER YEAR
Oilers in October 2015: 4-8-0, goal differential -7
Oilers in October 2016: 7-2-0, goal differential +10
Oilers in November 2015: 4-7-2
Oilers in November 2016: 3-6-1 goal differential -8

Oilers after 19, 2015: 6-12-1, goal differential -12
Oilers after 19, 2016: 10-8-1, goal differential +2

Edmonton now has 10 wins on the season, just ahead of G20. In the last six seasons (excluding the lockout), the Oilers won 27, 25, 32, 29, 24 and 31 games.  The last time they won 40 games, it was 2007-08, a season that now shines like a beacon compared to what has come since. Craig MacTavish could coach him some 5×5. This Oilers team needs to let the horses run, especially the captain. Connor McDavid is so good it hurts.
DEFENSE, LAST NIGHT

I was worried about the third pairing, but Todd McLellan did a pretty nice job of protecting them while also getting a large amount of ice time. The Nurse—Benning pair played more as the gap in score widened, which makes sense to me and may not to you. That might make for some interesting conversation this morning.
Nurse—Benning were 5-2 with McDavid in just two minutes, that must be a fun set of shifts. The pairing seem to have played a little with and against all lines (both coaches rolling rolling rolling, rawhide). Benning picked up an assist.
Klefbom—Larsson played mostly with Leon's line (5-6 in 4:55) but were 3-1 in 2:46 with McDavid and 0-4 in one minute with the Caggiula Congregation. The pairing faced Benn-Seguin for 3:43 and  went 2-4. I felt this pairing was more effective, seemed to be fresher and Larsson was hammering like Dick Pound out there. Klefbom got a goal, he is now one of three defenders with five points on the season.
Sekera—Russell had their usual Bermuda Triangle battle with math, getting caved in the Corsi but looking visually capable. The pairing did go 2-1 in HDSC on the night. They went 5-3 with Nuge and 3-3 with McDavid, both in about three minutes. They went 4-5 against the Faksa-Sharp-Roussel line, a trio that can best be described as a royal pain in the ass.
Oilers defensemen have now scored seven goals on the year, compared to 24 in 2015-16. There has been improvement but you would like to see Edmonton post a strong number from this group. Nurse is stepping up consistently, nice to see Klefbom scoring more frequently and Sekera is always chipping in here and there.
Cam Talbot was stellar, actually we was better than that. Interstellar.
FORWARDS, LAST NIGHT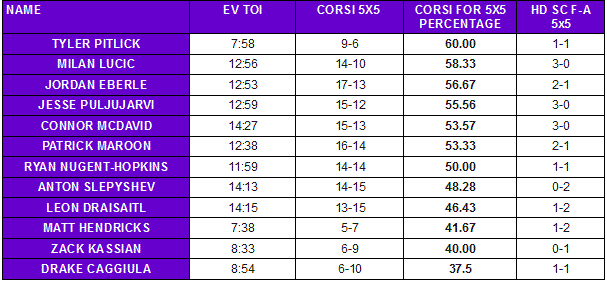 Lucic—McDavid—Puljujarvi had a strong night, with McDavid scoring thrice and the rookie posting two points. Lucic continues to be snake bitten, but he did get to raise his hands in the air like he just didn't care. Went 5-2 against the Seguin line and Klingberg pairing, the Stars didn't go heavy early on 97 and he made them pay. The McDavid line went 0-3 against the Faksa line, which also features world-class titmouse Antoine Roussel—I was surprised we didn't see that match more. Lucic made himself useful as well as ornamental on McDavid's second goal, creating havoc in front of the net, as Puljujarvi flicked the puck to 97.
Jesse Puljujarvi is a wonderful player. He does so many good things as a teenage rookie it is a marvel. One minute he is separating player from puck in the offensive zone and the next he is behind his own net covering for the defender. Important to be patient and watch this play out, but he plays a mature game for such a raw player. I cannot quite figure him out, but will tell you that the hockey acumen of this player appears to be substantial.
Maroon—Nuge—Eberle did well in possession but did not post crooked numbers. The line was quiet compared to the others, seven total shots and none from the shooter. It was a weird evening for them, but I do like the chem between Nuge and 14. They went 5-4 against the Faksa line, I hope they stick together for a time—Edmonton needs this trio to score a lot. Nuge was on the PK for 5:38—yeoman's work. The timing for the trio in the offensive zone seemed just a little off. An example would be in the first period, Nuge slid the puck down to Maroon and the big winger sent a touch pass to the slot—but Eberle was crowded by a shock of Stars and didn't have the zip to get to the chance.
Kassian—Draisaitl—Slepyshev is a strange line (they have a Ranchero feel) but two of the men on the line had some impact offensively. Leon picked up an assist on the Klefbom goal with a nifty little play in the neutral zone (but mama, that's where the fun is!). Slepyshev made a nice pass to Klefbom on the same goal, and an astute touch pass to McDavid on his third marker. Faced Spezza's line and went 4-2, I think that should be considered a good night. Zack Kassian sat a long time after his double minor, but that will probably be punishment enough if previous incidents are to be trusted.
Hendricks—Caggiula—Pitlick all got points (what in hell is happening with the fourth line offense this year?) last night. I am thankful McLellan placed Pitlick back on a support line, the time may come for the youngster to move up the ranks, but making sure he has his feet on the ground first is a grand idea. No space truckin' until he is established. That said, Pitlick has been able to stay healthy and does seem to have some pop in that bat—we may be looking at a modern Lowell MacDonald (without the 30-goal seasons, and certainly without the 40-goal seasons).
The Pitlick goal was fun, that Caggiula kid sent a Dougie Weight to the winger in maybe his third NHL shift. I ranked Caggiula No. 2 and Benning No. 4 in the Top 20, both estimates based on what we read and in a very narrow viewing. Caggiula has a chance, folks.
I have written on Tyler Pitlick so much since 2010, going back and looking at past posts kind of feels like returning to the scene of the crime. Picture the most meandering road you have ever experienced, and that begins to describe his pro career. Even before he turned pro, Pitlick jumped from college to junior so we had the damndest time figuring out progress. For what it's worth, Pitlick's surge this season is beginning to resemble a blast from the past.
Fernando Pisani 2002-03: 35gp, 8-5-13, 32shots, 25 percent shooter, 10:43 TOI.
Tyler Pitlick 2016-17: 19gp, 6-1-7, 32 shots, 18 percent shooter, 9:44 TOI.
Pisani turned 26 on December 27 of his rookie year, Pitlick turned 25 November 1 of this season. Pisani sent Daniel Cleary down the depth chart with his fine play, Pitlick is sealing off several names (what in hell would Iiro Pakarinen have to do to get his job back) with this early season run. I have been asked dozens of times this fall if Pitlick is the new Pisani, and my answer is maybe. Why so vague? Well, the point of Pisani is that he becamse the Pisani—I don't recall a giant rave about his two-way game before we saw him in Edmonton.
Pisani's ice time in 2002-03: 9:39EV; 0:22PK; 0:41PP
Pitlick's ice time in 2016-17: 9:28EV; 0:11PK; 0:05PP
By season two Pisani was edging toward a minute on both PP and PK and after the lockout he emerged as an all rounder and a mentor. This could be Pitlick's future, but we cannot know for sure at this time.
NUGE'S TIME
Todd McLellan is riding McDavid and that makes sense to me. That said, Ryan Nugent-Hopkins handling by the coach appears to be heading in the opposite direction this year. Let's compare year over year:
Nuge ice time in 2015-16: 15:29EV; 0:57PK; 2:36PP
Nuge ice time in 2016-17: 13:39EV; 1:54PK; 2:09PP
McLellan has Letestu, Lander and Nuge as his main PK men (Hendricks replaced Lander last night and will as time goes by) and for me that is excellent deployment. Nuge is a tremendous forechecker and can disrupt things very well—Dave Keon was also a brilliant PK man. There is a reduction in playing time, and I wonder if the coach worries about the Nuge wearing down this time of year. Either way, it is an interesting wrinkle in deployment this season.
CAM TALBOT
Travis Yost was on SSE a few weeks ago and was convincing in his argument that Edmonton could make the playoffs with McDavid being McDavid and Talbot playing as he did last night. It is not a good long term recipe, but the Oilers are in a good spot after 19 games because of it.
Save Percentage: .916 (No. 12 among starters)
Even Strength: .917 (No. 17 among starters)
Power Play: .918 (No. 3 among starters)
HUH?
I like to check opposition coaching decisions after the game in regard to who is facing McDavid. The numbers last night didn't jive for me:
McDavid was 6-8 in 7:13 against Johnny Klingberg
McDavid was 6-3 in 5:06 against Johnny Oduya
McDavid was 4-9 in 5:04 against Jordie Benn
McDavid was 6-2 in 5:00 against Stephen Johns
McDavid was 4-0 in 2:55 against Patrick Nemeth
McDavid was 4-2 in 2:39 against Dan Hamhuis
The interesting thing for me is that Ruff seems to have checked down from Oduya—Klingberg at some point, keeping Klingberg and Benn. Is that right? And if so, theories?