Caleb Jones is one of the most interesting prospects on the Oilers current list. His draft day scouting reports suggested humble offense and good wheels, with some learning to do defensively. In point of fact, Caleb Jones has shown he can post some offense—on the 5×5. This is a player worth following, because it appears his year over year progress has him on the move as a prospect.
PREVIOUSLY NO. 7 ON THE WINTER LIST
December 2006: G Devan Dubnyk (312)
December 2007: C Riley Nash (260)
December 2008: D Jeff Petry (383)
December 2009: D Jeff Petry (383)
December 2010: C Tyler Pitlick (46)
December 2011: D Martin Gernat (0)
December 2012: C Jujhar Khaira (15)
December 2013: D Anton Belov (57)
December 2014: C Jujhar Khaira (15)
December 2015: G Anders Nilsson (57)
This is a fabulous list of prospects, from Devan Dubnyk through Riley Nash and Jeff Petry. The later years have Tyler Pitlick, young Jujhar Khaira and goalie Anders Nilsson—none likely to have the impact of Dubnyk or Petry. Interesting to see two more names who left the Oilers with plenty of quality work left in their careers. Losing organizations often suffer this malady, and Edmonton did for most of this century.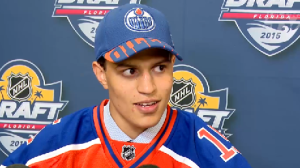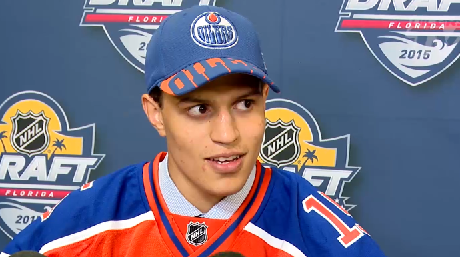 WHAT THEY SAID ON DRAFT DAY
Future Considerations: Jones is a good skater, with a good stride and good speed to join a rush and then get back quickly. He shows some puck skill that would be expected of someone related to Seth, who is a confident puck-carrier.
Caleb Jones: "I play a bit like my brother, I think we're both two-way defencemen. I think I'm a little more of a physical and aggressive player than he is but I'd say in the sense of the entire game we're pretty alike."
Phil Myre, ISS:  "Competitive defenseman, Plays with a lot of urgency, takes the body, competes. He is a good skater with good mobility. Not creative, he can make a good first pass. Not committed and drafted by Portland in the WHL. Will follow his brother's footstep in the W but not as talented. Work ethic will help his projection but not dominant in any area".
Black Book got a look at Jones at the 5 Nations Cup and had good things to say. The scouting service noted his impressive positioning on the power play and his dependability in all situations.
ISS: Jones has shown promising development – he is coming into his own and has added more facets to his game over the last two seasons. Great work on the puck and advancing very well whether springing his forwards in the neutral zone or using the boards to find his man, doesn't put his teammates in vulnerable positions. Much quicker and mobile then he was last season, quick on his feet and uses his edges well when carrying the puck. Although an offensive mindset he doesn't get ahead of himself in the defensive zone. Strong development upward curve has him as a very intriguing prospect heading into the draft. Although doesn't possess highend upside he has shown the ability to compete.
PREVIOUS RANKINGS
Summer 2015: No. 17
Winter 2015: No. 13
Summer 2016: No. 7
Winter 2016: No. 7
Early rankings were based partly on Jones draft profiles, which suggested much of his overall value would come from playing without the puck. His offensive abilities are real, and his even-strength point totals a year ago suggest we might be looking at a player who can help in all situations.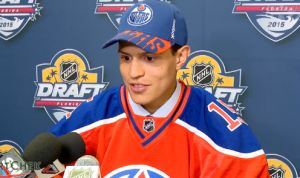 2015-16
Ben Berland: Caleb Jones has fairly decent skating skills in terms of backwards and forwards, stops and starts, but I did notice that he did get beat to this left side a couple times during the game.  Nothing too glaring nor too bad that a little gap control wouldn't cure.  As with most young defencemen, time and patience  are required.  The footspeed will come with time and development. Source
More Berland: The passing skills are there and Jones not only makes great passes to the forwards, but also communicates well with his defense partner in terms of passing back and forth in transition or reverses.  The stickhandling is there as well.  Nothing too elaborate or fancy and not too long.  Everything is done quickly and with great efficiency.  Not a lot of wasted energy or movement with this kid.  He paces himself well and as the game wore on, his shifts become more frequent and greater in length.  I was quite impressed with Jones' read and react ability.  He rarely gets caught out of position and has a great understanding of the game. Source
2016-17

Jones even-strength scoring a year ago was outstanding (Ethan Bear, playing in the same league, went 69, 7-21-28 0.406, same season) and his overall offense this season suggests we are looking at a player capable of holding offensive value (should he make it to the NHL). The question is how much offense will come with him to pro hockey?
Rick Carriere, Sr. Director of Player Development: "He was a good skater coming in, but he's moving the puck better. He transitions the puck very effectively. When he gets the puck on a turnover in the neutral zone, he turns it up and makes a play. The area I saw a lot of growth in was his defensive game. With his rush reads, he was a lot more patient, he had a better stick, good body position and he was able to keep things to the outside. His defensive game really improved throughout the year." Source
Game Notes, Young Stars v. Vancouver Sept 16:  LD Caleb Jones—0-0-0, +1 and one shot. Played a strong game and his wheels are excellent. He has size, skill and a rugged style, so that gives him a chance to play in a lot of situations. I would guess the Jones-Benning pairing played the most and he didn't look out of place in any situation. Recovered nicely a few times. The man can wheel. Source
Game Notes, Young Stars v. Calgary Sept 17: LD Caleb Jones: 0-0-0, -2 and two shots. He was my No. 2 star, very mobile player who can battle and win, while also having the wherewithal to get that puck to a good place and on its way. I think he is emerging as a legit NHL talent and he may hang around later than many of the other blue. The fact he received top-pairing treatment in these two games is a big deal in my opinion. Coaching staff loves him, and for good reason. Source
THE FUTURE
I have mentioned several times during this series that No. 2 to No. 8 are all in the same range, and I am more convinced now than ever. The four defensemen (Benning, Paigin, Bear and now Jones) we have looked at so far (No. 8 is a forward) could easily be rearranged, although I do think Matt Benning has enough speed and range of skills to be considered slightly ahead of the rest of the group.
Caleb Jones could be the best defenseman on the Oilers list right now, I just can't see it from here. In a way, this is a bad spot to rank these players, as Jones could go off offensively (and at evens) over the rest of the season. Plenty of track to go, and that speed is going to get him real chances at the next level.
For the rest of this season, expect tightening defense and more offense, evens and power play. For next year, I think a strong AHL season probably gets him an NHL chance as early as fall 2018 should he continue to develop.
THE 2015 DRAFT
Connor McDavid, No. 1 overall. Leads the NHL in points. Crazy. Graduated.

D Caleb Jones, No. 117 overall. Impressive young player has improved greatly since the draft. Good wheels, impressive offense, improving defense. No. 7 prospect, Winter 2016.
D Ethan Bear, No. 124 overall. He is progressing in all areas and has a nice range of skills. Bear's progress since draft day has been impressive. No. 6 prospect, Winter 2016.
D John Marino, No. 154 overall. Mobile offensive defender posting some crooked numbers early in NCAA career. A candidate for the Winter Top 20.
G Miroslav Svoboda, No. 208 overall. Stopping everything in a faraway Czech league. What does that mean? A candidate for the Winter Top 20.
D Ziyat Paigin, No. 209 overall. A transfer to Sochi unlocked this player in 2015-16, and an untimely injury this season cannot dampen enthusiasm. No. 5 prospect, Winter 2016.
ROLLING TOP 20

The Oilers should be covered at center for years to come, although the team seems determined to find a spot for Caggiula.
Wingers are going to be vital moving forward, Edmonton has some inside the Top 20 but they are not top end beyond Puljujarvi (and Benson has a chance).
Defense is always a need, but years of focus on the position (2013+) have solidified the left side, righties still needed.
Goal is getting some help and we will discuss that position as we moved forward in the countdown.