We are at the season's quarter pole and Oilers fans have now divided into three factions. There are the fans who thoroughly enjoy the wins but remain worried about the season getting derailed. There are the fans who are enjoying the wins but wondering how good this could look if the Hall had not been moved. There are those who have decided that wins mean nothing, because the team is doomed to be less than what could have been. I have no quarrel with any faction, but hope you can enjoy Connor McDavid. Surely his brilliance and artistry can bring us together for a few hours each week.
BLACKHAWK DOWN, YEAR OVER YEAR
Oilers in October 2015: 4-8-0, goal differential -7
Oilers in October 2016: 7-2-0, goal differential +10
Oilers in November 2015: 4-7-2
Oilers in November 2016: 3-6-1 goal differential -8

Oilers after 19, 2015: 6-12-1, goal differential -12
Oilers after 19, 2016: 10-8-1, goal differential +2
The Oilers won G20 by a 5-1 score over the NJ Devils, Taylor Hall and Leon Draisaitl both going 1-2-3 on the evening. If Edmonton wins tonight, they will be solo first place, but no matter the result this evening the first 20 games will represent the kind of start we all wanted every year since forever (and received maybe once). The key now is to go 10-10-0 or better in the second 20 game set. Can this team get 23 points from Connor McDavid and 10 quality starts from Cam Talbot in games 21-40?
DEFENSE, 2016-17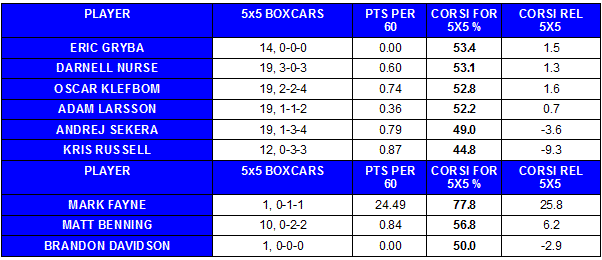 Darnell Nurse and Oscar Klefbom are the youngsters playing in the top 6D this season, both men have had some wobble. Klefbom could use some help on that top pairing, we have seen some Sekera—Larsson time (27 minutes, 55.9) and could see more as the season rolls along.
Nurse is over 50 percent with both Gryba and Matt Benning, the key there being third-pairing minutes. He is also getting some even-strength points, good to see.
Adam Larsson is 52 percent in possession with Oscar, I think that is a solid number—as is their Rel. These men are facing tough opposition and are winning the battle. The HDs (59-56) are high for and agin with OK, but I think most agree Larsson has been a solid addition to the team.
Andrej Sekera gets dumped on a lot, but he is a game rooster and plays in some tough spots on this roster. He is 54 percent Corsi for 5×5 without Kris Russell, 45 percent with him.
Kris Russell is driving people mad with his poor possession number, but there are people who point to his HDSC totals (31-42, 43 percent, damn near top dead perfect with Corsi) as a positive. I looked through Natural Stat Trick, and here are the Russell positives: HDGF-GA is 6-4, and he is 46.3 Fenwick (which is better than his Corsi).
If we take bias, faith, fandom and everything else out of this, we are left with one conclusion: Russell is riding luck. His 44.8 Corsi for 5×5 should not result in a 60 percent high-danger goals for 5×5 and at some point a giant anvil will fall from the sky and change this bit of math in a real way. He is +6. If all of these other dice keep bouncing around but the possession number stays the same, there are going to be some hard times ahead. Fair?
One thing I keep wondering about? If Russell ends up at 45 percent Corsi playing his off side, do we give him any credit? I mean, he didn't insist on playing RHD, these are the cards dealt to him. If this study is correct, and the governor is 7 percent/60 over a season, is Russell actually performing well at 44.8? I am asking because I do not know.
FORWARDS, 2016-17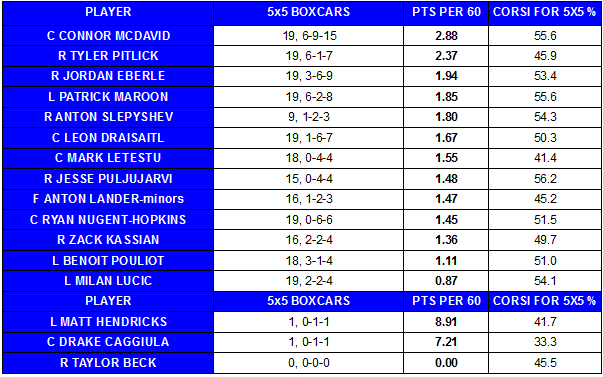 Connor McDavid's player card is just incredible. Leads the league in points, in 5×5 points, he is No. 17 in 5×5/60. He is on pace for 82gp, 35-60-95—the last Oilers player to score 95 points in a season was Doug Weight, who scored 104 points in 1995-96.
Tyler Pitlick remains out of focus after all these years, he is scoring goals despite not having a strong pro resume (mostly because he could never cobble together a full AHL season). In looking back on some of my posts on him, you could arrange the events in his pro career to suggest his skill has been obscured. The injuries sure, but even the lockout in 2012-13 hurt him. Consider the words of Todd Nelson entering that fall. Coach Todd Nelson, pre-season on Pitlick: He has to play in a top-six role, that's where we have him slotted. He might play in a line with Josh Green. We're just kind of looking at things. To go through our whole lineup you can go through multiple combinations and I don't think that we'd miss a beat. We're very deep at forward and having Justin Schultz come help us out on defence is certainly a bonus. Tyler Pitlick, we feel that he's a top-six guy and he's going to get an opportunity to prove that and play in that role.
The lockout mean NHL kids in OKC. Pitlick scored 10 points that year and the top RW was Jordan Eberle. I am not suggesting that these things form a rational thread, but they are worth discussion and consideration. His career path had some major detours and rest stops.
Jordan Eberle has 10 EV points (this is overall, not as above), he posted 32 last season. I know many fans feel he is eating ice cream on every shift, but the RW is on pace for 40 EV points this year and that is a fine total—would have been top 50 a year ago. I know he isn't Jari Kurri, but who is?
Patrick Maroon is 35gp, 14-9-23 as an Edmonton Oilers player. Part of it is shooting percentage—16.9—that is not sustainable. However, if the Oilers can get 20 goals from Maroon this season, that was a helluva trade.
Anton Slepyshev is a little like Tyler Pitlick in that his offense in the before time showed promise but he sunk like a freaking stone in the AHL. I am going to give Todd McLellan credit here, he seems to like what the Russian brings. I am not going to say his offense (1.80) above is a true reflection of what he will bring, but this is a promising turn.
Leon Draisaitl is coming along now, the possession number is over 50 percent and the offense is coming around as well. He looked like Frank Mahovlich a couple of times last week, including the Nurse goal, and so maybe we are looking at a hot streak.
Mark Letestu was missed (by me) the other night, he can win faceoffs and kill penalties and has posted some 4line offense. He gets maligned quite a bit, but I like this player.
Jesse Puljujarvi is going to be a fine player, the only question I have left is how much offense will he bring. Last week was heartening, he good some good looks and finally delivered a couple of assists in Dallas. These are early days but if he could reach 30 points in 60 games (like an Ales Hemsky rookie year) I would feel better about his future. If he plays with McDavid a lot, those numbers probably move north.
Ryan Nugent-Hopkins has rounded up the Corgis and the 5×5 is coming along. He needs to score on a few of these even-strength shots on goal (43 shots 5×5, no goals, holy Lord) and now that 14 is alongside I believe he will. This is RNH's season to emerge as the Keon, while McDavid plays the Ullman (well, Ullman squared but you get the idea). His wingers are better than Garry Monahan and Guy Trottier, but the workload is a monster.
Zack Kassian took a costly penalty the other night, but Todd McLellan seems to be the guy who dishes out punishment and then moves on. Long way of saying I expect Kassian in the lineup tonight—although the kid wingers are doing a nice job right now.
Benoit Pouliot may not have a friend in Edmonton media right now, but I'll stand by him. He has not been effective in big parts of the game this year, but his possession number is fine and we are still dealing in small sample sizes. For example, if he had two more 5×5 points, Pouliot would sit in the same spot occupied by Leon this morning. Early days, ladies and men, we know BP can do a lot of things. When talking about a Pisani, for me Pouliot is as close as anyone on the roster when he is going.
Milan Lucic has a scary 5×5/60, and it seems he is destined to play on CMDs line without getting points. Crazy crazy. His actual even-strength totals are 19, 3-3-6—meaning he is on track for just 12 goals in the discipline—but his PP totals are better than his history.
Matt Hendricks picked up an assist on his return, good to see him back. I suspect we are in the final months of his Oilers career, he has been a fun player to watch the entire time.
Drake Caggiula made an impressive debut, with a saucer pass worthy of Doug Weight on one of his first NHL shifts. He is a fast, small player, and Edmonton probably has room for another because of all the tall trees. Todd McLellan has him on the 4line, but don't be surprised if he moves up soon—if you saw Caggiula and Eberle in a track meet today, how much would Caggiula win by?
Lots of injury news good and bad for #Oilers.
Good: Caggiula, Hendricks and Russell will play.
Bad: Davidson re-injured shoulder. MRI needed

— Jason Gregor (@JasonGregor) November 19, 2016
The Brandon Davidson MASH story continues, this young man has more bad luck than Carter has liver pills. We hope for his return soon, he could solidify the second or third pairing when healthy. It goes to show how quickly expansion protected lists can change—if he misses most of the season, it is doubtful LV would draft him—and of course opens up doors of opportunities for others. Davidson is almost three years older than Matt Benning, this is Davidson's time, but injuries are derailing him. Credit to Benning, he is building on this opportunity now and has good numbers in his first 10 NHL games.
I go back to the spring, when Peter Chiarelli was staring that 2014 draft right in the face and realizing there was no one to sign. He grabbed college men Drake Caggiula, Matt Benning and Nick Ellis, I imagine with the idea of improving Bakersfield for next season and the Oilers down the line. In the case of Benning, and possibly Caggiula, the Oilers fast track is in play.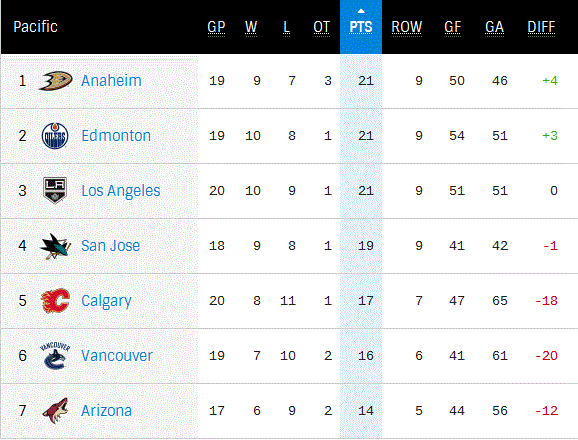 The Oilers are in with the California three now, the race for No. 1 in the division has been plodding so far but my guess is one of the left coast teams is going to lock and load here right away. For the Oilers, it is important to bounce back from the difficult losing streak, and despite Chicago's presence on the schedule tonight, the rest of the week (COL, ARI x2) is inviting. The recipe has been McDavid multiple points and Talbot stone cold, but it would be hellanice to have a game won by a Nuge hatty, a Lucic pas to daylight or a pair from Eberle. The highly paid veterans on this team could start having a positive impact any time now.
Back in the old hippie days, you knew the lines and pairings for every NHL club for all the games. A team like Chicago back in 1971 would have maybe one or two rookie regulars—and that was it, sure as hell. Chicago had a bunch of college guys, that's what I remember making them different. Cliff Koroll, Keith Magnuson, Gerry Pinder, Jim Wiste—most or all came from U. Denver, but Pinder and Magnuson would have been Chicago property because they were Saskatoon kids under the old sponsorship setup. Anyway, when I see Jonathan Toews line up for Chicago, it reminds me of the Blackhawks early devotion to college men—Tony Esposito was another, although he entered the NHL via the Habs. Funny what the memory brings you in the hours before daylight.
LOWDOWN WITH LOWETIDE
We are packed with guests and verbal today, there may not be time to breathe! 10 this morning, TSN1260 and scheduled to appear:
Scott Burnside, ESPN. American Thanksgiving is upon us and the Edmonton Oilers are in a playoff spot! Plus the Rangers are looking very strong, but injuries are beginning to impact.
Brad Gagnon, Bleacher Report. NFL weekend brings us the idea of a Dallas-New England Super Bowl, and tells us the Eagles are who we thought they were.
Jason Gregor, TSN1260. Eskimos never did get untracked and lost to Hank. Le sigh. Plus Oilers have a big week ahead.
Matt Scianitti, TSN. The Grey Cup is set, we will visit Matt and make sure he got through the Eastern Final okay.
10-1260 text, @Lowetide on twitter. Talk soon!