Last night's win over the Chicago Blackhawks was a thoroughly enjoyable game for Oilers fans. Connor McDavid amazed, Cam Talbot astounded, and some of the support players impressed with displays of skill. It seems everyone in the Capital was pleased with the game. HDSC 6-4. Your Edmonton Oilers will be in a playoff spot on American Thanksgiving. Count your blessings!
Todd McLellan: "That's the closest we've come to a complete game. It's a really good sign for our team going forward."
LOADED FOR BEAR, YEAR OVER YEAR
Oilers in October 2015: 4-8-0, goal differential -7
Oilers in October 2016: 7-2-0, goal differential +10
Oilers in November 2015: 4-7-2
Oilers in November 2016: 4-6-1 goal differential -3

Oilers after 20, 2015: 7-12-1, goal differential -8
Oilers after 19, 2016: 11-8-1, goal differential +7
Edmonton has been a streaky bunch this year (7-2-0, lose five, now two wins in a row) and that often happens for young, emerging teams. The formula for success is short on depth (McDavid kills it on offense, Cam Talbot stops all the mistakes) but as long as the wins keep coming, can't we just dance?
Remember our 15 points in 15 games line in the sand? We are now at nine points in 11 games—Oilers would need to go 3-1-0 in the final four games this month to make that happen. Seems like a steep hill, but these last two wins are important, and last night was not (imo) just another win. Chicago is the class of the western conference, and they brought it, but the Oilers won the game.
DEFENSE, LAST NIGHT

Sekera—Russell had the best 5×5 possession numbers among the pairings, and were low event besides. Eureka! Sekera scored a goal, Russell ran over a Motte and they blocked 400 shots. And scene. In 7:28 with McDavid, they were 4-5, and with Nuge in 5:19 they were 6-2. That implies feature minutes, and the pair faced Toews (3-6 in 7:01) and Anisimov (5-0 in 5:00). Looks like a fantastic night to me.
Klefbom—Larsson finished well under 50 percent in possession, and were high event. Klefbom going 6-3 in HDSC seems like a first, and Oscar's 1-1-2 and four shots was very impressive. The pairing spent time with Nuge (5:12, 4-4), Caggiula (5:04, 2-6), McDavid (4:16, 4-5) and Draisaitl (3:01, 5-3). So, if you take out the 4line, Klefbom (in this case) went 13-12 on the night. Combined with the goals and such, I thought this duo was fun all night. Klefbom went 4-4 in 5:19 against Toews and 4-5 in 3:52 agains Anisimov. That Nick Schmaltz line was a going concern, this tandem went 4-4 in 5:21.
Nurse—Benning were a high wire act for the evening, trailing and racing and on the run. I did think Nurse calmed things down at times, a sign of progress. Benning picked up an assist and had four hits. They went 1-15 with Caggiula (in eight incredible minutes) and 0-2 in 52 seconds with McDavid. The group faced the Schmaltz line (1-8 in 3:24) and the Toews line (1-8 in 2:37). They were 4-4 in 3:39 against Anisimov. I really think this pairing needs more experience, but also like both players. It will be interesting to track progress, and also fascinating to watch Todd McLellan take some risk to get Benning into the lineup. This is not a conservative decision imo.
Cam Talbot was outstanding. He is No. 12 in save percentage now, .920.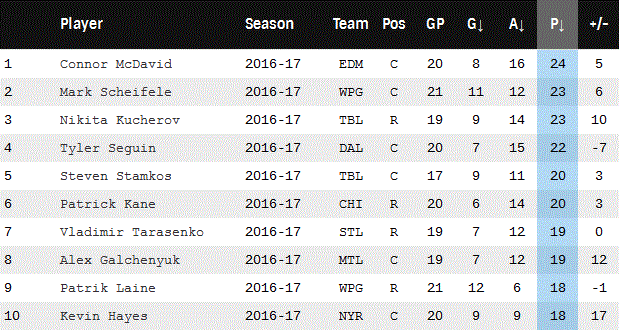 FORWARDS, LAST NIGHT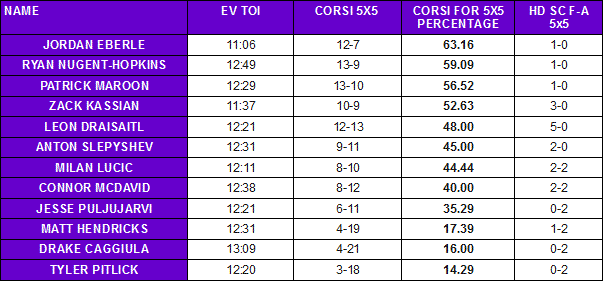 Maroon—Nuge—Eberle were great in possession, did not have a lot in terms of HDSC and Jordan Eberle had six shots on goal. Nuge went 5-1 against the Kruger line, 2-6 against Toews and 2-2 against Anisimov. The 6:10 against Toews would represent the heavy work for this line.
Slepyshev—Draisaitl—Kassian had a strong night in HDSCs, this trio had a terrific evening. Leon scored twice, Slepyshev scored another and the line had six shots on goal. They went 7-3 in 5:13 against Anisimov, but suffered when Quenneville got Toews out there (3-9 in just 3:49). I thought Leon did great work against Toews, but his line would be the third option. Three goals is a great night for these three men.
Lucic—McDavid—Puljujarvi posted four assists on the night, with each man getting in on the action. McDavid now leads the NHL in points, Lucic finally posted a crooked number after an extended slump, and the rookie is now collecting points at a reasonable clip. They were 5-5 in 6:10 against Toews, 97 had some impressive exchanges with the center (and with Patrick Kane) during the evening—McDavid is making a difference in all three regions of the game.
Hendricks—Caggiula—Pitlick got hammered in possession, lose the HDSC battle and this must stop. Benoit Pouliot could help Caggiula, I believe that, so if the young forward is going to play center on a 4line that needs to be one tweak before the road trip. McLellan kept Caggiula away from Toews (0-3) for the most part, 2-9 against Hinostroza, 1-6 against Kruger and 1-3 against Anisimov. Caggiula did pick up a point, this line got leveled. Hendricks took an unnecessary penalty. I think Pouliot and Letestu should draw in for the road trip, but am unsure either man gets the call.
KRIS RUSSELL
All kinds of fury over Kris Russell now, I am getting lots of help from folks in regard where to shove certain things. I am among the group who has been targeted as 'negative' towards Russell as an Oiler. Let's be clear about a few things: First, I always cheer for every Oiler, hope they do well. Second, when I point out the possession numbers, it isn't to point fingers at Russell (or anyone), it is to gain a more accurate knowledge of the player. The blog believes that possession numbers tell a story, but this blog does not insist that you agree, and increasingly there are fewer people who believe Corsi tells a big part of the story. I can accept that, can you accept my view? I hope so. This is not a life and death struggle for the one true measure, this is a journey, a conversation, and it should be civil. It should also be noted that the more measures (that make sense, and that are not biased) the better. Can Corsi and HDSC exist together? I believe they can, but would like to see a direct connection between HDSCs and winning. That (for me) is the true test of any measure.
As it stands, Kris Russell has a Corsi for 5×5 percentage of 45.1 and since he blocks a lot of shots we should mention his Fenwick (47.1). I asked this question yesterday, no one I saw chose to discuss it, but for me this is an interesting avenue. If we buy these possession numbers, and the idea that playing on your off side punishes by three to six percent, what should we be saying about Kris Russell as a player? Remember, I asked this yesterday, so am not cherry picking after what the math says was his best game in some time.
For me, I look forward to the rest of the season. The numbers suggest there is a bubble here, and history tells is it will burst at some point—we do not know when. I hope it is next year, but suspect that will not be the case. In the meantime, go Kris Russell! And for crying out loud don't get sucked into a useless argument about the one true God of hockey measure. It is insulting to our collective intelligence, let alone God, and is exactly one colossal waste of time.
CHASER
Photo by Mark Williams
Bakersfield Condors play tonight, there are seeds growing under the winter snow (I know, but work with me here) and some prospects are getting a push. One of them is Greg Chase, although the boxcars aren't moving yet. Chase spent much of his first pro season in the ECHL, but this year is on the AHL club and lately has been getting a more prominent role. How can I tell? Shots on goal. In his six games so far this season, Greg Chase has 16 shots on goal—including five and four in his last two games.
This is an encouraging sign. The young man has not cashed yet, but he is showing some progress and the club has given him a look in this small window. The AHL is an unusual league and the Oilers are a funny team—they play veteran AHLers too much. That said, when they do give a young player a push, it is notable and sometimes leads to progress at that level. I hope this is the case with Mr. Chase.
LOWDOWN WITH LOWETIDE
At 10 this morning, TSN1260. Scheduled to appear:
Andy McNamara, TSN4Downs. Dallas versus New England in the Super Bowl? I may have to cheer for the Seahawks to ruin the party.
Derek Taylor, TSN. We break down the Eskimos loss and look forward to what might be a blowout Grey Cup.
Scott Cullen, TSN. The Oilers will spend American Thanksgiving in the playoffs! Is there a parade for that? Also, the Maple Leafs making some noise.
Jonathan Willis, Oilers Nation. Jon and I will discuss the Oilers season after 20, and this inviting schedule just ahead.
10-1260 text, @Lowetide on twitter. See you on the radio!