Jujhar Khaira received an extended NHL audition in year two of his entry-level deal, and appears to be NHL-ready at this time. This means that the Oilers have a prospect who is ready and spending time in the AHL waiting. It has been some time since we could identify a player handled in this way.
I would like to welcome a new sponsor to the blog, Direct Workwear. They are an Edmonton company  but can deliver across North America and have a wide range of workwear. Click on the ad to head over to the site, and tell Frank he owes me lunch!
PREVIOUSLY NO. 9 ON THE WINTER LIST
December 2006: D Jozef Hrabal (0)
December 2007: G Devan Dubnyk (312)
December 2008: D Cody Wild (0)
December 2009: L Teemu Hartikainen (52)
December 2010: C Anton Lander (209)
December 2011: R Tyler Pitlick (48)
December 2012: R Tyler Pitlick (48)
December 2013: D Martin Gernat (0)
December 2014: C Kyle Platzer (0)
December 2015: D Ethan Bear (0)
There is one home run here, Devan Dubnyk. He had a meandering path to the NHL but has to be considered one of the best Oilers draft picks of this century. Tyler Pitlick developed slowly as well, but appears to have arrived this season and is perhaps (along with Brandon Davidson) indicative of the true elapsed time required for these young men to come through the Oilers slow-developing system.
WHAT THEY SAID ON DRAFT DAY
Red Line Report: We believe this kid could be the biggest/best sleeper of the entire draft. Prince George is so far off the beaten path teams don't even travel there for WHL games, much less BCHL contests, so he gets zero exposure. But this kid is big, mean, aggressive, nasty, and guess what… he can score too. Does the dirty work in the corners, bangs bodies and wins battles, and loves to initiate heavy contact. Powerful stride with great balance and gets leverage on his hits. Has surprisingly soft hands and puck skills with playmaking ability. Creates lots of space for smaller teammates and makes everyone braver. Very raw defensively.
That is a tremendous scouting report for a draft pick, especially considering the source. Red Line Report delivers the news, good and bad, and honestly this report has been my guiding arrow in regard to Khaira. Their scout saw an NHL player on those cold winter nights, it is here for all to see.
PREVIOUS RANKINGS
Summer 2012: No. 15
Winter 2012: No. 7
Summer 2013: No. 6
Winter 2013: No. 5
Summer 2014: No. 10
Winter 2014: No. 7
Summer 2015: No. 18
Winter 2015: No. 12
Summer 2016: No. 8
Winter 2016: No. 9
His summer rankings have some wobble, but the winter tallies (7, 5, 7, 12, 9) have him surrounded as a player. All of the uncertainty surrounded offense—folks, it always does—but this last season plus in the AHL have given us our compass readings.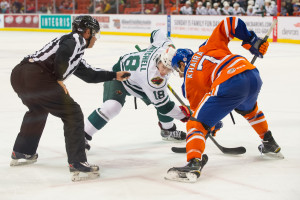 Photo by Rob Ferguson, all rights reserved
READINGS
Todd Nelson: "He thinks the game really well on the ice and when you couple that with the size and skill he has, it's going to be a very bright future for him. He's an intelligent guy. He knows what he has to do to get better and he works hard at it. With his size and maturity and the way he approaches the game, who knows where his top level is, but I think the future is looking really positive for him."
Todd Nelson: "We've seen flashes of what JJ can be. He just needs time to mature. We're trying to mould JJ into a two-way centreman, somebody who can kill penalties, late in games trying to preserve a game. He has the size. He just needs experience." Source
Joanne Ireland, Edmonton Journal: Khaira's parents, Sukhjinder and Komal, were at Rexall Place on Wednesday to take in his game against the Boston Bruins. It was their first chance to sit in the stands and watch him play in two years. It was also Komal's first NHL game. She had always said if she went to an NHL game, she'd go when he was playing. Source
KHAIRA IN THE AHL

It seems like exactly forever since an Oilers prospect scored at a point-per-game in the final season of their entry-level deal (actual answer: Anton Lander, 2013-14), and Khaira should have a positive impact on the Oilers when he is recalled.
2016-17
Simon Boisvert: I do think he is NHL-ready. He is very confident now offensively, he reminds me of the Khaira I remember from the BCJHL. This is the year when prospects who have already spent two years in the AHL should be in the NHL—otherwise they become career AHLers. Or tweeners. He is ready for the show. He is their best forward (in Bakersfield), now the question is when will he be called up? Source

Lowetide blog, October 21:  No. 7, Jujhar Khaira. He has posted 3-1-4 in the first two games and appears NHL-ready in all phases. Playing on the top line with Ryan Hamilton and Taylor Beck, he is flourishing offensively—the one area we could reasonably assume he would be shy. His eight shots on goal co-lead the team. Source
Khaira's offensive progression in the AHL is obvious, and his shots per game during the entry-level contract also reflects it.
2014-15: 73 shots in 51 games (1.43 shots per game)
2015-16: 96 shots in 49 games (1.96 shots per game)
2016-17: 21 shots in seven games (3.0 shots per game)
Photo by Mark Williams
THE FUTURE
Khaira could be a value contract for years in Edmonton, and is under control for many years to come. His surge offensively last season (and early this) is even more encouraging, as Edmonton needs secondary scoring on the depth lines. We are not certain that he will be a center or winger, and we don't know if he will play much or at all this year in the NHL. He is right on the edge of beginning his NHL career but remains in the minors, and the Oilers drafted and developed him. Those are two facts are breaking news. Khaira has had NHL time (15gp, 0-2-2) and it is possible we have more to discuss this summer when we re-visit the Top 20. I am fairly certain Khaira will remain under 50 NHL games (qualifying him for the list).
In ranking Jujhar Khaira here, it is with the knowledge he is in a group of players who have some range of skills and some questions about their future NHL role. He is unlikely to play his career as a top 6F, but there is some evidence he could contribute offensively on a checking line or in a complementary role. There are two more skaters to come in this cluster which began with Anton Slepyshev at No. 8 on the list.
THE 2012 DRAFT
Nail Yakupov, No. 1 overall. Now playing for the St. Louis Blues.

Graduated to the NHL

.
Griffin Reinhart, No. 4 overall. Reinhart is experiencing real challenges (and injury) in year three of his entry-level deal. Ranked inside the Top 20.

Mitch Moroz, No. 32 overall. Seems to be getting more playing time in the final year of his entry-level deal. Candidate for the Top 20.
Jujhar Khaira, No. 63 overall. Khaira is one of the few success stories for Edmonton from this draft and is poised to begin his NHL career. Still a reasonable range of possibilities as far as future role, and we wait to see how he will be deployed.

No. 9 prospect, Winter Top 20

.
Daniil Zharkov, No. 91 overall. Now playing in the KHL. No longer in the organization.
Erik Gustafsson, No. 93 overall. Currently in the AHL (Chicago). No longer in the organization.
Joey Laleggia, No. 123 overall. Small puck mover has offense and chaos. A candidate for the Top 20.
John McCarron, No. 153 overall. Now in the ECHL. No longer part of the organization.
Drake Caggiula, not drafted. Passed through the 2012 entry draft, Edmonton signing him in the spring. Offensive success (3gp, 0-2-2) early in his NHL career. No. 3 prospect, Winter Top 20.
Matt Benning, drafted No. 175 overall in 2012. I expected him to spend the entire season in Bakersfield but he is scoring well and posting good all around numbers as an NHL rookie defender.

No. 4 prospect, Winter Top 20

.
ROLLING TOP 20

Khaira adds to an area of weakness—NHL-ready prospects who can step in and help immediately. Unfortunately, he is one of a precious few currently on the AHL roster.
It is uncertain what position he will occupy at the NHL level, LW or C. Todd McLellan has shown a preference for wingers who can also play center, that might give Khaira an edge on other candidates.
He is 6.03, 214 and the offense appears to be showing up enough to project him into the NHL as a depth forward. He can score, but can he score enough? He is fast, but is he fast enough? These are the reasons for his being ranked here, but will tell you this is a prospect I like a lot. I would rank him higher if this list was based only on personal preference.