One day, out of the blue, peace came to the valley. The long, hard days gave way to sunshine and good times, and smiles and caring. At first, people could not quite trust it, afraid the heavy clouds they knew too well would come visiting again, dashing hopes. Slowly but surely, even those who had completely given up hope allowed that this might be just a little better. And so began the healing, and the return of real hope in the valley.
GET OUT OF DENVER, YEAR OVER YEAR
Oilers in October 2015: 4-8-0, goal differential -7
Oilers in October 2016: 7-2-0, goal differential +10
Oilers in November 2015: 4-7-2, goal differential -2

Oilers in November 2016: 5-6-1 goal differential +1

Oilers after 21, 2015: 7-13-1, goal differential -9
Oilers after 21, 2016: 12-8-1, goal differential +11
Holy Mike Shabaga, this team has game! Are they for real? Well, we have passed the 20-game mark and good things continue to happen, so at some point we are going to have to come in from the rain. I know you have grown attached to certain aspects of losing—and none of us likes change—but it may be time to smile.
We agreed that November should run at a point per game for Edmonton (15 games, 15 points). Right now, Edmonton has played 12 games and there are 11 points in the bank. A win on Friday against Arizona gets the team to 13 points, and then a split in the final two games against Scottsdale and Don Mills gets them there. That would be an impressive wrap to November.
DEFENSE, LAST NIGHT

Nurse—Benning were both great in possession and as you can see it was Christmas day in the HDSCs. Nurse made a terrible decision on the first GA—that is going to cost Edmonton against good teams—and he has to clean that up. Matt Benning made a strong, clean and probably famous hit on Nathan MacKinnon in one of the big points in the game. Pairing was 13-6 with the Nuge, 5-2 with Leon.
Sekera—Russell had their second straight game of good possession numbers, and even had a fine evening on the HDSC. They were 8-7 with McDavid and 7-0 with the Nuge on a night that was very physical and ultimately satisfying for the third pairing. They were 6-1 against the Duchene line, Duchene is one of my favorite players. My goodness what a player.
Klefbom—Larsson played the heavies, in the case of the righty that included machete work and some big hits. Lordy. Larsson also picked up an assist on the night. Went 7-6 in 7:04 with McDavid, 7-4 against the MacKinnon line. MacKinnon comes out of a rocket launcher, that guy is frightening. Oscar is coming into his own now, the best compliment I can give him is that is this were 1975, he would be a Hab. The young man has the range.
FORWARDS, LAST NIGHT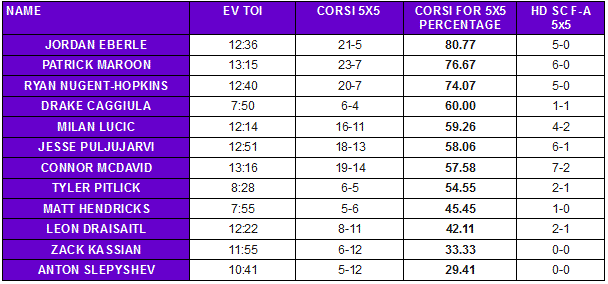 Lucic—McDavid—Puljujarvi combined for two goals and seven points, none of them by the kid and not for lack of trying. Connor McDavid is a gift from the Gods, that third period was pure adrenaline. The Avs blue were caught with the reality that defending what cannot be defended is no fun at all in real time. He is now 21gp, 8-19-27 and leads the NHL in scoring.
Milan Lucic, who just 24 hours ago was being shopped to glue factories by the faithful, had six shots, went 1-3-4 and is now 21gp, 6-8-14 on the season.
Maroon—Nuge—Eberle had a strong night, combining for 3-1-4 and 13 shots (!!!) on goal. I don't recall Nuge looking as good all season, Eberle had a dandy goal (the first one) and Maroon did a nice job on the line, too.
Kassian—Draisaitl—Slepyshev got left behind a little as a line, but Leon went 1-1-2 and is now riding a good wave. The line went 3-10 in Corsi against Iginla (Comeau, Mitchell) and if there is a trio from the top three lines that might get Caggiula, this line would be my guess.
Hendricks—Caggiula—Pitlick looked better in possession last night, but the line doesn't seem to have a purpose (beyond getting the rookie settled in). I think we might see Slepyshev come out of the lineup, Caggiula moving to Leon's line, and Letestu drawing in at some point in the next few games.
MILAN LUCIC
I am a fan of Milan Lucic. He was a major factor in Boston's strong run earlier in this decade, and a bona fide enforcer with skill on a Stanley winner. The names of players in the game's history who have played a prominent role on winning teams as policeman and offensive contributor is not massive. John Ferguson filled that role with the Habs in the 1960s, Lucic provided the same cover with skill for the Bruins when he was there. Lucic's major skills included passing the puck well, finding seams to get the puck to good places, and excellent corner work (Wayne Cashman dug the puck out, Lucic just parked his ass and foraged). We have not seen that player much and then only over a brief period of time. I remain a fan, but hope he can find a comfortable spot in the lineup, and perhaps last night is the beginning of that process.
THROUGH THE STORM WE REACH THE SHORE
One of the fun things to do this season is viewing Oilers defensemen without Connor McDavid. Since the young man tilts the ice in such a massive way, the WOWY allows us to see what is happening in the other 40 minutes a game.
Oscar Klefbom 51.4 in 244 minutes
Adam Larsson 51.0 in 252 minutes
Matt Benning 50.0 in 116 minutes
Eric Gryba 49.0 in 143 minutes
Darnell Nurse 48.7 in 229 minutes
Andrej Sekera 48.1 in 207 minutes
Kris Russell 46.5 in 149 minutes
Interesting list, the first thing I see is that most of this group is doing at least okay without 97. The Oilers are sending the puck in a good direction a lot of this season at 5×5—there have been many recent years when Russell had plenty of company.
WHAT TO DO WITH POULIOT?
I'm a stubborn kind of fellow, so if you are going to talk me out of Benoit Pouliot as a good player, you better pack a lunch because it is going to take you all day. I do not understand why Todd McLellan has BP on the sidelines, but if I were coach Marc Pouliot would be 4C (until he got used to the speed of the game, then I would move him up!) so there you go. Todd McLellan is the coach, he has the right to fill out the lineup as he sees fit, and we have the right to agree or disagree. McLellan has made plenty of decisions I do not agree with and they have worked out, and I am reasonably sure he knows a few things about coaching that have not occurred to me.
I will say this: Some NHL team would do well to offload a ghastly contract on the Oilers in exchange for Pouliot. I believe they would be getting a productive player who may have worn out his welcome. It happens you know, I am a pretty good employee and have spent too long at the fair from time to time. Suspect Pouliot is ready, McLellan appears to be as well. Make it so, Peter Chiarelli! Just don't get Phaneuf.
LOWDOWN WITH LOWETIDE
This morning at 10, TSN1260.
Darcy McLeod, Because Oilers. The numbers and the record look good, but there are some issues like the price of gas and what to get each other for Christmas.
Derek Taylor, TSN. Grey Cup Week! Are we cheering for Henry? Really?
Jeff Hauser, Radio Hauser. Are you ready for some football???? We will check in on turkey day with our American friends.
Frank Seravalli, TSN. Oilers firing on all pistons, expansion draft discussion and Canada's playoff hopes.
10-1260 text, @Lowetide on twitter. Talk soon!