I had a Chevy Bel Air Super Sport, it was maroon with a white hard top and burned more oil than gas. My Dad told me to sell it every time he saw it, but I loved that big chrome load. I didn't have a pot to piss in, and used about 10 percent of the brains God gave me, but I was young and out on my own and living. There is something about that time, those days and months and years where you discover the world, learn about failure and success, and go your own way. I wouldn't give up the life I have for the world, but the memories of those days are some of my favorites. What they don't tell you (actually they do, but you're not listening) is that the journey is the thing, and the people you share it and who become part of you are the reward. Oh to be 20 again, and burning daylight on fresh blacktop. I wonder where that car is now.
PEACEFUL EASY FEELING, YEAR OVER YEAR
Oilers in October 2015: 4-8-0, goal differential -7
Oilers in October 2016: 7-2-0, goal differential +10
Oilers in November 2015: 4-7-2, goal differential -2

Oilers in November 2016: 5-6-1 goal differential +1

Oilers after 21, 2015: 7-13-1, goal differential -9
Oilers after 21, 2016: 12-8-1, goal differential +11
G22 one year ago was a 4-1 loss to the Carolina Hurricanes, Andrej Nestrasil would be on his way to the Hall of Fame if he could play those Oilers every night. Connor McDavid was hurt, Oscar Klefbom soon would be, and after that game Edmonton would have 15 points in its first 22 games. Lord have mercy, Christ have mercy.
If you are in the market for workwear, click on the ad and check out my friend Frank's sale. He tells me it is a good one, although since I've never worked a day in my life I cannot be sure. If you are interested in placing an ad (or sponsoring 2-4pm on Saturdays), drop me a line via the contact button.
OILERS FORWARDS, 2016-17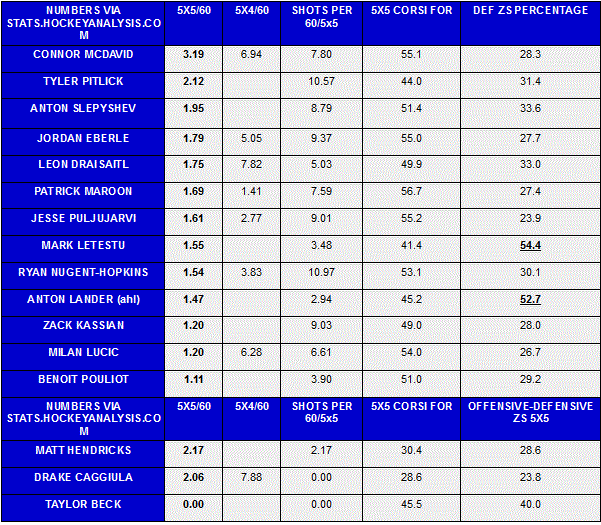 Connor McDavid is blistering opposition goalies now, and I can tell you that someday—and right soon—we will look at these numbers (leads the league in points and on pace for over 100 this season) and gloss over them. It will happen, sure as hell. I remember reading The Hockey News leading scorers and staring at Bobby Orr's name at the top, did that for months. At some point, I assumed he would be there. The mind is a strange and funny thing. You hold on to that feeling as long as you can—Connor McDavid is a special player and he is proving it—because these are the good old days.
Leon Draisaitl has an interesting line, 5×5/60 and possession numbers are coming back strong. His defensive zone starts are higher than I thought they would be, and his shots total seems low but he was just 5.72 a year ago. These men need to shoot more, even if they are ridiculous passers. Then again, Leon is right in the same range as Anze Kopitar, so there you go.
Ryan Nugent-Hopkins is shooting a lot this season, he was just 5.58/60 at 5×5 one year ago. I suspect this is a specific plan for more offense and as you can see it is starting to come for the center. I had a chat with Brian Wilde of CTV Montreal/TSN690 last night online about the Nuge, he would be a nice fit there. I think RNH had his rep damaged last year due to injury, but as he climbs out of the early slump this year we should expect that 5×5 number to improve—perhaps back to the 1.92/60 of 2014-15 when he spent a lot of time with Jordan Eberle.
Milan Lucic is showing signs of life, that four point game was a Godsend for his player card. He is on track for 82gp, 23-31-54, I had him at 80gp, 22-39-61 on the RE. One area I was wrong on the RE estimate? PP points. I had him at 10 all year, he is at 2-4-6 after 21 games. McDavid changes everything.
OILERS DEFENSE, 2016-17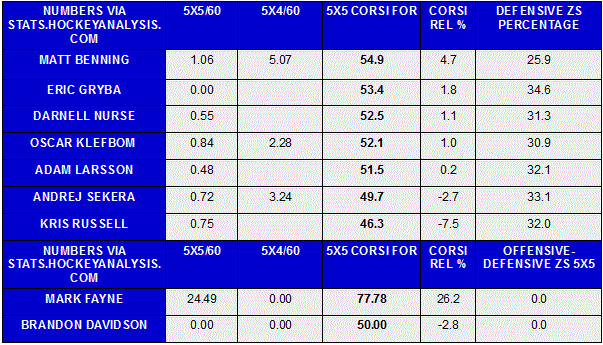 Matt Benning is an interesting player, he is clearly a better fit for Oilers fans than Justin Schultz, the last college phenom to hit the Whitemud. Benning's hit on Nathan MacKinnon was clean and effective, and the young man seems to have hitting and passing in his arsenal every night. We need to see him over a longer stretch, but this is a dozen games now (0-4-4) and the returns are very good. Could be third pairing on these team even after Mark Fayne and Brandon Davidson return from injury.
Mark Fayne skated yesterday with the Oilers, Brandon Davidson did not. It is taking a long time for Davidson, suspect we have some ways to go before the young man lines up for an NHL faceoff.
Oscar Klefbom is starting to look like the complete defender we prayed for all those years. He is on pace for 82gp, 12-16-28 this year, I had him at 55gp, 5-16-21 (or about the same points per game).
Adam Larsson has shown himself to be about what we expected, offensively and defensively. He is more physical than I expected and he has good coverage on most plays. I like him a lot, hope people can eventually move past the trade and enjoy his contributions without bile.
Kris Russell has had two good possession games in a row. It will be interesting to see if he signs in Edmonton before or after the expansion draft.
WORTHWHILE READ
Kurt Leavins over at the CofH wrote an interesting article on numbers, applying them in our own way and being able to communicate without being petty or ignorant. I thoroughly enjoyed reading it.
DRAFT 2017
Settle down, we are just talking here. I wanted to talk about the massive shift in draft number that may take place this summer. In the last seven seasons, Edmonton has drafted No. 1 (2010), No. 1 (2011), No. 1 (2012), No. 7 (2013), No. 3 (2014), No. 1 (2015) and No. 4 (2016). If the season ended today (based on finish, not playoff run):
No. 21
No. 83
No. 86 (Nail Yakupov selection, this could be a second rounder)
No. 114
No. 128 (Phil Larsen trade)
No. 145
No. 176
No. 207
I think that is right, Las Vegas being added means 31 teams and buggers me up in the math (oh shut up, I am old!). The draft looks heavy in forwards and there is some real size up front, suspect Edmonton will be looking for wingers and defensemen this time. Check out ISS and The Draft Analyst if you are interested, I plan to post my first Top 30 for 2017 in January.
LOWDOWN WITH LOWETIDE
Friday! This morning at 10, TSN1260, scheduled to appear:
Steve Lansky, BigMouthSports. Grey Cup Weekend, McDavid on fire, CFL commish light on details at the annual state of the union.
Guy Flaming, Pipeline Show. We will check out the Oil Kings and some of the WHL names mentioned this year for possible first-round consideration.
Matt Iwanyk, TSN1260. Why can't Oilers fans just be happy? Is it a matter of trust? Is this still about Taylor Hall?
I am working on another guest, but don't want to ruin it by saying it out loud (it is a thing) so stay tuned. 10-1260 text, @Lowetide on twitter. See you on the radio!