Cam Talbot posted a .950 save percentage last night, no one mentioned his name. That's rather unfair, since he is one of two men (97) most responsible for this team's current standing (first place, Pacific Division). The truth is that Edmonton's 21 club (everyone but the goalie and 97) did not play especially well, and the result was predictable based on that single fact. HDSC: 7-11.
Todd McLellan: "We weren't sharp enough for two points, so we'll take the one, but we should expect more on a nightly basis."
FOUR STRONG WINDS, YEAR OVER YEAR
Oilers in October 2015: 4-8-0, goal differential -7
Oilers in October 2016: 7-2-0, goal differential +10
Oilers in November 2015: 4-7-2, goal differential -5

Oilers in November 2016: 5-6-2 goal differential +1

Oilers after 22, 2015: 7-14-1, goal differential -12
Oilers after 22, 2016: 12-8-2, goal differential +11
The Oilers have a galling tendency to stub their toes on opposition (remember the Sabres), they are not exactly mature performers in games when they haven't brought all of their tools. Last night was there for them, they grabbed one point, damn near two, but lost in Bettman bingo. We're on to Rogers Place.
Our November deal (15 points in 15 games) is in a little trouble. Edmonton has played 13 games, and has 12 points—meaning a win and an OT loss will be required to make the grade. Can they do that against Scottsdale and Don Mills?
DEFENSE, LAST NIGHT

I believe every defenseman listed here made at least one play with major wobble.
Klefbom—Larsson teamed up on a dynamic goal, Klefbom driving down the off wing and passing to Larsson who was his mirror with a hammer. Music! Without that goal, Edmonton doesn't get a point last night. They went 13-4 against the Dvorak line, 7-4 against Rieder and 4-3 against Hanzal.
Sekera—Russell went 7-7 against the Hanzal line, that's kind of the key to Arizona. Tippet ran that line against Sekera—Russell 7:15, and less than three and a half minutes against any other lines. This is the lineup he wanted, and it worked out well for them imo. Sekera seemed hesitant to me at times, but for me he is a player I can be confident in consistently. Russell had a shot block hit the net—that is the kind of thing that luck brings—and was not effective with the puck.
Nurse—Benning went 3-5 against Hanzal and 0-7 against OEL in 4:34. Nurse had the yips on his passing, seemed a little slow to places, too. I have been generally pleased with his recent play, but last night was poor. Full stop.
If Todd McLellan is going to get Eric Gryba a game, Sunday might be it. The question is who does he take out?
Oscar Klefbom is taking another step forward. He reminds me of a young Serge Savard, who was always a great defender but who also could make plays with the puck. I am not suggesting a Hall of Fame career, but that assist last night was just like Savard, swear to God. Brilliant.
FORWARDS, LAST NIGHT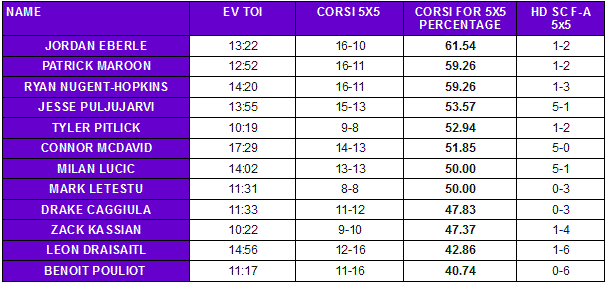 Maroon—Nuge—Eberle played most with Klebom and Larsson—that group scored the second goal of the game. Nuge went 4-5 in 4:09 against Hanzal and saw OEL only 2:52 (2-5). Only one scoring chance, you would like this line to do more, but they seem to have more going on and we can hope Todd McLellan keeps them together to see if there is chem.
Lucic—McDavid—Puljujarvi got the first goal, McDavid set up both wingers for easy peasies but neither man could cash. They will get there. 5-0 in HDSCs is pretty crazy, Oilers can win games just with this line. Seriously. Gotta cash. McDavid went 9-11 in 11:03 against OEL (man, that guy is terrific) 9-5 against the Hanzal line. Five HDSCs against that. Mother. Puljujarvi is going to be my favorite Oiler (non-McDavid division) by Christmas. I cannot help it. He is in so many good places every night. He needs to score on at least some of the gifts from 97, though.
Kassian—Letestu—Pitlick were 8-7, Letestu was FO man a bunch and his at-bats are tough to read because of it. The 4line has lost its way now, since Caggiula came in. Pitlick is getting lost here, he doesn't get good looks because his linemates are not as good. They need something. I would like to see a real LW on this line on Sunday.
Pouliot—Leon—Caggiula had some dash to my eye, they were out most with Sekera and Russell. Went 0-4 in 1:49 against Hanzal, but that is par for the course. Going 5-5 against the Dauphin line is the issue, Leon needs to chew this matchups like a chihuahua attacking a smelly old sock. It is a little vexing, gotta say. It was a new line, and he was on a point scoring streak, but road wins need Leon goals this year. He is in a sweet spot.
Jordan Eberle had a good game to my eye, made some aggressive and effective plays with and without the puck, grabbed an assist on the Larsson goal. He is getting phenomenal looks on the PP and won't rip it—suggesting to me there may be some lingering issues from the shoulder injury a year ago. If that is the case, it is going to be very difficult to keep him on the feature power play.
FIRE SIDE CHAT
We need to chat. One of the things we need to do from time to time is remind ourselves of where we are in life. Back in the summer, when I refused to publish the balance photo, it was for many of the reasons we saw last night. Peter Chiarelli is using this season both to turn north and to audition. Todd McLellan said as much when calling the Oilers a growth team this season.
All manner of auditions are currently going on, Jesse Puljujarvi with Connor McDavid, Drake Caggiula with Leon Draisaitl, Matt Benning in the NHL and on it goes. Zack Kassian on the PK, Kris Russell on the power play. Some I like, some I hate, but these are experiments and each of them is a small tell about what—exactly—this season is about for the Edmonton Oilers.
I know you are impatient, I know you want to win the Stanley Cup this season, but the reality is that we knew about this team back last summer. This is us. I honestly don't think blaming the players is productive or fair.
If we made a list of players we expect to be here on the morning Edmonton wins their next Stanley, how many are there? 12? 15? Your Edmonton Oilers are still in growth mode, and as difficult as it might be to view the team through those eyes, we are here. Did you read the Peter Gzowski book? Yeah. The Oilers are about there.