For the second season in a row, the 2010 draft checked in with a very late developing prospect. In the fall of 2015 it was Brandon Davidson, and this season it's Tyler Pitlick. Should we be looking for David Musil next fall? Either way, the Edmonton Oilers may have procured a useful RW in 2010's second round after all.
PREVIOUSLY NO. 10 ON THE WINTER LIST
December 2007: D Jeff Petry (385) (GM: Kevin Lowe)
December 2008: L Linus Omark (79) (GM: Kevin Lowe)
December 2009: C Anton Lander (209) (GM: Steve Tambellini)
December 2010: D Alex Plante (10) (GM: Kevin Lowe)
December 2011: D David Musil (4) (GM: Steve Tambellini)
December 2012: D Dillon Simpson (0) (GM: Steve Tambellini)
December 2013: C Greg Chase (0) (GM: Craig MacTavish)
December 2014: R Tyler Pitlick (49) (GM: Steve Tambellini)
December 2015: R Iiro Pakarinen (80) (GM: Signed by Craig MacTavish)
December 2016: R Tyler Pitlick (49) (GM: Steve Tambellini)
There is one home run here, second-round selection Jeff Petry who has turned into a quality NHL defender. I think there was a time when Linus Omark might have had a career, but he arrived at the NHL level when the Oilers were adding three other wingers (Hall, Eberle, Paajarvi). As for Pitlick, plenty of story to be written but credit where due, he earned this opportunity.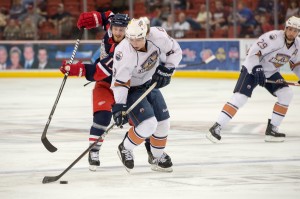 WHAT THEY SAID ON DRAFT DAY
Red Line Report:  Accelerates briskly out of cross-over and blows by defenders. Has an NHL calibre shot right now. Flashed the ability to power through defenders. Can gain separation in corners with sharp twists and can turn on a dime. Patient playmaker. Long-limbed with farmboy like strength. Aggressive and finished checks. Can shield the puck and work it down low, but often gives it up due to his eagerness to come off the wall and attempt to dance around defenders. Work in progress defensively – will come back deep and battle for the puck but lacks awareness in coverage assignments.
Bob McKenzie: Tyler Pitlick is the nephew of former NHL defenceman Lance Pitlick and scored 11 goals as a freshman at Mankato State University. A late 1991 birthdate, he was an offensive player in the Minnesota high school system but will have to prove he can put up numbers with each step up in competition, but he plays a solid enough all-around game to garner first round consideration.
There were two main items of concern in regard to Pitlick during his post draft and then pro seasons: Offense and injury. There were seasons (Medicine Hat, 2013-14 in OKC and 2015-16 in Bakersfield) where the offense looked encouraging, but then injuries would derail progress and Pitlick would get forgotten. That was the case in 2015-16, as Pitlick was injured and Iiro Pakarinen stepped in and won the open job on RW. The roles were reversed this season and Pitlick has the job through the first two months of the NHL season.
Photo by Rob Ferguson. All rights reserved
PREVIOUS TOP 20 RANKING
Summer 2010: No. 4
Winter 2010: No. 7
Summer 2011: No. 10
Winter 2011: No. 9
Summer 2012: No. 11
Winter 2012: No. 9
Summer 2013: No. 24
Winter 2013: No. 15
Summer 2014: No. 14
Winter 2014: No. 10
Summer 2015: No. 19
Winter 2015: No. 25
Summer 2016: No. 22
Winter 2016: No. 10
That is 14 Top 20s that have seen Tyler Pitlick ranked everywhere from No. 4 to No. 25. This is the 114th post on this blog that was either some or all about Tyler Pitlick, and I swear by God this is his last day of eligibility for the prospect list. I have cheered for him seemingly forever, and am pleased he made it. I hope he hangs in for 500 more games, and a few more for good measure.
AHL NUMBERS

I don't trust the Oilers AHL coaching staffs enough to regard year one as anything more than part-time play, but year two saw injury and no progress.
By the final year of his entry level deal—and I do think the Oilers do this for lots of prospects—Pitlick finally appears to be playing a regular shift. There is promise, and injury. He also played his first 10 NHL games, and scored his first NHL goal.
Year four sees more injury, and this time it cuts away most of the season. He was injured in the NHL this time, 17 games and two goals were his production for 2014-15 with the Oilers.
In 2015-16 he was back in the AHL and hurt half of the time. There are some signs though, and his final three AHL seasons have a few interesting things about them. I especially like his even-strength scoring progress.
Photo by Mark Williams, all rights reserved
2016-17
Condors coach Gerry Fleming: When 'Pitter' is at his best, he's on loose pucks, he's moving his feet, he's protecting the puck, he's going to the net. The biggest part of his game is his physicality. He hits like a train, and when he's hitting and starting and stopping on pucks, he's an effective player. I think he's starting to grasp the concept of the way he has to play in order to be effective and that's using his speed on the outside, protecting the puck, and bringing it to the net. It comes back to his physicality. When he's finishing his checks, being physical in front of the net, and winning battles in the corners, he can help the team and be an asset. Source

Lowetide blog, September 27:

R Tyler Pitlick 1-1-2 in 12:51

. He made a strange defensive play in the first period but recovered with a goal and two points later in the game. Looked good in possession (73 percent). McLellan: "He had a helluva game. Pitlick penalty-killed, was stick-strong. He bullied his way along the boards, kept plays alive, killed plays in the D zone, managed the game well. I thought he played a power game, in both zones." Source
Lowetide blog, November 7: Tyler Pitlick is in Pittsburgh today, preparing for career NHL game No. 41. I doubt he makes the Top 20 again—graduation comes at Game 50—but he is absolute proof that patience is required when it comes to prospects. I always say you should wait five years, but in the case of Brandon Davidson and now Tyler Pitlick, it appears that number can be amended as necessary. I am glad the Oilers showed patience, and that Pitlick never gave up the dream—it is certain there were times when 13gp, 4-1-5 at the beginning of an NHL season must have seemed like the impossible dream. Source
Todd McLellan: "I like the way he plays. I like his tenacity, I like his speed, his ability to finish checks, he drives the puck to the post, has a heavy, hard release. There's a lot of real positives for him." Source
TYLER PITLICK 16-17
5×5 points per 60: 2.01
5×4 points per 60: 0.00
Qual Comp: Mid-level, Zucarello and Seguin most common opposition (Source)
Qual Team: Also mid-level, Letestu, Lander but also Lucic (Source)
Corsi for 5×5 %: 44.4
Corsi for 5×5 % REL: -6.0
Zone Start: 32.6 percent defensive
Shots on goal/percentage: 38 shots/15.8%
Boxcars: 22GP, 6-1-7
(All numbers via Stats.HockeyAnalysis.com  Hockey-Reference and NaturalStatTrick.

Photo by Rob Ferguson, all rights reserved
THE FUTURE
I think it would be insane to suggest that Tyler Pitlick is a lock for anything at the NHL level, but his last 90 AHL games (18-34-52) showed some offensive ability. Edmonton is going to need productive wingers who can help offensively and not be a defensive liability. Pitlick is such a player. We cannot project him as more than that (4line RW who might be able move up as required) until we see more of him. The injuries have us here, credit to team and player for immense patience.
In ranking Pitlick at No. 10 among this year's prospects, he is the third of three (Slepyshev, Khaira) forwards who are emerging at the same time. Not all will flourish in the NHL and there is a chance none of them will spend an extended period with Edmonton. Pitlick's advantage over Khaira is that he is in the NHL right now, and if he can establish himself that might be enough. Expansion may also give Pitlick a chance to hang around and have a career. His shot is intriguing enough, and he uses it just enough, to have him here.
THE 2010 DRAFT
Taylor Hall, No. 1 overall. Cornerstone.  Graduated to the NHL.

Tyler Pitlick, No. 31 overall. Injuries and a lack of offense curtailed his pro progress, but his hail Mary this fall found the range. A new day? We wait.

No. 9 prospect, Winter Top 20.



Martin Marincin,  No. 46 overall. Established regular plays a sound defensive game. Graduated to the NHL.

Curtis Hamilton, No. 48 overall. Having a solid scoring season in the Sm-Liiga. No longer in the organization.
Ryan Martindale, No. 61 overall. Scoring up a storm in Denmark. No longer in organization.
Jeremie Blain, No. 91 overall. ECHL at this time. No longer in organization.
Tyler Bunz, No. 121  overall. Lost his career to concussions.
Brandon Davidson, No. 162 overall. A shocking spike in performance got him to the NHL. He is underrated by most and if healthy could be a big part of this organization for years to come. Underlying numbers are fabulous. Graduated to the NHL.
Drew Czerwonka, No. 166 overall. Did not turn pro, no longer in hockey as an active player.
Kristians Pelss, No. 181 overall. We'll remember you, Kristians Pelss. RIP.
Kellen Jones, No. 202 overall. Effective AHL penalty killer. No longer in the organization.
ROLLING TOP 20

The only sure thing on RW (NHL and prospects) is Jesse Puljujarvi. After that, jobs are wide open (especially once Jordan Eberle's contract expires 2019 summer). I think Slepyshev, Pitlick and even Caggiula could be in the mix.
We are finally beginning to see some pro forward depth on the top 20, however there are no additions (pro players) between here and No. 20 on this list.
I remain convinced the Oilers slow play these kids. It is a bad idea. Pretty sure.