The Edmonton Oilers lost to the Arizona Coyotes yesterday afternoon at Rogers Place. This isn't breaking news, although at least the venue has changed (no more Rexall frustration!). I attended with Mrs. Lowetide, it was her first trip to the new building. Her review? Loved the ballpark, still worries about Klefbom (I suspect it is not a Motherly worry), thinks McDavid should play all the shifts and believes the Coyotes are ruining hockey. I agreed with her on everything, as always. My thanks to Kerry McGowan for the tickets, we had a blast!
Todd McLellan: "They have tremendous structure & rely on it to have success, but we had plenty of chances to win."
GAH! DAMMIT! YEAR OVER YEAR
Oilers in October 2015: 4-8-0, goal differential -7
Oilers in October 2016: 7-2-0, goal differential +10
Oilers in November 2015: 4-7-2, goal differential -6

Oilers in November 2016: 5-7-2 goal differential -1

Oilers after 23, 2015: 7-14-2, goal differential -13
Oilers after 23, 2016: 12-9-2, goal differential +9
I am always looking for things to add to Edmonton's inner circle cluster of winning, but so far it is just McDavid, Talbot and skate around hoping nothing goes in. The closest I can come to a third bullet point is young Oscar Klefbom, who does appear to be emerging as an offensively helpful fellow (along with good defense). Long way to go, record still good and no one should panic. I imagine frustration is flourishing in the coach's office and the general manager gets less than four hours of sleep a night.
DEFENSE, LAST NIGHT

Sekera—Russell were 17-10 together, Sekera adlibbed with Benning for 2-0 in 28 seconds. They were 4-3 with McDavid. Nuge 6-2 in 4:10 with this pair, Sekera +1, four shots for the duo and four takeaways, three giveaways. The Coyotes are exhausting, I hope they all end up in the same old folks home and drive each other crazy. Pair was 4-1 against Hanzal, 5-7 against Rieder.
Nurse—Benning were -1 each, Benning hit five guys and there were some blocked shots. We can chat about this all day, but the second goal against involved Darnell Nurse and Jordan Eberle, with Patrick Maroon also in photo. I saw the play live, and then re-watched it several times. Pretty sure Darnell's mark is the guy along the wall (speculation, perhaps McLellan wants the D to check down) and he pursued the right player. We will talk about more in the Eberle spot, but the issue re: Nurse was execution and contain. If we assume he made the right decision, execution was a mess. Nurse was 8-3 against OEL, that's some number.
Klefbom—Larsson went 15-15 together, blocked eight shots and were -1 on the night. Larsson took two penalties, one a rather effective elbow and the other a hook on a hail Mary that worked for AZ. They were 3-6 with McDavid, 4-8 with the Nuge. They were 6-10 against Hanzal. Klefbom sliding down for offensive chances is now officially a thing. A very nice wrinkle.
OILERS FORWARDS, LAST NIGHT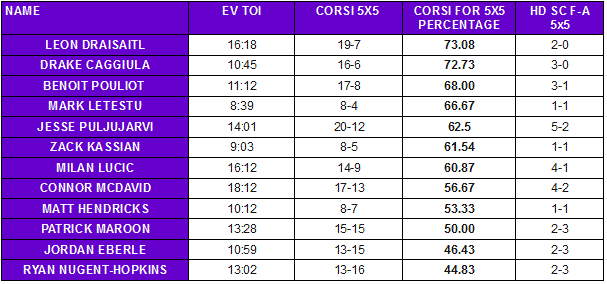 McDavid played with lots of wingers, including Leon. The Corsis: Lucic 13-9 in 14:10; Leon 11-4 in 8:07; JP 9-9 in 8:25. Leon-McDavid went 4-1 in HDSCs, I hope we see them again on Tuesday. Part of 97's difficulty yesterday comes in the hooking and interference applied by the Coyotes. They kind of remind me of the Flyers of the mid-70s, who got away with all manner of crap because you could have called a penalty on every play. The cumulative effect is that McDavid has very little room—and the solution is for his linemates (and secondary lines) to take advantage. We haven't seen it yet.
Connor McDavid had three or four great chances, but did not cash. The real problem for the Oilers? It is always about 97, and that is unfair to the player. These other dice bouncing around in the car need to get their acts together, especially at 5×5.
The Oilers power play is going to cost them the playoffs. Pretty sure.
I think we can see there are two bona fide lines coming, Lucic—97—Leon and the next line we will discuss.
Maroon—Nuge—Eberle had eight shots on goal and a starring role in the GWG. They were 4-5 against Hanzal, 4-5 against McGinn. I think this line will have success if they stay together for a time.
Jordan Eberle is back in the dog house (did he ever leave?) for indecision on the Arizona game winner. My take is this: Once Eberle decided that Nurse was going to the wall, he needed to check down immediately and get position. He doesn't do it. So, and I do think we can and should talk about the execution by Nurse (and why he was where he was), the buck stops at 14.
Hendricks—Letestu—Kassian went 8-4 and played a dandy game. Kassian early and Letestu late even had reasonable scoring chances. Hendricks took every defensive zone draw (LH side) I can recall, and he blocked a shot with what might have been his face. The trio went 6-2 against Hanzal, or at least Letestu did. I like this line. If you are having issues with this trio's performance last night, I think you need to ask yourself what the expectations should be of a 4line. Letestu and Hendricks worked on the PK, and Hendricks was terrific in the dot.
Drake Caggiula went 16-4 with Pouliot and 10-2 with Jesse Puljujarvi. I liked the wingers a lot, but Caggiula looked like the 12th best forward Edmonton dressed yesterday. I think he may need some time on the farm.
Pouliot getting this kind of push (veteran plays against softer opposition) might be one of two things: Oilers trying to get him scoring for their sakes, or as a showcase. Not successful against Hanzal (0-4), Pouliot got a steady diet of Martinook (7-2), Dvorak (6-1) and Dauphin (4-1). He also got 2PP minutes and 1PK, and have five shots on goal. Interesting.
The Oilers need to win possession on offensive faceoffs against the Coyotes, and 97 was at 38 percent. That could be a reason Leon moved up, but I am hopeful the trio spends some time together. Let's see if the Oilers can have one dominant line, and see if Leon can cash those brilliant passes.
LOOKS CAN BE DECEIVING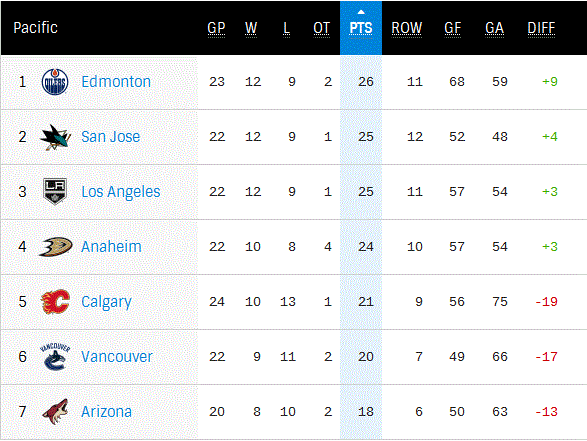 Get a good long look at this ranking, yesterday's loss means the California three can pass the Oilers with that game in hand. Don't panic, this can be saved, but it does speak to the lack of balance this team once again entered the season with in 2016-17. Even with Connor McDavid, the Oilers needed more substantial RWs, and if Leon is moving up that solves one problem while creating another (Drake Caggiula is not ready based on early returns).
I picked the Oilers for fifth in the division, eleventh in the conference and twenty-third overall. There have been times this season where that projection looked shy, but if you run this division's record over the last 10 games, it is easy to see the market correcting:
San Jose Sharks 6-3-1, 13 points
Los Angeles Kings 6-3-1, 13 points
Anaheim Ducks 5-3-2, 12 points
Vancouver Canucks 5-4-1, 11 points
Calgary Flames 5-5-0, 10 points
Arizona Coyotes 4-4-2, 10 points
Edmonton Oilers 3-6-1, 7 points
The difference in many ways is that the Oilers are still the team that considers itself building. There are 31 rookie skaters in the Pacific Division this year, Edmonton has four (Jesse Puljujarvi, Matt Benning, Anton Slepyshev and Drake Caggiula). That is around average for the division, but the Oilers group all appear inside the division's Top 20 (among rookies) for time on ice per game.
OBSERVATION DECK
After the GA in the third period, we did not see Eberle again.
POSITIVES
The Oilers were better to my eye in the second game, that is reflected in the Corgi's:
Friday: 50-47, 51.55
Sunday: 56-39, 58.95
Oilers should be the team walking away with three points out of the weekend, opportunity missed. Todd McLellan credits the Coyotes goalie, I remain unconvinced of the second and third lines. Every game the Oilers audition Drake Caggiula is a game they are devoting to the rebuild—and are willing to give up points in the standings. I see no other way to frame this issue. I am not picking on Caggiula, but this is not the time to break him in. Perhaps the time lost from the injury has put him too far behind, and a trip to Bakersfield should be considered. Either way, the names of the men who are not contributing with consistent 5×5 offense is alarming and expensive. Added to the addled power play, and this Edmonton Oilers team remains all about Connor McDavid when it really shouldn't be that way. We wait.
LOWDOWN WITH LOWETIDE
A fun and busy show, beginning at 10 this morning. TSN 1260, scheduled to appear:
Derek Taylor, TSN. What a Grey Cup! Instant classic! Henry! We respect you!
Darryl Sittler. Legendary player has a new book out, we will discuss it along with his brilliant 1976.
Jason Gregor, TSN1260. Oilers lose two to the Desert Dogs, Grey Cup brilliance.
10-1260 text, @Lowetide on twitter. See you on the radio!