The Edmonton Oilers lost another game last night, and to the Toronto Maple Leafs—which counts double, but you know that already. Maple Leafs fans turn Oilers home games into road games due to their incredible numbers and unique sense of being Toronto. Galling? Hmm. Worse. Half past Galling!
It was one game. These things happen. However, what is of concern is the way the goals were scored. Pucks off the ass and in happen, but the Oilers were in the addled zone on several plays last night, many of them ending up in their own net. This team should be tightening, coming together. If you are an Edmonton Oilers coach this morning, that game tape session should come with a vomit bag. The players either had a bad night, don't understand the system, or had more important things to think about during the game. None of these options is a good one.
Todd McLellan: "The difference tonight was they valued checking. It was really important to them. We neglected it."
I would like to welcome new sponsor Direct Workwear, who you will see here from time to time—and hear from 2-4pm on Saturdays during SSE. If you would like to see your ad here, please hit contact and we will get things started.
It's possible to have good numbers and get noticed for negative things—single moments and events can have super importance while being exactly single moments and events. (Lowetide blog).

All of the Toronto moments last night, or at least most, found their way into Edmonton's net. The Oilers chances hit crossbars or were fumbled, and of course the power play was the wayward wind. I am in no way excusing the performance—some defensemen and at least one center cannot have slept well last night—but it is important to remember luck came to call last evening.
BEAUTIFUL LOSER, YEAR OVER YEAR
Oilers in October 2015: 4-8-0, goal differential -7
Oilers in October 2016: 7-2-0, goal differential +10
Oilers in November 2015: 4-7-2, goal differential -6

Oilers in November 2016: 5-8-2 goal differential -3

Oilers in December 2015: 7-6-1, goal differential -9
Oilers in December 2016: 0-0-0, goal differential nil
Oilers after 24, 2015: 8-14-2, goal differential -13
Oilers after 24, 2016: 12-10-2, goal differential +7
Our goal was 15 points in 15 November games, and the Oilers managed only 12. Combined with all of the other winning (pronounce it like Forrest Gump would) in the Pacific Division last night, the Oilers fall to third, and could be out of the playoffs by Thursday. The December schedule is here, 14 games and I have chosen 14 points as the line in the sand. This morning, Edmonton has 26 points in 24 games, and if the club managed 14 in 14, would enter January with 40 points in 38 games. That puts them around the 82 points I predicted in October. The market correction did its job, we can move on from the idea that this is a playoff team, and discuss the world as we know it.
OH MY GENTLE LORD
Connor McDavid had a goal and an assist last night, he was brilliant despite the Shadow of Kadri all game long. He is 6-6-12 in his last six games, those totals coming during a time when the opposition had little else to worry over. I mean, that is astounding. Opponents can devote all of their best available troops in deployment in one-third of the game—McDavid has a number and they can see him jump over the boards—and yet the young man leads the league in points.
Back in 1958, a young SS named Ernie Banks hit 47 homers and won the NL MVP Award. He won it despite playing for a middling team, and I think Connor McDavid may be the MVP of the NHL this season. I also think he has to drag this Oilers team into the playoffs in order to have a real chance to win the trophy.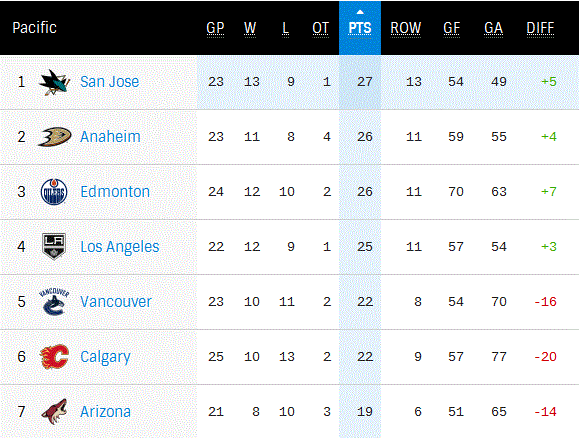 In a way, this is really too bad, the Oilers hung in for two full months of the season before the money ran out and the engine blew. Now, I had no thoughts that the club would win the division, so the market correction we are seeing was inevitable. I think we should be allowed a day to feel sad for this latest result, but don't spend too much time on it, because Los Angeles, Vancouver and yes even Calgary are within reach of Edmonton. These recent losses have really taken their toll on the standings.
Now. Instead of running the numbers, I have asked our RE friend to drop by this morning for a few minutes.
Haha! Where is your Corsi God now??!? The Corsi numbers look good, Edmonton is No. 6 5×5 Corsi for percentage this year.
Todd McLellan doesn't believe in Corsi! Yes. He believes in shot volume.
What is shot volume? Corsi.
Oh. Well, I believe the Oilers do value things like scoring chances and specific shots have higher value. I think High-Danger scoring chances may be the metric most valued by Edmonton.
What is the best thing about this team? Connor McDavid.
What is the worst thing about this team? Lack of balance.
You say that all the time. Be specific! Okay, sure. Remember back in preseason when Kris Versteeg was trying to get a contract from the Oilers? That was good because it gave cover to Todd McLellan in roster construction. If Jesse Puljujarvi couldn't score, or Drake Caggiula proved unready, Versteeg could slide right in.
And then Versteeg left. Exactly.
Pitlick scored a bunch! Sure, and that secondary scoring helped, but it was strictly fourth line. The Oilers lack of depth on the second and third lines forces them to play Drake Caggiula and Jesse Puljujarvi in spots they can't cover.
And Pouliot is doing nothing! Well, Pouliot and Nuge and Eberle are getting the boots put to them, but each of those players is a distinctly different story.
Nuge sucks! No sir. Nuge is playing in a steaming pile of bad luck (slings and arrows online but no mention of the post early in the game). He now has 53 5×5 shots and one goal, that will correct for him at some point. He did not check down properly on the JVR goal, probably because he couldn't get his brain to believe his eyes. Tough video session for 93 today, I am sure.
Eberle sucks! Just because people say things doesn't mean it is true. Jordan Eberle is Mr. Consistent, on his way to another season that looks completely normal alongside previous years. We can talk about what Eberle isn't, but these are not breaking news items.
Pouliot sucks! Well, he has had a bad time of it offensively, and I do wonder if he is off a little in terms of health. He is now at 0.96 5×5/60 and that is miles below normal for this player. Still, he is 1.37/60 with Nuge and they are over 50 percent in possession. Give those two men 20 games with Eberle and I bet a second scoring line emerges.
McLellan should never have changed the lineup! He is NUTS! I love this argument because it speaks to something inside of us that makes no real sense but has sustain. When I was a kid, I used to pace around in a specific way when I wanted my team to score, stand in a specific spot. Well, since the Boston Bruins were my team and they scored more goals than any team in history up to that time, this worked! However, it had nothing to do with me. The Oilers changed out players because they wanted to win, pure and simple. If you believe in things you don't understand, then you suffer. Superstition is silly in hockey as it is in all things. Todd McLellan understands that, good for him.
Talbot has lost 30 pounds! AND an eyebrow! They do have a problem now, because Talbot cannot play all of December and the backup goalie situation is finally going to come into focus. Hold on to your hats!
Klefbom, Nurse and Benning make terrible mistakes! Young defensemen make mistakes, these things happen. I admit that last night we saw more than usual, but that is only partly true. The reality is these young men make mistakes every night, but last evening Toronto cashed them all.
Adam Larsson makes rookie mistakes! I like Larsson, but he does make some unusual decisions and the Oilers are going to have to live with it. Kris Russell also made some strange choices, it was a night for it.
Well, it's all lost now! When do we talk draft? God, you are like a little kid. Show some spine! We talked about lack of balance, we talked about fifth in the division, this is us! There are some good things about this season—McDavid, possession, Talbot, Klefbom emerging as a more complete defender—and these are good things.
We would be better with Hall. This has been my assertion, yes. Fat lot of good it does, but yes, they Oilers would be better with him.
Fire Chiarelli! I think that might have been a consideration with another slow start, but that didn't happen this year. Edmonton is in a playoff spot as we leave November, and I imagine they will win some games in December and hang around No. 8 in the Western Conference through New Year's.
What can be done? I think the Oilers need to find a second scoring line around Nuge or Leon, try to find a way to get Puljujarvi and or Caggiula scoring, and slide both Slepyshev and Pitlick back into the lineup. Peter Chiarelli was extremely aggressive in Boston, I imagine we are going to see some of that aggression soon in Edmonton.
And on defense? Mark Fayne probably has JVR marked. Just saying.
Good lord you are a dog with a bone. It's my most endearing trait.
CHECKING IN ON RE 2016-17
My RE predictions from August are here, let's see how the team is doing.
Projected Goals For-Against: 226-226 (Even)
Actual Goals For-Against: 70-63 (+7) (Edmonton on pace for 239-215)
Connor McDavid Projected Points-Per-Game: 1.208
Connor McDavid Current Points-Per-Game: 1.292
Leon Draisaitl Projected Points-Per-Game: 0.533
Leon Draisaitl Current Points-Per-Game: 0.708
Jesse Puljujarvi Projected Points-Per-Game: 0.431
Jesse Puljujarvi Current Points-Per-Game: 0.350
Jordan Eberle Projected Points-Per-Game: 0.813
Jordan Eberle Current Points-Per-Game: 0.708
RNH Projected Points-Per-Game: 0.680
RNH Current Points-Per-Game: 0.417
Milan Lucic Projected Points-Per-Game: 0.763
Milan Lucic Current Points-Per-Game: 0.708
Benoit Pouliot Projected Points-Per-Game: 0.629
Benoit Pouliot Current Points-Per-Game: 0.190
Easy to spot the downbeat, Peter Chiarelli has to decide if he can be patient with Pouliot and if he is willing to watch youngsters like Puljujarvi and Caggiula struggle to score on the skill lines that must cash. This is the period in the season where PC must decide if balance is important, and based on his decision in summer (he decided it was not important) I expect we see more of the same. A reminder, balance last resided in Edmonton in the spring of 2006 courtesy Kevin Lowe's brilliant trading season. That was long ago.
LOWDOWN WITH LOWETIDE
A fun show this morning at 10, TSN 1260. Scheduled to appear:
Bruce McCurdy, Cult of Hockey. I have not read his game grades but will before we hit air. How did Bruce see the game? Did he watch it twice?
Daniel Reynolds, Raptors HQ. We will discuss the Raps and their season, and tonight's 100th straight sellout.
Tom Lynn, Veritas Hockey. Our favorite agent chimes in on things like the expansion draft, how to hide players from expansion teams, and what vets in Europe are thinking about Las Vegas.
Kent Wilson, Flames Nation. The goaltending looks fixed, what about the rest of the team?