On the night of November 30, 2013, Laurent Brossoit stopped 30 of 31 shots and backstopped the Oklahoma City Barons to a win. Since that night, he has been the great goalie hope for an organization—and there's good reason to believe—that has consistently shown an inability to grow their own goalies. In over 100 AHL games as a member of the Edmonton organization, Brossoit has supplied consistent play in a position of extreme weakness. We are likely less than a full year away from his NHL ascension.
PREVIOUSLY NO. 12 ON THE WINTER LIST
December 2006: L Dragan Umicevic (0) (GM: Kevin Lowe)
December 2007: D Alex Plante (10) (GM: Kevin Lowe)
December 2008: G Jeff Deslauriers (62) (GM: Kevin Lowe)
December 2009: G Devan Dubnyk (315) (GM: Kevin Lowe)
December 2010: D Jeff Petry (386) (GM: Kevin Lowe)
December 2011: G Olivier Roy (0) (GM: Steve Tambellini)
December 2012: L Mitchell Moroz (0) (GM: Craig MacTavish)
December 2013: C Mark Arcobello (139) (FA, signed during Tambellini era)
December 2014: R Jackson Houck (0) (GM: Craig MacTavish)
December 2015: C Jujhar Khaira (15) (GM: Steve Tambellini)
There are two actual NHL players who have been ranked No. 12 over the last 10 years, Jeff Petry and Devan Dubnyk. I always slow play goalies (Brossoit ranked No. 6 on the most recent Cult of Hockey rankings) and Petry was ranked this low in 2010 because the prospect list that Christmas was insane (Hall, Eberle, Paajarvi, Dubnyk, etc). I think Brossoit and Khaira are the most promising names since Petry was here in 2010.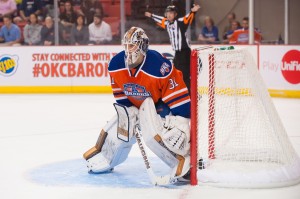 Photo by Rob Ferguson, all rights reserved
WHAT THEY SAID ON DRAFT DAY
The Scouting Report: Brossoit is a guy that has all the athletic qualities to be a quality NHL goalie. He is big, strong, quick, and agile. He has a long reach and is able to extend his body to take up a good portion of the net. Playing for an Edmonton team that was woeful in its own end didn't help him statistically as he faced numerous high difficulty scoring chances on a nightly basis. His weakness is that he can be susceptible to letting in soft goals when he loses his mental focus.
NHL Scout via Guy Flaming:  "Of the goalies this year I think Brossoit has the most potential because of his size and his athleticism. But he's really raw."
Kirk Luedeke: Edmonton goalie Laurent Brossoit is another big, athletic netminder with upside. Though we'll admit we're not sure how he leapfrogged the aforementioned Liston, Matovsky and Honzik. And based on what we've been told from NHL scouts out west, they're not sure about Central's reasoning either.
PREVIOUS TOP 20 RANKING
Winter 2013: 23
Summer 2014: 20
Winter 2014: 16
Summer 2015: 11
Winter 2015: No. 6
Summer 2016: No. 12
Winter 2016: No. 12
BROSSOIT AS AN AHL PLAYER
Age 20 (2013-14) 10GP, 3.99 .876
Age 21 (2014-15) 53GP, 2.56 .918
Age 22 (2015-16) 31GP, 2.66 .920
Age 23 (2016-17) 9GP, 2.59 .920
Brossoit has been very consistent since becoming the starter for Edmonton's AHL team. I think this season is probably a trying one, the Oilers don't have much going on offensively in the minors. One new factor: Backup goalie Nick Ellis has a .930 save percentage and ranks No. 5 among goalies in the discipline currently (in just five games).
Photo by Mark Williams, all rights reserved
2016-17
Issue was never in doubt, but don't overlook @LBrossoit and his 36 stops tonight. The form we've grown accustomed to. Nice win.

— Ryan Holt (@CondorsHolty) November 3, 2016
THE FUTURE
The Oilers don't have to make a decision on Brossoit this season. The club also has no obvious replacement (aside from Brossoit) for backup duties once Jonas Gustavsson's contract expires.
My suspicion is that the Edmonton Oilers like Laurent Brossoit as their backup goalie in 2017-18, and that the club may consider calling him up at some point this season. Since he was acquired in November of 2013, Edmonton has drafted Zack Nagelvoort (No. 111, 2014), Keven Bouchard (No. 183, 2014), Miroslav Svoboda (No. 208, 2015) and Dylan Wells (No. 123, 2016).
Edmonton has not chosen a goalie inside the top 100 overall in any of the seasons since Brossoit was acquired, and other goalie prospects in the system have their starts scheduled around down time for him. Unless I have badly misread the situation, Nick Ellis is the first potential rival for the No. 1 goalie spot since Brossoit became an Oiler. They like him, and I bet you money at least one manager is wondering why he isn't the backup this season. I wonder a little, too.
THE 2011 DRAFT
Ryan Nugent-Hopkins, No. 1 overall. Oilers No. 1 center until McDavid arrival, remains central to team success. Graduated.
Oscar Klefbom, No. 19 overall. Top 4D with close to complete skill set. Graduated.

David Musil, No. 31 overall. AHL regular. A candidate the Winter Top 20.
Samu Perhonen, No. 63 overall. Big goalie back in Finland. No longer in organization.
Travis Ewanyk, No. 74 overall. Tough as nails checking C now in Dallas organization.
Dillon Simpson, No. 92 overall. Defensive D. A candidate for Winter Top 20.
Tobias Rieder, No. 114 overall. Scouting home run, he's in the NHL. No longer in organization.
Martin Gernat, No. 122 overall. Playing in Czech league. No longer in organization.
Laurent Brossoit, No. 164 overall. Flames draft pick acquired in Ladislav Smid salary dump.Has progressed very well as an Oilers prospect. No. 12 prospect, Winter Top 20.
Frans Tuohimaa, No. 182 overall. Playing in Sm-Liiga and lesser leagues this season. No longer in organization.
Iiro Pakarinen, No. 184 overall. Drafted by the Florida Panthers and signed as a free agent by Edmonton in June 2014. Now at 80 NHL games, injured currently. Graduated.
ROLLING TOP 20

The Oilers have developed exactly one goalie successfully this century (Devan Dubnyk), adding to the two they developed last century.
Brossoit has had a pretty strong audition period and is expansion eligible. I don't think this is necessarily a reason for Edmonton keeping him in the minors but it is worth mentioning.
We are 12 names into this year's Top 20 and finally get a goalie. Here is the news: There are two more to come before No. 20.
I was worried that Tyler Pitlick would play his 50th game and not make the list this year, but as it turns out he is stuck on No. 49. That probably changes tomorrow night, meaning just 6.5 years after he was drafted Pitlick becomes bona fide.
The Top 20 list is 41 deep this year, depending on what happens between now and December 15th when we wrap things up.