Edmonton Oilers fans are busy these days counting errors and pointing fingers, the frustration too much to contain. The latest outlaw is Burnaby Ryan Nugent-Hopkins, he of the 53 even-strength shots and one goal. Ordinarily one could use logic and reason (RNH is No. 2 among Oilers forwards since 2011-12 in 5×4/60) to point out positives, but rage is not a good conversational starting point. So, we wait for days of calm to move the conversation forward.
SOUR SUITE, YEAR OVER YEAR
Oilers in October 2015: 4-8-0, goal differential -7
Oilers in October 2016: 7-2-0, goal differential +10
Oilers in November 2015: 4-7-2, goal differential -6

Oilers in November 2016: 5-8-2 goal differential -3

Oilers in December 2015: 7-6-1, goal differential -9
Oilers in December 2016: 0-0-0, goal differential nil
Oilers after 24, 2015: 8-14-2, goal differential -13
Oilers after 24, 2016: 12-10-2, goal differential +7
G25 last season was a 3-0 loss to the Toronto Maple Leafs (heh) with Nazem Kadri, JVR and Leo Komarov having great games at the expense of RNH and Jordan Eberle. Deja vu all over again! I think we are at a point where the numbers are beginning to suggest that Edmonton's statistics are now better than the record—although a GD of +7 and 26 points in 24 games feels top dead perfect.
OILERS DEFENSE, 2016-17

All stats via Corsica.Hockey save for the rel courtesy Stats.HockeyAnalysis.com.
Oilers had 16 5×5 goals all year in 2015-16, they have 11 already this season. That is progress, and there is depth here. Four different individuals have scored a goal for Edmonton among the blue.
Mark Fayne being called up is interesting, and we have to assume they called him for a reason. I don't know if he draws in tonight, but his experience against those giant Winnipeg wingers might be helpful. I would play him with Andrej Sekera, and know full well you will disagree with me. Don't care. Right is right.
Sekera, Russell, Klefbom and Benning are all posting solid 5×5/60 numbers, that is a good sign. I have been talking a little with smart people lately about 'vulture' assists (defenders basically getting their names on a scoresheet but not really contributing to a goal) and that means goals+first assists should always be mentioned.
All of Andrej Sekera's points (3-3-6) are his, no vulture points in the bunch. Klefbom is 3-2-5, Larsson is 2-1-3 and Russell, Benning and Fayne are all 0-1-1. Huh. The More You Know (place star here, and ring bell).
I will get into Sekera—Fayne and why they are good if I have to, but would prefer you just nod and admit they were effective. No need to carry this war on past New Year's.
Klefbom—Larsson; Sekera—Fayne; Nurse—Russell. Anyone disagrees it's bike racks at 3:30.
FORWARDS, 2016-17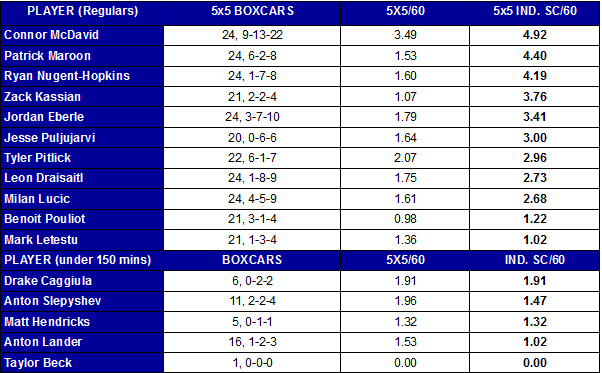 All Stats via Corsica.Hockey.
Connor McDavid. Looking at his player card is like your first 15 minutes at the Grand Canyon: Absolute awe.
McDavid is No. 1 in 5×5/60, pure offense and we can only imagine 97 once his sniper arrives on the scene. I wanted to talk to you about that, one of the fun things you might be missing this season is guessing the arrival time of the 'and' portion of the McDavid story. I think most of us believe Jesse Puljujarvi is the man, but that is promised to no one. It sounds like (based on lines in practice yesterday) Leon Draisaitl is next man up on the carousel. Is it possible the next 10 years will be 'McDavid to LD' in Edmonton? Maybe it starts tonight.
The number of fans down on Nuge these days is either impressive or depressing, depending on your pov. The Nuge is fine, he is going to be a productive NHL center on a tough minutes line for the next decade, and one hopes it is with the Oilers. If he was running the normal amount of shooting skill, Nuge would be at 14 points (instead of 10) and seven goals (instead of three) and on the way to another first 50-point season. Luck has him here, and luck will turn it around.
If you still think the Nuge is no damned good, check out the 5×5 individual scoring chance/60 number, folks. He has all kinds of ability and plays a complete game.
One thing about Nuge that is true? He is not a 5×5 burner. Since 2011, RNH ranks No. 8 among Oilers forwards in 5×5/60 (McDavid 3.04; Hall 2.46; Eberle 2.22; Perron 1.89; Draisaitl 1.87; Pouliot 1.85; Gagner 1.71; RNH 1.67) who have played over 1,000 minutes. That isn't a strong number (Puljujarvi is 1.64 so far, as an example), and even if we include his tough competition that is a weakness for a former No. 1 overall. I still think RNH is a gem.
You could argue that a guy with Sam Gagner's offense isn't worth $6 million, but I would counter that these men are not similar players. I can't show you the Dellow post with the coverage photos, but for those folks who are suggesting RNH is a liability without the puck I would urge you to reconsider your view. If pursuing fairness is a goal, then in this specific case you are out of order.
So, some interesting news! The Oilers have invited me up this Saturday for an informal chat about analytics, plus a tour of Rogers 1/7

— Oilers Nerd Alert (@OilersNerdAlert) November 30, 2016
This is terrific news. As many of you know, GMoney (Oilers Nerd Alert) has been working on a system that drills down in new and fantastic ways. I have been able to view some of this work and can say it is fascinating. As a for instance, and I will chat with Woodguy about this on the Lowdown at 10:20, we can see just how much the Nuge plays against elite competition:
RNH spends 38 percent of his ice time against elite competition (42.6 Dangerous Fenwick/60)
McDavid spends 33 percent of his ice time against elite competition (54.5 Dangerous Fenwick/60)
Leon Draisaitl spends 26 percent of his ice time against elite competition (42.0 Dangerous Fenwick/60)
Mark Letestu spends 17 percent of his ice time against elite competition (22.8 Dangerous Fenwick/60)
What does this tell us? First, Connor McDavid belongs in a higher league. Are you freaking kidding me? He is 54.5 Dangerous Fenwick at 19? Jesus, Mary and Joseph. Second, it does appear that Todd McLellan and his coaching opponents have settled on McDavid/Nuge as twin 1Cs against the best opposition. Here is the TOI against elites by center:
Connor McDavid 126 minutes
Nugent-Hopkins 116 minutes
Leon Draisaitl 80 minutes
Mark Letestu 33 minutes
Could Todd McLellan get Nuge out there more often, thus allowing 97 to get more clean air? Great question, my suspicion is always 'yes' but we have to allow that the other guy sees McDavid coming. As an aside, Drake Caggiula has played (based on this GMoney report) only 6 minutes against the elites so far and has a zero DFF.
Either way, Godspeed to G and we wish you nothing but the best in your meeting on Saturday and what comes afterward. I don't really know where your journey will lead you, but am thinking good thoughts and admire your work.
What's with the negativity this morning @Lowetide? Last I checked the Oil are coming up strong in the possession game and >50% in xGF.

— Curtis LeBlanc (@curtiswleblanc) November 30, 2016
I received a substantial amount of feedback from pretty smart people yesterday in regard to my post about McDavid and Pain and Pray for Rain. That is a good sign—smart people coming to the aid of the Oilers—and I wanted to reiterate my points from yesterday to be more clear.
There has been considerable progress. Team Corsi 5×5 is 52.1 (No. 6 worldwide)—that might be the best number since MacT-era Oil.
Connor McDavid.
Cam Talbot has won this team some points.
Oscar Klefbom is developing.
My point yesterday, and today, is that I don't think this is a playoff team. Can they make the playoffs? Hell yes, but it would involve threading the needle (McDavid scores 120, Cam Talbot shoots .925SP and the jolly Green Giant fixes the power play) and that isn't really a long term solution.
The real point of my article yesterday was about balance. The Oilers don't have it, and Peter Chiarelli has (so far) neglected some important areas. I will re-list them just so you know I am not moving the chains here.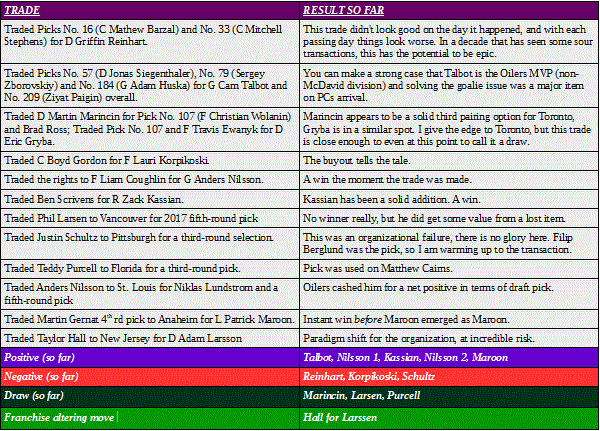 THE CHIARELLI LIST
Top-pairing RHD (Adam Larsson)
Second-pairing RHD (Kris Russell, a lefty)
Acquire RHC with some skill (tried for Kris Versteeg)
Backup goalie (Jonas Gustavsson)
Add a "Pisani" (Tried for Kris Versteeg)
Re-stock the shelves via the draft (Puljujarvi, Benson, others in a good draft)
Improve overall team speed (Puljujarvi, but still a concern)
Offload Lauri Korpikoski (done)
Improve goaltending depth (added Nick Ellis)
Improve AHL quality (Caggiula, Russell, Ellis, Benning)
Cull the LHD herd (added, but also brought in righties like Larsson and Benning)
Rob the World of something
I didn't have have 'replace Taylor Hall (Milan Lucic)' but you can put that on the board (how many of you know Hawk Harrelson?) if you wish. There are holes, folks. Backup goalie, RHD, the Pisani, although I think No. 12 might end up being Matt Benning, he is having a very nice rookie season so far.
Anyway, I like the progress the Edmonton Oilers have made, but don't think they are a playoff team. That has nothing to do with the players, but a lot to do with the decisions of management and this galling slow-playing of the rebuild. Peter Chiarelli needs to get in there! He had the right idea with Versteeg, why so quick to check down to Jesse Puljujarvi without cover? Why so patient in waiting for Drake Caggiula? I am not a general manager so cannot know the inner workings of the day to day, but this team has a chance to make the playoffs and it seems to me the roster is shy this morning.
Is this team worth an investment of a RW who can score some? A RHD who can rip it from the point? Not all development of these kids has to occur at Rogers Place. It is a confounding set of decisions.
ICYMI, CRAIG'S LIST: Patrick, Liljegren occupy top two spots in @CraigJButton's November ranking https://t.co/iRiv4yn7tH #TSNHockey pic.twitter.com/tXrzro7wGz

— TSN Hockey (@TSNHockey) December 1, 2016
I am not writing about the 2017 draft until January, but can pass along the good information. Craig Button has a new list out, some big forwards and at least one elite defender this time. By January, we should have a better idea about Edmonton's fortunes and be able to narrowcast their options.
LOWDOWN WITH LOWETIDE
A fun, busy show today, not all guests confirmed but this is my wish list (TSN1260, beginning at 10 this morning):
Darcy McLeod, Because Oilers. The GMoney breakthrough, Nuge under fire, what's up with that power play?
Antony Bent, Soccer Insider. Harry Kane signs with Spurs through 2022, will I still be eating solid food by then? Plus Toronto FC rocks the Big Smoke with a memorable evening of scoring.
Garret Hohl, Jets Nation. This Winnipeg crew should be pumping goals, kicking butt and taking names. What is the problem?
Frank Seravalli, TSN. Can Connor McDavid win the Hart without the Oilers making the playoffs? Crosby shot quality and NHL franchise values.
10-1260 text, @Lowetide on twitter. A real real gone show today!