Drake Caggiula scored a gorgeous goal last night, the first of his NHL career. Oilers fans are adopting new players at a rapid clip these days, but some of them won't see April. This youngster, Caggiula, could hang around for a long time. Skilled men like Caggiula are always in style, and the Oilers—finally—have enough size to allow for a smaller player in the lineup. Peter Chiarelli entered spring with no one to sign from the 2014 draft, so he added Caggiula, Matt Benning and Nick Ellis. Helluva trifecta, so far. HDSC: 9-4.
HALLELUJAH, YEAR OVER YEAR
Oilers in October 2015: 4-8-0, goal differential -7
Oilers in October 2016: 7-2-0, goal differential +10
Oilers in November 2015: 4-7-2, goal differential -6

Oilers in November 2016: 5-8-2 goal differential -3

Oilers in December 2015: 7-6-1, goal differential -9
Oilers in December 2016: 2-0-0, goal differential +4
Oilers after 26, 2015: 9-15-2, goal differential -16
Oilers after 26, 2016: 14-10-2, goal differential +11
Cam Talbot and Connor McDavid are the main stories, but there are other interesting developments along this season. Can you feel it? I wish I could share all of the flashbacks, because the patterns now resemble the patterns long ago—there is a weird, comfortable deja vu. Have you read the Gzowski book? If you do, keep track of some of the secondary names, and remember when reading it some now familiar names were fringe types at the time. You know, Tom Roulston was an excellent player, Marc Habscheid too. On the other side, Charlie Huddy was not a high draft pick and he found a way.
There are some names on this train that aren't bound for glory, and part of the fun is finding out along the way. I hope you enjoy these games, sometimes when I read the comments it seems there isn't a lot of joy and wonder. Maybe we will see it in the days to come.
In G27 last season, Edmonton won again, 2-1 in overtime against the Dallas Stars. The Oilers had a strong December, hopefully a harbinger of things to come.
DEFENSE, LAST NIGHT

Stats via NHL.com, HockeyStats.ca and NaturalStatTrick.
The TOI: I could write a book. It would be called Who on the What, now?
Sekera—Benning were 26-13 in 18:24 together, Holy Hannibal that is a lot of 5×5 ice time for one pairing. Went 9-5 in 8:35 with McDavid, 11-5 in 5:39 with Letestu. Went 9-9 in 11:46 against Getzlaf, 9-3 in 7:45 against Kesler. Sekera had a brilliant assist on the winning goal and four takeaways, Benning had four shots and four shot blocks. Huh.
Klefbom—Fayne went 11-10 together in 12:01. Went 4-2 against Kesler, 2-3 against Getzlaf, 4-7 against Vermette. I didn't see them much in the big parts of the game. Oscar had an assist and five blocked shots, Fayne had his usual quiet evening reading a book.
Russell—Larsson played catch a fire all night long. They went 8-23 in 17:43, and 1-10 with the Nuge line. Angelo Dundee threw in the towel, but no one noticed. They went 4-8 in 6:10 with Connor McDavid. Went 4-13 against Getzlaf in 8:52, 2-5 in 5:19 against Kesler and 6-8 in 5:01 against Vermette. Russell blocked six shots, Larsson two. Neither man took a minus. I think we should call this pairing the Matrix. Larsson was bigly in overtime.
FORWARDS, LAST NIGHT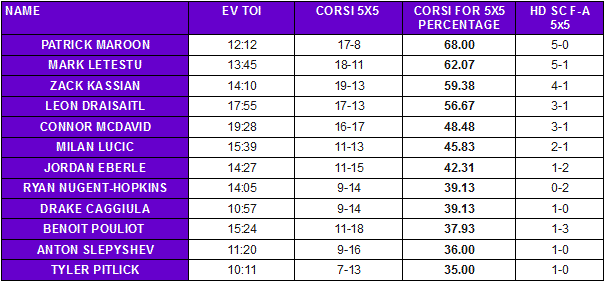 Maroon—Letestu—Kassian had a fantastic night, we can't call them a 4line with numbers like this. Look at the HDs! Kassian had six shots, Maroon got an assist. Good freaking line. They were 5-6 against Getzlaf, 5-2 against Shaw, 4-2 against Vermette and 3-1 against Kesler.
Lucic—McDavid—Draisatil had eight shots, Leon got the goal and went 63 percent in the dot. McDavid had a slow first period but picked it up and could have cashed a couple of times. Went 8-11 against Kesler, 7-3 in 3:33 against Getzlaf. It was a weird night.
Pouliot—Nuge—Eberle had four points, a goal for the Nuge and three assists for Eberle. Pouliot had no points, but was very aggressive with and without the puck, looked good from here. I am liking this line a lot now, need to win more faceoffs. Went 1-8 against Getzlaf, 5-0 against Kesler. I don't understand when this line dominated Kesler, and the McDavid line did the same to Getzlaf, but that wasn't the matchup. Huh. Maybe Todd McLellan checks the numbers today and we see a switch next time.
Pitlick—Caggiula—Slepyshev had an interesting night. Caggiula scored his first NHL goal on the power play, the line had six shots on net and had some promising sorties. Went 4-7 against the Vermette line, 1-4 against Getzlaf.
@Lowetide got it. https://t.co/U61yhDSbCX

— B_Oilers (@B_Oilers) December 4, 2016
LUCIC INTERVIEW
I do not tell you what to do, but would highly recommend the Milan Lucic interview on After Hours last night. Mrs. Lowetide and I watched it together and were amazed by Lucic and his story, composure and humanity. Honestly, player interviews are often surface items, but that segment was revealing and touching. Scott Oake and Louie DeBrusk did an amazing job of creating a comfortable environment for a difficult chat, and I was stunned to my shoes over Lucic's story.
NURSE
Per Nick Kypreos, Darnell Nurse has a foot injury. Not broken, the Oilers hope to have him back in 2 or 3 weeks

— Joey Not Moss (@JoeyNotMoss) December 4, 2016
This is actually good news, it could have been worse. The Oilers had a nice run going with Nurse—Benning and are fortunate to have Mark Fayne as No. 7, but the depth is not so great that the team can afford another loss. Brandon Davidson is apparently on the way back (certainly before Christmas according to whispers) and Nurse could be around the New Year. It is a credit to Nurse that this injury is considered a real loss—he has made progress this season.
@Condors @CondorsHolty @Lowetide Khaira, shorthanded… 3-0/2nd period. Came back so fast, was on goalie's stick out of the net. pic.twitter.com/T8RvsXJefN

— Mark I Williams M.D. (@CameraGuyBakoCA) December 4, 2016
That Bakersfield bunch had a big weekend. Laurent Brossoit back to back shutouts, Anton Lander posted a hatty and Jujhar Khaira with the shorthanded marker. The team had a slow start but Lander, Taylor Beck and Ryan Hamilton are a formidable AHL line.