Gary's math says last night was an acceptable result, OT losses being the ties that bind two wins a week into playoff spring. It is a decidedly ridiculous system, but the Oilers have three Bettman points and those gems have them sitting in second place in the Pacific Division instead of holding on to the final wild cart spot. Razor thin, folks. Razor thin. HDSC: 4-12.
A LONG DECEMBER, YEAR OVER YEAR
Oilers in October 2015: 4-8-0, goal differential -7
Oilers in October 2016: 7-2-0, goal differential +10
Oilers in November 2015: 4-7-2, goal differential -6

Oilers in November 2016: 5-8-2 goal differential -3

Oilers in December 2015: 7-6-1, goal differential -9
Oilers in December 2016: 2-0-1, goal differential +3
Oilers after 27, 2015: 10-15-2, goal differential -15
Oilers after 27, 2016: 14-10-3, goal differential +10
When you have played 27 games, that means 33.3 percent of the season is done. Easy addition tells us that the club is on pace for 93 points if things hold (and that is a dangerous assumption) as they are today.
I still don't think this is a playoff team. Little things keep nagging at me, like the backup goaltending (who was .939 SP last night, but made a bad decision on the winner) and the defense being a little short. Balance, that damnable word, ever elusive, just out of reach and yet vital to success.
The good thing about this season? For the first time in forever, December games mean something. And you know what else? Single losses, like the Toronto game, are often followed by victories. Edmonton has a contender in early December. Music!
DEFENSE, LAST NIGHT

Stats via NHL.com, HockeyStats.ca and NaturalStatTrick.

Sekera—Benning were solid in possession and didn't get scored on. They were 3-1 in 1:58 with McDavid, 3-4 in 3:40 with Nuge, 5-2 in 4:18 with Letestu, 8-4 in 4:45 with Caggiula. So, this pairing spent about nine minutes of their 13:22 with the 3C and 4C. Sound like third pairing? And yet, they went 7-6 in 5:31 against Koivu, 6-0 in 2:16 against Staal, 4-3 in 4:57 against Haula and 3-2 in 3:06 against Graovac. Weird night, but I give this pairing a solid mark. Zorro. That kind of thing.
Klefbom—Fayne spent their second game in a row off off Broadway. I am concerned that the coach's lack of confidence in Fayne is impacting his Klefbom usage and that is a bad day. However, in their 10:37 together, the duo spent a lot of time (4:19, 6-6) with Connor McDavid. Also, they were 2-3 in 3:45 with Nuge, 4-4 with Letestu. The pairing faced Eric Staal (3-8 in 5:28) and Koivu (2-0, 2:01) about half the time. The club needs to get Klefbom with someone the coach doesn't worry over.
I know you don't want to hear this, but Fayne is Fyne. Incredible to me that people defend Kris Russell while burying Fayne. Russell has far better speed, and can handle the puck better, but the long term defensive results favor Fayne. Quiet. Reliable. These words used to have meaning.
Russell—Larsson did an amazing impression of the French army practicing their retreats. For the second game in a row, the pairing got fed. In their 17:13 together, the pair failed McDavid (3-13, 7:25) and Nuge (3-7, 6:10) but McLellan used this duo more with 97 than the others. Wouldn't Klefbom—Larsson work better? Hell, I think Sekera—Fayne have a good enough track record to trust, and maybe Russell—Benning can find a way.
Larsson no longer passes, he just lobs the puck out. Steve Staios ain't the way.
I don't like the current setup.
Mark Fayne picked up an assist. It was cool.
Gustavsson stopped a lot of shots. I didn't like his decision on the GW, but he was better than we had any right to expect after such a long layoff.
OILERS FORWARDS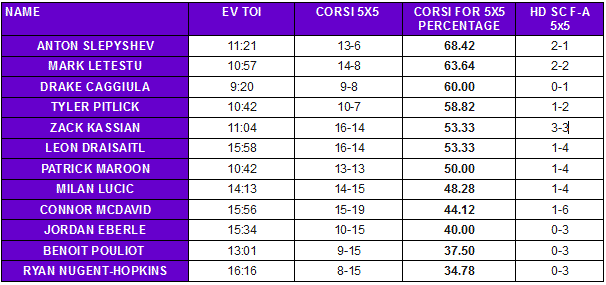 Three games in four nights, the top two lines lose the HDSC battle 1-9. Yowza.
Slepyshev—Caggiula—Pitlick went 4-3 against Koivu, that is not a good matchup for Edmonton. They went 4-2 against Haula, seems more reasonable as a match. I like this line fine, but suspect we will see Puljujarvi draw in for the Buffalo game, possibly replacing Slepyshev. Why? I don't think the wingers are getting into good spots for shots enough, and that is fair because these two are not offensive hammer. Puljujarvi should be hungry by now, but as we will see in a minute JP may not have any more success than Pitlick or Slepyshev.
Maroon—Letestu—Kassian was the team's best line for the second night in a row. Maroon scored, Kassian picked up an assist. They went 7-1 against Ray-o-vac, that was a quality matchup for the Oilers. 7-6 against Staal, too. I like this line. It is the 3line though, not the 4.
Lucic—McDavid—Draisaitl was all around due to the protocol, but I thought they were better upon return. 97 was 1-5 in a brief run with Maroon, I think that duo will see some time together later in the year but they did not play well together last night. Line was 4-6 against Koivu (4:15) and 7-8 against Staal (6:28). I will credit three games in four nights, because McDavid wins this battle on level ground.
Pouliot—Nuge—Eberle showed effort, but did not score. They were 1-8 against Koivu in five minutes and 5-3 against Haula in another five. As with the McDavid line, you would think this trio would have had the edge, but the HDs were killers.
ADDING A SCORING RW
One of the issues facing Edmonton currently is scoring from the RWs. Moving Leon Draisaitl over covers off the problem for the short term, but this is going to be a problem until Jesse Puljujarvi can establish himself as an everyday offensive option. Here are the current 5×5/60 for the RWs:
Jordan Eberle 1.74
Tyler Pitlick 1.74
Leon Draisaitl 1.68
Jesse Puljujarvi 1.62
Anton Slepyshev 1.51
Zack Kassian 1.37
Even more damning are the 5×5/60 numbers for this group without Connor McDavid:
Tyler Pitlick 1.96
Jordan Eberle 1.66
Leon Draisaitl 1.35
Anton Slepyshev 1.21
Zack Kassian 0.97
Jesse Puljujarvi 0.41
I did these by hand so they may be slightly different that where you can find them online. I sussed it out via Stats.HockeyAnalysis.com. This is not a pretty picture. Pitlick ran some good luck early and the market is correcting, while Eberle is at least above 1.50/60—you would like to see him at 2.00/60 but at this point in the year that isn't many points.
Leon has not posted a strong number, Slepyshev is pretty solid for where he is in his career, Kassian has done okay considering the linemates and the phenom is learning on the job.
In Peter Chiarelli's second season as GM in Boston—2007-08—the team improved by 18 points, from 76 to 94. Between September and March of that season, Chiarelli acquired:
Forward Petteri Nokelainen from the NY Islanders for Ben Walter.
Backup goalie Alex Auld from the Phoenix Coyotes for a draft pick.
Defenseman Shane Hnidy from Anaheim Ducks for Brandon Bochenski.
Each of these players contributed in-season for the Bruins, who at that time were adding a massive amount of talent from the farm system each year. None of the names above represent an enormous transaction, but each man was procured for a specific reason. The cost was not dear, the payoff helped (Auld was especially solid, although Nokelainen also did well) and Boston was strong in-season because of it.
We talk a lot about a righty blue and a strong backup, and I know you are tired of me talking about a Pisani. Edmonton probably needs to think about a veteran RW who can help offensively. P.A. Parenteau and Teddy Purcell have been available this season via waivers, but maybe Chiarelli wants a little more speed or a bigger righty shot. That's fair, but I think we should discuss the idea of a veteran scoring winger coming here via trade. I suspect Peter Chiarelli is already mulling such a move.
PSA: The Oilers don't need a whipping boy, they're playing well. Quit bitching, watch the damn games & cheer…or don't and STFU already

— JD ❤️🏒🔶🔷 (@JackieDee16) December 5, 2016
I think this is fair. While we can parse the numbers and rage against the sun for shining so bright, the bottom line is that there is reason to cheer. This isn't necessarily what we expected, and frankly some of the moves have been counterproductive in the highest, but the team is winning and there are good arrows.
If you choose to die on Reinhart hill, you may never get to enjoy the blossoming of Drake Caggiula, Matt Benning and Nick Ellis. You drive your own car, none of my business what you do. But please, for goodness sake, don't rob yourself of feeling good just to be the Jesus of cool on the Al Gore. That's just about the saddest thing possible after all these years.
LOWDOWN WITH LOWETIDE
At 10 this morning, TSN1260. A busy, fun show!
Scott Burnside, ESPN. Does Edmonton have the horses?
Sunil Agnihotri, Copper & Blue/The SuperFan. Oh, what to do with this defense!
Jason Gregor, TSN1260. Signing Russell, NFL weekend.
Jared Book, Bluebird Banter. Jays at the winter meetings.
10-1260 text, @Lowetide on twitter.