We are now entering a period (prospects 14 through 25) that could be in any order, depending on your point of view. I have chosen Nick Ellis for No. 14 despite a very small sample size. We may look back on this choice as folly—he has fewer than 10 pro games experience—but in this case his final college season was also outstanding. We don't know much about Nick Ellis, but the data available is so good, he lands here.
PREVIOUSLY NO. 14 ON THE WINTER LIST
December 2006: C Kyle Brodziak (720) (GM: Kevin Lowe)
December 2007: D Cody Wild (0) (GM: Kevin Lowe)
December 2008: L Bryan Lerg (8) (FA signing by Kevin Lowe)
December 2009: R Ryan Stone (35) (Trade by Steve Tambellini)
December 2010: C Chris VandeVelde (223) (GM: Kevin Lowe)
December 2011: D Jeremie Blain (0) (GM: Steve Tambellini)
December 2012: G Olivier Roy (0) (GM: Steve Tambellini)
December 2013: D David Musil (4) (GM: Steve Tambellini)
December 2014: D Joey Laleggia (0) (GM: Steve Tambellini)
December 2015: C Kyle Platzer (0) (GM: Craig MacTavish)
Kyle Brodziak came from a long, long way back to make the grade, I credit the player for beating the ranking. After that, Chris VandeVelde found a role in the NHL and this is his third season as a regular. Recent seasons have seen various depth picks (and David Musil) ranked here, Ellis is the final of Peter Chiarelli's big three college signings from the spring/summer, joining Drake Caggiula and Matt Benning who appeared previously on the Winter Top 20.
WHAT THEY SAID ON SIGNING DAY
Chris Dilks, SB Nation: Ellis spent the past two seasons waiting in the wings behind superstar goalie Jon Gillies at Providence. But this year, as the team's top goalie, he's been able to shine. Ellis brings a good mix of size and athleticism and has been very effective in net all season.
Ross Brooks, former NHL goalie: "He doesn't get rattled. He's very calm. Some guys are all over the place in the net, but he positions himself very well. He's always facing the puck." Source

PREVIOUS TOP 20 RANKING
Summer 2016: No. 28
Winter 2016: No. 14
Despite flying up the Top 20 in such a short time, there is one player on this year's list who moved up even more (still to come). Nick Ellis is playing less than 40 percent of Bakersfield's games, and yet the young goalie is the the fifth Condors player to make the winter Top 20. His save percentage, despite the small sample size, warrants the ranking.
I considered Ellis for No. 13, and the player at No. 15 (we will find out on Wednesday) is in a little window here with Griffin Reinhart and Ellis. Each of them have specific reasons for being kept out of the top 12, and real reasons why they warranted consideration. In the case of Ellis, the small sample size is a big concern, while the performance warrants a top 10 ranking. I have him here.
2016-17
Nick Ellis: "You just to work as hard as you can every day, put your best foot forward every day, work hard and compete. It's definitely a little bit faster (pro vs. NCAA). Guys shoot a little bit faster, the passes are harder, so you have to make sure you are set, quick, and explosive. I worked out really hard (this summer) because I knew that Edmonton really focused on off-ice, and on the ice, just doing the small details that will make a big difference." Source

Lowetide blog, September 17 after Canucks game in Penticton: He was a strong candidate for player of the game, suspect many left the rink thinking exactly that way. Saved 29 of 30, .967, and several were of the difficult variety. College man, so he had more experience than many in that game but for me that was a terrific effort. No. 3 star of the game for me. Source
Lowetide blog, October 21: He is the early star among AHL rookies (along with Benning), posting a .925 save percentage in the first two games of the season. I hesitate to say he will end up pushing Brossoit for the NHL backup job, because it is much too early. Suffice to say he has looked good so far. Source

THE FUTURE
The Oilers slow play all of their goalies, even the good ones. Devan Dubnyk played over 100 AHL (and 43 ECHL) games before he became an NHL goalie, and Laurent Brossoit is also over 100 AHL games in the organization and waiting his turn.
Ellis has posted two season's worth of strong numbers and he isn't 27 or anything—seems to me we have some evidence we are looking at a legit goalie prospect.
THE 2012 DRAFT
Nail Yakupov, No. 1 overall. Now playing for the St. Louis Blues. Graduated to the NHL.
Griffin Reinhart, No. 4 overall. At such a young age: Crossroads.

No. 13 prospect, Winter Top 20.



Mitch Moroz, No. 32 overall. Seems to be getting more playing time in the final year of his entry-level deal. Candidate for the Top 20.
Jujhar Khaira, No. 63 overall. Khaira is one of the few success stories for Edmonton from this draft and is poised to begin his NHL career. Still a reasonable range of possibilities as far as future role, and we wait to see how he will be deployed. No. 9 prospect, Winter Top 20.
Daniil Zharkov, No. 91 overall. Now playing in the KHL. No longer in the organization.
Erik Gustafsson, No. 93 overall. Currently in the AHL (Chicago). No longer in the organization.
Joey Laleggia, No. 123 overall. Small puck mover has offense and chaos. A candidate for the Top 20.
John McCarron, No. 153 overall. Now in the ECHL. No longer part of the organization.
Drake Caggiula, not drafted. Passed through the 2012 entry draft, Edmonton signing him in the spring. Some offensive success (7gp, 0-2-2) early in his NHL career. No. 3 prospect, Winter Top 20.
Matt Benning, drafted No. 175 overall in 2012. I think he might be the real thing. Now at 16gp, 0-4-4, he is mobile and can move the puck. An excellent addition. No. 4 prospect, Winter Top 20.
Nick Ellis, not drafted. Eligible for the 2012 draft, he was playing high school hockey (Pomfret School) in 2011-12. His late development in college was pronounced and impressive, as has been his pro debut. No. 14 prospect, Winter Top 20.
ROLLING TOP 20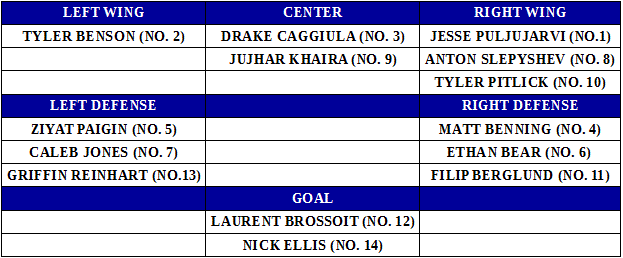 When was the last time Edmonton had four goalies in the system who were either NHL quality or strong prospects? In 1997-98, Curtis Joseph was the starter and Bob Essensa was the backup. Down in Hamilton, Steve Passmore and J-F Labbe played well. It has been a long time, and the current group has some question marks, but the AHL tandem looks strong.
At some point, the Oilers are going to have to let Nick Ellis play, and that is problematic with Laurent Brossoit as the AHL starter. I imagine we will see relief at the deadline, but the Condors are on track to play Ellis in fewer than 30 games—that isn't enough.
Edmonton has improved depth up the middle since Bob Green and Peter Chiarelli arrived to help the procurement department.
The Winter Top 20 is heading into the back stretch and there are some things we can say with authority: This is not a strong list, the depth up the middle has improved over recent years and the forward list badly needs shoring up.
Peter Chiarelli's aggressive college season netted Edmonton the No. 3 (Drake Caggiula), No. 4 (Matt Benning) and No. 14 (Nice Ellis) prospects.