Connor McDavid hasn't had a point in two games, the hockey Gods robbed him of a 5-on-3 and his competitive juices will be on high alert in the House of Eichel tonight. This could be fun! The December record is strong (2-0-1) in the early days, and the gales of November could not put out the playoff fire. It is beginning to look like the Edmonton Oilers will be in playoff contention through at least game 40. Music!
BUFFALO SOLDIER, YEAR OVER YEAR
Oilers in October 2015: 4-8-0, goal differential -7
Oilers in October 2016: 7-2-0, goal differential +10
Oilers in November 2015: 4-7-2, goal differential -6

Oilers in November 2016: 5-8-2 goal differential -3

Oilers in December 2015: 7-6-1, goal differential -9
Oilers in December 2016: 2-0-1, goal differential +3
Oilers after 27, 2015: 10-15-2, goal differential -15
Oilers after 27, 2016: 14-10-3, goal differential +10
Edmonton was finding the range one year ago, winning 4-2 over the Buffalo Sabres. At 11-15-2, the Oilers were starting what I thought was their best run of the 2015-16 season. The Oilers are in a good place today, but as always, need to win some games. This week: Buffalo, Philadelphia, Minnesota, home to the Jets. What is reasonable? I will say 2-2-0.
On another note, I suggested 14 points in 14 December games as the reasonable line in the sand at the beginning of the month. This means the Oilers need to hit 40 points by New Years in order to reach a reasonable goal. So far in December, the club has five points in three games, but this road trip—and the busy schedule—could have an impact.
FORWARDS, 2016-17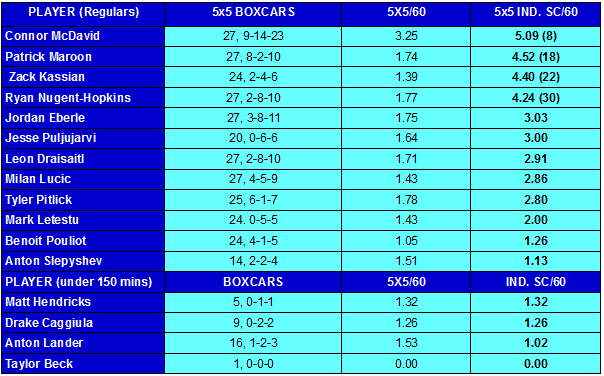 This is my favorite player card, but it takes forever to populate.
The numbers come from Corsica.
Connor McDavid ranks No. 8 league wide in Individual scoring chances per 60 (180 or more minutes). Edmonton has four men currently inside the league's top 30 forwards. What does that mean? Well, I think a guy like Nuge has not been rewarded for his good work, hopefully regression improves his 5×5/60 scoring number.
Patrick Maroon and Zack Kassian are currently wingers on a kick ass third line. Perhaps they should stay there?
Connor McDavid is scoring 5×5 at 3.25 per 60 minutes. No other Oilers forward is at 2.00/60.
Jesse Puljujarvi's numbers look good, but much of his season has been spent with Connor McDavid. What should the Oilers do with their Finn Fenom? More in a minute.
Drake Caggiula is another young player who might need some time in the minors, and I wonder if we see both of them head down to Bakersfield in the coming days. Unlikely, but it might be best for all concerned.
Connor McDavid has 23 even-strength points after 27 games. He could post 70 this year (!!) if he stays on current pace.
Edmonton has five forwards over 10 points in the first one-third of the season.
Patrick Maroon has eight 5×5 goals already.
CONNOR MCDAVID
Leon Draisaitl on Connor McDavid: "He's such an easy player to play with. He always wants the puck and he's so fast. I don't really need to talk about how good he is. Hopefully we can keep this going." Source
The individual scoring chances/60 points out just how much McDavid is driving his line. If you check out Leon, Lucic, Puljujarvi, you see they are not close to being near the top of the list. Now, McDavid is doing so much in terms of creating that all these men have to do is cash, but I feel we are still waiting for 97's long-term linemates to emerge. Wayne Gretzky had been an Oiler for two full seasons before Jari Kurri came over from Helsinki.
ABOUT JESSE
I get a lot of emails and dms, many of the things I write about here come from you. I received a fabulous email yesterday and wanted to share it with you. I have edited the original email, the subject matter being JP and his possible involvement at the World Juniors:
Rasmus Ristolainen two years ago, and Mikko Rantanen last year, came to the WJs from the AHL. Now Jesse Puljujarvi would be coming from Edmonton directly, and as last years MVP and Champion – the expectations are way higher. There's a good chance he will have a poor tournament if he doesn't get enough playing time before that.
HE HAS TO go to the AHL right now, and play 5-8 games, then a couple with the Finnish jrs and he is ready. You have to give the kid the opportunity to succeed, not throw him to the wolves.
Usually the tournament final is played Jan 5th, exactly a month from now. In one month, by doing the right things, you can affect a guys season a great deal. If everything goes well, Jesse will be back to his normal self again by early January. Isnt that worth a try?
We haven't seen one really good Jesse Puljujärvi shift yet. Every player needs to have his confidence but on top of that every guy has his own thing. Jesse thing is playing. He has to play. He needs to just play, get the messages from his backbone, lick his lips and not have to think too much.
The Oilers are trying to prove everyone they drafted a major talent and while doing so, they are way too early getting closer to the situation where Puljujärvi turns into Pääjärvi.
It is a bold prediction, but the NHL is a rough league which will expose your weaknesses sooner or later. But its also a league where strengths are used to advantage more than anywhere else. Right now the Edmonton Oilers need to think this through with smarts, in order to utilize the strengths.
One more thing. You can not send a top pick to the AHL his second season. Look what happened to Pääjärvi, who scored 15 goals or something his first year. Second season sent to the minors and he was done like steak. You can only send Pulju to the minors this year, right now. If his game is not together next year and you do it then, you will kill his confidence. Do it now, it may strengthen his psyche. It's now or never.
This struck me as very interesting for all kinds of reasons. JP is not playing enough in the NHL, while also being on the NHL roster, and that is bad. He could be playing in Bakersfield, but the organization seems hesitant to send him down, I assume thinking he is making progress between games. At some point the WJs decision will be made (for all we know the club has decided to keep him) but a trip to Bakersfield for five games seems a good idea. I especially like the point about not being able to option in his second season. Thoughts?
DEFENSE, 2016-17

All numbers via Stats.HockeyAnalysis.com.
Matt Benning ranks No. 6 in the entire NHL in CorsiRel, something I believe reflects very well on this rookie's play. I know CorsiRel no longer holds high value for many in the analytics community, but for me this is a strong indication of the quality of Benning's play.
Oscar Klefbom's player card looks terrific, he is posting offense and his CorsiRel is also strong. The downside? Todd McLellan has him playing a secondary role after early struggles. Even more disconcerting? Klefbom's replacements at the top of the depth chart are struggling badly. I sincerely hope this is addressed in the coming days (and by that I mean today).
Andrej Sekera is such a fine player, he delivers strong play up and down the lineup and makes his partner better. Sekera helps Kris Russell's possession number, and recently has been rock solid with rookie Benning. MacT's best free-agent move.
Adam Larsson should be paired with Oscar Klefbom. I can't see another reasonable conclusion based on math and visual.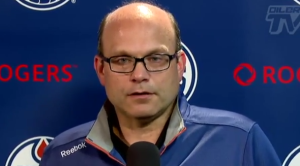 TRADE WINDS
We have heard chatter about Matt Hendricks and Benoit Pouliot in recent days, interesting that two LWs seem to be in play. Nothing new to report, but I did want to remind you that the Oilers (traditionally) offload players while on road trips. I am sure there are reasons for it, we will see what this day brings.
NHL EQUIVALENCIES
With the Top 20 rankings occupying a lot of my time, I haven't had a chance to look at the 2017 entry draft. Come January, that will change and we will discuss names like Tippett and Yamamoto. One thing I can pass along, and it does relate to this year's Top 20, are the current NHLE's for Edmonton's prospects. There are some solid numbers, and some of those from unheralded sources.
Forwards (per 82gp)
Tyler Vesel 13-27-40
Jujhar Khaira 18-14-32
Aidan Muir 4-22-26
Tyler Benson 7-16-23
Aapeli Rasanen 5-15-20
Bogdan Yakimov 7-12-19
Joey Benik 11-0-11
Kyle Platzer 0-10-10
Jaedon Descheneau 0-10-10
Mitchell Moroz 3-5-8
Graham McPhee 0-7-7
Patrick Russell 0-7-7
Evan Campbell 2-4-6
Jere Sallinen 5-0-5
Braden Christoffer 2-3-5
Greg Chase 0-4-4
Two college men finally getting ice time are showing well, although Aidan Muir's season has been sidetracked by injury. I imagine Jujhar Khaira's next recall is going to stick and don't count out Tyler Benson for an extended look fall 2017. If Bogdan Yakimov returns to North America, where will he reside? California or Alberta? Some disappointing totals for the AHL kids, we will spend more time on that in the coming days.
Defensemen (per 82gp)
Matt Benning 19-20-39
Ethan Bear 9-12-21
Caleb Jones 2-18-20
David Musil 3-12-15
Joey Laleggia 2-12-14
Jordan Oesterle 6-7-13
William Lagesson 2-9-11
Filip Berglund 0-9-9
Ziyat Paigin 0-8-8
Griffin Reinhart 0-6-6
Matthew Cairns 0-6-6
John Marino 2-3-5
Dillon Simpson 3-0-3
Ben Betker 0-3-3
Vincent Desharnais 3-0-3
Markus Niemelainen 0-2-2
I included Benning just for fun, he played only two games before being called to the NHL. Jones and Bear look promising in their final WHL seasons and there is a David Musil sighting on the scoring charts.
LOWDOWN WITH LOWETIDE
Lots to talk about this morning, beginning at 10, TSN1260. Scheduled to appear:
Jonathan Willis, Oilers Nation. What to do with JP, reasonable expectations for the week and the defensive pairings look a half bubble off plumb.
Scott Cullen, TSN. Scott's power rankings will make you smile, we will talk of Connor and the Hart.
Andy McNamara, TSN4Downs. Can anyone catch the Cowboys?
10-1260 text, @Lowetide on twitter.