Aapeli Rasanen has a lot of good arrows for an NHL prospect: Clear offensive ability and enough two-way acumen to make it as a role player if the offense doesn't come with him to pro hockey. Why doesn't he rank higher? Rasanen is the first potential Top 6F on this list who has average speed—and that is becoming a bigger drag on NHL futures with each passing year. This is kind of a sticky wicket though—because 'average speed' tends to cover a wide range of the spectrum. For now, we rank Rasanen later in the top 20, while also recognizing his skill puts him among the best forwards on this year's list.
PREVIOUSLY NO. 15 ON THE WINTER LIST
December 2006: D Jeff Petry (389) (GM: Kevin Lowe)
December 2007: R Colin McDonald (145) (GM: Kevin Lowe)
December 2008: G Devan Dubnyk (317) (GM: Kevin Lowe)
December 2009: D Alex Plante (10) (GM: Kevin Lowe)
December 2010: G Olivier Roy (0) (GM: Steve Tambellini)
December 2011: D Brandon Davidson (64) (GM: Steve Tambellini)
December 2012: D Joey Laleggia (0) (GM: Steve Tambellini)
December 2013: R Tyler Pitlick (52) (GM: Steve Tambellini)
December 2014: D William Lagesson (0) (GM: Craig MacTavish)
December 2015: D Ziyat Paigin (0) (GM: Peter Chiarelli)
If the ranking system is doing its job, we should see few successes this late in the Top 20. I punish goalies across the board because the payoff odds are quite low, so Dubnyk's presence here is no surprise. However, Jeff Petry was a second-round selection in the summer of 2006 (I wrote that December 'He's got some nice things going on and is having a solid year. An Oiler scout who posts from time to time on hfboards implied he may come quickly in a recent thread. We'll see about that, but he's certainly putting up numbers') and this should be considered a miss by the blog's author. Petry was bona fide on draft day—Guy Flaming knew it—so we move on, and learn.
WHAT THEY SAID ON DRAFT DAY
The Black Book: Rasanen is a hard-working right-shot two-way center who plays a sound game in the defensive zone and doesn't mind sacrificing his body to make plays, as he is willing to engage in one and one battles. He's got an active defensive stick, can cause turnover and is a quite good penalty killer. Rasanen's skating is only average, he can bring the puck up ice and has good enough vision to make plays. His puck skills are just OK and despite the improvement in his offensive game it is more realistic to project him as a checking forward at the next level, as he lacks a dynamic element to his game. Source
Ryan Biech, Canucks Army:  The right-handed centre possesses the whole package, he can skate well, he has good awareness and is adept at burying his chances. If he is available for the Canucks or any team for that matter in the late second or early third round, they would be very wise to add him to their prospect pool. It's possible that after being selected this June in the draft, that he will play next season in the CHL via the import draft. Source
Chris Dilks, SB Nation: I think we've already covered the best case scenario, but even if Rasanen doesn't meet those lofty expectations, I think he's capable of playing center on a lower line at the NHL level and being a smart, effective two-way center. Rasanen will come over to North American to play in the USHL next season and then presumably will pick up a scholarship offer to play NCAA hockey, meaning the team that drafts him will get ample time to let him develop. Source
Corey Pronman: He's a very smart center who can slow the game down and create chances while appearing to exert minimal effort. He can deke defenders, but he's more effective making quick passes and beating opponents with pace. Rasanen is at his best as a playmaker, but he takes his shots when he gets a lane and has a decent cannon when he does so. His skating is his most noticeable hole to me; his top gear is below average, and he can have trouble pushing defenders back too far off the blue line on a rush. He is quite good defensively, often being leaned on for critical defensive situations and faceoffs.
Pronman had him No. 56.
Rasanen: ' I'm a 200-ft player. I can contribute on both ends. I'm good at face-offs and am an all-around center. I'm more of a playmaker, but I am a bigger guy and should play more physical.'Source
PREVIOUS TOP 20 RANKING
Summer 2016: No. 11
Winter 2016: No. 14
Rasanen is a fairly famous prospect considering how late he was chosen in the 2015 draft. His play in international competition gave him a higher profile than many of the earlier Oilers picks. He has a chance on two levels, that is a very good thing.
2016-17

Rasanen's offense may be influenced a little by his USHL linemates (more in a minute) but he appears to be adjusting well and delivering within the realm of expectations so far in North America. We should watch for a spike in offense during the second half of the season.
Steve Kournianos, The Draft Analyst: Key PKer and center for top line alongside Eeli Tolvanen. They are inseparable and have excellent chemistry. Struggle to score on the PP and Rasanen needs to shoot more – looks for Tolvanen far too often. He's been excellent defensively, takes and wins late draws, blocks shots.

Curtis Anderson, PBP man for the Sioux City Musketeers: He's been terrific. He can play hard, good at puck protection, he sets up plays and he is the top guy on the draft, too. No. 1 center. Source*
*Guy Flaming's Pipeline Show covers all areas of amateur hockey and is a gold mine for Oilers fans (or any team. He recently interviewed Rasanen.
ICYMI: We spoke with #Oilers prospect Aapeli Rasanen about @Musketeerhockey, @USHL, NCAA and playing for U20 Finland https://t.co/1IsQDXhRRF pic.twitter.com/5d1LYa4utH

— Guy Flaming (@TPS_Guy) December 7, 2016
Eeli Tolvanen has factored in on 87% of Aapeli Rasanen's points this season. The two have been great together in Sioux City.

— Aaron Westendorf (@aewestendorf) November 2, 2016
THE FUTURE
This is the kind of player I like to see the organization bringing along, and honestly there are precious few in the system. Players already ranked who I would describe as having real two-way skills are Jesse Puljujarvi, Tyler Benson and Jujhar Khaira. This team needs more Pisani's, and Rasanen has some of the bullet points we associate with that kind of player.
The offense is a concern (Tolvanen is a fabulous prospect) but the young center has a bit of a track record and we will get more information before the summer list.
THE 2016 DRAFT
Jesse Puljujarvi—No. 4 overall. Edmonton has been playing Puljujarvi in about 75 percent of the club's games, and he has shown flashes of brilliance. We still don't have his offensive outer marker surrounded. No. 1 prospect, Winter Top 20.
Tyler Benson—No. 32 overall. Posting solid numbers on a struggling Vancouver Giants team, the key is that he is healthy and playing big minutes. Oilers regard him as a big part of the future, and I wonder if he gets a long look next fall. No. 2 prospect, Winter Top 20.
Markus Niemelainen—No. 63 overall. Niemelainen is a big (6.05, 200 on draft day) defenseman with speed and raw skills. He has been playing a more defensive role this season in Saginaw, so it is more difficult to measure progress. Ranked inside Top 20.

Matthew Cairns—No. 84 overall. He is another defenseman who has much development ahead, but in this case there appears to be an offensive payoff clearly visible. He is big and has a nice range of skills. A candidate for the Top 20.

Filip Berglund—No. 91 overall. He is the most interesting defenseman in the group, owing to both range of skills and the fact he is already playing in a pro league (SHL). Has enough finesse to be considered a puck mover, he has good vision and is an excellent passer. A very nice skill set. . No. 11 prospect, Winter Top 20.

Dylan Wells—No. 123 overall. Began very strong and has now fallen back to .913SP. Still major progress and he is hanging in while playing for a challenged team. Candidate for Top 20.
Graham McPhee, No. 149 overall. Intriguing selection (Corey Pronman liked him) and I wonder if he is (like Niemelainen and Cairns) something of a draft and follow. Candidate for Top 20.
Aapeli Rasanen, No. 153 overall. A true center, he is an excellent passer who can finish, plays in all disciplines and is a fine face-off man. An impressive group of skills for so late in the draft, he is described as having average foot speed. No. 15 prospect, Winter Top 20.
Vincent Desharnais, No. 183 overall. His season started late (the big brains at Providence College are doing the book learning early) but now stands at 10gp, 1-0-1. Steve Kournianos told us in summer that Providence was bringing in youngsters like Jacob Bryson and that playing time was going to be an issue. Outside the Top 20.
ROLLING TOP 20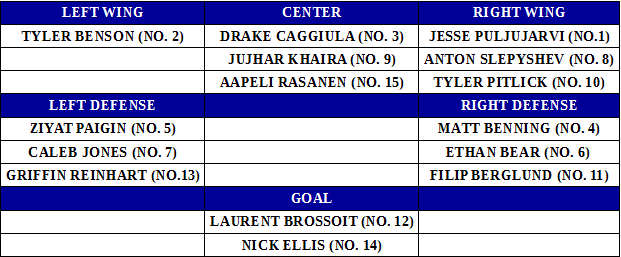 Rasanen joins Jujhar Khaira as the razor thin possible options for two-way centers in the system.
Rasanen also has some potential as an offensive center, although his current NHLE (20 points) is about half that of Caggiula.
We are entering a period where players are somewhat interchangeable—the gaps between an AHL defender and a Euro goalie or college forward are not immediately clear—so it should make for some interesting debates.
The people I talk to in hockey like this player a lot. His skill set is going to get him some opportunities, and those may come sooner than later. As of now, there is no public 'next step' so the AHL in 2017-18 is at least a consideration.