The Edmonton Oilers had a W in the bag, but could not hold on in Buffalo last night. I will credit a terrible penalty call against Adam Larsson, but a playoff team seals that victory and heads to Philadelphia with two points in the bank. Edmonton remains on pace for a playoff spot, but the theme for this season might be six months in a leaky boat. Oh, bother.
Todd McLellan: "Obviously the end is disappointing, but we were very sluggish & slow in the 1st period. That cost us." 
UPSTATE, THEY'LL NEVER FIND HIM, YEAR OVER YEAR
Oilers in October 2015: 4-8-0, goal differential -7
Oilers in October 2016: 7-2-0, goal differential +10
Oilers in November 2015: 4-7-2, goal differential -6

Oilers in November 2016: 5-8-2 goal differential -3

Oilers in December 2015: 7-6-1, goal differential -9
Oilers in December 2016: 2-0-2, goal differential +2
Oilers after 28, 2015: 11-15-2, goal differential -13
Oilers after 28, 2016: 14-10-4, goal differential +9
Edmonton is on pace for 94 points, with Connor McDavid serving as the heart of the order most every night. Cam Talbot has been a strong second in MVP voting this year, but his SP is down to .914—NHL average is .912. The club has several galling tendencies, one of which is leaving points on the board against lower echelon teams. Such was the case last night.
DEFENSE, LAST NIGHT

Numbers via NHL.com, NaturalStatTrick and HockeyStats.ca.
Mark Fayne played 4:34, was minus one on a play where he was a day late and a dollar short, and then left with injury.
Andrej Sekera was 17-7 in 13:54 with Matt Benning, that duo is effective. He was also 3-0 in 58 seconds with Adam Larsson, a pairing that makes sense. Finally, he was 4-2 in 2:07 with Kris Russell, meaning the Oilers were dandy with Sekera on the ice last night. He was 9-2 against the O'Reilly line, 6-2 in 2:39 against Eichel. Had an assist, three SOG. Andrej, you beautiful defenseman!
Matt Benning had three shots, four hits and one blocked shot. His number with Sekera is above, and he was 8-5 in 6:52 with Klefbom. Lots of good things, drew a penalty and was 14-6 in 9:45 when with the Nuge. 10-2 against Eichel, 11-5 against O'Reilly. What's not to like?
Oscar Klefbom went 1-3 in 2:06 with Adam Larsson (I would love to see them reunited), 2-2 in 3:57 with the king of Fayne and 8-5 with Benning. Three shots, one blocked shot, 3-5 against O'Reilly and 5-1 against Eichel. Played a lot on special teams.
Kris Russell went 6-9 with Larsson in 14:21 (very low event for the minutes), 4-2 with Sekera and 1-0 with Benning. Went 1-3 in 4:04 against O'Reilly and 4-7 in 7:43 with Eichel. He did not have a good game by my eye, losing a reaction battle in the crease on the tying goal in the third and failing to execute in a few areas over the 60 minutes. He has had good games, this wasn't one of them.
Adam Larsson took a tough penalty at the end of the game and received some rage online, but I think it was a shabby call. His numbers with other blue are above, solid with Sekera and the Klefbom pairing beckons. 0-2 against O'Reilly and 4-8 against Eichel. He defers to Russell on the passing and I don't think it benefits the team. I think he might be a little injured, or sluggish, or both.
Cam Talbot was not strong.
KRIS RUSSELL'S SKILLS
Peter Chiarelli: "Because he puts them into position to shoot by giving them passes that lead to entries into the zone." Source
I don't agree with the quote, nor do the numbers, but do think there are defensemen on the team who do get the party started. Andrej Sekera, Oscar Klefbom, Matt Benning—who coincidentally had the most HDSCs last night—would seem to fit the bill more closely than Russell.
For me, the advantage Russell has over someone like Mark Fayne is his speed. Allows him to be aggressive at the blue line defending sorties and then scoot back to retrieve the puck and make a play. I do not see what Mr. Chiarelli sees and the math of the situation runs counter to the statement.
And that leads us to this question: What, exactly, is Peter Chiarelli looking at? Kris Russell is fast, he blocks shots and even when things go wrong he is fast and he blocks shots.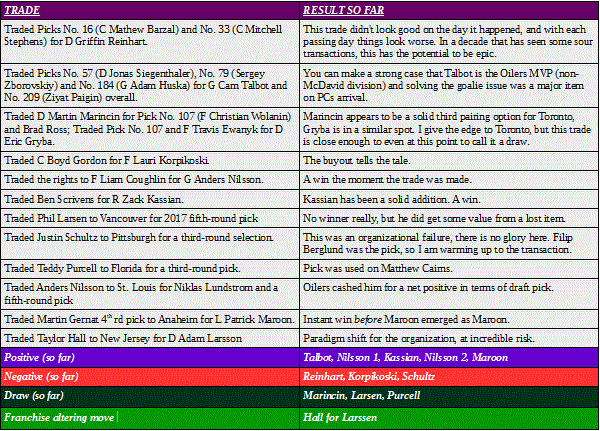 YOU BELIEVE IN WHAT YOU BELIEVE IN
You believe in what you believe in, and at some point that truth is baked in. Let me give you an example: Back in my radio advertising days, much of my competition came from newspapers. The world has changed now, but at that time, if I wanted a bigger piece of the ad buy, I would have to find a way to convince my client to buy a smaller ad in the local paper(s)—or to go B&W.
What I found was this: If my station advertised a remote and it did not go well, my radio station took the hit—even if newspaper was also involved. The client would blame me because, in his view, not enough people were listening to my station. However, if he advertised the same remote in the newspaper? In his view, that meant no one wanted to buy his product that day.
You see what happened there? Because he read the newspaper, his assumption was everyone read the newspaper, and simply passed on buying his product on that day. But radio? Oh, you don't have enough listeners! I argued against that for 20 years, and had the facts to back it up (radio advertising is the most targeted and immediate avenue—spend money on radio!), but my client (some of them) saw the world just that way.
Peter Chiarelli sees the world through a lens that believes Kris Russell can do all kinds of things with or without the puck. He probably has his own internal math that backs it up. I don't doubt his sincerity, any more than I doubted the sincerity of my client years ago. I do doubt his being correct, though, and it could take one astounding contract to find out who is right.
Note: I do not hate Kris Russell. I like him fine, just as I believe Mark Fayne is a good NHL defenseman. If you are coming here to troll about KR, move along please and thanks. This is a conversation about re-signing Russell, not about burying him as an NHL defensive option.
FORWARDS, LAST NIGHT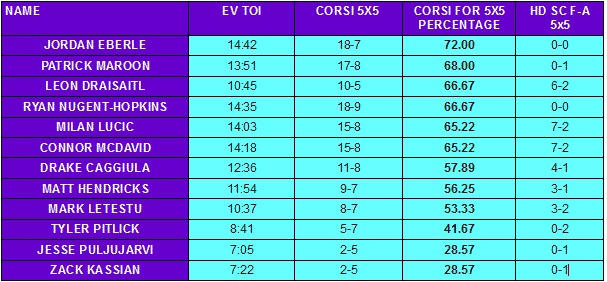 Before we get to the numbers, the Nuge line had no HDSCs either way. Mike Peca running those notes across the piano has value, but Edmonton needs RNH to contribute to 5×5 offense.
Also, McDavid and HDSCs go together like sunshine and good times. My goodness.
Maroon—Nuge—Eberle owned the possession at 5×5, and two men (Eberle goal, Nuge assist) posted crooked numbers. Eberle was the best player on the line in my opinion, he and Nuge seem to be coming on now. Is Maroon the right LW? Need more danger in their offensive game.
Lucic—McDavid—Draisaitl/Caggiula were the heart of the order last night, posting all kinds of offense (Lucic goal, McDavid and Caggiula two assists, Leon goal). Fifteen shots on goal, my goodness this line is a nightmare no matter who plays RW. HDSCs: 7-2! I am worried about Leon's hand injury, that looked like a nasty slash. Milan lost his mark on the Gionta goal, don't really know if he or Fayne was more to blame.
Kassian—Caggiula—Puljujarvi did not really have much impact. I saw Kassian take a penalty, get loose after a puck hit the Oilers bench (and was called). I saw JP good in one shift and that was about it.
Hendricks—Letestu—Pitlick didn't get much done together, but the veterans and Leon had some good touches during the game. Hendricks was the culprit on another big goal against, the Oilers are losing games here and that would be important if the playoffs were the goal.
Frankly, the third and fourth line kind of disintegrated last night, as McLellan hit shuffle on the CD player.
Drake Caggiula is a fine young player.
Jesse Puljujarvi is going to need more playing time if the team plans on keeping him here.
Dillon Simpson photo by Mark Williams. All rights reserved
INJURIES
Mark Fayne left the game early, Leon Draisaitl played after a vicious slash, and we are here. The IR already contains Brandon Davidson (who could be back soon), Darnell Nurse, Andrew Ference, Eric Gryba and Iiro Pakarinen. We might see Dillon Simpson making his NHL debut tomorrow night in Philadelphia. If Leon can't go Thursday, we should expect a recall (probably Lander) today.
KAILER YAMAMOTO
I promise not to write a 2017 Top 30 ranking post until January, but do have to start getting to know some of these young prospects. Today, I am looking at a cross between Jordan Eberle and Johnny Gaudreau—named Kailer Yamamoto. He comes from Spokane—that valley area is one of my favorite places—and he also plays for the Chiefs.
RW
5.09, 160
Boxcars: 21, 17-14-31
NHLE: 82, 18-15-33
Hannah Stuart wrote an interesting article on Yamamoto here.
He has a diary up at NHL.com, fascinating read and a connection to Tyler Johnson.
Chris Dilks: Yamamoto doesn't have the same size as some of the other top prospects, but it doesn't matter because he's just a true hockey player. He's fast, but more important is how he uses that speed. He's not afraid to go into tough areas to fight for pucks or angle off defenders to get himself into position to make a play. He's a high-effort, high-energy player. Source
.@GregChase9 snaps home the equalizer for the @Condors #BAKvsSD pic.twitter.com/U6GF4qcgn3

— AHL (@TheAHL) December 7, 2016
Greg Chase scored his first goal of the season last night against San Diego, and hopefully he can build on it and score more playing time. This is an important season for Chase, as he spent more of his first pro season with Norfolk of the ECHL. He scored well there (43, 18-19-37, NHLE 82, 8-8-16) and in an AHL audition (19, 1-6-7, NHLE 82, 2-12-14) in 2015-16. He is now 11, 1-1-2 this year and needs to get into the everyday lineup and move up that depth chart. The Condors have a condo of  AHL veterans and a bunch of college forwards, too. Hopefully Chase gets a chance, he is a Chiarelli type player and should be able to prove it with playing time. Ben Betker also scored his first AHL goal in an OT loss last night (like parent, like farm team).
LOWDOWN WITH LOWETIDE
It is a still fluid guest list for the Lowdown this morning, we get rolling at 10 on TSN1260. Scheduled to appear:
Bruce McCurdy, Cult of Hockey. Breakdown of last night's game and Oilers playoff chances.
Kirk Luedeke, Red Line Report. David Pastrnak has arrived.
Blue Jays, Oilers prospects, Raptors all possible just waiting on confirm.
10-1260 text, @Lowetide on twitter. Talk soon!