The Edmonton Oilers were either ahead or tied, very late, on every one of the three road games this week, but come home with two of a possible six points. It is not the end of the world, in fact I think this club showed some stones last night in Minnesota. That said, I also don't think this is a playoff team, and my latest proof is this road trip. Balance. It bites you in the ass because it can. The only way to keep balance from beating you? Have balance on your side. Something to work on. HDSC: 8-3.
THE BOTTLE LET ME DOWN, YEAR OVER YEAR
Oilers in October 2015: 4-8-0, goal differential -7
Oilers in October 2016: 7-2-0, goal differential +10
Oilers in November 2015: 4-7-2, goal differential -6

Oilers in November 2016: 5-8-2 goal differential -3

Oilers in December 2015: 7-6-1, goal differential -9
Oilers in December 2016: 2-1-3, goal differential +1
Oilers after 30, 2015: 13-15-2, goal differential -10
Oilers after 30, 2016: 14-11-5, goal differential +8
I am generally encouraged by this 0-1-2 road trip, but the Oilers can do themselves an enormous favor by winning tomorrow. This was a tough haul (beginning late November) and coming out of it 14-11-5 isn't the worst result. A 2-1-3 December has the team with seven points in six games, a little ahead of the 14 points in 14 games pace we are looking for this month.
Todd McLellan: "I'm proud of our group tonight. Our guys played a strong game, player one through player 20."
DEFENSE, LAST NIGHT

Stats from NHL.com, HockeyStats.ca and NaturalStatTrick.
Russell and Sekera played an absolute ton. Overall, Sekera played 29:04. Lordy.
Matt Benning was a good soldier and one Irish rover last night. Here are his splits: 5-2 in 3:31 with Sekera, 4-2 in 6:07 with Simpson, 4-0 in 1:40 with Kris Russell; 4-3 in 3:07 with Klefbom and 0-1 in 46 seconds with Larsson. Wow. He was 10-2 against Staal and 5-3 against Koivi. Holy man. He was +1 on the night.
Klebom—Larsson went 15-10 together in 11:58. They were 8-2 with Leon, 8-4 against Staal and 5-4 against Koivu (I am using Klefbom as my guide). Klefbom had an assist, and some good moments although there remains some wobble. Larsson played the second Minnesota goal like a falling Wallenda, no real idea what the hell he was doing. It was a quick developing play, but you need him to be better there.
Sekera—Russell played all night, it was like a Springsteen concert out there. They went 12-15 together in 14:58, 9-8 with Leon. They were 9-10 against Staal, 3-1 against Koivu. Two road games in a row I liked their game, this is a far better pairing setup than the period where the two Swedes were apart. Sekera had eight blocked shots, and looked spent at the end of the game. If he comes calling tomorrow, I will name him two socks.
Cam Talbot had a dandy game, I would have named him first or second star for Edmonton.
FORWARDS, LAST NIGHT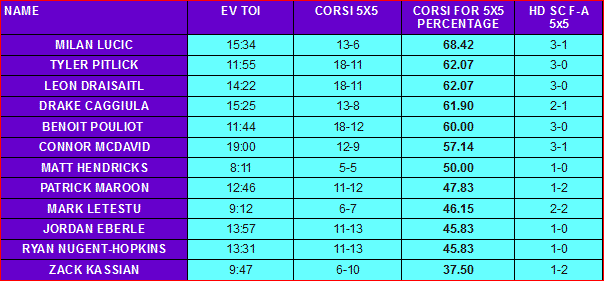 Lucic—McDavid—Caggiula went 12-5 in 14:04 together, although no man would post a crooked number. I felt they were dangerous several times, and that is reflected in the HDs. The line had eight shots on goal, I think they should stay together. The chem between McDavid and Caggiula is clear, it will be interesting to see how much they play together.
Pouliot—Draisaitl—Pitlick went 1-2-3 in the boxcars, with Leon getting the goal. Total shots for the line: 8. The trio went 11-6 against Eric Staal, and I think they should get at least one more game together.
Maroon—Nuge—Eberle got some good things going, with Nuge scoring, Eberle getting an assist and Maroon blocking out the sun on the 93 goal. Well done. Went 5-4 against Staal and 4-6 against Haula—just seven seconds against Koivu.
Hendricks—Letestu—Kassian went 3-4 against Graovac, two fourth lines going head to head. I think this line will house Maroon more often in the second half of the season, and it will be the third line. Unless we see a trade.
LAST SEVEN DAYS
NHL.com is the most aggravating thing about the league, and that is saying something. Their information is difficult to find, under strange names and headers, and I think they moved the damned even-strength numbers. However, there are some interesting parts of the site, including a little area that can help you see what has happened to each player in the last seven days.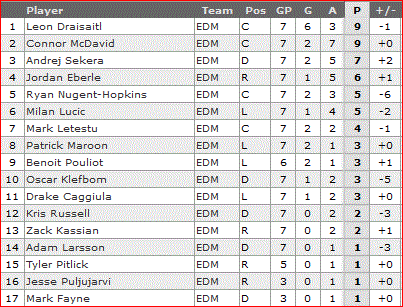 I think this is pretty interesting, covering December plus the Toronto game. Leon and McDavid have been running well, but Andrej Sekera is posting some strong numbers, too. We see some recovery for Jordan Eberle and Ryan Nugent-Hopkins, and Milan Lucic is rolling along.
Good to see Maroon and Pouliot chipping in, too.
Photo by Mark Williams
Laurent Brossoit posted another strong performance last night, as the Bakersfield Condors won in overtime (on a Joey Laleggia goal). Based on his road outing this week, I wonder if management may be considering moving on Jonas Gustavsson. A quick recall of Brossoit to get him a start in the next few weeks could happen, suspect more than one member of the management group feels point were left out there on the road.
ROLLING TOP 20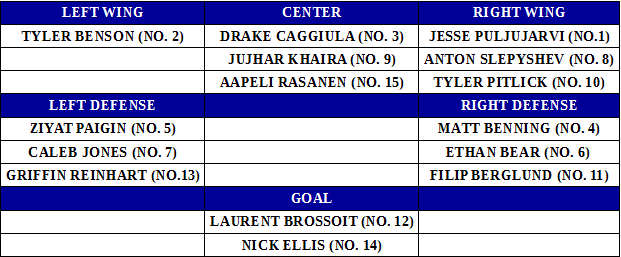 I will post the No. 16 prospect at 5pm today, unless the Oilers make a trade or something else breaks. My plan is to post No. 17-20 next week, meaning the project will be complete by December 16. After that, I do a 21-30 post and a 31-40 post, then a wrap, so we will be done just before Christmas.
The Winter Top 20 2015 list is probably the strongest since I have been doing these, with McDavid leading the way, Draisaitl and Nurse following up. The Winter Top 20 2010 should have sustained this team for a decade, with Hall, Eberle, Petry, Paajarvi, Dubnyk, Marincin, Davidson and others in the mix.
This year's list has a terrific Finnish winger at the top, but the 2010 and 2015 lists had far more sustain. If you take away Peter Chiarelli's signings of college men Drake Caggiula (No. 3), Matt Benning (No. 4) and Nick Ellis (No. 14), we are looking at a very thin group of prospects.
That is reflected in the WJ rosters, with Ethan Bear and Tyler Benson not invited to Canada's camp and only Caleb Jones likely to play in the tournament (for Team USA). There are some promising names, but I will say that ranking these gents has been difficult because very few players have made themselves known since draft day.
For a team still in need of trade assets, building blocks and plug-and-play types, the Edmonton Oilers are not in a terrific spot in terms of prospects.
ADAM LARSSON
We are through 30 games now, a chance to have a good look under the hood to see what is happening with some of Edmonton's players. We will chat Milan Lucic tomorrow, but for today I wanted to drill down just a little on Adam Larsson. I like CorsiRel to start, although we don't have qual comp, it does gives us a good idea about which way the wind is blowing for the unit:
Matt Benning 6.8
Oscar Klefbom 1.4
Eric Gryba 1.2
Darnell Nurse 1.1
Andrej Sekera 0.7
Adam Larsson -2.5
Kris Russell -8.6
Larsson is behind in this area, and even with qual comp added I think he is behind what we would have hoped at this point. He is 50.5 Corsi for 5×5, and 51.5 with Oscar Klefbom. Without Oscar? 47.9, although his Kris Russell number (38.6) is a big reason for that total.
I have generally been impressed with the fan base, haven't seen too many rip jobs on Larsson (it has to be a difficult position for him to be in). He needs to be better, and the adjustment period should be over by now. His coverage (or lack of) last night on the second goal was not quality, and at this point I think it is fair to say he has struggled in the first 30 games. Fair?