You will be forgiven if the name William Lagesson slipped your mind since the 2014 draft. That entire draft (Leon Draisaitl aside) looked off from the moment the NHL closed the books on it. Edmonton traded out of the second and third rounds, while also picking two goalies despite having only six picks! Oh, and one more thing: Only Leon was playing in the CHL, all of the other picks were either college men or about to be college men (and Keven Bouchard). This set up the 2016 summer of nothing, saved by free-agent collegians. The decisions made at the 2014 draft table (after Leon) are inexplicable. Lagesson? He has a chance.
PREVIOUSLY NO. 16 ON THE WINTER LIST
December 2006: D Theo Peckham (160) (GM: Kevin Lowe)
December 2007: D Mathieu Roy (66) (GM: Kevin Lowe)
December 2008: L Teemu Hartikainen (52) (GM: Kevin Lowe)
December 2009: L Toni Rajala (0) (GM: Steve Tambellini)
December 2010: D Taylor Chorney (127) (GM: Kevin Lowe)
December 2011: G Frans Tuohimaa (0) (GM: Steve Tambellini)
December 2012: G Olivier Roy (0) (GM: Steve Tambellini)
December 2013: R John McCarron (0) (GM: Steve Tambellini)
December 2014: G Laurent Brossoit (6) (GM: Craig MacTavish)
December 2015: D William Lagesson (0) (GM: Craig MacTavish)
This is a reasonable list for No. 16 on the top 20—we have a couple of second-round defensemen who posted more than 100 games, and some cups of coffee. Brossoit and Lagesson are probably the most promising names since Chorney. Rajala had some real talent, I believe, as did Teemu Harikainen—still don't know what happened there. We don't talk about him anymore, but there was a time when Theo Peckham looked like he had a real chance to make it. Edmonton's kids sure fractured a lot on the way to NHL careers back a decade ago. No farm team?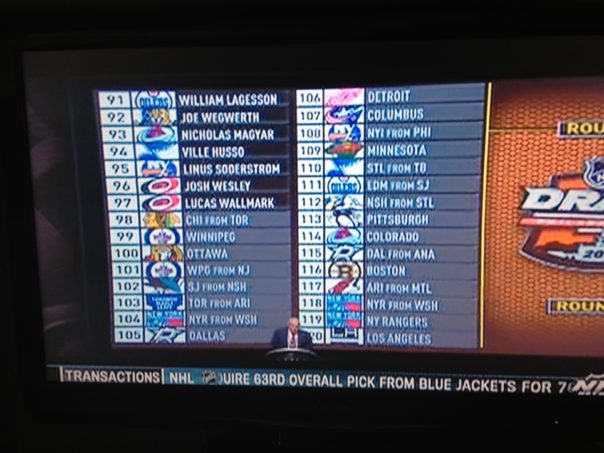 WHAT THEY SAID ON DRAFT DAY
Corey Pronman: "He's a guy I had rated around 60. I've seen him play well many times, he's a player I really like. At the U-18 level, in the tournament in February and in April, he was a top player for Sweden U-18s). He's a physical defenseman he skates well and defends well. I don't think he's a sterling offensive player, but he has average puck moving ability. He won't be in the World Juniors this year. I think this is a guy who is going to be a very good prospect and the Oilers got good value where they picked them."
ISS: Lagesson shows traits of a good two-way defender with some intrigue in the offensive zone as he displayed flashes of a big shot. Good mobility, foot speed and overall skating ability for a defenseman of his size. Good presence on the offensive  point, great shot that he is able to get through traffic and keeps it fairly low to the ground. Good release, doesn't need a full wind-up to get pucks off. Physicality should be a bigger facet to his game to give him that defensive upside and promise that he shows on the puck. William shows a good basis for the two-way game with a good shot and mobility when running the offensive point.
McKeens: A favourite of coach Andres Eriksen at the 2014 World U18 Championships; Lagesson played quality minutes and finished the tournament with three goals .. a scrappy, physical hard-nosed competitor who competes for every inch on the ice .. an 'in your face'type of defender who reacts quickly to loose pucks and is able to identify threats. Feet are subpar especially when defending in a reverse movement, resorting to skating forward which makes him easy to blow by .. speed and power is not quitethere yet despite having a short, stocky build with a developed core ..plays with sand paper and is not unlike Ulf Samuellson in his abilityto get under the opponents skin to goad them into penalties.
Elite Prospects: A strong defenseman that can put up some points, but plays more convincingly in his own zone. Likes to get involved in the rough stuff and has a pretty good physical game. Strong positionally, but could work some on his skating skills. (EP 2014)
Stu MacGregor: "He makes a good first pass and has some hockey sense but I can't emphasize how much he wants to battle and compete. One-on-one he's a warrior. Doesn't hurt that he's coming over here to get used to the ice surface. He's probably going to college after Dubuque."
Martin Lunden: "Solid pick at 91. made a huge impact in with jr team. 1st team coach loves him (former U20coach Rönnmark). good size, average+ puck handling. He doesn't stand out in the SHL, but he's a 17 y/o playing with men so no wonder. He doesn't make a fool out of himself though.."
PREVIOUS TOP 20 RANKING
Summer 2014: No. 13
Winter 2014: No. 15
Summer 2015: No. 20
Winter 2015: No. 16
Summer 2016: No. 22
Winter 2016: No. 16
Lagesson is the kind of player my list probably underrates. He doesn't get a lot of points, and despite being mobile and a good defender, awarding points for that kind of thing usually comes from viewings. We don't see Lagesson much—as was the case with Jeff Petry during his college career—so these rankings may be shy compared to his actual value.
William Lagesson is playing 16:26 a night against top comp. Good spot for the freshman. (Also gets top teammates) pic.twitter.com/8vZUYrPrRf

— WheatNOil (@WheatNOil) August 31, 2016
2016-17

UMass.com: Lagesson, who was named an assistant captain prior to UMass' game vs. UConn on Nov. 4, played in 27 games as a freshman in 2015-16 and registered seven points on two goals and five assists. Source
Lagesson on penalty killing: "It's an important part of the game to kill penalties. When you go on the penalty kill you have to be ready to do whatever it takes to kill it." Source
Simon Boisvert: Has a certain potential, but he needs to play in the AHL asap.
The Hockey News: Nasty, physical defenseman gets a new coach in Amherst as Greg Carvel tries to right the ship for Minutemen. Source
Steve Kournianos, The Draft Analyst: Plays on their top pairing and second PP unit. Usually matched up against top lines with mixed results. Minutemen are underachieving in Conference play but only knock on Lagesson is he can play undisciplined. Not hook or trips but high stick fouls, roughing. You can argue he's their best defenseman this year.
4) Colin White (BC)
7) Ryan Fitzgerald (BC)
39) Joe Woll (BC)
46) William Lagesson (UMass)
52) Casey Fitzgerald (BC) https://t.co/p7ltCpwen8

— Marshmont (@Marshmont_63) October 6, 2016
THE FUTURE
Lagesson is a solid NHL prospect, but has some things going against him. As an Oilers prospect, his skills are duplicated (LH shutdown D with an edge) from Darnell Nurse to Griffin Reinhart and on down the line. I like his future, but he will need a little help to make it with the Oilers.
It also seems the number of jobs available to shutdown types is reduced each season. That is a big deal, because there could be fewer than 30 of these jobs available to Lagesson when he is NHL ready. A player like Dylan McIlrath, who would occupy basically the same roster spot, has been moved once already. Lagesson may have hidden offensive skills, the Swedish assist police have fooled us before, but the big part of his value appears to be defensive.
THE 2014 DRAFT
Leon Draisaitl No. 3 overall. He was a top prospect from draft day until he graduated, and is now one of the leading scorers in the NHL. A nice story. Graduated.

William Lagesson No. 91 overall. He is a fairly famous prospect among Oilers fans, having played effectively at the World Juniors. He is mobile and can defend, plus there is no doubt the edge he displays fits the McLellan/Chiarelli template. No. 16 prospect, Winter 2016.
Zach Nagelvoort No. 111 overall. He is the return on the Mike Brown trade. After a few post-draft seasons of mediocre play, there appears to be a pulse this season. Currently boasts a .919 save percentage. A candidate for the Winter top 20.
Liam Coughlin No. 130 overall. Traded for Anders Nilsson in 2015, he belong to the Chicago organization. Playing sparingly at Vermont in the NCAA. No longer in organization.
Tyler Vesel No. 153 overall. One of the more pleasant surprises this season, he is spiking offensively in his junior NCAA season.  A candidate for the Winter top 20.
Keven Bouchard No. 183 overall. One of the truly curious draft and follow players, he never did get untracked. No longer in the organization.
ROLLING TOP 20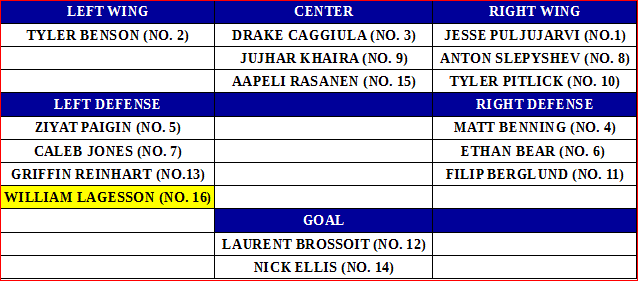 We are almost through the top 20, and almost half of the list is defensemen. As well, exactly 25 percent of the list is lefty blue. Got that covered, hopefully the Oilers can cull the herd over the summer.
The biggest needs (as I see it) at the NHL level are RW, RHD and goal. Edmonton has several RW prospects, but only one sure thing. All three RWs listed here are likely to graduate as prospects by this time next year. If you are looking at the 2017 draft, another RW is likely.
The goalie situation is now officially intriguing. I have to tell you this Nick Ellis is really interesting. Early, but if he gets to the end of the year at about .930, we are going to have a chat.
Jujhar Khaira has earned an NHL call.
So does Laurent Brossoit.
We can make two shocking statements without any embellishment: First, this is a weak list, especially for a team still building. Seriously lacking.
Second, it could be even more porous next winter. All of Puljujarvi, Caggiula, Benning, Slepyshev and Pitlick could graduate the list.
It is kind of hilarious to see so many LHD prospects accompanied by so many holes elsewhere. I don't think this is textbook.
I believe Simon Boisvert when he says Lagesson needs to turn pro and play in the NHL. The Oilers have signed Ethan Bear and Caleb Jones already, Ziyat Paigin may come over next fall. If you are David Musil, or Joey Laleggia, the time is now.