The Edmonton Oilers have a big game tonight  against the Winnipeg Jets. After what can only be described as a weird week (they were ahead late in Buffalo, tied late in Philly, and took Minny to a shootout), a win this evening would mean a 1-1-2 week. Not ideal, but effective in the land of the extra point.
SUNDAY MORNING COMING DOWN, YEAR OVER YEAR
Oilers in October 2015: 4-8-0, goal differential -7
Oilers in October 2016: 7-2-0, goal differential +10
Oilers in November 2015: 4-7-2, goal differential -6

Oilers in November 2016: 5-8-2 goal differential -3

Oilers in December 2015: 7-6-1, goal differential -9
Oilers in December 2016: 2-1-3, goal differential +1
Oilers after 30, 2015: 13-15-2, goal differential -10
Oilers after 30, 2016: 14-11-5, goal differential +8
G30 a year ago saw Edmonton win again—this was a high water mark last season—and get so close to a .500 record (14-15-2). After tonight (a year ago), Edmonton would go 17-28-6 to end the year—to finish 31-43-8 over 82 games. Can Edmonton beat that run from last season? If they lost tonight, the 14-12-5 record would be disturbingly close to 2015-16—despite the gorgeous October start. This is us, and I don't think us means playoffs, not this year, not this time. Calgary has balance, so does California. I could say baby baby baby 'til my tongue spirals out of my head, and nothing will change about this equation. The McDavid is the biggest trump card in Christendom, but the jacks and kings, and the sevens and nines, just don't add up this time. Balance. Damnable word. I will be thrilled to be wrong this time, but the guess here is that the build falls shy in 2016-17.
DEFENSE, 2016-17
The Oilers possession numbers are good this season (overall at 5×5 the team is 51.9 percent, No. 10 in the entire NHL).
The third-pairing chaps (Benning, Gryba, Nurse) have done very well, some even stepping up at times and performing near par.
The big three of Klefbom, Sekera and Larsson are also above 50 percent Corsi 5×5, and that is a nice change of pace after all these years. Most observers feel Andrej Sekera has been the best defender so far, and I would agree.
The Swedish pairing of Klefbom—Larsson started well, developed a hitch, and we are here. I still think this is the best bet for top pairing.
Brandon Davidson has to be close to returning, don't know how I feel about him returning for his first game against the Dustin Byfuglien fellow. That man is the perfect villain, and seems to enjoy his role too well.
If you are wondering about Quality of Competition, the WoodMoney folks are going to blow your mind when they go public. As a tease, I will list minutes against 'elites' this season, which, for me, is the best test of first-pairing minutes. The rubber hits the road when the coach feels a sphincter tightening.
BLUE VERSUS ELITES, BY MINUTES
Adam Larsson 175:25 (44.8 Corsi for 5×5 percentage)
Andrej Sekera 172:39 (48.3 Corsi for 5×5 percentage)
Oscar Klefbom, 155:38 (45.6 Corsi for 5×5 percentage)
Kris Russell 137:09 (44.4 Corsi for 5×5 percentage)
Darnell Nurse 97:41 (51.7 Corsi for 5×5 percentage)
Matt Benning 90:05 (57.1 Corsi for 5×5 percentage)
Now, a couple of things. Both G and WG have kindly passed along a few things, but I am using them sparingly because this is their work, their property. I send it to you as a snap shot, a glimpse, into what we will be getting soon from these fellows. Needless to say, this could be as mind bending as the first Jimi Hendrix album when it finally arrives.
Second. Matt Benning, according to the WoodMoney, is flat out brilliant as a rookie. This is amazing. If it continues, we can probably begin talking about the big defensive move of summer being the signing of a college free agent. Early days, don't make a fuss, don't want to scare it away.
FORWARDS, 2016-17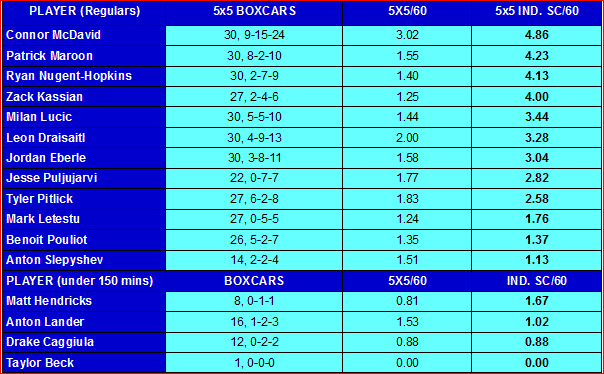 The possession numbers are important for forwards, but for me the real fuel for these men is 5×5/60. If you can score there, you have a future.
I also value highly the scoring chance metric, especially the individual (via Corsica hockey in this case).
Connor McDavid is stone alone, out among the stars. His brilliance remains shocking, you can go years without finding this kind of gap between one player and the rest of the field. Insane.
Patrick Maroon is in a quiet period in goals, but his scoring chances remain high and he does a lot of little things well.
Ryan Nugent-Hopkins, who remains No. 1 C against elite competition (but it is close, McDavid behind by about seven minutes), has a nice individual scoring chance number. That shooting percentage has to come back sooner or later.
Milan Lucic is a little low in shooting percentage as well, that may turn north at some point this year. He is also shooting more, on pace for 205 shots—that would easily be a career high.
Benoit Pouliot is starting to show some signs—that is a major positive for this team.
Anton Slepyshev should play more. Despite the numbers here, he has shown some good things, especially when playing with skill.
WHL
Three Oilers prospects in the WHL are performing very well of late—specifically Caleb Jones of the Portland Winterhawks. With an assist last night, Jones is now 30gp, 3-26-29. With two assists last night, Tyler Benson is 27gp, 9-21-30. With an assist last night, Bear is now 28gp, 10-16-26. Only Jones is heading to a WJ camp (Team USA) but there are good things happening with this trio of Oilers prospects.
QUESTION
I have been asking folks lately a question that has been getting a surprising answer, thought I would share. The question came from an item I am/was preparing on Peter Chiarelli and his time as general manager in Boston and Edmonton. The question was this: What current NHL GM do you consider to be No. 1 at this time?
So far, the answers have been surrounded by phrases like 'no one impresses me' and 'in a pinch, I would name' and I find that interesting. If we are going to drill down on this, and expose Peter Chiarelli as the enemy within (this is basically going on daily on twitter), then who do we hold up as the best option? I am willing to do the work, Chiarelli's track record is familiar to me. So, let's do this together. Name your top GM, and I will do the work.
PLAYOFFS?
Each time I write about the Oilers not being a playoff team, I get an email from the same person (some folks prefer to email me, as opposed to post, and this is fine). Often, this individual will ask if Kris Russell being signed changes things, or if the emergence of Matt Benning changes things.
The answer is yes and no. I do understand the idea behind giving Matt Benning at bats, or using Kris Russell out of position because he is an NHL veteran. I get it. However, one of the things a contending team does is limit the number of auditions taking place at one time. If you look at the Oilers situation currently, the auditions are going on at pretty much every position. Some of this is due to injury, and some of this (Benning, Caggiula) is working pretty damned well.
Still, NHL teams who make the playoffs usually limit their rookies to the ones who can handle the job assigned. I won't bother to list the names of Oilers roster rookies who may not be making the grade, but am quite certain the total is higher than it should be. Matt Tkachuk may not have a better future than Jesse Puljujarvi, but he is a more productive rookie.