From the day he was drafted (5.5 years ago) through today, Dillon Simpson has been making progress. Most times, a statement like that is filled with hyperbole, but Simpson has improved every season, without fail. There was never a time during those years when it was obvious he would play in the NHL, but I can't say it was surprising when he finally made his debut. This kind of progress is impressive, someone was bound to notice.
PREVIOUSLY NO. 17 ON THE WINTER LIST
December 2006: C Jonas Almtorp (0) (GM: Kevin Lowe)
December 2007: G Jeff Deslauriers (62) (GM: Kevin Lowe)
December 2008: D Johan Motin (1) (GM: Kevin Lowe)
December 2009: D Cody Wild (0) (GM: Kevin Lowe)
December 2010: L Teemu Hartikainen (52) (GM: Kevin Lowe)
December 2011: D Dillon Simpson (0) (GM: Steve Tambellini)
December 2012: D Colten Teubert (24) (via trade, GM Steve Tambellini)
December 2013: L Anton Slepyshev (26) (GM: Craig MacTavish)
December 2014: L Anton Slepyshev (26) (GM: Craig MacTavish)
December 2015: D Joey Laleggia (0) (GM: Steve Tambellini)
This looks very reasonable, no one has emerged from this spot—and if Slepyshev does, well that is fine, too. I am guessing here, but as they arrive at the very precipice of the NHL, Simpson has passed David Musil as a prospect. That is the bet here, anyway.
WHAT THEY SAID ON DRAFT DAY
Redline: Stay at home defencemen with savvy and size. Son of former longtime NHL'er Craig Simpson has very good hockey sense and understands game situations instinctively. Had trouble getting qualilty icetime as a 17-year-old true freshman on deep, veteran defence corps of top collegiate program, but did show steady progress adjusting to the pace of play against older, stronger opponents. Rarely saw the ice on either special teams units. Sluggish skater with a short stride, but shows good gap control and lateral mobility. Tentative to do anything offensively and always has one foot back on defence. Doesn't see the ice well and hurries to get the puck off his stick. Makes sharp defensive reads and is rarely out of position. Struggled 1-on-1 in the corners and down log against more physically developed forwards.
Red Line Report scout Max Giese: "He's a smart player defensively, rarely out of position; but he's a pretty bad skater and he doesn't have any poise moving the puck. He's a slushy skater with a short and sluggish stride. His hands are stiff, he struggles to put passes on the tape and he always hurries to get the puck off of his stick. He's getting the ice time right now because of North Dakota's injuries."

Kirk Luedeke: A bit of a disappointing season for a player scouts had some real high hopes for coming in. The son of former NHL forward and HNIC analyst Craig Simpson (and nephew of television reporter Christine Simpson) has decent size at 6-1, 195. He scored 2 goals and 10 points in 30 games as a freshman and wasn't overly involved in the offensive scheme/didn't get a lot of ice time. He's a work in progress who has some soft hands and hockey sense, but isn't a great skater. He's slow out of the blocks and needs to work on his stride to get the most out of his movement. Scouts see intriguing elements of his game, but after 12 goals and 41 points last year with Spruce Grove of the AJHL, more of an impact was expected from him- he did not deliver. This is not to say Simpson isn't a legitimate NHL prospect- he is. He grew up around the game and has the natural athleticism to be a player, but this season showed that it is going to take time and he'd require a leap of faith for a team to draft him in the first two rounds.
PREVIOUSLY ON THE TOP 20
Summer 2011: No. 24
Winter 2011: No. 17
Summer 2012: No. 14
Winter 2012: No. 10
Summer 2013: No. 10
Winter 2013: No. 8
Summer 2014: No. 7
Winter 2014: No. 8
Summer 2015: No. 13
Winter 2015: No. 18
Summer 2016: No. 17
Winter 2016: No. 17
Simpson got as high as No. 7 in the summer of 2014, and No. 8 that winter. Since then, club has posted two strong drafts, Simpson moved down the list. He is not going to post big boxcars, but he can move the puck and is a good defender. That has value. As is the case will the myriad lefties who play defense and own those skills, the big problem with being an Oilers prospect is the sheer number of players who look just like you. Simpson is battling, and made it into an NHL game in early December.
2016-17
Gerry Fleming on Bakersfield performance 2015-16: "Overall, I think Dillon Simpson was our most consistent d-man all year long." Source
Simon Boisvert: He has been there (AHL) for awhile now, he is 23. He always makes the safe play, I think if it weren't for his lack of foot speed he would be in the NHL as a sixth or seventh defenseman. He will never generate much offense but he doesn't make too many mistakes.
Todd McLellan: "He's a heady player, he sees the ice well, he moves pucks. We have a lot of confidence in him. Last year at training camp, little bit banged up and didn't really get himself on the map. This year through training camp he found a way to get on the map. We have a lot more confidence in him now than we did then." 
Dillon Simpson: "I think I have come a long way since my first year pro, continuing to build. It has all led to this. Confidence with the puck was a big part of building my game, and that goes a long way in a lot of areas. Whether its breakout passes or trying to get up in the play."

This is a typical player card for a productive defender in the AHL—Simpson has puck-moving ability. As an example, his even-strength season in 2015-16 (57, 4-14-18) is a very close match for veteran AHL defender Brad Hunt in the same season (57, 5-14-19) at evens. Hunt's shot gave him the power-play time, but Simpson can move the puck and that has value beyond goals. Does he have enough to be an NHL regular? That is what we are about to find out.
THE FUTURE
Simpson made his NHL debut just before his appearance on this list, so despite the fact he has NHL time (3gp, 0-0-0) there is no real sample size to analyze. That said, he has played well in limited viewings (48.1 in 32 minutes), so his first NHL look should be judged a success.
You know that story I am always telling you about 50 or 60 guys in the AHL who could slide into the NHL without a problem? 5-6D, fourth-line right winger? That guy? I think Dillon Simpson's NHL employment will at least start there, and he has some advantages and disadvantages.
Advantages? He has a famous name, is well regarded (based on what we know) by the organization. NHL players have manufactured careers out of less, and it could happen just this way.
Disadvantages? The Oilers have a lot of players who have similar talents, and there are no guarantees Simpson can pass enough of them to emerge as one of the seven NHL defenders. It is a major item, because all 30 teams have their own Dillon Simpson's in their own systems.
At this point, at the pro level, I have Simpson behind Griffin Reinhart and Matt Benning, and ahead of Jordan Oesterle, David Musil, Joey Laleggia and Ben Betker. Seems about right, and he has a chance.
THE 2011 DRAFT
Ryan Nugent-Hopkins, No. 1 overall. The modern Dave Keon is playing the toughs and winning the possession battle, but the offense is lagging. Still a terrific player. Graduated.
Oscar Klefbom, No. 19 overall. Top 4D with close to complete skill set, healthy again this season and his offense is coming into view (9-23-32 in his last 82 NHL games). Graduated.

David Musil, No. 31 overall. Smart D, foot speed is a problem. A candidate the Winter Top 20.
Samu Perhonen, No. 63 overall. Big goalie back in Finland. No longer in organization.
Travis Ewanyk, No. 74 overall. Tough as nails checking C now in ECHL. No longer in organization.
Dillon Simpson, No. 92 overall. Two-way D who is an expert shot blocker and a good decision maker. He has an NHL chance. No. 17 prospect Winter Top 20.
Tobias Rieder, No. 114 overall. Scouting home run, he's in the NHL. No longer in organization.
Martin Gernat, No. 122 overall. Regular in the Czech league. No longer in organization.
Laurent Brossoit, No. 164 overall. Flames draft pick acquired in Ladislav Smid salary dump. Has progressed very well as an Oilers prospect. No. 12 prospect, Winter Top 20.
Frans Tuohimaa, No. 182 overall. Playing in Sm-Liiga and lesser leagues this season. No longer in organization.
Iiro Pakarinen, No. 184 overall. Drafted by the Florida Panthers and signed as a free agent by Edmonton in June 2014. Now at 80 NHL games, injured currently. Graduated.
ROLLING TOP 20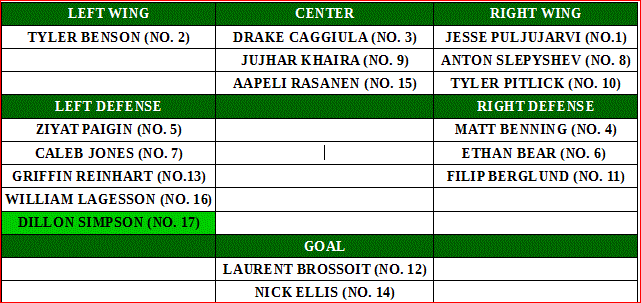 The lefthandedness of this organization's defense is incredible. There are eight defensemen listed so far, five of whom are lefties. Of the seven who remain, six are LH, meaning the current cluster under control is 73 percent lefthanded.
The players on this list who have played in the NHL during 2016-17 have been very good. Jesse Puljujarvi, Drake Caggiula, Matt Benning, Anton Slepyshev, Tyler Pitlick and Simpson have had a positive impact.
There are seven forwards on this list, and maybe two more that you can build a case for as being true NHL prospects (depending on your point of view). Among the things we should see on draft weekend 2017, and in college signing season, is a full wallop at improving the F depth chart.
The Oilers have two legit goalie bets to my eye, no idea which is the better bet but goalies are not as easy to predict.
If I am Peter Chiarelli, adding a second-round pick at the deadline (Boston owns Edmonton's 2017 selection) is a priority.