To say that Tyler Vesel is coming from a long way back is a major understatement. Chosen in the sixth round of a very weak draft year, Vesel was coming off a strong season for the Omaha Lancers of the USHL. He dominated the junior league at 19, and then moved on to college (Nebraska-Omaha). His freshman and sophomore years had some good moments, but this season, his junior year, Vesel has blossomed. The Edmonton Oilers may have something here.
PREVIOUSLY NO. 19 ON THE WINTER LIST
December 2006: G Glenn Fisher (0) (GM: Kevin Lowe)
December 2007: D Sebastian Bisaillon (2) (Signing. GM: Kevin Lowe)
December 2008: L Phil Cornet (2) (GM: Kevin Lowe)
December 2009: G Olivier Roy (0) (GM: Steve Tambellini)
December 2010: D Jeremie Blain (0) (GM: Steve Tambellini)
December 2011: D Kyle Bigos (0) (GM: Steve Tambellini)
December 2012: L Curtis Hamilton (1) (GM: Steve Tambellini)
December 2013: D Erik Gustafsson (41) (GM: Steve Tambellini)
December 2014: L Curtis Hamilton (1) (GM: Steve Tambellini)
December 2015: R Greg Chase (0) (GM: Craig MacTavish)
This is a perfect list for No. 19 prospects. Gustafsson wasn't signed by Edmonton but did have a strong half season with the Chicago Blackhawks. A couple of these names still have a chance, but most of them are either playing in Europe (Curtis Hamilton is having a nice season) or in the minors in North America. Greg Chase is the only signed Oiler, although Vesel may get a contract in the coming months.
WHAT THEY SAID ON DRAFT DAY
Stu MacGregor: "He's a scorer. He had a tremendous year and he'll be going to Nebraska-Omaha where Dean Blais is a competitive coach who develops players."
Lowetide: C Tyler Vesel, Omaha USHL. 49GP, 33-38-71. NHLE: 82gp, 15-17-32. I don't really know where to put him, he's 20 and playing in a league that's not quite the WHL. However, he's been a goal scorer all down the line. Source
Hockey's Future: Despite being slightly undersized he is willing to compete in tight spaces and should continue to develop during his college career. A product of the Shattuck-St. Mary's prep school program in Minnesota, he has been well-schooled in training and putting in the hours necessary to succeed in hockey. His biggest challenge will be adapting to the speed and strength of players as he moves up in levels. Source
Over the Boards: It's really, really tough to find a part of Vesel's game not to like. He's not absolutely outstanding in any thing, but he can score (leads the prep team), he competes well in his own zone, and he has a good stick. His speed isn't top-end, but he's far from slow, and if he can fill out his 5'11 frame any more and adds some grit to his game, he'll be an even hotter prospect. Source
Tyler Vesel on getting drafted: "We kind of had an idea that I would (get picked). We just didn't know who and when. It was pretty exciting to see my name go across the screen. I had to go for a run afterward to calm myself down." Source

College numbers are very difficult to suss out—a lot of this is connected to playing time, and I honestly cannot tell you much about NCHC (the league Omaha plays in). I did find a similar progress—Nic Dowd was drafted by Los Angeles Kings in 2009, had a slow developing college career and hit the ground running on arrival in the AHL. This is a difficult player to project, but this season has been impressive.
PREVIOUSLY ON THE TOP 20
Summer 2014: No. 19
Winter 2014: No. 28
Summer 2015: No. 31
Winter 2015: No. 28
Summer 2016: No. 37
Winter 2016: No. 19
Vesel comes from the weak 2014 draft, and his lack of spiking boxcars (and our lack of vital information like time on ice), so it has been easy to place him at the back of the line. This past summer, I ranked him close to the end of the line (No. 41), but that appears to have been most unfair.
Highlighting @OmahaHKY
Great breakaway and what a finish by Tyler Vesel!https://t.co/ULaUoD9XcZ

— NCAA Ice Hockey (@NCAAIceHockey) August 24, 2016
2016-17
Rick Carriere, Oilers Sr. Director of Player Development: "I remember going to watch him in February. I went and talked to the (Nebraska-Omaha) trainer and asked him how Tyler is going. He said, 'you wouldn't believe how many shots he blocks.' That's the first thing he told me. (Vesel) loves blocking shots. He's a shot blocker. We always talk about wanting guys to lay it on the line and sacrifice. There's no hesitation for him." Source
Tyler Vesel: "I would say I'm more physical. I've got a tougher game. I play a bit more heavy than I used to. My coach just nags on playing hard and playing physical. I've grown in that area." Source
THE FUTURE
Vesel is an undersized center whose skill set probably fits a checking role at the pro level. There is so much we can't know about him and that means we are really making a guess here. If my son were playing NCAA hockey, one of the things I would really push for is TOI totals, because that could benefit his pro chances. As it is, we are left to guess that his ice time has increased markedly and he is scoring at previous levels (with extra minutes accounting for the spike). His NHLE (37 points) is the big reason for his ranking, but he does have some secondary skills that might come in handy. It is an open question about his signability this coming spring, but the Oilers do have a need for righties in the pro system.
THE 2014 DRAFT
Leon Draisaitl No. 3 overall. He was a top prospect from draft day until he graduated, and is inside the top 20 scorers in the NHL. Graduated.

William Lagesson No. 91 overall. He is mobile and can defend, plus there is no doubt the edge he displays fits the McLellan/Chiarelli template. No. 16 prospect, Winter 2016.
Zach Nagelvoort No. 111 overall. He is the return on the Mike Brown trade. Currently boasts a .927 save percentage. A candidate for the Winter top 20.
Liam Coughlin No. 130 overall. Traded for Anders Nilsson in 2015, he belongs to the Chicago organization.
Tyler Vesel No. 153 overall. One of the more pleasant surprises this season, he is spiking offensively in his junior NCAA season.  No. 19 prospect, Winter 2016.
Keven Bouchard No. 183 overall. One of the truly curious draft picks in recent years. No longer in the organization.
ROLLING TOP 20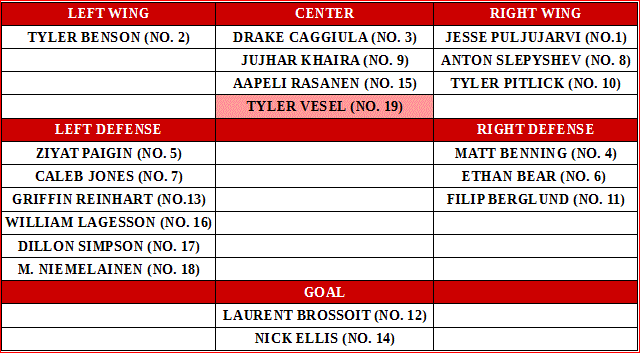 I categorize Vesel in the two-way slot with Jujhar Khaira and Aapeli Rasanen (among centers), Edmonton can use this player type in Bakersfield this season.
Vesel, drafted in 2014, is actually older than Khaira, drafted in 2012. His progress this season looks like a big step forward, important to remember the opportunity of playing time is the reason for this increased offense.
Vesel has the top NHLE this season, 37 points. Drake Caggiula's NHLE last season was 44 points.
We are basically through the list, and Khaira is the only Condors forward ranked. All of Kyle Platzer, Mitch Moroz, Patrick Russell, Greg Chase, Jere Sallinen and Braden Christoffer have fewer than five points, 20 games into the season. I understand the importance of having men like Ryan Hamilton on the roster to make things competitive, but the TOI issue in Bakersfield really does impact the roster forwards each season.
Anton Slepyshev was sent down today, with Taylor Beck getting his second recall of the season.