The 2016 draft was progressing pretty well based on expectations. The Oilers lucked out in the first round, acquiring big Finnish winger Jesse Puljujarvi. The team grabbed another winger in Round 2, as Tyler Benson's health concerns appeared to be behind him. What's more, the team added some interesting defensemen in the third round, giving the club an extreme area of strength (especially on LHD). By the fifth round, the only spot unaddressed (that needed it) was goal—and the Oilers chose a goalie at that time. Dylan Wells? Well, he was coming off a terrible year, and it did seem as though Edmonton had once again invested poorly in a goaler. Everything about the selection made sense until Dylan Wells started playing goal for Peterborough this year—and having considerable success.
PREVIOUSLY NO. 20 ON THE WINTER LIST
December 2006: D Cody Wild (0) (GM: Kevin Lowe)
December 2007: C Ryan O'Marra (33) (Trade. GM: Kevin Lowe)
December 2008: C Milan Kytnar (1) (GM: Kevin Lowe)
December 2009: L Slava Trukhno (0) (GM: Kevin Lowe)
December 2010: G Tyler Bunz (0) (GM: Steve Tambellini)
December 2011: C Ryan Martindale (0) (GM: Steve Tambellini)
December 2012: L Daniil Zharkov (0) (GM: Steve Tambellini)
December 2013: R Jackson Houck (0) (GM: Craig MacTavish)
December 2014: D Brad Hunt (25) (FA Signing. GM: Craig MacTavish)
December 2015: D John Marino (0) (GM: Peter Chiarelli)
The final spot looks about right, Brad Hunt is up with St. Louis now so maybe he will end up having a career. If the list works as it should, no one this deep should be playing a large number of games in the future. Wells is the second goalie to land here, and keep in mind I absolutely punish goalies on this list.
WHAT THEY SAID ON DRAFT DAY
Brock Otten, OHL Prospects: No doubt about it. Wells did not have a good year. Originally pegged to be the next star OHL goaltender, Wells struggled mightily this year. Of his 27 appearances this year, 16 of those saw him post a save percentage below .875. And he didn't play for a weak team either. Wells remains a talented goalie. He was great at the Ivan Hlinka this past summer. He was excellent at the Top Prospect's Game. He's got size and athleticism and he shows flashes of brilliance. Let me remind you that Matt Murray had a save percentage of .876 in his NHL draft year. Look at him now. I could see Wells turning the corner in similar fashion and that's why I think he'll still be a fairly high NHL draft pick.
The Black Book: No. 97. Despite struggling quite a bit this season, Dylan Wells is still an intriguing goaltending prospect for the 2016 NHL draft. A big bodied, goaltender who moves well in his crease, Wells possesses good size and mobility between the pipes. A goaltender who is at his best when he gets to the top of his crease and challenges shooters, Wells does an excellent job of battling through screens and tracking pucks in traffic. Dylan plays his angles well, however when he is struggling rebound control is one of his issues.
Future Considerations: No. 111. Wells is an intermediate-sized goalie who moves fluidly in the crease. He is a kid who has had an up and down season so far. He tracks the puck very well, something that is enhanced with his excellent positioning and his ability to follow and anticipate the play in front of him. Wells is very calm and does not show any signs of panic or distress, even when facing heavy traffic.
Brock Otten, OHL Prospects. Like most top picks these days, Wells brings both size and athleticism to the crease and he's worked hard to improve his rebound control and positioning. He can still overcommit when you get him moving side to side, but he's a really solid goaltending prospect and I think that by season's end, he'll be the starter in Peterborough.
THE OHL STORY

At 16, Wells posted a pretty good season, usage was high for this level and at that age. As Otten posted above, he did well in summer tournaments and then fell flat in his draft year—on a good team. At that point, despite his international exposure and good scouting reports, his 2015-16 performance clearly impacted his draft number.
PREVIOUSLY ON THE TOP 20
Summer 2016: No. 31
Winter 2016: No. 20
The slotting of players in the day after their draft (my summer list comes out next day) often results in wild movements by the winter list. In this case, the move is up the list and frankly he has had a very encouraging year so far. As with all goalies, steady as she goes.
Big OT save @EdmontonOilers prospect @dylanwells30 @PetesOHLhockey is @OHLHockey rep in latest #CHLShowdown.

VOTE: https://t.co/fI3X1c1mse pic.twitter.com/fpdHxFlbGO

— CanadianHockeyLeague (@CHLHockey) December 1, 2016
2016-17
THE FUTURE
As is the case with Tyler Benson, it was vitally important that Wells play a lot, and play well. So far, he has lived up to the best parts of his scouting reports, and perhaps his draft year was an anomaly. As always, goalies and their progress should have a wide range of possibilities—best to take it as she goes.
THE 2016 DRAFT
Jesse Puljujarvi—No. 4 overall. Edmonton has another tremendous talent in Puljujarvi, who is an aware player all over the ice at 18—very rare. No. 1 prospect, Winter Top 20.
Tyler Benson—No. 32 overall.  Healthy and playing top line minutes in all disciplines. Potentially a big piece of the future, depending on how fast he develops. No. 2 prospect, Winter Top 20.
Markus Niemelainen—No. 63 overall. Niemelainen is a big (6.05, 200 on draft day) defenseman with speed and raw skills. He has two-way ability. No. 18 prospect, Winter Top 20.

Matthew Cairns—No. 84 overall. He is another defenseman who has much development ahead, but in this case there appears to be an offensive payoff clearly visible. Now 14gp, 0-4-4 with the Fargo Force. He is big and has a nice range of skills.

Filip Berglund—No. 91 overall.  Has enough finesse to be considered a puck mover, he has good vision and is an excellent passer. A very nice skill set. No. 11 prospect, Winter Top 20.

Dylan Wells—No. 123 overall. Enjoying a strong bounce back season. He ranks No. 2 in the entire OHL among starters in save percentage, and has battled back from some wobble this year. A very good sign. No. 20 prospect, Winter Top 20.
Graham McPhee, No. 149 overall. Has shown flashes of offensive ability at college, has a range of skills.
Aapeli Rasanen, No. 153 overall.  A true center, he is an excellent passer who can finish, plays in all disciplines and is a fine face-off man. No. 15 prospect, Winter Top 20.
Vincent Desharnais, No. 183 overall. College defender appears to be losing some playing time. Outside the Top 20.
ROLLING TOP 20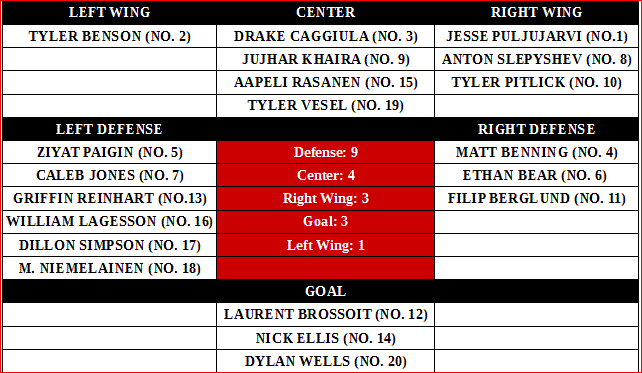 We have reached the end of the Top 20 and balance eludes the list.
Nine defenders is a bit of overkill, and I expect we will see that change by this time next winter.
The Leftorium owns the oceans, the land, the shipping lanes.
Left Wing has one player, but Khaira and Caggiula may end up there in time.
Wells beat out a college defenseman, another goalie, and an AHL defenseman for this spot.
I will publish three additional posts related to the top 20: No. 21-30, No. 31-40 and then a summary by position and some comments.
Thanks for reading this, it is a labor of love and I do read all the comments, love the feedback and scouting reports.
After running this list, I would say it is imperative Edmonton add a second-round pick. And if they plan on trading their first rounder, then maybe two second-round picks.
This list is not close to how I thought it would look in June at the completion of the summer Top 20.