Saturday's are magic in the land of ice and snow. If you are Canadian, you can recognize the sound of marching through snow-covered ground on a bitter winter morning just by the crispness of the crunch. There is a certainty to it—this is the real stuff, don't be pissing around—and the scene creates a sense of urgency. There are many miles to go before spring, but the sound of this season has real clarity. March with a purpose—this is important.
GOING TO TAMPA, YEAR OVER YEAR
Oilers in October 2015: 4-8-0, goal differential -7
Oilers in October 2016: 7-2-0, goal differential +10
Oilers in November 2015: 4-7-2, goal differential -6

Oilers in November 2016: 5-8-2 goal differential -3

Oilers in December 2015: 7-6-1, goal differential -9
Oilers in December 2016: 3-2-3, goal differential E

Oilers after 32, 2015: 14-16-2, goal differential -11
Oilers after 32, 2016: 15-12-5, goal differential +7
Edmonton has nine points in eight December games, which is a good not great recovery from the 12 point (in 15 games) November. As you may remember, I argued that the first nine games (14 points) allowed the Oilers to go a point-per-game the rest of the way (73 games total) and land just shy (87 points) of 90 for the year. After October, Edmonton has 21 points in 23 games—almost, but no cigar.
G33 a year ago was a 4-0 loss to the Chicago Blackhawks, as Marian Hossa and Jonathan Toews dominated Edmonton. A victory tonight and the Oilers are more than halfway to last season's win total (31) by game 33. That would be a fine development, and gives hope to the idea the town team could hit 40 wins by the end of the season.
OILERS FORWARDS OFFENSE, 2016-17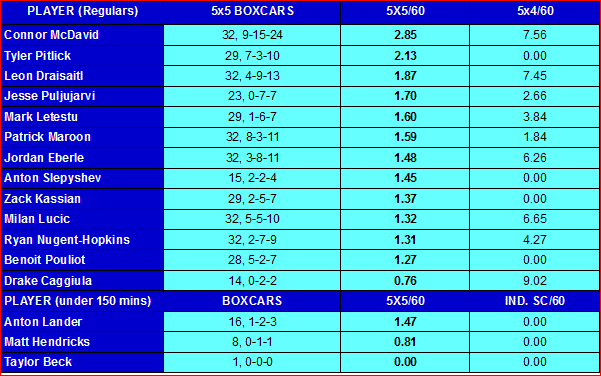 Connor McDavid is an even-strength demon. Although I have 24 points posted above (via Stats.HockeyAnalysis.com), his overall even-strength total is 26 points in 32 games. Leads the league.
McDavid is on pace for 67 even-strength points, just a little shy of the 69 points Patrick Kane produced in 2015-16.
Tyler Pitlick appears to have won an NHL job, as a regular. His 5×5 points per 60 is over 2.00 and that is a terrific total. No idea what his final number will be, but the demotion of Anton Slepyshev suggests to me Pitlick is going to be a regular until further notice.
Jesse Puljujarvi remains in Edmonton, still lots of chatter about his being unable to post offense without McDavid. Although Puljujarvi's McDavid 5×5/60 is terrific (3.07), the Finn winger is 1.71/60 with Leon Draisaitl.
Leon Draisaitl is on pace for 33 5×5 points this season, I think that should be considered a major step forward (should it happen). Hehad 38 5×5 points one year ago, but 34 of them came while playing with Taylor Hall. Leon's most successful arrangement with a portsider this season? Benoit Pouliot. Draisaitl is 3.17/60 at 5×5.
Jordan Eberle, Milan Lucic, Ryan Nugent-Hopkins and Drake Caggiula are all shy 5×5, but each man has been productive on the 5×4. I think Nuge is about to come around at evens.
OILERS BLUE OFFENSE, 2016-17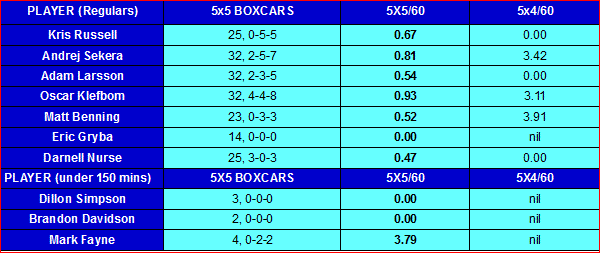 Oscar Klefbom is on pace for 21 5×5 points and is on pace for 82gp, 13-18-31. Among Oilers defenders, he has the biggest and brightest future in my opinion.
Andrej Sekera is having the best season in this group, taking in all considerations. One of my favorite moments watching Edmonton comes in overtime when this fellow is on the ice.
Adam Larsson is starting to take some shots from fans, but I think he is going to be fine. Larsson is over 50 percent at 5×5, is helping a little on the offense and playing a lot of big minutes. I would like to see him passing the puck smartly out of the zone, those lob passes to nowhere result in sorties the other way 110 percent of the time.
Matt Benning is doing so many good things the mind boggles. I mentioned to Darcy the other day on the Lowdown that he, unlike the other blue, rarely stands behind his net waiting for the setup. Benning gains speed while carrying the puck behind the net, allowing him to beat the forechecker by pass or carry. Good brain on Benning.
Benning has the top Corsi for 5×5/60 and Corsi Rel. I get the qual comp, but let's take a moment to look at just how marvelous this number is, relative to the rest of the team. In fact, young Mr. Benning ranks No. 3 in the NHL in 5×5 Corsi Rel, giving some of us a case of deja vu. Brandon Davidson finished No. 22 last season.
LIGHTNING LINEUP UPDATE
It looks like Steven Stamkos, Nikita Kucherov, and Ondrej Palat will all be out of the lineup again tonight. The Oilers should never enter an NHL game over confident, but surely that makes the chore less difficult tonight.
PLATZER!
Photo by Mark Williams
Kyle Platzer scored his first goal of the AHL season last night, Anton Slepyshev had an assist and Lander continues to roll. If Jesse Puljujarvi does spend time on the farm (chatted with Jason Gregor on his show yesterday, he seems convinced), I hope he gets Anton Lander and Ryan Hamilton/Jujhar Khaira as linemates. Important for him to play with skill in Bakersfield.
CORSICA INDIVIDUAL SCORING CHANCES PER 60
For me, the top stat for forwards is 5×5/60. If you can post 2.00/60 at 5×5 in the NHL (for an entire season), there is a future for you. One of the unreported stories this season is Tyler Pitlick's offense, something I have been intrigued with since he scored over 20 at evens in Medicine Hat back in the WHL days. One other camera angle for offense is individual scoring chances. Here they are.
Connor McDavid 4.59
Patrick Maroon 4.09
Ryan Nugent-Hopkins 4.00
Zack Kassian 3.77
Milan Lucic 3.35
Tyler Pitlick 3.27
Leon Draisaitl 3.07
Jordan Eberle 2.99
Jesse Puljujarvi 2.70
Matt Hendricks 1.67
Mark Letestu 1.63
Benoit Pouliot 1.45
Anton Slepyshev 1.09
Anton Lander 1.02
Drake Caggiula 0.76
Some interesting numbers in there, hello Patrick Maroon and Ryan Nugent-Hopkins. The Pitlick number is good, remember he has been playing a little with McDavid and is on fire with Mark Letestu. There are 110 NHL forwards over 3.00, meaning Edmonton has way more than average (3.7 would be average for each NHL team). My initial argument would be McDavid floats all boats, your mileage may vary.
Oilers practice:
Lucic-McDavid-Eberle
Maroon-Leon-Caggiula
Pouliot-RNH-Pitlick
Hendricks-Letestu-Kassian
Puljujarvi

— Bob Stauffer (@Bob_Stauffer) December 16, 2016
Looks like the No. 1 line from the season opening series is back, Eberle getting a push here and he is clearly pleased with this development.
Jordan Eberle: "He's (McDavid) a fun player to play with. I think we're just trying to find some chemistry again. I think we started off the season pretty well and we've played a lot together. We know each other's tendencies and it should be good." Source
When this line was going well, Eberle was aggressive and going to the net (I am thinking of a PP goal in Calgary, G2, where he hung in there and got stick to puck for a tally). No. 14 isn't a classic sniper, but he is the best option available.
This is a massive chance for Pitlick, who will (apparently) play with Benoit Pouliot and Ryan Nugent-Hopkins. If the trio can develop chem, that would solve some major issues on the roster. Taylor Beck is also in the equation, although a slow plane kept him from practice and could conceivably keep him out of tonight's lineup.
Kelly Buchberger, @EdmontonOilers VP of player development, is at @LangleyEvents tonight to watch draft pick Tyler Benson. @WHLGiants

— Steve Ewen (@SteveEwen) December 17, 2016
Benson is coming on strong now, the Vancouver Giants are finding a little more offense these days. He currently sits at 28gp, 9-24-33 and remains healthy and productive. A spike in offense should be expected as the season continues, Benson didn't get a full offseason of training but should be caught up by now.