It was not a Rembrandt, but the Edmonton Oilers got both points last night, now December begins to look like a month of good overall arrows. There are 14 games on the December schedule, and the Oilers now have 11 points in the first nine contests on the calendar. This is not an easy road, but last night, despite the warts, should give some hope to Edmonton fans. That was one ugly win, but they all count in the standings.
START THE CAR! YEAR OVER YEAR
Oilers in October 2015: 4-8-0, goal differential -7
Oilers in October 2016: 7-2-0, goal differential +10
Oilers in November 2015: 4-7-2, goal differential -6

Oilers in November 2016: 5-8-2 goal differential -3

Oilers in December 2015: 7-6-1, goal differential -9
Oilers in December 2016: 4-2-3, goal differential E

Oilers after 33, 2015: 14-17-2, goal differential -15
Oilers after 33, 2016: 16-12-5, goal differential +7
Edmonton is now at 37 points, with several games to go before G41. These are fun steps along the way to success, and it also helps that a win like last night burns every Flames fan in existence as their team attempts to catch up.
DEFENSE, LAST NIGHT

Davidson—Benning went 11-12 together on the evening, I love watching both men play and hope we see them plenty in the future. Davidson had four shots and Benning got mugged. They went 8-2 in four minutes against Tyler Johnson, 5-8 in 4:09 against Point-Killorn. Maybe they will emerge as a modern Trammell—Whitaker. The best line for Tampa imo, the Filppula-Boyle-Drouin group, went 3-1 against this pairing.
Klefbom—Larsson went 8-13 in 15:40, Klefbom was brilliant with other partners in small time zones. Klefbom had four shots, Larsson four blocked shots. Went 1-3 in 7:19 (!!!) against Filppula line, that is a lot of skating without much Corsi business going on. They were 8-3 in about five minutes against Point-Killorn.
Sekera—Russell went 10-16 in 13:57, the bend but don't break twins ended up -1 but Sekera grabbed a pair of apples. Two shots each, Russell blocked a shot, took a terrible hit from behind and the duo kept on humming. Went 2-2 in four minutes against the Filppula-Boyle, 3-8 in five minutes against Brayden Point, 3-7 in four minutes against Namestnikov. Rej made a terrible blind back pass on the PP midway through the first, Talbot bailed him out.
Cam Talbot was excellent last night.
FORWARDS, LAST NIGHT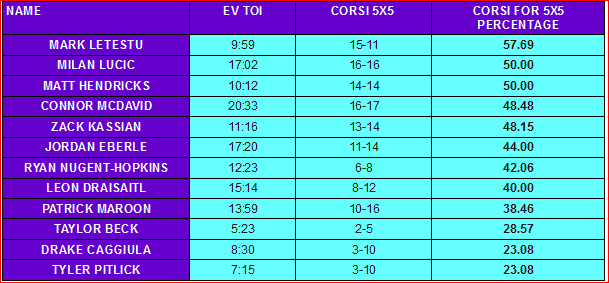 Hendricks—Letestu—Kassian did well in possession, eight shots on goal, won 13 of 22 faceoffs (Hendricks eight of 10), skated half miles, Letestu picked up an assist on a dandy power-play goal. Went 5-1 against Boyle, 5-8 against Point, 6-7 against Namestnikov. Wildly unpopular trio online, I think they had a terrific night. Kassian sure gets a lot of breakaways for a guy who doesn't get a lot of breakaways.
Lucic—McDavid—Eberle had some interesting events. Lucic scored on the power play, McDavid clinched it with a pretty shootout goal—and won 11 of 17 on the dot. The center had his usual jump, but the giant Boyle and the other giant Hedman were royal pains in the asses. Jordan Eberle had a quiet night overall, a lot of try but very little room.
McDavid may need more skill on his line. Early in the first, with the top line jumping, Eberle missed the net by a mile on a distant bell shot. I like 14 fine, but he needs to take care of that puck there. McDavid inside the offensive zone, with possession, is pretty much the entire game. After the miss, 97 got the puck, found a promising equation with a nifty back pass to Lucic in the high slot, but the big man cradled and then lost the puck. I get that the ice is bumbly, but the men playing with McDavid need to have the quick hands.
If you woke up this morning worried about McDavid's recent lack of offense, you are being silly. You are free to worry about finding the right linemates though, don't think we are there yet. I do think Eberle on RW is the best option (unless the plan is to move Leon to RW).
Boyle was 6-7 against McDavid, he was a royal pain. Give Cooper credit, he was masterful in getting matchups in a road game.
Victor Hedman was 5-0 against McDavid, in six minutes.
Maroon—Draisaitl—Caggiula were an absolute mess (3-9 in Caggiula time) so Todd McLellan tore it down to the block and started over. Leon scored and set up goals, both were quite lovely. He also ran 4-3 in 4:34 with the Nuge. Went 4-8 against Tyler Johnson, 3-7 against Killorn.
Beck—Nuge—Pitlick were not a line for long, less than five minutes. Nuge was 4-3 with Maroon and Leon, good lord he needs stronger linemates. This is tragic. Nuge went 6-4 against Tyler Johnson, and he had some reasonable looks—but was minus one, 25 percent on the dot and had nothing to show for five shots on goal at the end of the evening. If Edmonton cannot find him better help, make him a winger and have him help Leon.
Todd McLellan went Borg on two lines last night, suggesting to me that he didn't have enough talent, and that he doesn't trust a lot of roster players. That is not a good sign.
Beck, Caggiula and Pitlick played less than nine minutes at 5×5. If you are looking for men to come out of the lineup so Benoit Pouliot and Jesse Puljujarvi can return, this is a good place to start.
THE CLUSTER
Peter Chiarelli and Todd McLellan continue to add pieces to the heart of the order, and this year we are seeing the additions of some very interesting players. Rookies tend to cost goals and games (especially defenders) but this Oilers club may have found a real gem in young Matt Benning. Added to the big Finn, and the young college star, and the Russian winger with size and speed, this is shaping up to be a very strong year for freshmen.
R Jesse Puljujarvi 23gp, 1-7-8, and anyone who watched last night's game knows damn well he has more skill than a bunch of those guys. Play the man!
F Drake Caggiula 15gp, 1-4-5, he clearly has NHL ability and that bodes well for the depth of this team. I think his presence makes it more difficult for JP to establish himself and vice versa, suspect the Finn (who is much younger) will head down to California.
L Anton Slepyshev 15gp, 2-2-4, he is in the AHL now but impressed with his size, speed and skill. I have no idea if he is going to be an NHL player, but there is enough evidence to give him another turn at some point in time.
RD Matt Benning 24gp, 0-4-4, this guy is a revelation—the second year in a row the Oilers have uncovered a solution from an unlikely source (Brandon Davidson). This is an actual NHL defenseman out of the box, a perfect-fit righty for the roster. Music!
LD Dillon Simpson 3gp, 0-0-0, he showed well and offers the team move depth on the blue line.
This is a surprisingly strong group considering the outstanding crop of one year ago. I believe in clusters, probably because of the 1979-81 rookie group the glory Oilers produced and their impact on the game. If we consider Puljujarvi, Caggiula and Benning as strong rookies who have  a good chance of productive careers, this would rank as a top drawer crop. That said, consider the past two seasons:
2015-16—Connor McDavid, Brandon Davidson, Darnell Nurse, Iiro Pakarinen.
2014-15—Leon Draisaitl, Oscar Klefbom, Tyler Pitlick
Folks, that is a cluster. If you are adding two impact rookies a season, it doesn't take long to see a change in the weather. Draisaitl, Klefbom, McDavid, Davidson, Puljujarvi, Benning and Caggiula (potentially) represent a terrific talent re-boot in Northern Alberta.
Can the Oilers do it again next year? I think it will be very difficult. The first round pick (if the draft picks were doled out today) would see the Oilers select No. 19 overall—that is unlikely to be a plug-and-play option.
Should Peter Chiarelli trade the pick for immediate help? Dangerous plan, ladies. There are still holes to fill and the draft is going to be a major part of any success we see rolling out over the rest of this decade and into the next one. Procurement: It's the real thing.
TOP 20 PROSPECTS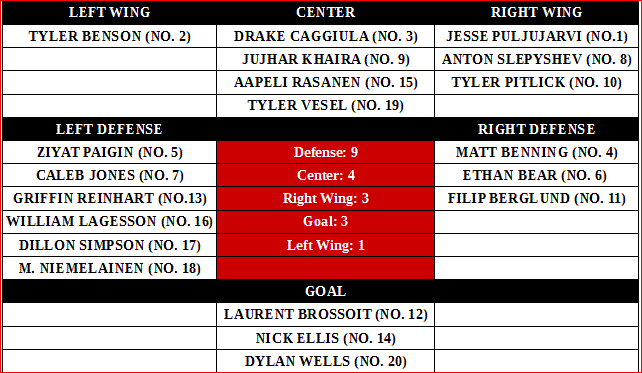 We are counting down (thanks, Casey Casem!) to the end of the Top 20 and I will run 21-30 at 5pm today (unless the Oilers make some kind of roster move). A couple of updates:
Tyler Benson is on fire of late, scoring 2-6-8 in his last three games.
Filip Berglund is 25gp, 0-4-4 in the SHL. That tells us one thing, he is playing in a good pro league before his 20th birthday in May. Also, his NHLE is 10 points—and he is averaging 8:42 per game.
Caleb Jones is projected to play a major role for Team USA at the World Juniors.
It looks like Aapeli Rasanen will be a big player for Finland as well.