There are 41 (one more than normal) prospects of note in and around the Oilers system who are worthy of mention this winter. In December 2015, the Top 20 consisted of  two goalies, eight forwards and 10 defensemen. This year, the Top 20 houses three goalies, nine defensemen and eight forwards.
THE FIRST 20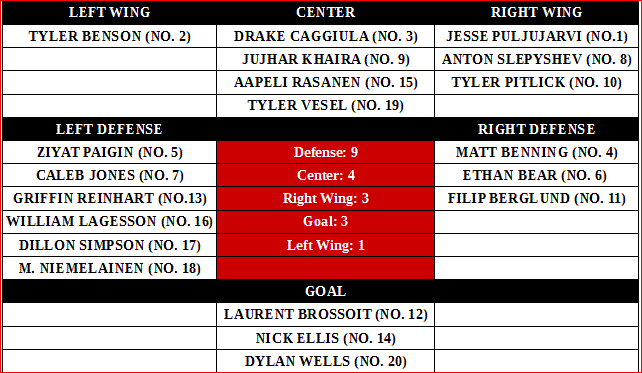 I see this year's top 20 as five different levels:
Jesse Puljujarvi
The college men, the Russian and the WHL kids (No. 2 through No. 7)
Top AHL trio (Slepy, Khaira, Pitlick No. 8-10)
Real positives with some worries (No. 11-17)
Some promise but in need of more traction
The group 21-30 includes four Bakersfield Condors, players I would love to have listed earlier but their performance this year made it impossible. We also have some collegians, Europeans—but the CHL kids are already gone.
No. 21 (No. 20 Winter 2015) RD John Marino, Harvard. He is a perfect fit in terms of style for the modern game. Fluid skater who can make quick transitions, retrieve pucks and make good decisions in a hurry. Excellent passer. He is 11gp, 1-2-3 for Harvard, playing a regular shift as a freshman and his arrows are heading in a solid direction.
No. 22 (No. 32 winter 2015) G Miroslav Svoboda, HC Dukla Jihlava (Cze2). His numbers are fierce (18, 1.49 .950) and the only reason Svoboda didn't make it into the Top 20 is that no one (no one!) could tell me about the quality of his league. If you have a .950 SP in your back yard, a scout should go have a look. Interesting prospect, wish very much we had more on him in which to make a better estimate.
Photo by Mark Williams. All rights reserved
No. 23 (No. 21 winter 2015) LD David Musil, Bakersfield Condors. Of all the players I write about each season, this is the one I always hope won't be here the next winter. David Musil was a fine junior, and I think he could have an NHL career, but foot speed and the Leftorium have him buried in the organization. Currently at 18gp, 1-5-6 with the Condors, he plays all the big minutes and does the heavy work. If you could get his foot speed up to par, Musil would be a very valuable player. I still think he finds a way to have a Greg Joly-length career.
No. 24 (NR) LD Matthew Cairns, Fargo Force (USHL). I am still getting a feel for what he is (Cairns has some offense to him but is not a flashy puck mover, don't know about the defense and physical play), and the Force numbers (17gp, 0-4-4) are no help at all. A smart hockey man told me that Edmonton taking Cairns where they did (No. 84) was an intelligent move. Why? The obvious prospects and good CHL kids were off the board, so it comes down to a shoot the moon player like Cairns from a lesser league or a lesser player from the bigger league. Interesting comment, Anaheim took Josh Mahura with the next selection.
Photo by Mark Williams, all rights reserved
No. 25 (No. 23 Winter 2015) LD Jordan Oesterle, Bakersfield Condors. I had high hopes for this player—he is a fast train—but two things have happened. First, the Oilers upgraded in both lefties and puck movers, and second—he got hurt and is just now getting back into the swing of things. He is 10gp, 3-2-5 as we speak, I cannot see a way to get him on to the Oilers roster from here. Expansion may be coming just in time.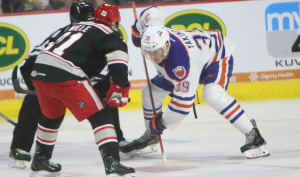 Photo by Mark Williams, all rights reserved
No. 26 (No. 11 Winter 2015) LC Bogdan Yakimov, Nizhnekamsk Neftekhimik KHL. How the mighty have fallen, but it is so hard to suss out exactly what is happening with Yakimov. He is currently 32gp, 3-5-8 in the KHL, playing 8:53 a night. He could have been in North America the entire season and would surely have seen some NHL action. A strange career progression, I remain convinced he has NHL talent. He is 6.05, 232 and has reasonable hands. That is a Chiarelli player.
Photo by Mark Williams, all rights reserved
No. 27 (No. 14 winter 2015) C Kyle Platzer, Bakersfield Condors. I have him in the Kyle Brodziak two-way center family, but Brodziak scored 31 points in 55 games during his second AHL season. Platzer has just five points in 21 games, and there is some evidence the Oilers simply are not playing him. Prospect-Stats estimates Platzer averages 11:31 5×5 minutes per game, which ranks him No. 8 among forwards. The seven men ahead of him? Beck, Lander, Hamilton, Khaira, Benik, Currie, Newbury. They have dropped Newbury, still puts Platzer on the 3line.
Photo by Mark Williams, all rights reserved
No. 28 (No. 27 winter 2015) L Mitchell Moroz, Bakersfield Condors. Moroz gets even less ice time than Platzer (estimate: 8:48 even-strength ice time this year), but he is showing some signs of progress. His boxcars (16gp, 1-2-3) don't impress, but his three 5×5 points in 141 minutes (or so) have him at 1.28/60. His estimated time on ice a year ago was six minutes at one point in the season, so perhaps he is wrestling playing time away from older players.
No. 29 (No. 37 winter 2015) L Aidain Muir, Western Michigan. Muir moves smartly up the list, similar to the progress made by Tyler Vesel. His coach (Andy Murray) told Guy Flaming not long ago thatr Muir had a strong year going before injury. Big PF has been slow in developing, but fits the Chiarelli template well. He was 9gp, 1-6-7 when injured.
No. 30 (NR) L Graham McPhee, Boston College. He has a chance. Good skater, has skill, and is a very aware player defensively. Some very smart people (Corey Pronman, Chris Dilks) believe he is a legit prospect. Currently 20gp, 0-4-4 as an NCAA freshman.

ROLLING TOP 30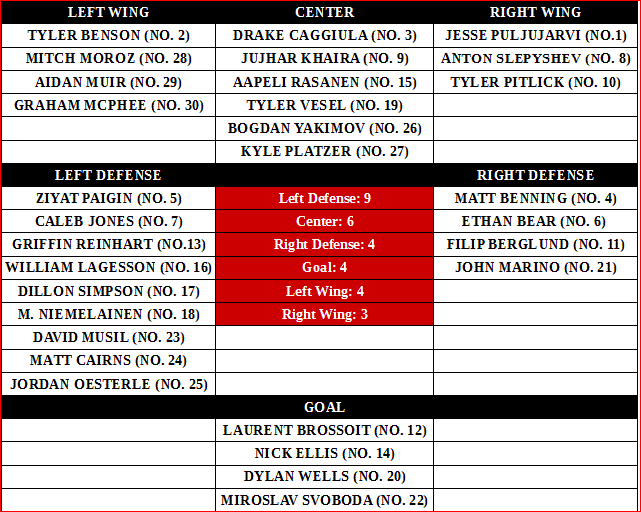 No. 31-40 will appear on Tuesday.
We will spend a lot of time on this Thursday (I will publish the list, with links, by position, as was the case last year) but the organizational areas of strength (including NHL) for me are center and left defense. I don't see any other areas of strength, perhaps you do.
The weakest spots at this point are both wings, with right wing weak enough to require a trade. Edmonton can probably count on Jesse Puljujarvi for next season, but his graduation still doesn't give this organization enough quality and depth at the position.
Left Wing is in a period of transition. When Taylor Hall was on the roster, the Oilers could look to fill in with quality veterans like Benoit Pouliot and Patrick Maroon. Now, things have changed. The club needs an impact prospect, Tyler Benson is the only one who projects as a sure NHLer.
Goal is improved markedly. Looks like two 2016 bets (Ellis and Wells) are solid prospects. Miles to go, but the names are more promising.
Culling the Leftorium has to come sooner or later, but I am beginning to worry which LHDs might be heading out. If Peter Chiarelli wants to add an NHL scoring winger, how high up the LHD depth chart will he go to make that happen?
One thing we should keep in mind: Players who are signed, need to be signed, or could be signed. Both Caleb Jones and Ethan Bear are signed and will turn pro. How does that impact William Lagesson, Ziyat Paigin and Filip Berglund? Interesting summer to come.
If you and I are making a list of players who are certain hits, how many? Precious few.