Connor McDavid is on pace to score 97 points this season, a lofty total and something we haven't seen around these parts since Doug Weight roamed the Western Conference with his flying saucer rock and roll. I am sure McDavid is devoted to pushing his scoring totals higher, but the real point of all this is making the playoffs. Edmonton is in a good spot now—California's NHL teams are suffering a power outage all along the eastern seaboard—and we arrive at today with something approaching hope. In a town without a playoff game for more than a decade, hope is a dangerous thing.
ROLL OVER BEETHOVEN, YEAR OVER YEAR
Oilers in October 2015: 4-8-0, goal differential -7
Oilers in October 2016: 7-2-0, goal differential +10
Oilers in November 2015: 4-7-2, goal differential -6

Oilers in November 2016: 5-8-2 goal differential -3

Oilers in December 2015: 7-6-1, goal differential -9
Oilers in December 2016: 4-2-3, goal differential E

Oilers after 33, 2015: 14-17-2, goal differential -15
Oilers after 33, 2016: 16-12-5, goal differential +7
G34 a year ago continued the hammer on a drum spiral, as Edmonton lost 5-1 to Colorado and Jack Skille. I had the Oilers scoring 226 and allowing same in my RE, arriving at a goal differential of zero. So far this year, the Oilers are 95-88 (+7) and on pace to finish 236-219—a goal differential of +17. Now, life doesn't really work that way, but if you consider last year's GD (199-242, -43), anything with a plus would be a monumental step forward. That said, Edmonton is -3 since Halloween.
There are 14 December games, and our line in the sand from those games (14 points) is certainly in range. After Nine games this month, Edmonton has 11 points—meaning a win and a tie this week (against St. Louis, Arizona and Oakland) would mean reaching the total before Christmas. The Kings and Vancouver wait for after Christmas, and if the Oilers could riff a nice little winning streak, we could talk trade deadline instead of draft in January. Should the Oilers secure 14 in 14, the club would end December with 40 points in 38 games. I bet Mr. McDavid and company are aiming higher.
OILERS DEFENSE—THE WOODMONEY SLEDGEHAMMER

Okay, a couple of things. We are dealing with nitroglycerin here, so be. very. careful. First, let me tell you that the experts in this field are very sensitive about sample size. If you make any sweeping statements based on these WoodMoney numbers, the math men and women will begin waving their arms around and speaking in tongues. So, let's start at the beginning, go slow, and make no claims, post no bills, and see if we can spot points of interest.
Elite TOI/Total. This is pretty explanatory, we are looking at minutes against elite opponents/overall minutes.
Comp TOI Pct. Again fairly easy, percentage of overall time by player spent against elite competition.
DFF Pct. This is like Corsi for 5×5 percentage, only we are dealing with Dangerous Fenwick. So, we could call it hemi-Corsi—if we have enough water in the well to call it a full sample. Dangerous Fenwick is Fenwick with a risk evaluator—close shots get a bump in terms of danger.
DFF Rel Pect. This is like CorsiRel, and the key to the highway.
Most Common Mates. Again pretty clear, left (most) to right (least), they are the top 5 common teammates.
Now, there are some very interesting trends (DO NOT MAKE DEFINITIVE STATEMENTS LOWETIDE!!) in these numbers. A few I have observed:
Matt Benning is killing it. He has been spending 30 percent of his minutes against elites (that isn't a massive distance from the leaders) and his DFF and Rel are top drawer. We don't know what the future holds, but this is a strong debut.
Darnell Nurse spends less of his time against the elites, but he shows well and he plays a lot with Eric Gryba—I think that must count for something.
Andrej Sekera spends the most time and highest percentage of his time against the elites. That suggests Todd McLellan feels he is most able to handle the load—or that is something I would say if I hadn't been informed about the ghastly error many make by jumping to conclusions based on too little information.
Among the Top 4D, Oscar Klefbom appears to be No. 4.
Anything you see? Darcy has promised to stop by and answer questions in the comments section, so please feel free to throw questions out there. Now, remember, Darcy thinks Adam Larsson is lefthanded, so you will need to have a workaround or a safe word to get out of the comments section.
FORWARDS 5X5/60, YEAR OVER YEAR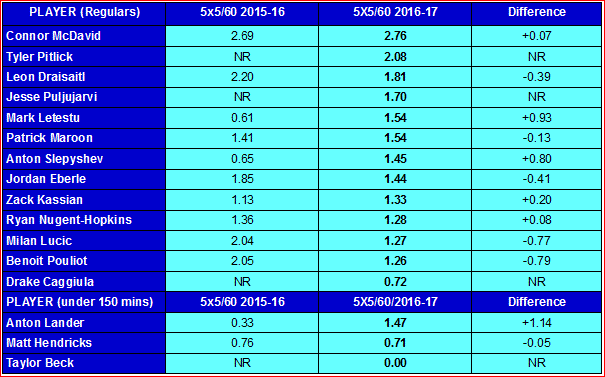 Connor McDavid is slightly above his performance a year ago, and this comes during a down period for him. All things being equal, that 5×5 number will rise before Christmas.
Leon Draisaitl is down, but not as much as we might have expected. Considering his main linemate last season was Taylor Hall, his slide is understandable. I give him credit, helluva season.
Jesse Puljujarvi has a 1.70/60 total at 5×5, that is excellent for a rookie. He needs to play, here or there.
Mark Letestu had a miserable 5×5 season one year ago (solid in the PP, as always), but has become a very productive even-strength player this season. I don't give him enough credit for stepping in and replacing Nuge's offense, but there is evidence of just that thing.
Patrick Maroon and Zack Kassian are in the range of expectation, suspect both men will get a push as the season rolls along (if BP and others continue to flag).
Anton Slepyshev showed well enough to stay in the NHL, you could make a strong argument that he should be the man to get called up when Puljujarvi is sent to Bakersfield.
Jordan Eberle is off the pace of one year ago, but Todd McLellan has to go the whip here. Edmonton simply has no real alternative to 14 on one of the top two lines.
Ryan Nugent-Hopkins is down slightly (I buggered up the graph) from a year ago, but he put in a subpar year in 2015-16, so this is disturbing.
Milan Lucic and Benoit Pouliot are off their numbers of one year ago by an identical amount, and yet Pouliot gets the HS and Lucic gets the Royale with Cheese.
Tyler Pitlick. I swear to God this blog spent a lot of time mulling over his offense, especially at the junior level. Let it never be said we failed to contemplate his offense during his incubation period.
Photo by Rob Ferguson, all rights reserved
TYLER PITLICK
Lowetide blog, April 2011: Pitlick's offense (56gp, 27-35-62) ranked him 3rd among WHL rookies and his EV stats (56gp, 22-19-41) suggest he might be a player. His 22 EV goals rank him 2nd among Tigers during the regular season despite missing several games and playing only sporadically on the big scoring line.  Source
Lowetide blog, Summer 2016: It is time for our annual discussion about Tyler Pitlick. When we last left the conversation, I was saying this blog will be the last outpost to give up on him—while acknowledging that the injury history and stalled offense made it probable he would not return. Incredibly, both Pitlick and the Oilers are willing to risk another winter on each other—and from the team point of view there are some good reasons for the investment. Last season in Bakersfield, among those men who played RW some or all of the time, the Estimated Primary points-per-60: Tyler Pitlick (1.906), Andrew Miller (1.814), Matt Ford (1.71), Anton Slepyshev (1.502), Greg Chase (1.439). Source
I am not claiming any foresight nor am I suggesting 20 goals this year (he is on track for 18). That said, I do think he played in some bad luck during those years. From 2011 fall through his final AHL game (so far), Pitlick posted 425 shots on goal, while scoring just 28 goals (6.6 percent shooting rate). Now, in college (draft year), he potted 11 goals in 72 shots (15 percent) and we have plenty of anecdotal evidence to suggest the young man has a good shot. So, could he have been shooting in bad luck for his entire AHL career, obscuring some offensive ability? Turns out, the answer might be yes.
2011-12: 130 shots, seven goals (13 would be reasonable expectation from a legit prospect)
2012-13: 76 shots, three goals (8 would be reasonable)
2013-14: 100 shots, eight goals (the fever lifts, this in in the range)
2014-15: 36 shots, three goals (reasonable again)
2015-16: 83 shots, seven goals (noticing a trend)
2016-17 (NHL): 51 shots, seven goals (pay you back with interest)
Pitlick is ahead of the curve in the NHL, chances are we see a market correction on his NHL goals in the second half of the season. For the first two years of his AHL career, Pitlick shot the puck 216 times and scored 10 goals. I am no math expert, and cannot give you the odds on such a thing, but that seems to be a helluva weird result. Either way, the shooting finally sorted itself out and the young man is getting bonus goals in the NHL. I expect he will take that deal any time.
OILERS 5×5 SHOTS PER 60/FORWARDS
One thing the farmhands can learn from Pitlick this season? Start shooting the puck right away, beginning in the luggage area of the airport:
Tyler Pitlick 10.39
Ryan Nugent-Hopkins 9.40
Zack Kassian 8.52
Jesse Puljujarvi 8.02
Anton Slepyshev 8.00
Jordan Eberle 7.84
Connor McDavid 7.58
Patrick Maroon 7.14
Milan Lucic 6.89
Leon Draisaitl 5.86
We have spoken about Connor McDavid and his need to be more selfish (it's okay Connor, really!), but I think we can apply this to Drake Caggiula too (he is at the very bottom of the forward list, 3.24). Edmonton needs shots to the net, and Pitlick has been very good in this area. Drake Caggiula can help his line by shooting more.
FUN FACT
Tyler Pitlick ranks No. 16 in the entire NHL in shots-per-60 at 5×5 this season (200 or more minutes). He is in some fabulous company. Source
CONDORS SHOOTERS
Among Oilers prospects, who is shooting a lot this season? Encouraging news for fans of Jujhar Khaira:
Jujhar Khaira 2.81
Joey Laleggia 2.18
Patrick Russell 2.05
Joey Benik 1.89
Greg Chase 1.54
Jordan Oesterle 1.30
Kyle Platzer 1.19
Jere Sallinen 1.14
Dillon Simpson 1.07
Braden Christoffer 1.05
Mitchell Moroz 1.00
David Musil 0.83
Ben Betker 0.80
Griffin Reinhart 0.75
Tyler Pitlick averaged 2.17 shots per game during his AHL stay. I think a forward prospect who can reach 2.00 per game at least has a chance (depending on ice time per game) but shots do indicate how much time a player spends around the actual game on the ice. Some distant bell forwards on this list.
Edmonton Oilers defensemen – Corsi differential rolling avgs. pic.twitter.com/kOpvbo4Biw

— Sean Tierney (@ChartingHockey) December 18, 2016
Tierney is a genius. Benning is fascinating on this, holy man. Rej is a warrior, an absolute warrior. Oscar and Larsson are battling, Darnell looks damned good too, even Gryba a little there, and Fayne. Who did I miss?
LOWDOWN WITH LOWETIDE
A fun show today, I also fill in for Dave Jamieson so it is four hours of old manning you to death on Edmonton Radio!! Yeah, you! TSN 1260, beginning at 10 this morning. Scheduled to appear:
Scott Burnside, ESPN. Christmas roster freeze and not much going on in trade talks. We will chat about the Metro Division, McDavid vs. Tarasenko in St. Louis tonight, and John Tortorella getting win No. 500.
Andy McNamara, TSN4Downs. Everyone loves the Cowboys. Argh.
Jason Gregor, TSN1260. McDavid's ideal linemates: Who are they?
Sunil Agnihotri, Copper & Blue/The SuperFan. We are going to dig down on this defense. Are Davidson—Benning so good they could move up the depth chart as a pairing? The hell you say? Sunil susses it out at 11:25.
10-1260 text, @Lowetide on twitter. Talk soon!