Ken Hitchcock has some of Sparky Anderson in him. Time and again, pre-game Hitch is all about aw shucks humility, with the post-game resembling biblical pontificating. Last night, the Oilers won a hockey game Hitch wanted badly. And it was good.
Ken Hitchcock on key to defending Connor McDavid? "Hope for bad pre-game meal #stlblues #Oilers

— Andy Strickland (@andystrickland) December 19, 2016
TELL TCHAIKOVSKY THE NEWS, YEAR OVER YEAR
Oilers in October 2015: 4-8-0, goal differential -7
Oilers in October 2016: 7-2-0, goal differential +10
Oilers in November 2015: 4-7-2, goal differential -6

Oilers in November 2016: 5-8-2 goal differential -3

Oilers in December 2015: 7-6-1, goal differential -9
Oilers in December 2016: 5-2-3, goal differential +1

Oilers after 33, 2015: 14-18-2, goal differential -19
Oilers after 33, 2016: 17-12-5, goal differential +8
The Oilers won a big game last night, and have a chance to enter the Christmas break on a real high. They are nine points ahead of last year's pace, 27 goals better than a year ago, and have two men inside the league's top 15 scorers. They beat a pretty damned good team on the road, and had to come back to do it. Their goalie was poor early, had to shut the door, and did just that thing. We're on to Chandler.
DEFENSE, LAST NIGHT

Cam Talbot had a poor first period, but recovered and stopped the bleeding. Well done. His SP was .926 for the evening, it was about 100 points south of that number in the first period.
Davidson—Gryba went 11-8 in 14:22 together. Spent time with McDavid (6:30, went 3-4) and Draisaitl (2-0 in 3:07). Went 6-3 in 3:58 against Lehtera, 1-2 in 5:19 against Berglund, 3-0 in 2:21 against Stastny and 2-3 in 3:58 against Brodziak. I thought they were solid as a pairing, both men looking composed despite having missed plenty of action.
Sekera—Russell went 17-15 in 18:19 together.  They were 3-3 in 5:13 with McDavid, 8-8 in 7:01 with Draisaitl. Went 10-4 in 8:33 against Paul Stastny, seemed to be a hard match (don't know it it was Hitchcock, McLellan or both). They were 3-3 against Lehtera in 3:25, that was the action Jackson line. Finished above 50 percent in possession, I think you could make a case for allowing soft entry on both GA, but we can also agree that goals were not high danger opportunities. Overall, I thought the pairing did well on the evening.
Andrej Sekera is money money money in overtime.
Klefbom—Larsson went 16-18 in 16:18 together. They were 7-9 in 5:55 with Leon, 5-5 in 4:13 with McDavid, and 5-1 in 4:03 with Letestu. They were 1-4 in 5:09 against Lehtera (that line houses Tarasenko), 7-4 in 3:24 against Stastny line. I liked the pairing as a whole, Oscar seems to have the wobble a times, can't explain it but it is there for sure.
Here's one: The six defensemen who played last night posted good performances, and the guy who drew the HS has played very well all year. Is this what depth looks like? Asking for a friend.
FORWARDS, LAST NIGHT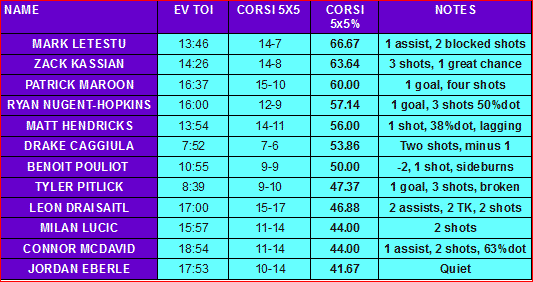 Hendricks—Letestu—Kassian went 7-3 with Sekera—Russell, and I swear Zack Kassian damn near made the deke of the year. In fact, he did make the move, but could not cash on the chance. Went 8-1 against the Stastny line, that's where we get the Sekera—Russell numbers. The Stastny line houses Schwartz and (last night) Yakupov, the trio posted two shots on goal all night. I wonder why Hitchcock kept running this matchup, that is a trade McLellan makes all night long.
Maroon—Draisaitl—Pitlick went 9-10 in 8:25 before Pitlick—who scored earlier—went down with an injury. Just a terrible result, we hope for the best. I have watched the play many times, looks like he might have hit a rut, and of course it was clearly interference. Such a bad turn.
Maroon—Draisaitl—RNH was fire, absolute fire. They were only 4-3 in Corsi for over just a few minutes but that doesn't tell the story. Oilers Nerd Alert had them at 94 percent DFF and that reflects what I saw. Suspect we have a new line in our town.
Emotional moment during and after the game, as the Maroon family were introduced to the Edmonton audience. Later, Patrick Maroon scored and it was terrific to see the celebration. Still later, when talking to Gene about the goal (Gene did splendid work throughout the piece), Maroon became emotional talking about his boy. It was riveting television, and a forceful reminder about what is really important in life.
Pouliot—Nuge—Caggiula went 5-6 in 5:43 before Todd McLellan borged the group and moved Nuge up (out of necessity). They were 3-0 against Stastny, in 2:16. The line wasn't together long, suspect Caggiula may be centering a fourth line (possibly with Pouliot) by the time this team hits Winslow.
Lucic—McDavid—Eberle went 11-11, and the only point from the line came when they were not together. Ken Hitchcock hard matched Patrik Berglund to 97 and it worked, until the extra period. In 11:19 against Berglund, McDavid went 5-8, and Ken Hitchcock has to be happy with Berglund (plus David Perron and Alexander Steen).
ABOUT THE MCDAVID LINE
The Oilers have to be way smarter about their McDavid minutes. It seems to me that 97's wingers have two main jobs: Aid in getting possession in the offensive zone (very important now that McDavid has a designated shadow in all the towns), and then moving the puck quickly until McDavid gets the disc inside the offensive zone. After that, it is just seams and release. Lately, I have noticed both wingers making back passes, stickhandling in a phone booth, going fancy Dan. WHY go fancy Dan when the REAL Dan is on the ice with you?
No sir. The job of McDavid's wingers is to cut out the fancy, keep your stick on the ice, and be on the lookout for tip-ins, open chances, shock and awe. Edmonton is wasting their McDavid minutes right now because the wingers are trying to do too much. Suspect we see a simplification of their execution in the coming days.
PITLICK
Well, crap. Pitlick is 31gp, 8-3-11 this morning and their is a chance we don't see him until spring. Scored a goal-scorer's tally to get Edmonton going last night, played with his usual abandon. If we are making a list of wildly unfair events this year, Pitlick getting hurt surely ranks high on the list.
UNICORNS
Tempest: I thought Nuge and Draisaitl looked dangerous together. If that combination continues to perform (and better yet, produce), how do feel about the potential of walking away from the idea of three scoring lines?
I am in favor of abandoning the idea of unicorns and pursuing this idea. Why? The Oilers need to have two scoring lines before finding a third. This is the key question of the morning, wrapped around the Pitlick injury. Leon, Maroon and Nuge were dynamite last night in a very short sample, but we can project the line as being strong based on the resumes for each man. What does that do to the rest of the lineup? Well, with Pitlick out, there is probably a window of opportunity for young Jesse Puljujarvi. Combine this fact with Jordan Eberle being somewhat quiet on the 97 line, and what about this:
Pouliot—McDavid—Puljujarvi
Maroon—Draisaitl—Nuge
Lucic—Caggiula—Eberle
Hendricks—Letestu—Kassian
Too much change? Probably. Here is a more conservative (and likely) lineup:
Lucic—McDavid—Eberle
Maroon—Draisaitl—Nuge
Hendricks—Letestu—Kassian
Pouliot—Caggiula—Puljujarvi
I think Pouliot should get a chance on the 97 line (they played very well last season, in fact BP helps McDavid spike, as we discussed recently), but his sideburns have gone too far, I expect.
McDavid with Pouliot: Corsi for 5×5 (53.4) and 5×5/60 (3.22)
McDavid w/o Pouliot: Corsi for 5×5 (52.7) and 5×5/60 (2.64)
Pouliot with McDavid: Corsi for 5×5 (53.4) and 5×5/60 (2.82)
Pouliot w/o  McDavid: Corsi for 5×5 (49.6) and 5×5/60 (1.32)
5x5x5x5x5x5
Edmonton badly needs 5×5 scoring, and they just lost one of their 2.00/60 men in Tyler Pitlick. I had a dm late last night asking why all the worry about Edmonton's 5×5 offense? Idea being the Oilers are No. 4 in goals for (100), so why sweat it? Well, if you are Todd McLellan, getting average or above performances from players is important, and 5×5 is the largest game state. Allow me to post the 5×5 numbers for Oilers players, along with their rank across the NHL (200 or more minutes):
No. 6—Connor McDavid 2.76
No. 42—Tyler Pitlick 2.08
No. 84—Leon Draisaitl 1.81
No. 105—Jesse Puljujarvi 1.70
No. 147—Patrick Maroon 1.54
No. 147—Mark Letestu 1.54
No. 173—Jordan Eberle 1.44
No. 196—Zack Kassian 1.33
No. 215—Ryan Nugent-Hopkins 1.28
No. 218—Milan Lucic 1.27
No. 221—Benoit Pouliot 1.26
Now, imagine what this team's record might be if Nuge, Lucic, Pouliot and Eberle were flying above 1.70. Music! Oilers veterans need to be performing at a higher level 5×5, especially those who are playing with 97. Lordy.
LOWDOWN WITH LOWETIDE
Starting at 10, TSN1260. Scheduled to appear:
Jonathan Willis, Oilers Nation. Tyler Pitlick's loss, the new Drai line, even-strength scoring.
Kent Wilson, Flames Nation. Calgary looks strong now, can they keep going?
Scott Cullen, TSN. Oilers No. 11 in the latest power rankings, and you will never guess who is No. 1.
10-1260 text, @Lowetide on twitter. Talk soon!