Tonight is game No. 81 in the splendid and wonderful career of Connor McDavid. He has 88 points now, can he hit 90 before his 82nd game? Whatever his 82-game total ends up being, it will be the largest of any recent Oilers impact player.
Connor McDavid 80gp, 28-60-88
Jordan Eberle 82gp, 21-33-54
Taylor Hall 82gp, 25-28-53
Ryan Nugent-Hopkins 78gp, 19-41-50
Leon Draisaitl 82gp, 16-33-49
Nail Yakupov 82gp, 22-21-43
That is a fascinating look through recent Oilers history. Nail had a fast start, Leon a terribly slow one, but they all showed a lot in their first 82 games. Jordan Eberle is fantastically consistent, still don't know why people are so mad at him. Oh, and Connor McDavid? Belongs in a higher league, they just don't have one. That is no ordinary brag, these players listed here are brilliant and were the moment the NHL welcomed them. This young man is going to do some things. Oh my.
A BAND CALLED CLOVER, YEAR OVER YEAR
Oilers in October 2015: 4-8-0, goal differential -7
Oilers in October 2016: 7-2-0, goal differential +10
Oilers in November 2015: 4-7-2, goal differential -6

Oilers in November 2016: 5-8-2 goal differential -3

Oilers in December 2015: 7-6-1, goal differential -9
Oilers in December 2016: 6-2-3, goal differential +2

Oilers after 35, 2015: 15-18-2, goal differential -17
Oilers after 35, 2016: 18-12-5, goal differential +9
The Oilers played G36 on Boxing Day one year ago, losing 2-1 in OT to the Vancouver Canucks. After 36 games a year ago, Edmonton posted 33 points. This year, even with a regulation loss, the club goes to the Christmas break with 41 (or more) points.
This is a fascinating game, Edmonton's road wins in St. Louis and Tempe mean they are playing with house money this evening. Can they run the pre-Christmas table? It has been an interesting week.
DEFENSE, 2016-17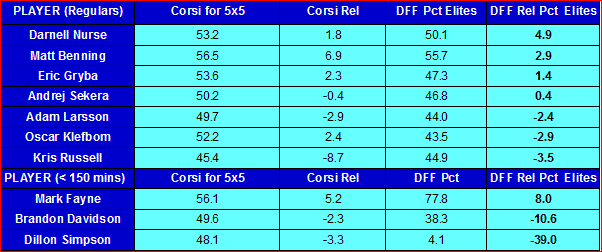 I have been tinkering with this player card for awhile. It can be confusing, because we are talking straight Corsi for 5×5 (and Rel) and Dangerous Fenwick 5×5 Elites (and Rel). Still, there is interesting information here.
This is via DFF and Stats.Analysis.com. Thanks to GMoney and WG for sharing this, cannot wait until it is publicly available.
Darnell Nurse has a fine player card, playing mostly this year with Eric Gryba and Matt Benning. That is third pairing, but a terrific step forward for the young blue.
Matt Benning will not receive one Calder vote, but he is a perfect fit for Edmonton. For a team that couldn't get it right with Jeff Petry and Justin Schultz, having another chance with a mobile righty college blue is manna from heaven.
Eric Gryba has little appeal to many Oilers fans, but he can defend, plays a rugged style and you never have to worry about development loss when he is a HS. That has value.
Andrej Sekera is the best defender on the team, still able to post a respectable player card despite all kinds of issues in terms of partner. Sekera is 56.1 Corsi for 5×5/60 without Kris Russell, 46.7 with him. Edmonton doesn't use Corsi, preferring shot volume and (I think) something resembling DFF. Sekera is quality in the DFF elite column, especially considering the competition he faces each evening.
Adam Larsson looks smart via Corsi, but is running with the pack in DFF. He is over 50 percent in Corsi with Oscar Klefbom and that is where I would leave him. Some strong defensive moments in the road games this week, including a game saver against the Blues with mere seconds left on the clock.
Oscar Klefbom looks good in Corsi, but that wobble we have seen this year shows up in the Woodmoney. What can be done? I like the Swedes together so hope they can iron out the issues and be the best pairing on the team again (as they have been many nights this year).
Kris Russell has a good story to tell here, his DFF v Elites is in the range with the other veterans who are playing the toughs. Perhaps that gives us a bit of a clue as to what the Oilers coaching staff is thinking?
5×5/60 FORWARDS 2016-17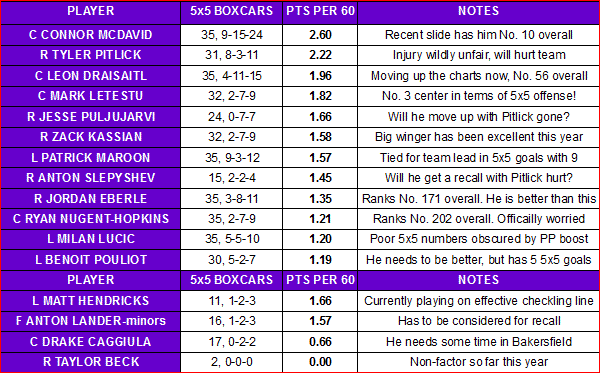 In the cutting off your nose to spite your face department, we have the continuing McDavid—Lucic 5×5 combination. McDavid with Lucic? 2.40/60 at 5×5. McDavid without Lucic? 3.00/60 at 5×5. Oilers need to give McDavid the two wingers who can help him the most. Is Lucic one of them? Gathering evidence the answer is no. I would try Benoit Pouliot at the position, suspect Todd McLellan will eventually settle on Patrick Maroon.
Having Connor McDavid on the ice is a massive advantage for Edmonton, but only if they use it to their complete benefit. McDavid with Eberle (1.70) fades in comparison to McDavid without Eberle (4.52/60).
You will read today (and all days) about the Oilers being better with McDavid than without, and how that is a terrible thing. For me, there is no news here. We expect the Oilers to be better with McDavid on the ice, and we hope the gap eventually closes as Leon, Jesse and others mature.
The real story now, today, is that Connor McDavid is going to play another game with linemates who aren't working with him. I understand patience and giving time to find chem, but McDavid—Lucic are almost 400 minutes into the season and 97 is more effective without him.
Leon Draisaitl is coming on now, good to see. I always use (and others do too) 2.00/60 as a line in the sand, so he is edging near the point where we can call him effective at even strength and on the power play. I do think this is an under-reported story at this time.
Mark Letestu is having a nice run here, and now it is folding over to 5×5 offense. Good for him, very pleased.
Ryan Nugent-Hopkins is now the de facto No. 4 center in terms of 5×5 offense. Sound the alarms!
Benoit Pouliot is getting a lot of heat currently, Milan Lucic is getting no heat at all. I like both players, but the numbers suggest both need to get more done at even strength. I do find it interesting how little patience is being shown Pouliot, whereas Mr. Lucic remains on the top line with very little criticism. Some of that is surely power-play performance, and Lucic is new and you want to be very patient. I hope the Oilers show the same patience with Pouliot, who has been a solid performer here during his time (this season's wobble aside).
I think Milan Lucic belongs on the Draisaitl line. Seriously. I would put him there for the rest of the season.
If Jesse Puljujarvi heads to Bakersfield after Christmas, Drake Caggiula should go with him. Nothing much shaking for him right now at this level.
Team Finland #WorldJuniors roster has been announced via @leijonat. Three goalies, seven defensemen and 13 forwards. #WJC2017 pic.twitter.com/3BWA0fdKvE

— Finnish Jr Hockey (@FINjrhockey) December 23, 2016
Aapeli Rasanen is on the final roster for Finland at the WJs, meaning Oilers fans will have two prospects to cheer for this Christmas. Caleb Jones appears to be a lock for Team USA. I hope to have an item up on ON about the WJs tonight or tomorrow, these two men will be featured.
Oilers Christmas list item #1?
IMO…A shooting winger, with some term left in his deal…preferably a right shot

— Bob Stauffer (@Bob_Stauffer) December 22, 2016
Centre of Attention mentions Bobby Ryan often, he would be a nice fit for sure and one imagines a lefty blue might be of interest to the Senators about now. It is also true Edmonton could more easily grab someone like Tomas Vanek, but that is less sexy. Jarome Iginla has always been a favorite for me, but he isn't scoring much currently. Radim Vrbata can score goals, and is doing it again this year with the Coyotes—maybe Edmonton can trade for him and find out Tippett's secrets.
THE OILERS ARE NOT GOING TO WIN THE STANLEY THIS YEAR
I have been reading tweets and posts of late that frame the Oilers current issues in a ridiculous way. If you read 'the Oilers can't possibly expect to win the Cup with this lineup' you should turn off the article, move past the tweet.
Folks, the Oilers have a large number of young people in (or pushing for) very important roles. Connor McDavid, Leon Draisaitl, Jesse Puljujarvi, Drake Caggiula, Oscar Klefbom, Matt Benning, Darnell Nurse, Brandon Davidson and I have missed a few.
If you are thinking the Oilers should have been pushing for the Stanley Cup the minute they traded Taylor Hall, I have one question for you: WHERE WERE YOU last summer when I wrote an article a day about finding balance? WHERE? Because the Oilers are what we knew they would be, and if you are bitching about it now like it is a surprise then you clearly weren't paying attention in June.
This is us. If you are following people who are framing the issue as a tragedy, stop following. Expecting Leon Draisaitl to lead, as opposed to blossom, is silly to the point of farce. I am surprised at some people. Seems silly season is upon us.
LOWDOWN WITH LOWETIDE
Our final show before Christmas, we will talk family traditions and what makes the season special (Spengler, WJs). :-). 10 this morning, TSN1260, scheduled to appear:
Steve Lansky, Big Mouth Sports. A look at the Canadian teams in the NHL so far this year, some Christmas memories of big sporting events during this time of year.
Guy Flaming, Pipeline Show. Jones, Rasanen and more of the WJs.
Matt Iwanyk, TSN1260. Matt will bring one gift for each of Edmonton's notable sports franchises. As always, there are some surprises.
Paul Almeida, SSE. Paul will drop in with Christmas cheer and complain about the goalie. 🙂
10-1260 text, @Lowetide on twitter. Talk soon!