The Edmonton Oilers lost in overtime last night, but it was a terrific game and capped a brilliant road trip—one in which the club grabbed five of a possible six points. Lots of anger and disappointment in the comments section, but this team is in every game and grabbing points with regularity.
There is only one true thing on the downbeat about this team: They don't have the horses, they don't bring the balance. That true thing was on display last night.
There is an opportunity for this team to get better in some important places when the NHL comes out of the break. The injury to Tyler Pitlick gives Peter Chiarelli a chance to make a roster move that will impact the team. Added to Taylor Beck's inability to impact the game at this level, and someone's (don't know who) hesitancy to play Jesse Puljujarvi, and you are looking for two starters on the starboard starting now. Eberle, Kassian, and two more cards from the pile? Or do they recall Anton Slepsyhev, Anton Lander, and move Leon back on to the McDavid line? Oh, and is it time for a trade?
MORE PRESENTS, YEAR OVER YEAR
Oilers in October 2015: 4-8-0, goal differential -7
Oilers in October 2016: 7-2-0, goal differential +10
Oilers in November 2015: 4-7-2, goal differential -6

Oilers in November 2016: 5-8-2 goal differential -3

Oilers in December 2015: 7-6-1, goal differential -9
Oilers in December 2016: 6-2-4, goal differential +1

Oilers after 36, 2015: 15-18-3, goal differential -18
Oilers after 36, 2016: 18-12-6, goal differential +8
You would love to see Edmonton in first place at the Christmas break, but honestly there are many good things about this team, at this time. Can you believe McDavid? How about that shot by Maroon? Heh. Talbot was dandy too and there is some growth here for sure. Miles to go, but we are making good time, this time.
The Oilers play 14 December games (two to go) and our line in the sand was 14 points this month. At this point, after last night, the Oilers have collected 16 points in the month—effectively returning to a point per game status since the brilliant October run. In November and December games so far (27 games), Edmonton has 28 points. If the team continues along this track for the rest of the season, the record will be 41-27-14, 96 points. That would represent a spike of 10 wins and 26 points—and the most total points for an Oilers team since 1987-88.
DEFENSE, LAST NIGHT

Davidson—Gryba went 16-13 together last night, playing mostly with Leon (6:36, 9-5), Letestu (4:49, 3-7) and McDavid (3:55, 9-2). Went 8-7 against the Pavelski group (fabulous polkas!) in 4:54 and 4-3 against the Tierney line in 3:24. I prefer Benning, but like this pairing. Davidson is once again delivering the quality play we have come to expect, and hammered a terrific shot on net from a stunning Leon pass that should have counted had the Gods been on our side.
Sekera—Russell went 6-9 together in 8:55. Sekera caught on with Larsson (1:33, 2-0) for a time and Russell went 2-3 with Larsson in 2:58. Went 5-5 in 5:45 with McDavid and 0-5 in 2:15 with the Letestu unit. Went 3-4 against Marleau—Thornton—Pavelski (what a line!) and 2-3 in 4:18 against Logan Couture. Sekera's point came on yet another deft pass up to the forwards, I thought this was an effective pairing, especially at even strength.
Klefbom—Larsson went 7-13 in 12:04 and were split up for a time, Larsson's minutes listed above and Oscar didn't play a lot without Larsson. Went 4-10 in 5:06 with McDavid, that is very poor. Went 1-4 in 4:40 against the Pavelski trio (tight rhythm section) and 1-3 against Logan Couture in 2:39. Oscar made a terrible decision on the second goal, Todd McLellan did a roll-eyes that could be seen from the International Space Station. The young man is making some strange decisions in important minutes, hopefully this is part of the maturation process. Remember, NHL defensemen take a lot of time to develop.
As an aside, Oscar Klefbom continues to remind me of Serge Savard when he carries the puck. It is uncanny. The mind, as you get older, tends to blurt out thoughts that are random and worthless, but my brain keeps screaming Serge Savard! every time Oscar begins a painstakingly careful sortie up the ice and into the opposition zone. There is no real point to this observation, except that hockey can be delightful in rushing back memories in creative ways.
Cam Talbot was fire and rain, handy man, and Carly Simon (anticipation) last night. That first period save was astounding.
FORWARDS, LAST NIGHT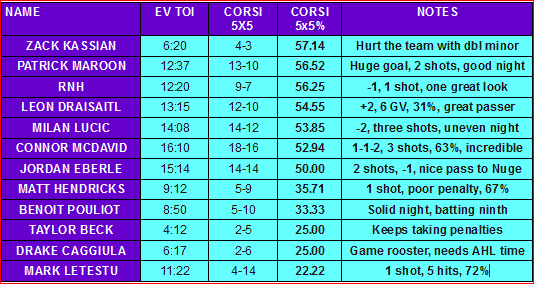 Hendricks—Letestu—Kassian went 3-3 in about five minutes, Hendricks—Letestu—Pouliot went 3-4 in 2:52. Letestu went 1-5 against Pavelski, as he played a whole lot. The two wingers on this line didn't use the brain God gave them for miles and miles last night. Hendricks, a pretty smart hockey player, decided Zack Kassian (Zack Kassian!!!) couldn't take care of his own business and paid in full with a two-minute fine. Kassian himself decided Brenden Dillon's sins were enough to spend four screaming minutes in the penalty box, and contributed to a saggy mattress second period that was completely avoidable. Love the aggression, hate the decisions on this night.
Maroon—McDavid—Draisaitl went 10-4 in 5:46, Maroon—Draisaitl—Nuge went 2-5 in 5:12. Maroon's acquisition was highway robbery, the shot that found net last night was a terrific example of the gap between an actual hockey player and a Coke Machine. My word that was a nice shot. Leon was not the complete Leon all night, he was lumbering a bit in his skating and seemed to be a day late and a dollar short. However, even in a game like this one, he had moments. The pass to Brandon Davidson for his great chance was tremendous, just beautiful. That kind of ability is going to make him a beloved player in this town. Nuge hasn't been Nuge for some time, not a lot we can say.
Lucic—McDavid—Eberle went 7-10 in 7:40 and gave way to an impact trio of some note: Maroon—McDavid—Draisaitl went 10-4 in 5:46. That was fire. McDavid faced Braun—Vlasic a ton (12:43) and went 16-15. Went 8-8 against Pavelski, 2-2 against Couture and 5-6 against Tierney.
Lucic had a subpar game, mostly because the puck wasn't getting to where it needed to be in a timely fashion. Had a nice look after getting the puck back from his own shot, but did not have a strong game—eventually being moved off McDavid's line (as we had discussed as a productive option yesterday).
Eberle had some jump, and made a brilliant pass to Nuge in the slot (and RNH did get a good rip at the puck), but there are too few of these types of events in recent games .I think, as is the case with Lucic, Eberle might benefit from spending time on the 2line for a little while. It doesn't mean the club can't come back to it later, but the shuffle in the third period showed a fresh set of linemates can benefit everyone.
McDavid had a strong third period once Todd McLellan decided to re-set his linemates. His goal reminded me of pinball at the K.V. Bowl in Maidstone but it still counts for one and there is no tilt in hockey. Fabulous pass on the Maroon goal, Edmonton's centers are all so good at passing to open ice and 97 is the best of the lot.
Pouliot—Caggiula—Beck went 0-2 in 2:10.
The game (for me) came down to some big stops by Talbot and 97's patented 'to hell with this noise' third period. He sets his jaw and starts passing opposition like they are a house on the side of the road. He plays where speed and skill meet determination, and my goodness it is a joy to behold. Leads the league in points, you know. True statement.
The power play was not strong, but credit the Sharks, they seem to have an extra man out there in stealth mode.
TODD MCLELLAN
Todd McLellan: "We were never in that game. They were better in every facet you could think of in the game. I don't think we clawed our way back in. We got lucky and came away with a point. A disappointing performance from an awful lot of individuals tonight, so we'll steal the point and get home. We've obviously got to get better if we want to play against these types of teams." Source
I wish the pre-game coach and the post-game coach could have a conversation on nights like this one. It could be beneficial, and perhaps make changes easier and more timely. I am generally easy on the coach, he can only deploy the troops who show up, but last night was an example of McLellan getting stubborn on some players.
Benoit Pouliot played one less minute than Matt Hendricks, even with all of the Hendricks penalties. And if we apply the same punishment for stupid penalties to everyone as McLellan has to Pouliot, we can safely assume Kassian and Hendricks will be HS against Los Angeles.
Jesse Puljujarvi is a better player today than Taylor Beck and Drake Caggiula. Dressing those two men and keeping JP in the pressbox time and again makes no sense to me. Peter Chiarelli needs to get his coach playing this young man or get him to Bakersfield, but no one can look me in the eye and tell me the Finn was the lesser option last night. No one.
Matt Benning and his speed/offensive acumen would have been a strong option last night. Sitting Kris Russell will not extinguish the good that has been done this season, and Sekera—Benning is a fine idea.
It is perhaps unfair to be critical of a coach who has one fewer option (Pitlick) than normal, but in a game that had such importance to him (clearly), I do think it is far to call him stubborn on some of his roster choices. Credit to McLellan for moving Lucic off the McDavid line (as I had suggested in the post yesterday, and had been suggested by thousands previously), but optimal is in the dictionary for a reason.
JESSE PULJUJARVI
If I was Peter Chiarelli, the young Finn would be a topic of conversation with the coaching staff. I think he should be playing, and for me the NHL option is on the table. He is offensively shy, and perhaps a trip to Bakersfield will straighten it out. That said, last night he was one of the 12 best forward options, don't think anyone (including McLellan, who played Beck 4 minutes) can argue.
Send him down if he is struggling, but is he struggling, or can we pin this on the coaching staff for being stubborn? If we are sincere in our thoughts, Jesse Puljujarvi should have been on that ice last night. Pretty sure.