In his first 21 games of the season, Connor McDavid scored 27 points. Since then, he has 15 points in 15 games—and has been the subject of what we might call a Kasper Shadow across the league. Back when 99 was receiving a lot of attention, he spent a period of his career relying on others (like linemate Jari Kurri and a mobile defense) to transport the puck into the opposition zone. Once established in that end, Gretzky could set up, force Kasper to back off, and begin to wheel one on one. (Video here)
What could that mean for Connor McDavid? More after this.
NEW YEAR OVER YEAR, YEAR OVER YEAR
Oilers in October 2015: 4-8-0, goal differential -7
Oilers in October 2016: 7-2-0, goal differential +10
Oilers in November 2015: 4-7-2, goal differential -6

Oilers in November 2016: 5-8-2 goal differential -3

Oilers in December 2015: 7-6-1, goal differential -9
Oilers in December 2016: 6-2-4, goal differential +1

Oilers after 36, 2015: 15-18-3, goal differential -18
Oilers after 36, 2016: 18-12-6, goal differential +8
Looking for 14 points this month, Edmonton has 16 already, with two games to go against the Kings and Canucks. How close can the Oilers get to 50 points by the end of G41? Two wins this week would put them at 46 points after 38 games.
OVERCOMING GHOSTS LIKE KASPER
That blasted Steve Kasper was a pain in the behind (pronounced BE-hind) when the Bruins were playing the Oilers. Making matters worse, Boston was my childhood team, so I was dealing with the fact that my WHA team was now in the same league as my NHL team and Steve Kasper was pissing me off.
For Connor McDavid, the neutral zone, open ice and freedom to wheel are a thing of the past, until his line can shoot the moon, gain possession, and find a way to beat the shadows. That's why we are here, reading stories about tired Connor and how he was blanked a few times before the break.
McDavid isn't getting clean air anymore. Leon Draisaitl is going to have to transport the puck, or the line is going to have to become more effective in place and chase. Always bet on 97 to figure it out, but this team could use a speed demon about now. Who is the second fastest forward on this team? It isn't Jordan Eberle and it isn't Milan Lucic. It would also help to have a Lubo on the back line. Mars needed a rover, McDavid may too.
SCORING RACE, DECEMBER 28

McDavid remains the top scorer in the game this morning, but the lead is razor thin. Other teams have caught up (and passed in some cases) in game played, but it is important for him to keep scoring. McDavid leads the NHL in 5×5 points with 26 (via Stats.HockeyAnalysis.com) and is tied for No. 11 with 12 5×4 points. He is a wildly productive NHL player, but until such time as teams decide a shadow doesn't work, the game has changed for 97. Ideally, the first time he touches the puck should be on a headman pass out of the neutral zone, but lanes are blocked even before he gets the puck. Edmonton will need to devise a transportation plan from the players available. I think Leon, Andrej Sekera and maybe the Nuge are solid candidates. How about you? Any ideas?
STANDINGS, DEC 28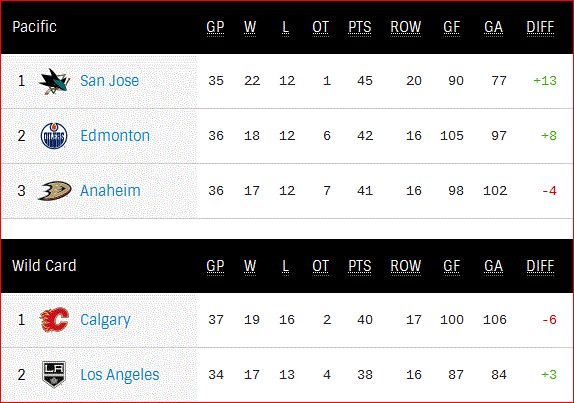 This is fun! The Kings play Vancouver tonight, who are having a terrible winter (if they were the Donner Party, they are approaching what is now called Donner Lake), and chances are Los Angeles will be looking for a win to tie the overall standings with Edmonton. Big damned game, but they all are from now on.
THE POWER PLAY
Edmonton has 26 5×4 goals so far this season, and rank No. 5 in the NHL with an 8.30 GF per 60 numbers. Individually, there are some very successful players on this team (5×4 per 60) who rank high among NHL players:
No. 5—Leon Draisaitl 8.14
No. 9—Milan Lucic 6.99
No. 18—Connor McDavid 6.58
No. 37—Jordan Eberle 5.61
No. 48—Mark Letestu 5.03
I hear quite often that the Oilers power play is a major weakness and that Jay Woodcroft should be fired. With the Oilers holding the NHL's fifth best power play, and three of its players inside the top 20 overall in 5×4 per 60, I think it fair to ask what would satisfy some fans in this area?
PENALTY KILL
Edmonton has allowed 18 4×5 goals and holds a 6.00 GA per 60 number—ranking No. 16 in the NHL in this category. I think the 4×5 misses Anton Lander, slow boots and all, and hope we see him recalled today.
PROSPECTS
Aapeli Rasanen and Team Finland are not having a good time of it at the WJs, all that youth is costing the team. After winning it all one year ago, the medal round looks like a distant bell after two games. Damn shame really, always cheer for the Finns.
Caleb Jones was noticeable in his first game for Team USA, he can motor and is an excellent passer. He is a rambling gambling man offensively, something we will probably see ironed out in Bakersfield. I have a feeling he won't spend more than 100 games in the AHL.
Ethan Bear scored 1-1-2 last night, he is now 32gp, 11-19-30 and ranks No. 11 (Jones is No. 10) among WHL defensemen in points this season. Tyler Benson also enjoyed a productive evening, posting two assists. He is now 30gp, 10-29-39 and tied for No. 30 in league scoring. He is enjoying a strong, healthy year in junior, exactly what the doctor ordered.
LOWDOWN WITH LOWETIDE
A busy show today, starts at 10 this morning on TSN1260. Scheduled to appear:
Scott Burnside, ESPN. Coming out of the break, Crosby remains on fire. When can we talk about deadline trades?
Steve Kournianos, The Draft Analyst. Who has he noticed at the WJs? Any 2017 draft eligibles helping their cause?
Bruce McCurdy, Cult of Hockey. Now that the Christmas break is over, how long can the Oilers hang with the California Three?
10-1260 text, @Lowetide on twitter. Talk soon!