The Edmonton Oilers had some jump and won in pretty impressive fashion against the Los Angeles Kings last night, giving us a fairly lengthy list of things to geek out on (including a dandy extra line).
Darryl Sutter: Hey, we played a hell of a hockey team in a tough building. You should give the Oilers a little bit of credit. Source
CAN YOU HELP ME OCCUPY MY BRAIN, YEAR OVER YEAR
Oilers in October 2015: 4-8-0, goal differential -7
Oilers in October 2016: 7-2-0, goal differential +10
Oilers in November 2015: 4-7-2, goal differential -6

Oilers in November 2016: 5-8-2 goal differential -3

Oilers in December 2015: 7-6-1, goal differential -9
Oilers in December 2016: 7-2-4, goal differential +3

Oilers after 37, 2015: 15-19-3, goal differential -20
Oilers after 37, 2016: 19-12-6, goal differential +10
This is the good stuff. Oilers are +30 in the goal differential at this time, have 44 points (+11 year over year) and put some daylight between themselves and one of the California Three. We agreed 14 points in 14 games for December, Edmonton is at 18 with one game to play in the month. Music!
DEFENSE, LAST NIGHT

Numbers via HockeyStats.ca, NHL.com and NaturalStatTrick.
Cam Talbot had another strong night, stopping 28 of 29, .966.
Eric Gryba—Brandon Davidson went 26-14 together in 16:28. They started slowly, but by the second period seemed to settle in to a reliable structure. They were 16-7 with McDavid's line, who followed the same pattern (possibly connected) in finishing strong. The duo went 18-7 against the Carter line, that is some majorly opposition (Pearson—Setoguchi). Gryba with the winner, what a great night for these two.
Oscar Klefbom—Adam Larsson went 14-10 in 17:01, 5-4 in 6:03 with Nuge, 4-1 in 4:12 with McDavid and 5-1 in 3:46 with Caggiula. Struggled with Letestu (1-4) and it was this fivesome who gave up the goal. Oscar and then Letesu had chances to get the puck out, didn't happen. Many plays as severe or worse (hello, Milan!) did not count. Went 3-3 in 6:12 against Anze Kopitar, and that is a win.
Kris Russell—Matt Benning went 15-19 in 16:46 together (the entire game was basically at evens). Went 7-9 in 5:21 with McDavid, 6-7 in 5:48 with Nuge and broke even with the other two lines. Went 8-4 in 5:18 against Anze Kopitar, 3-5 in 5:01 against Jeff Carter. Benning made a nice pass to pick up an assist on the PP, most of the value for that assist came in getting the puck quickly to Eberle so he could move it just as rapidly. Russell made some really nice plays, stripping pucks and defending well. I enjoyed the pairing.
Lots of chatter about Edmonton being physical last night, and that is true. The Oilers beat them in the alley and the scoreboard, but notice the town team also won the possession battle, the goalie battle and the coverage battle. Big hockey players are fabulous if they can play hockey. We are several planets and 100 moons from J-F Jacques, people need to be reminded of it.
Darryl Sutter: Kopi's having a really hard time finishing, so I don't think the line had a whole lot tonight. Nugent-Hopkins line pretty much controlled – Draisaitl and Maroon – controlled that line. Source
FORWARDS, LAST NIGHT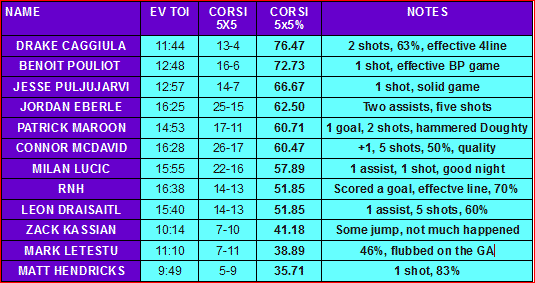 Pouliot—Caggiula—Puljujarvi had a brilliant game, all three men doing good things (13-4 together) and playing a lot compared to previous 4lines. Went 11-3 against McNabb—Gravel, this line earned another shot together. This is the first time in forever BP was out late into the third period, and he was effective in the checking game. I know not many agree with me on keeping Puljujarvi up and playing him, and I do wonder how much offense we will see this year, but this young fellow can play on my team any day.
Lucic—McDavid—Eberle went 22-16 and dominated as the evening went along. The wingers grabbed an assist each, and both wingers had some major Oh no! moments in the third period. McDavid got several good looks, but as has been the case in recent weeks, bad timing kept jumping into the sorties. Went 20-12 against Jeff Carter line and 8-3 against Drew Doughty.
I am not concerned about McDavid because he is getting chances.
Maroon—Nuge—Draisaitl went 14-11, and each man got one point on the evening. 10 shots for the line and a couple of goals. Went 9-11 against the Doughty pairing, 9-8 against the Kopitar line—that is the heart of the order against the monsters of the midway. A very good evening for a trio that seems to be developing chem.
Nuge with two good passers is an effective line, Peter Chiarelli needs to bring in another RW and Todd McLellan needs to play Pouliot more.
Hendricks—Letestu—Kassian went 5-8 together and were certainly the 4line based on usage. The line did some grand things before the break, so a quiet evening should have been expected.
HEY, JAROMIR
Holy ……bleep. That moment when Jaromir Jagr likes your tweet & fans the flames of hope of him in a #Oilers uniform. Discuss… #yeg pic.twitter.com/QwOPs7BQQS

— Jerad Cox Realtor ® (@primeyegre) December 30, 2016
It has always been a dream to see the great Jagr in an Oilers uniform—maybe they can bring back Ales Hemsky just for fun! I have zero idea if it is possible, but adding a big bottom to this forward group would both slow them down and given them a gigantic set of skilled hands. Jagrmeisters for everybody!
ON EBERLE
Todd McLellan: "Just a few more offensive results would be nice. He has to find ways to be productive within our system." Source
Fine article by Mr. Tychkowski there, worth the link click. Eberle picked up two assists last night, that will help. Connor McDavid needs someone to dig the puck out ala Wayne Cashman (that is the Lucic role) and needs an expert passer who can also win wall battles and one-time pucks. Is that Eberle? Increasingly, the answer appears to be 'maybe not' and we wait. Right now, I think Leon Draisaitl and Jesse Puljujarvi may be better options for the 97 line, which is fairly cold 5×5 (although they did grab a point last night.
7D?
Midway through the tough sledding of the third period, I became impatient to see Andrej Sekera's next shift. Where was he? Of course I knew he was out, but the fury of the game caught up with me and I forgot for a second. I then realized the six blue on the ice were playing mostly well, with an Oscar double clutch and a Russell double dutch here and there.
I am not saying this defense is fixed, and the team absolutely needs to grow their own No. 1 defenseman. That said, I hope we can agree that this is progress.
Connor McDavid now has 82 career GP: 29 goals + 61 assists = 90 points. #Oilers (19-12-6) are 7W above .500 PTS% first time since '09.

— Frank Seravalli (@frank_seravalli) December 30, 2016
I love the structure and weight of a full season, we were robbed of this feeling last year. Now 82 games into his NHL career, we have a good idea about where he is as an NHLer. Stand back, we don't know how big this point total is going to get!
I talked to Seravalli on the Lowdown yesterday, he agreed with my thoughts on Edmonton at the trade deadline: We are going to see some deals, but rentals are unlikely to be a major part of the effort. I think the Patrick Maroon move, bringing in a player who still has some term, makes the most sense for Edmonton. How does that impact the team protected list? We will see.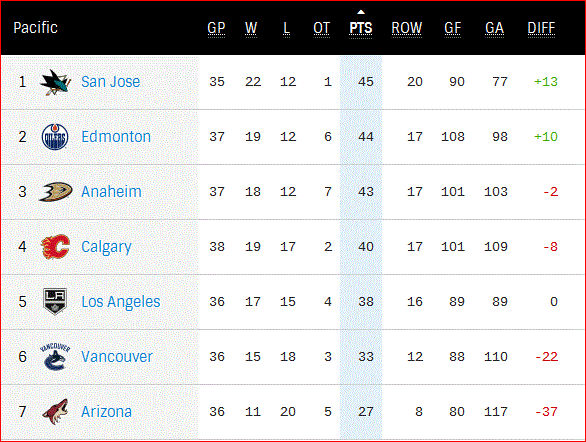 CURRENT PROTECTED LIST
My current list is Cam Talbot, Oscar Klefbom, Adam Larsson, Andrej Sekera, Brandon Davidson, Ryan Nugent-Hopkins, Milan Lucic, Jordan Eberle and Leon Draisaitl. That leaves Patrick Maroon, Benoit Pouliot, Mark Letestu, Zack Kassian, Jujhar Khaira, Tyler Pitlick, Mark Fayne, Kris Russell (UFA), Griffin Reinhart and Laurent Brossoit exposed. Is my list similar to yours? Who do you think Edmonton will lose?
LOWDOWN WITH LOWETIDE
Friday show, weekend on the way, the new year is coming! Scheduled to appear beginning at 10, TSN1260:
Steve Lansky, BigMouthSports. Oilers and Leafs coming on strong, why aren't the Jets?
Andy McNamara, TSN4Downs. Cleveland rocks, Cleveland rocks, Cleveland rocks, Cleveland rocks!
Matt Iwanyk, TSN1260. Should Peter Chiarelli trade for Jaromir Jagr, or go younger (like Iginla)?
Paul Almeida, SSE. Paul will drop in with wishes for the new year and defend the defense.
10-1260 text, @Lowetide on twitter.