The Edmonton Oilers completed their December schedule with 19 points in 14 games—a successful run for a growth team by any measure. The club will have to wait until January for win No. 20, but I can't imagine Oiler fans waking up to this day with a lot of rage. Sometimes you have to give the other man his due, and Vancouver played an excellent road game. Strong goaltending, great work ethic and at least one skill player going. We're on to Ohio.
NEW YEAR, YEAR OVER YEAR
Oilers in October 2015: 4-8-0, goal differential -7
Oilers in October 2016: 7-2-0, goal differential +10
Oilers in November 2015: 4-7-2, goal differential -6

Oilers in November 2016: 5-8-2 goal differential -3

Oilers in December 2015: 7-6-1, goal differential -9
Oilers in December 2016: 7-2-5, goal differential +3

Oilers after 38, 2015: 15-20-3, goal differential -23
Oilers after 38, 2016: 19-12-7, goal differential +10
We agreed 14 points for 14 games in December would be reasonable, Edmonton gobbled up 19 of them. Successful month. Was December a more successful month than October? Considering the difficulty, I think you could make the argument.
Edmonton is on pace to win 41 games, to post 97 points, to score 233 and allow 211 (it was 199 and 242 last season). That would represent an improvement of 34 goals for and 31 goals against, if the club can continue the pace. Edmonton would go from -43 goal differential to +22, and improvement of 65 year over year. They are currently +33 in goal differential improvement year over year. The team save percentage is up from .910 to .917, team shooting percentage has gone from 8.3 to 9. North: It's the real thing.
DEFENSE, LAST NIGHT

Klefbom—Larsson had a good night, Oscar was moving the puck well, Larsson was physical and battled hard against a pretty strong Canucks team. Went 8-4 in 6:58 against Sutter, 4-1 in 5:36 against the piss-cutters. I thought this was one of their better nights, Larsson damn near scored in overtime.
Russell—Benning had a lot of low event minutes, including 2-3 against the Sedins in 6:46 (Russell) and 7-2 (3:34, Benning). Much of the discrepency for this pairing came from an inexplicable 0-0 Russell—Larsson in 3:07, damned near impossible. How in hell do you go three minutes with nothing? It is like Mike Peca is back.
Benning got an assist, he is going to be helpful on the 5×4, his quick puck movement is of use for the skill forwards.
Davidson—Gryba had the wobble on this night, think it might be time for Gryba to sit. Both men were -2 on the evening, and went 4-12 in 5:28 against Bo Horvat. That is bad. Sekera needs to come back.
Talbot was solid again, 30 of 32 saved, .938 SP.
FORWARDS, LAST NIGHT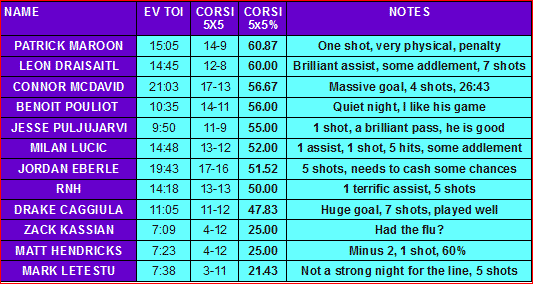 Connor McDavid was moving around. 16-11 with Eberle in 17:13, Lucic was 8-8 in 10:34 but was moved off the line in favor of Patrick Maroon (6-2 in 6:06) and Benny Pouliot (3-3 in 1:04). Went 9-5 in 9:13 against Sutter, and 9-10 in 10:55 against Tanev the blue. A big goal by 97, for him and the organization.
RNH went 12-7 with Leon, 8-7 with Maroon and 5-4 with Lucic. Also had a disastrous 37 seconds with Eberle in which they went 1-5. Fabulous assist, 62 percent in the dot. He has points in consecutive games and is gaining some momentum as we near the halfway point of the season. Still on track for a miserable year in the boxcars (82gp, 15-24-39) he is better than that and it has showed in recent games.
Drake Caggiula scored a goal on the power play, went 10-8 with Pouliot and Puljujarvi. I really like JP, this is approaching Marc Pouliot level madness for me. What a hockey player. The center went 4-0 against the Sedins in three minutes. Not bad.
Mark Letestu went 3-11 with Matt Hendricks and Zack Kassian, and I think at least one of them had the flu. Minus two for the wingers, what the hell are you going to do? Went 0-5 against Horvat the diabolical, who was to my eye the best Canuck on the ice.
TYLER BENSON
The Oilers signed their second-round pick this week, and Steve Ewen wrote a nice article about Benson and his time in Vancouver. He also offered insight into what we may see in the next while:
Ewen: The WHL trade deadline, meanwhile, is Jan. 10 and while you can't rule out Vancouver shipping him off to a contender, it's equally unlikely. The Giants are helping host the 2019 world junior tournament and they're looking to take advantage of a spike in interest in junior hockey that winter by having a team that's peaking them. They don't draft picks in trade; they want 16 and 17-year-olds and teams rarely opt to trade school-aged players. Source
Bottom line here is there is an opportunity and a reason to get Benson out of Vancouver and on to a contender. He is easily the best player on a team going nowhere, and needs a deep playoff run and some offensive success while still developing at the junior level. Ideally, he gets to a strong team by this year's deadline.
MILAN LUCIC 2016-17

5×5 points per 60: 1.21 (2.04 a year ago)
5×4 points per 60: 7.11 (2.83 a year ago)
Corsi For 5×5 %: 53.6 (59.3 a year ago)
Qual Comp: Top 6F
Qual Team: Top line
Corsi Rel: 2.4 (11.4 a year ago)
Shots on goal/percentage: 92/10 percent (124/16.1 percent a year ago)
Boxcars: 38gp, 10-16-26 (81gp, 20-35-55 a year ago)
Lucic is having a bit of an unusual season. His boxcars are basically identical to a year ago, but he is posting the crooked numbers on the power play. Lucic is 4-9-13 this season with the man advantage, and that represents his second best total of his career in the discipline—and at that, his best year was 5-9-14 in a full season, age 22.
The 5×5 is a big issue, I keep thinking that ML should move onto a line with Leon Draisaitl. However, if you look at scoring chances for-against, the difference is not grand:
Lucic with Nuge: 28-23 54.90
Lucic with McDavid: 201-179 52.89
Lucic with Draisaitl: 71-65 52.21
The eye test tells me Leon and Lucic is a very good match, but the math says the modern big M can play with any of these cats. Thoughts?
THE 30 BEST PLAYERS IN THE 2017 DRAFT
At 5pm Edmonton time today, I will post the first top 30 of the year. It will pay special attention to selections 20-30, for obvious reasons. What I am being told is that the top end of the draft is good not great, and there is no generational talent. However, there is a tier of players from about No. 12 through about No. 40 who are somewhat interchangeable, and all should have careers. We should think Martin Rucinsky, and you know that is pretty good. See you at 5.