The Edmonton Oilers are still in a good spot currently, but there are dark clouds in the distance. The team has real roster issues, and the coach is having trouble dealing with them. Every hour is marked by the chime of the clock, and for Edmonton we are reaching a troubling point in the season: Casting about for badly needed help, and finding none available, the chosen path appears to be inertia. Losing Tyler Pitlick should not be such a major issue, there are wingers with speed and some offense available routinely.
PISS IN THE LIFTS, YEAR OVER YEAR
Oilers in October 2015: 4-8-0, goal differential -7
Oilers in October 2016: 7-2-0, goal differential +10
Oilers in November 2015: 4-7-2, goal differential -6

Oilers in November 2016: 5-8-2 goal differential -3

Oilers in December 2015: 7-6-1, goal differential -9
Oilers in December 2016: 7-2-5, goal differential +3

Oilers in January 2016: 4-5-2, goal differential -5
Oilers in January 2017: 0-1-0, goal differential -2
Oilers after 39, 2015-16: 15-21-3, goal differential -24
Oilers after 39, 2016-17: 19-13-7, goal differential +8
G40 a year ago was the first one of the new year, and Edmonton won 4-3 in a shootout with the Arizona Coyotes. The Oilers had two lines going (Hall—Leon—Purcell and Pouliot—Nuge—Eberle), something Todd McLellan badly needs right now. Where is Teddy Purcell nowadays, anyway?
DEFENSE, 2016-17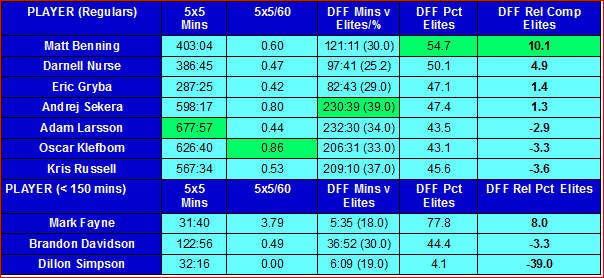 This is mostly WoodMoney, and as I get my head around this there is real value here in my opinion. I will let the giant brains drill down to middle earth, but I am really liking the format and the reality of these numbers. The only thing that isn't WoodMoney is 5×5/60, I ran them off Stats.HockeyAnalysis.com.
First column: 5×5 minutes. The Woodmoney is slightly different than Stats.HockeyAnalysis, but not enough to make you worry. Seconds here and there. Adam Larsson leads the team by miles in straight 5×5 TOI, with his partner Oscar the dreamy coming in second place.
Second column: 5×5/60. Simple. I think Oscar and Andrej are the most legit offensive players, but defense is tough to measure in this 5×5 offense area. For instance, Darnell Nurse is 0.47/60, but I miss his transporting ability—that gave a different look to the opposition. Anyway, Matt Benning is going to save the world so don't worry.
Third Column: Elite minutes against plus percentage of overall. Dynamite stuff from WoodMoney, this is the good stuff (sledge      hammer). Andrej Sekera spends 39 percent of his overall 5×5 TOI against the elite, but three other men are not far behind (Russell, Larsson, Klefbom, in order). And, look here, Matt Benning is also at 30 percent. Edmonton has no real top pairing, but the third pairing is much better than the past. Example: Sekera—Benning, which we could see tonight.
Fourth Column: DFF. This is Dangerous Fenwick For, expressed in a percentage. So, Benning the Younger leads the pack with a 54.7 percent DFF. Fabulistick!
Fifth Column: The Rel. Many of you won't see this as being extremely valuable, but for me, this column—combined with the percentage of total minutes against elite—is going to be a giant help in discovering blue. Folks, Matt Benning is the real thing if Woodmoney have this straight (and I believe they do). I loved Brandon Davidson as a rookie, this guy might be better! Music!!
FORWARDS, 2016-17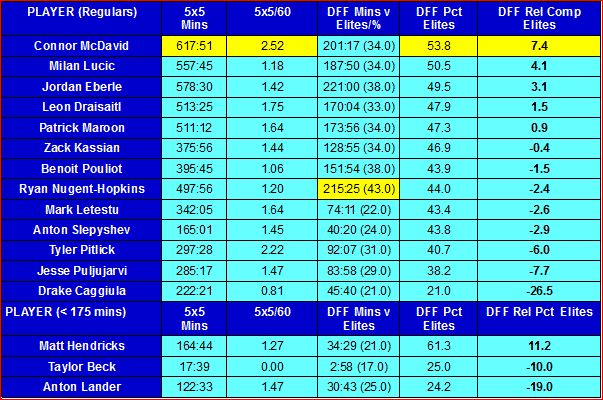 First column: 5×5 minutes. There are five forwards over 500 minutes, and a sixth (Nuge) close enough for jimmy jazz. That is your top 6F, led by Connor McDavid—turns 20 in eight days—and then a big, big fall in minutes to the de facto 3line (Pouliot—Letestu—Kassian). And now, coach Todd McLellan has lost some trust (based on usage) in Jordan Eberle and is even less trusting of Benoit Pouliot. Can you do me a favor? Tell me which of the men listed here, who have played less than 300 minutes at 5×5, who you would run instead of Jordan Eberle? Instead of Benoit Pouliot? Please and thanks.
Second column: 5×5/60. The second column for forwards is alarming. Why? Back on November 27, Connor McDavid was at 3.22/60 at 5×5. He was 22gp, 8-11-19 on that day. Since then, he is 17gp, 2-5-7. That, my friends, is a problem. Coach Todd McLellan is moving Leon Draisaitl back on to the 97 line tonight, in an effort to re-start the fire. Does he have any dry kindling? We wait.
Third Column: Elite minutes against plus percentage of overall. Three men are over 200 minutes (Nuge, Eberle, McDavid) and RNH has the highest percentage of minutes against the elites. I think McLellan has been trying to get 97 away from the elites, and the overall percentage seems to be lower than the last time I looked in. That said, it would be nice to have a RW to share the land with Jordan Eberle (as is kind of the case on LW with Lucic, Maroon and even Pouliot).
Fourth Column: DFF. Dangerous Fenwick, and, despite his struggles over the last 17 games, McDavid remains a killer against the elites.
Fifth Column: The Rel. The most striking number is probably Caggiula. Todd McLellan is moving up Zack Kassian based on yesterday's practice, and the rel suggests that is wise.
WOODMONEY
I like to digest new ideas and statistics over time, idea being the more time I have to mull the better chance I can understand it and allow my imagination to incorporate it. WoodMoney, in theory, is a fairly easy concept—create more slices of the pie in order to hone in on the vital game states—but we all take our own due time to arrive at our conclusions. I want to publicly thank both G and WG for sharing their work, and you for listening to me ramble. This is adult education in action! Exciting, or what?
MILT SCHMIDT
I learned about Milt Schmidt during my formative years as a Bruins fan. He was the general manager during the build toward the 1970 Stanley Cup, and then remained in the chair for the 1972 Stanley. Schmidt is one of only three Bruins GMs to win a Stanley (Art Ross, Schmidt, Peter Chiarelli) and I have forgiven him for not protecting Bernie Parent in the 1967 draft and then failing to protect Daniel Bouchard in 1972.
The best part of the Schmidt story is as a player, winner of the 1939 and 1941 Stanleys as a Bruin—but much more. Schmidt played on the Kraut line with Woody Dumart and Bobby Bauer, so named because all three men grew up in the city of Kitchener, Ontario, a heavily German community in our country.
John Bishop, Boston Bruins.com: Milt Schmidt, Woody Dumart and Bobby Bauer led the Black & Gold to the 1940-41 Stanley Cup final win over the Detroit Red Wings — and were poised to do so again. They returned to Boston from Kitchener in the autumn of 1941 expecting to continue their dominance but the Japanese attack on December 7th, changed their world, and THE world, forever. The Kraut line and goalie Frank "Mr. Zero" Brimsek, a future hockey Hall of Famer himself, would exchange their jerseys for military issued fatigues. Dumart, Bauer and Schmidt, all Canadians, joined the Royal Canadian Air Force and Brimsek, an American from Minnesota, would eventually find himself in the South Pacific. Source
That generation of men and women lived in difficult and trying times, and answered a call my generation never had to—thanks to them. That whole generation is passing now, and it is the job of their children to remind the world of their sacrifice. Your family and mine were touched by the two great wars, we should pray to any God who will listen that our children and their children won't have to answer that call. Milt Schmidt passed away yesterday, one of the last of a generation who sacrificed so much in the name of God and country, did it willingly and with brave hearts. RIP.
The #Oilers have recalled Jordan Oesterle from the @Condors.

— Edmonton Oilers (@EdmontonOilers) January 5, 2017
This is probably about Brandon Davidson, who is having a difficult season. Interesting that it is Oesterle this time, Edmonton's recall rotation is difficult to suss out this winter.
#Oilers forward lines at practice today: Maroon-McDavid-Draisaitl, Lucic-RNH-Kassian, Pouliot-Caggiula-Eberle, Lander-Letestu-Puljujärvi.

— Edmonton Oilers (@EdmontonOilers) January 4, 2017
Fascinating shakeup there, Jordan Eberle gets a clear demotion and the Nuge line could be right out of the 2008-15 Bruins. I will tell you this: If you make a list of RWs in the NHL today who resemble Nathan Horton in his prime, you probably have at least one list on Peter Chiarelli's laptop. I am not at all surprised that Zack Kassian gets the push tonight.
The defense (via Jack Michaels) tonight may be Sekera—Benning, Klefbom—Larsson and Russell—Gryba. We may also see Matt Hendricks in the Pouliot slot on the 3line according to Mr. Michaels.
TYLER BENSON
Tyler Benson was held out of last night's game against the Edmonton Oil Kings. Disappointing to say the least, I had planned on heading down to the rink (ended up watching Canada-Sweden instead). He went in the shootout of the previous game played by the Vancouver Giants, so we will see if there is an alternate ending to this (trade, etc).
WAIVERS
I think the game is afoot. Matt Nieto probably gets claimed by a team behind Edmonton in the standings, but the Oesterle recall suggests to me there is another shoe to drop. As of this morning, with Oesterle recalled as above, we are here:
Goalie (2): Cam Talbot, Jonas Gustavsson
Defense (8): Andrej Sekera, Oscar Klefbom, Adam Larsson, Kris Russell, Matt Benning, Brandon Davidson, Eric Gryba, Jordan Oesterle.
Center (6): Connor McDavid, Leon Draisaitl, Ryan Nugent-Hopkins, Mark Letestu, Anton Lander, Drake Caggiula.
Left Wing (4): Milan Lucic, Patrick Maroon, Benoit Pouliot, Matt Hendricks.
Right Wing: (3): Jordan Eberle, Zack Kassian, Jesse Puljujarvi.
I think we may see some activity today. Edmonton needs a forward, schnell.
LOWDOWN WITH LOWETIDE
This morning at 10, TSN1260. Scheduled to appear:
Darcy McLeod, Because Oilers. Connor McDavid in a funk, or just learning to deal with hooks and slashes and what is the new normal? Plus Sekera—Benning and the possibilities.
Jake Sundstrom, Fear the Fin. If Nieto ends up being claimed, we will talk about his new home. If not, we will discuss the Sharks and the system that allows them to be big, slower, yet remain effective.
Corey Graham, TSN1260 Oil Kings PBP. The OK and the Giants played last night, without Aaron Irving and Tyler Benson. We will investigate.
Frank Seravalli, TSN. The major stories of the season are coming into view, and the Toronto Maple Leafs and Columbus Blue Jackets are two of them.
10-1260 text, @Lowetide on twitter. Talk soon!